A Conversation with Converse Pro Skater Kenny Anderson
According to a piece by RAM Financial Group, the average career span of an NBA athlete is around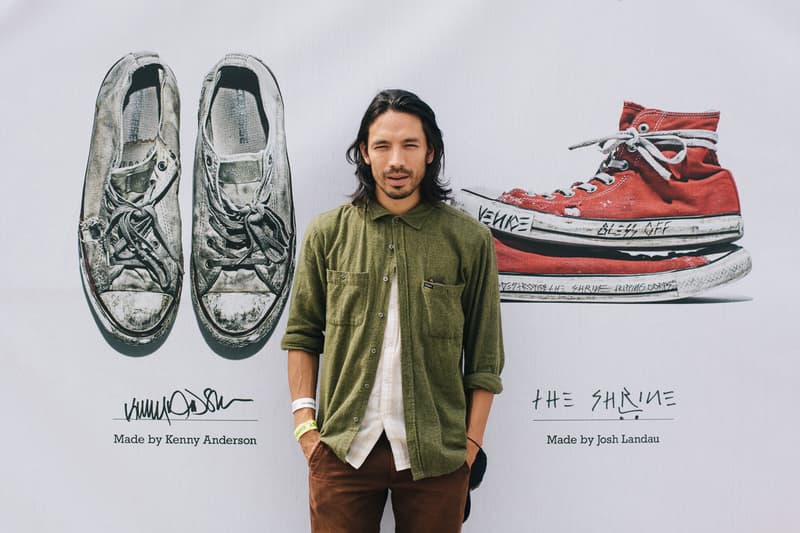 According to a piece by RAM Financial Group, the average career span of an NBA athlete is around 4.8 years. In line with this, the average person will switch careers between three and seven times in their lifetime. Both things considered, racking up 29 years in any profession is more a feat of endurance than a testament to passion. Skateboarding – one of the purest intersections of a lifestyle and earning an income – is no different, but seems to keep a special amount of its veterans in the limelight. Kenny Anderson might be most emblematic of this today.
While the spring is still definitely in his step, Anderson has almost 30 years under his belt, having somehow weathered skateboarding's oft-tumultuous landscape, injuries and distractions to establish one of the most exemplary careers to date. While skateboarding is still his first love, here we find Anderson in a curious state, developing a second identity as a creative and mentor while still working on traditional skate video projects. As we sat down over some beers under the Austin sun, Anderson revealed the nitty gritty of what keeps him going, the parallels between Miles Davis and Mark Gonzales, and his forthcoming video project for The Back Forty – his web project with professional skater Marc Johnson and other friends. Without further ado, check out our in-depth conversation below.
There's this really great photo of you on the Back Forty website that reads: "Will Skate For Ever." I thought that was funny, but it's also emblematic of your career. What keeps you motivated and skating for such a long amount of time?
I look at it as all natural and organic, like how you feel. If I didn't feel like skating, if I didn't really feel everything about skateboarding, then I wouldn't do it. I would just move on and do something [else], which I've done throughout the years. You need another outlet, like 'let me start designing,' and I did designing for a while. Skateboarding was always just skateboarding. Sometimes you need the act of skateboarding more than anything. So that "Will Skate Forever," that Back Forty ad, of course it was an ode to Jason Lee, "Will Skate For Food." What he was saying was, "for survival I will skate" … [So] whether survival or not, we're going to be skating forever, in a literal sense and a metaphorical sense.
But I guess without the feeling of how I felt when I was 10, when I started, and — which I still feel — I wouldn't be doing it, so that's kind of what it represents. You never stop learning. …It's a lifestyle. I'm 29 years deep now into skateboarding, so I'm not going to stop. Whether we are in the industry or not— the industry is a bonus, all this other stuff is a bonus. The act of skateboarding, what it means, what we do, how we have to rubberneck at spots, how we have to look at everything when we're walking, whether you're with your mother or you girlfriend or whatever. You have to look at everything, that's never going to end and that's what's cool about skateboarders; we can all relate in that sense.
Would you mind touching on what exactly The Back Forty is for people that might not be familiar?
I feel like the Back Forty, no one is familiar. Even the people that are, aren't. Marc Johnson and I started the Back Forty as, "Hey, let's just have something fun for ideas" because we had so many ideas. Chris Roberts (fellow Chocolate Skateboards professional) came along and us three together were talking about, whether it's a funny little video or a concept, let's just do it (sic). We're not trying to sell anything, its more of an outlet. Like I was saying before, with skateboarding you have your outlet as a skateboarder…but from that point it's like: Okay man, there's all these cool videos, but we can't do it [through] of our other sponsors. It's kind of saying something, whether it's a joke or something deeper; we just needed a hub to do something. That's what The Back Forty is. It's a place for ideas.
One of my favorite quotes from Thrasher that sticks with me to this day is, "Sometimes skateboarding involves not skateboarding." With that in mind, aside from the Back Forty, what do you do on a rainy day? What are you getting into?
…That quote right there directly and indirectly revolves around what you do in life. Because now I look at other things, no matter what I've done in life — you know I started shooting photos in high school; I took a photo class, and from that point on (which has been 20 years now) — as simple as photography, which is an art form too. Even relating to other people or social skills. For me I was always that shy kid so skateboarding definitely opened me up to relating to other people like that.
So when you talk about the act of skateboarding and sometimes skateboarding is not skateboarding, if you're a skateboarder, you're still skating even when you're not actually pushing on your board and you put that thing away. Your mind is still going in that same way…
Of course there's other things in your life; I played music a lot when I was younger, I come from a family of musicians. I was in this jazz band growing up. I played trumpet for years. I listened to Miles Davis. I listened to Chet Baker [and] so many jazz musicians, not just trumpet players, but everyone. It's from my dad, so having that influence from music, but I knew what I liked but I didn't know why. And through skateboarding you start [thinking]: oh wait, the way I express myself through here, this is the way they express themselves through music. Whether they won an award, whether they were rewarded or had a certification or stamped for their art — that didn't matter, but what that artist did for you [does]. So from that point and through influences in skateboarding, from Mark Gonzales, Chris Miller, Randy Colvin, Ray Barbee, people like that. Wow, they just do things their own way. And that made it a lot for me that whatever I do in life, to do it that way. That's how I interpret that.
It seems like with Chocolate, Converse, Brixton — all the teams that you're on, it's kind of hard to get on. Do you have a lot of input in the teams? How does that work?
I feel like throughout the years everyone kind of learned to do that. Like, "Hey lets have a team decision because we're not only going to be traveling with these people." We know not only what's good for the company but everything I just said about skateboarding, that's what it is: to get along, to respect each other, to have that respect within skateboarding. Everyone who gets on Converse or Chocolate, there's always emails, discussions, meetings about it. Not only me – but everyone. Everyone has to decide. I'm not bigger than anyone. It's more like, we're all a team, and everyone has to decide if we're really feeling this guy to get on. Or if anyone has a conflict, [we'll] talk about it. That's [been] Chocolate for years, that's why they're so successful. And successful meaning like, sustainable. That's why they've been sustainable for so many years, being owned by Rick and Mike and Spike and Megan. They started it, and the way they do things is so inspirational, and should be to everyone.
And it works the same on CONS as well?
CONS is the same way. They learned throughout the years like: "let's all decide." And when you decide and we're all in the van, there's no shit talking. There's different generations; I'm past the 'shit talking' stage in my life. But you enjoy it when everyone starts doing it—its comedy—but then you realize "Wait, they're actually serious," so you can't have someone on the team that everyone talks shit about. You can't vibe like that. Skateboarding is about that; not only doing what you want to do but when you're on a team you should feel like you're accepted for being you and not have to feel a weird vibe.
As time goes on do you find yourself playing a mentor role at all?
I guess so; I don't consider it a mentor role. I've definitely been the dude a lot of people come to talk to but it could just be how we connect as friends. That's how I've been my whole life. Like I've talked to my friends, we know who's close, but throughout the years it's been deeper conversations. It's weird because a lot of convos where people need advice or inspiration, I feel like as we talk it becomes mutual. Like "man I needed to let this go too." That's natural; that's part of having a team. Those team trips get deep like that, so imagine having someone on the team that nobody likes or accepts. I think that's the best part about it. I love fucking around as much as anyone, but I [also] love getting into life conversations with people. I don't consider myself a mentor; it's just nice to have mutual inspirational conversations.
Your third shoe—which I enjoy skating in—it's a great simple silhouette. Have you gauged reception to it? Have kids been coming up to you and talking about the shoe?
It's been awesome. You don't know how it's going to do. You don't want to put too much into how you think it's going to do, so you just want to design for what you like. So far from all the Instagrams I get tagged in, from people talking about it, shops talking about it—it's been cool. You take it for what it is. You're fortunate. You don't look too into it. It's flattering.
Is there any stress with getting a major shoe out there? Especially with a company as established as Converse?
I guess so. Yes and no. Yes, because it's Converse, but their place in skateboarding, there's so many years within it. I skated Chucks and I skated Converse before I was sponsored. And just the history of skateboarding and the magazines and all that. They have that and they want to be even more. So I guess when you really think about the reason why, yes, it would be stressful, it's that I really want to have a shoe that works. Or like to be on this team, or be a part of this team and have all this input. That's my stress. Stress isn't bad. It's a good stress. So like my input and my voice, I'll speak up a lot: "Let's do this right, because I really want it to work because of that." As far as the design of the shoe and all that, you can't control that. So what are you going to do? Kill yourself all day and night worrying about sales and what every kid likes? I've learned throughout the years, just design something you really like and wherever it'll go, it'll go.
Can you talk about the (Converse) Made By You campaign at all? Maybe the history of those particular shoes?
When (Converse) hit me up about being in the Made By You campaign they said, "Do you have Chucks?" I always skate in my shoe but I have these Chucks that when I was filming for Pretty Sweet for some reason I was trying this one trick, and I tried it first in Chucks cause I didn't have my shoes with me that day, so every time I went back I had to wear the Chucks because it felt better. So the pair I sent in for the campaign are those. I always wore them when I first started skating and they gained a hole and just got more and more thrashed. It was like a pivotal time, filming for Pretty Sweet and trying a trick I never got; I never landed it the way I wanted. I didn't know much about the campaign so when you start seeing everyone else's, it's pretty cool because every one has a story about who they are or what they did. That's what cool about Chucks; they are one of the bestselling sneakers ever in the world, but you feel unique in them and you have your own story in them.
You mentioned you've been traveling. Who have you been traveling with and what have you been doing?
The last trips have definitely been with Converse promoting my new shoe. Berlin, New York, Miami. A lot of U.S. trips; a lot of trips to promote the new shoe. And most recently I did a Loud Headphones trip — which was the first trip not with Converse, but indirectly it is—to Costa Rica. I went to Nicaragua first to meet up with Chico (Brenes) and do a surf ranch there. It's rad; they do little contests for the local scenes, so me and Chico went and judged and was part of that. But that was on the way to Costa Rica to do this Loud Headphones trip. With Loud Headphones, one dollar for every headphone goes to the Let Them Hear Foundation, which is a foundation this doctor and his wife started to do surgeries around the world for people who are hearing impaired or deaf.
We witnessed two surgeries: a 13-year-old who lost his hearing at five, and three-year-old who was born deaf. That was a life-changing trip. When you hang out with these kids, and hang out with the three-year-old before anything happens, and then you're in the room during the surgery, and then you're there after to meet their parents and you're there during the activation of the hearing device — the cochlear implant — and you watch them hear for the first time. I mean, you can't even describe that. It's like skateboarding brought me to there. …The parents did an interview thanking us for raising money to help their kid get this. And to me… I have kids, and they had to have surgery when they were young—it hit me pretty hard. During that time it's when you go, man… when you talk about skateboarding being beyond skateboarding: it's things like that. When I'm in Costa Rica in this hospital where I'd never be, meeting these families who I'd never meet, through skateboarding. Skateboarding brought me there and skateboarding helped this kid hear for the first time. When it all kind of levels out like wow, my life. I started skateboarding at ten and this is where it brought me. It's beyond inspirational and beyond influential in doing more trips like that. I just got back from that like two weeks ago.
Are you working on any video projects?
I'm doing my own thing. It's going to be a Back Forty project. Just collecting footage, because everyone's kind of doing their own thing right now. So as I collect, I'm doing little projects. This little company called Edwin Watch, this company from Japan, they're awesome. A Brixton piece. Just natural, just skating and as it comes it comes. But the next part will be a little Back Forty part.
Nothing from Federico Vitetta?
No, they're working on the Lakai video so they're kind of busy right now.