Fin Des Temps x Huckleberry LTD Custom Rolex Green Dial Submariner
Read more about the watch that involved 140 hours of labor.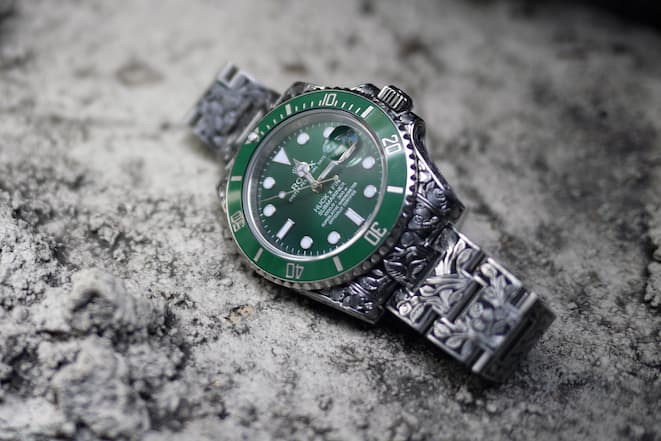 As we shared in November, LA-based fine jeweler Huckleberry LTD has teamed up with bespoke engraving house Fin Des Temps on a limited drop of custom Rolex watches every month. The first in the succession was a stainless steel Rolex Milgauss outfitted with 3.40 carats of black diamonds, which sold out in an astonishing 6 hours within release. This time around, the brand introduces a stainless steel Rolex Green Dial Submariner embellished with Huckleberry's hallmark plant motif engraved into the band. Having involved 140 hours of labor, the timepiece is as unique as it is stunning. As was the same with the first watch release, the product will be encased in a handmade reclaimed wooden box with orange suede lining the interior. A distinct identifying number is also burned into the box's underside, along with original Rolex documents for authentication. The Huck x Fin II retails for a cool $37,500 USD and is exclusively available at Huckleberry LTD online. Stay tuned for more details on January's custom release, which will be a Rolex GMT.