T.I. Talks High Fashion's Avoidance of Hip-Hop and His Brand AKOO's 5th Anniversary
For an audacious few, the words "no," "can't," or even "failure" fuel a creative fire that forges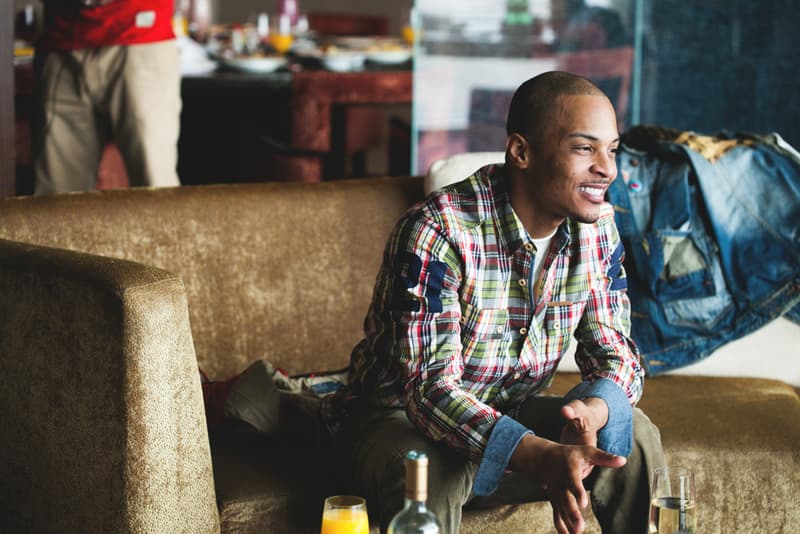 1 of 4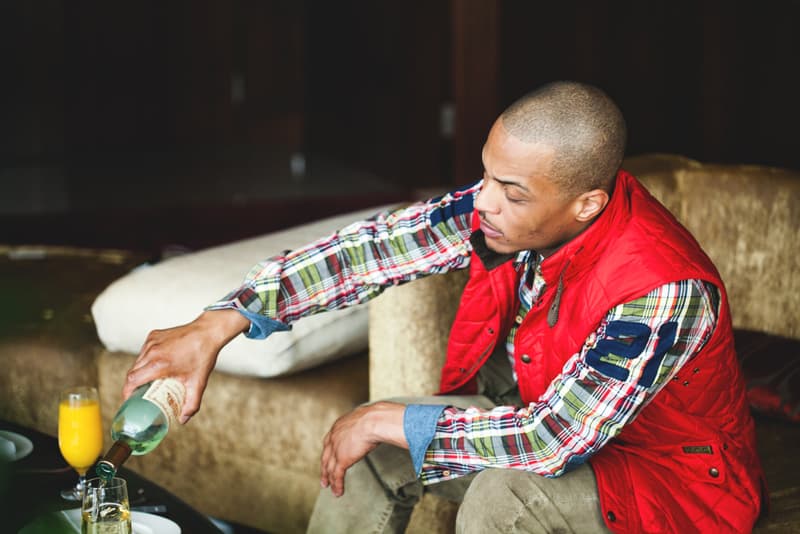 2 of 4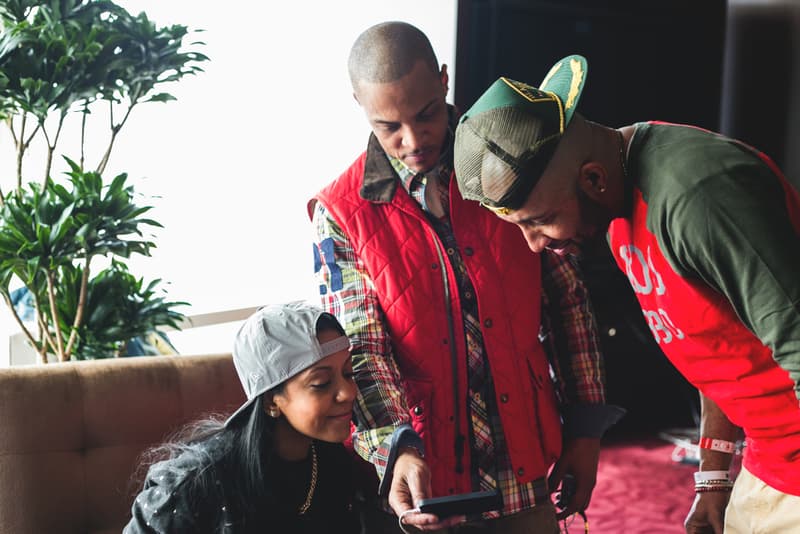 3 of 4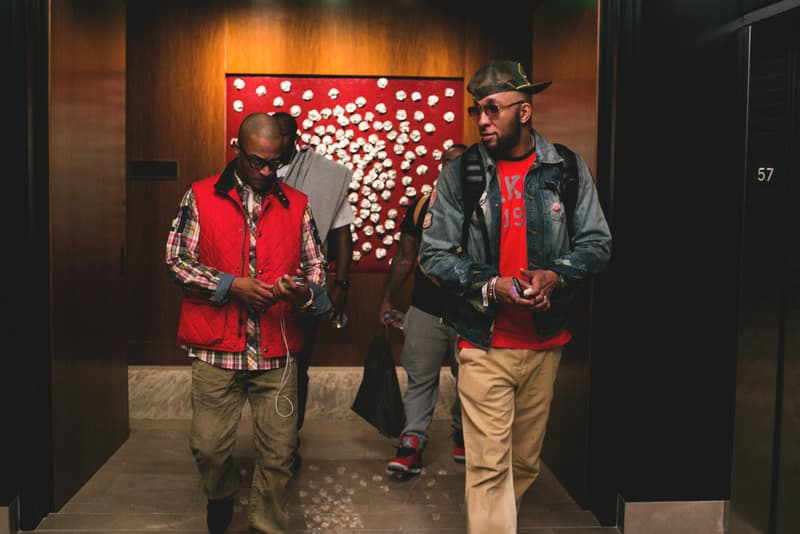 4 of 4
For an audacious few, the words "no," "can't," or even "failure" fuel a creative fire that forges the path to some of the world's most artistic compositions and scientific discoveries. Every inquisitive mind meets opposition at some point in their journey, and yet it's those naysayers that provide the motivation to hurdle over any barrier that falls in their way.
Atlanta-bred rapper Clifford Harris, better know as T.I., has been told what he could and couldn't achieve for quite some time. The now 33-year-old Grammy Award winner began his career as a young teenage high school dropout who funded his unlikely music endeavors through the crack trade. Since then, Harris has brought commercial success to a genre of music dominated by two coastal cities, acted alongside the likes of Denzel Washington and Kelsey Grammer, and produced albums under his own record label, all the while raising a family on a cable television show. But beyond that T.I. also helms a flourishing clothing line that just recently celebrated its fifth anniversary. He prefers you don't as he rather let the quality of his brand do the talking, but AKOO Clothing has long been the brainchild of a man with a very keen understanding and respect for the fashion industry. Focused on the future of AKOO, we got the rare chance to sit down with T.I. while promoting his brand at Agenda Las Vegas. In the following interview the young polymath talks about his role with the brand, how to remain relevant in an industry that requires constant evolution, overcoming criticism from naysayers, the manipulation of couture brands, and more.
---
The Aesthetics and Design of AKOO
"I think that every category that a man could possibly ask for, I think we do it and we do it well."
AKOO may be new to many of our readers, can you describe the aesthetic of your brand?
Well, the essence of our brand is upscale, urban streetwear. I think we are diversified in a sense that if you want to dress trendy we have those pieces and you can put those ensembles together from either one of our deliveries. If you want to dress a little more, I guess conservative, well I wouldn't say conservative – slick prep with a little swag at it – then I think we got those pieces as well in all of our deliveries. Everything from denims, to wovens and knits, tees, I think that like every category that a man could possibly ask for, I think we do it and we do it well. I think the only thing that we have not conquered or mastered right now, from a stylistic standpoint is accessories, and we definitely work diligently in trying accomplish that task on a day to day.
I'm sure you get asked this quite often, but how hands-on are you in the actual design process?
Well myself, Jay, the other guys over at Hustle Gang Clothing, we are all extremely hands-on on certain pieces. We all know that since the world is made up of different styles and approaches to styles then for me to be the only cook in the kitchen would limit our success to people who only agree with my style, you know what I mean? So all the pieces that I like the most, I'm extremely hands-on. Then I understand that we're serving a customer that may be a tad bit different from myself. But, yeah man, all the pieces that are of my particular liking and that derive from my individual style, I'm extremely hands-on on those pieces. And for those that may step outside of those lines, we have an accomplished, exquisite and elaborate design team led by Ralph Reynolds and I trust their vision and I trust their work. But you know, of course when they send me anything that sticks out enough to grab my attention that calls for some adjustments or some amending to be done, we follow suit according. That goes for myself Jay and the rest of the team as well. It's a collaboration. I think our diversity can be attributed to that. I think that is definitely how we maintain the ability to cover so much ground and please so many different demographics.
AKOO recently celebrated its fifth anniversary while in Las Vegas for Agenda, how would you rate its progression thus far?
I think for one, we withstood the retail recession. Our first couple of years, retail had done the worst that it had done in decades. Stores were closing, orders were being written, but weren't necessarily being satisfied. You know, hard times came down on everybody. So we withstood that and even in a declining market, even in one of the most horrendous years in retail we still came in and aced it. And I'm talking about it as a baby on the block. So I feel like the quality of our clothes and our garments spoke for us even when the economy didn't. So right now we have done nothing but progressed and we've been blessed. We been blessed by God to make it to this point that we are in today.
---
On Streetwear and the Fashion Industry
"People been telling me what I wasn't supposed to be doing for a long time and I'm still here doing it. I'm not really tripping on what other people's opinions are."
Returning to the point you made about the recession, it seems that consumers are now looking for quality-producing brands that they can buy into – a particular lifestyle or culture, if you will. How is AKOO able to market its ethos without being looked at as "T.I.'s brand"?
That's something we always stood for. I still run into people right now that don't even know I have a clothing line. AKOO has never been just T.I.'s brand, it has never been that. That was purposely done. After the first year, you never saw a lot of ads completely surrounding me and my imagery. We wanted the garments to speak for themselves and I believe they have done an impeccable job of doing so. So I think that is definitely something that we set out to do and I feel like we accomplished and achieved it tremendously.
What have you learned about the fashion or streetwear industry since AKOO's inception?
I learned that it is constant growth and evolution. Nothing stays the same for long, so you have to continue to familiarize yourself, learn new things, don't adopt the ways of now, look for the ways of tomorrow. But also maintain high quality and extreme comfort. Never do what the masses suggest you should, do what your environment pushes you to. Your environment, your surroundings, your mood when you wake up in the morning, how you dress is a reflection of the mood you're in. I think that should remain ever-present on the hearts and minds of the those that consider themselves fashionable.
How does a brand look ahead, without compromising their original aesthetic?
This is the thing, you have something that is an art form and it derives from a passion, but you also have a business and an industry that thrives off of and its sheer existence depends on its economical, monetary performance. So that is a conflict within itself. What a passion would say is 'regardless of what finances say you should do, do what your heart leads you to do.' However, business says that 'regardless of what your passion says you should do, do what brings in the finances.' It's a tough tightrope to walk. With that being said, if you are a line, a new line that's looking to make a name for yourself, and you put out your first delivery and your first delivery you made 80% of your profits off of denim jackets, what do you think your next delivery will have the majority of? Denim jackets. So you continue to reap the benefits of your newfound success because people like your denim jackets. Now the problem with this is next year, what if denim jackets fade away? Do you remain stuck in the fact that you made 80% of your profits in your first delivery off denim jackets? Or are you going to step out on your faith and passion and your impeccable taste in your passion and try, or push yourself, force yourself outside what you found comfort in and find other pieces and ways to create success for yourself without compromising the integrity of your brand or passion? That is when it's done all the way right.
Musicians typically catch a lot of negative criticism for entering into the realm of fashion. Can you speak on why that may be? Or have you experienced any of that?
Oh, I don't care nothing about that. You know, it's the same thing they said about Southern people when they entered the hip-hop industry. And look at what we have been able to do for so long consistently. People been telling me what I wasn't supposed to be doing for a long time and I'm still here doing it. I'm not really tripping on what other people's opinions are. I'm more so concerned off of what the consumers opinion is.
---
Future Plans, Collaborations and Thoughts on Branding
"We just try to find ways to do new,
unique, significant collaborations. As well as finding new ways to bridge the gaps and connect the dots between these entities, between these genres of art."
So with five years in the books, what do you see on the horizon for AKOO?
As I mentioned, accessories, outerwear and even AKOO WMNS. I mean, from there, considering people still want to support us in other areas, it could be households. I mean the sky's the limit. Wherever there is a demand, we will supply it, period.
At Agenda LV, AKOO premiered its collaboration with legendary photographer Jonathan Mannion. Do you have any desire to do other collaborations, whether it's an artist or another brand?
Absolutely, especially with AKOO WMNS. I feel like art and fashion go hand-in-hand. I think that all extensions of art go hand-in-hand. Whether it's from music, to fashion, to actual visual art, to film. I think they all go hand-in-hand. We just try to find ways to do new, unique, significant collaborations. As well as finding new ways to bridge the gaps and connect the dots between these entities, between these genres of art. And hopefully, with us putting our minds together, we will continue to press ourselves past our limitations. We have these think-tanks where we pretty much lock ourselves in to come up with the most unique, outrageous, yet feasible ideas and approaches to being contemporary, but yet classic. Classic-contemporary I think is the hardest thing to achieve. It's easy to go out there and do something funky that no one else is doing if you don't expect to make no money from it. It's easy to go out there to recreate what someone has already deemed as their favorite, but to do them both successfully, that's the challenge.
Are there any brands that you have an eye on that may inspire you or even AKOO?
Ralph Lauren Denim & Supply really reinvents the Ralph Lauren brand. I mean, how can I say this… The stuff that they do is signature stuff for themselves, but not a lot you can pull for the purposes of translating into AKOO, But I still salute and acknowledge their progression. I mean man, you know for real, my style goes from way far left to way far right. Not many cats could've pulled off the COMME des GARCONS sweater vest I had on Arsenio the other night. That was a joke waiting to happen for the wrong motherfucker to throw on (laughs). You know what I'm saying? From a business standpoint, in finances, I've recognized and appreciate the reapplication of the Versace brand to the market. Because so many times couture brands, they reach a point where they were quietly getting money for a long time, then when they see that the urban community or entertainment community has embraced them they would rather see their numbers fall than support the idea of our culture being the cornerstone of their business. So I could really appreciate the fact that they (Versace) were open-minded enough and respect the culture of our lifestyle enough to reposition themselves and re-market themselves in a way I think yielded a great margin of profits for them.
What about certain higher end designer brands that don't want to be associated with the hip-hop culture, yet still use it for inspiration as well as revenue?
I think they will do it as long as we allow them to. As long as we continue to promote their shit. As long as we continue to buy their shit. The power of the urban market is in the dollar. Black people spend like nobody's business. We are the most spending race I think there is. You can have a black man that makes $14,000 or $15,000 dollars a year, and you can have an Asian, or a Latin, a Mexican, or a Caucasian who makes $14,000 a year. That black man is going to spend way more money on Gucci or Louis or Jordans or AKOO. He is going to spend way more money on those luxury or fashionable items than any of these other races combined. You see what I'm saying? Where they look away and disrespect our contributions to their bottom line, the only way we will receive that respect is if we enforce our power, here in the dollar. 'Alright cool, so if you don't want to rock with us, guess what we going to do, we'll stop buying.' That means from $14,000 a year to $450,000 a year, we're not buying. But until we do that they will continue to manipulate us and they will continue to take us for granted.