Essentials: World's Fair
NYC group World's Fair is relatively new as an outfit, but each of its six members have released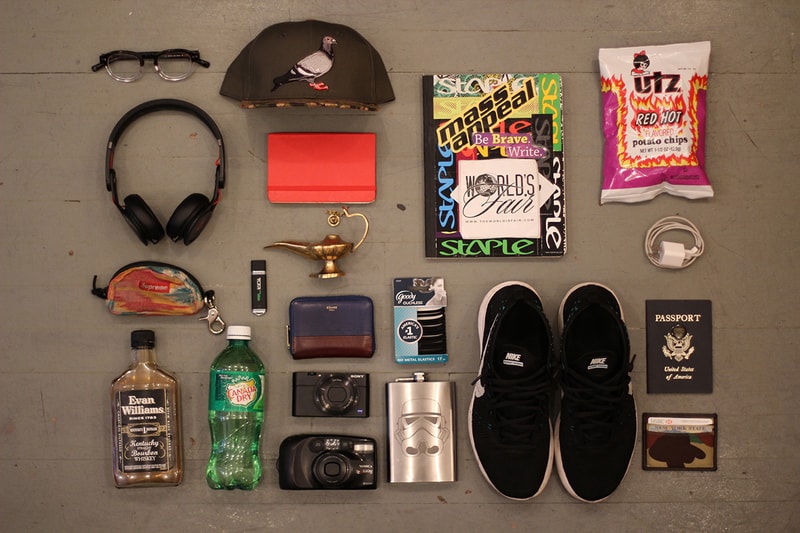 NYC group World's Fair is relatively new as an outfit, but each of its six members have released material either individually or as part of fellow Queens repping group Children of the Night (composed of fellow World's Fair members Lansky Jones, Remy Banks and Nasty Nigel). Their sound is moody and thick, and firmly rooted in their home turf, while authentically blending in features of newer rap genres – including occasionally nerdy pop-culture references. A complex harmony of different personalities are all reflected in their weapons of choice.
In terms of favorite consumables, Prince SAMO is a fan of whiskey and ginger ale while Jeff Donna challenges people to down a bag of supposedly dangerous UTZ Red Hot Spicy Chips. Reflective of their down-to-earth nature, some members chose quirky personal items instead. Nigel Nasty keeps his stash in a nerd-friendly Storm Trooper Flask, for nights out with DJ THOTH, whose inspirational genie lamp is a must at all times. Lansky Jones and Remy Banks keep their favorite wearables close at hand, with one always accompanied by his Mixr Headphones and Warby Parker glasses, while Banks is inseparable from his Nike Flyknit Chukkas.
If you haven't already, check out the latest album Bastards of The Party available for free download now on HYPETRAK.