Ball and Buck Injects Its American-Made Ethos Into the New Balance "Camo" US574
Boston retailer Ball and Buck recently teamed up with New Balance to add a bit of American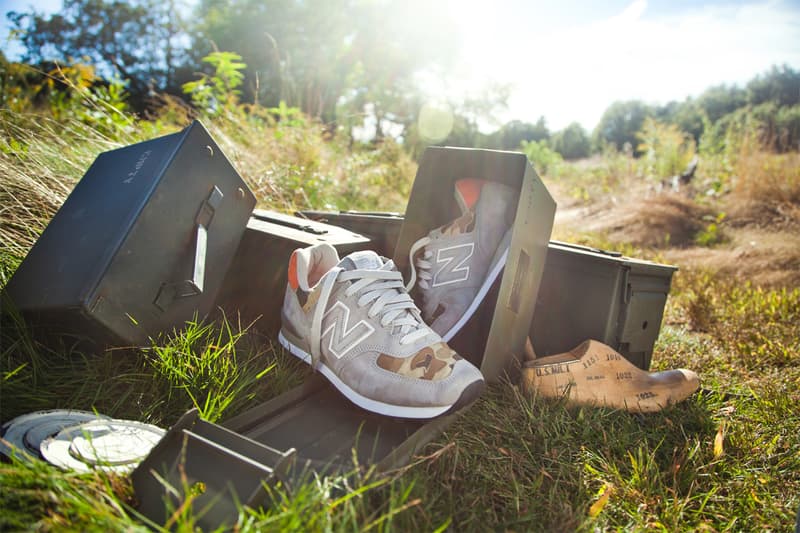 1 of 2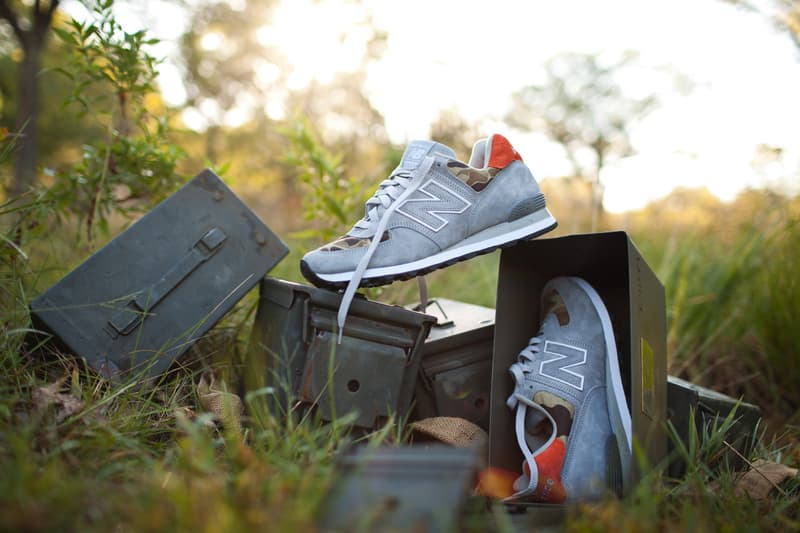 2 of 2
Boston retailer Ball and Buck recently teamed up with New Balance to add a bit of American flavor to one of the athletic company's much-loved shoes. With an appreciation for all things American, it was only fitting that Ball and Buck chose the American-made US574 model. Inspired workwear and hunting garments, these special 574's feature Buck and Ball's signature camo in 10oz duck cloth with hits of blaze orange rounding out the hunting-inspired details. In a nod to America's Independence Day, only 176 pairs of these special shoes will be made available. Each pair will come in a vintage 50 cal. ammo box with a hand-stamped numbered brass plate. The shoes will release September 27 at Ball and Buck's Into the Field 003 event at their Newbury flagship store and will also be made available online the following day. In anticipation of the drop, we spoke with Mark Bollman IV, founder of Ball and Buck for a little background about both his initiative and the project at hand.
Can you introduce yourself and what you do?
My name is Mark Bollman IV and I am the president, founder, and designer at Ball and Buck.
Can you provide a little background about Ball and Buck? What sort of retailer is it?
I founded Ball and Buck back in 2008 with a dream to create a lifestyle brand for sporting gentlemen, all while redefining the perception of American manufacturing. Our products integrate values of great American heritage brands. We combine that with the best materials and craftsmanship in the world, and integrate modern cuts to create a line of staple garments for the guy who isn't afraid to get his hands dirty. Our philosophy: classic on the outside, hunter on the inside. We have brick and mortar stores in Boston, an e-commerce store, and a wholesale business. As far as I know, we are the first of our kind, a store that only sells product made in USA. While the growing majority of products in our store are the Ball and Buck brand or Ball and Buck collaborations, we supplement our offering with a curated selection of brands that represent the best America has to offer. When you walk into our store you will feel like you stepped back a century and ended up in a hunting lodge. Leather couches, hardwood floors, and even a fully operational barbershop complement what I tell patrons is their "new living room."
How does New Balance fit into your roster of brands?
New Balance is an icon in the footwear industry and the only company to still be making athletic products in the USA. For brands like Ball and Buck, New Balance represents what it means for a USA-made product brand to be successful. They not only make an extremely high quality product, but in my opinion, the most beautiful athletic shoes on the market. Aside from both being Boston-based brands, New Balance and Ball and Buck share very similar company values. Thus when we approached New Balance we were excited for our companies to form a partnership. The Ball and Buck x New Balance US574 Camo is the first collaboration of our partnership.
What went into the design of the 574? Why the 574?
The 574 is the most classic silhouette in the New Balance lineup. It's as comfortable in the Boston Marathon as it is shooting clays. We took this shoe in New Balance's iconic grey and added the hunting influence that we integrate into all Ball and Buck products: The Original Ball and Buck Camo in 10oz Duck Cloth and blaze orange accents on the heel and footbed. We didn't want to go over the top with too many changes because we love when products have details that are subtle enough to miss if you aren't paying attention. This is one of those products and we couldn't have been happier with the end result. For this release we have sourced vintage .50 caliber ammo cans which we are using to package the shoes. Each pair will include a hand-stamped brass plate indicating their number in the release XXX/176.
Made in the USA is a big aspect of your ethos. How do you feel about this angle? How important is it to the brand?
Over the past decade we saw a distinct change in consumer behavior when it came to purchasing groceries – the largest consumer market segment. People went from wanting the best deal at any cost, to wanting transparency into what they were purchasing and what it meant for the producers. I see this same change in consumer behavior spilling over into the fashion industry (the second largest consumer market segment). Consumers want to know where their products come from and what it means to purchase them. With Ball and Buck it has always been a part of our mission to bring transparency back into our products and make them in the USA. As the USA was built on a foundation of manufacturing it's imperative to rebuild manufacturing in America in order to rebuild America. By making our products here we are doing our part.