The Business of Fashion: Inside Supreme – Anatomy of a Global Streetwear Cult Part 2
Part 1 of The Business of Fashion's Inside Supreme story discussed the roots of the legendary New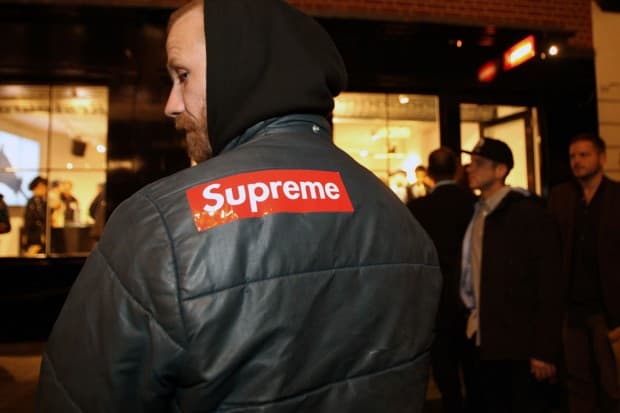 Part 1 of The Business of Fashion's Inside Supreme story discussed the roots of the legendary New York label, touching on a multitude of topics from its history and sustained cult-like following to owner James Jebbia's "Gold Standard" for press coverage of the brand. Part two sees more of the latter, where author Alex Hawgood explores the philosophies and missions of the brand as it approaches two decades of existence. Furthermore he weighs the creative implications of Supreme's unique ability to juxtapose high-culture and art with a genuine street-minded attitude. Perhaps most notable from the article is a quote from Mr. Jebbia that may change the views of some who feel Supreme operates off of a lazy, non-chalant business model, whereas he states, "We work really, really hard to make everything seem effortless." You can read part 2 here as well as part 1 here in their entirety. An excerpt can be seen below.
NEW YORK, United States — The mythology behind legendary New York streetwear brand Supreme is so potent, it's easy to imagine founder James Jebbia as a king pin of downtown Manhattan. But as he will be the first to tell you, that couldn't be farther from the truth.

In fact, Supreme's core creative and business philosophies are the sum of Jebbia's patchwork retail past; not, as one might assume, a storied legacy in skateboarding. His resume reads like a series of interconnected Google-map pins on a late-80s and early-90s SoHo New York. A British-transplant who arrived in New York around 1984, Jebbia got a job working at the now-defunct Parachute clothing store in SoHo.

"I didn't know what I was doing, but I knew I enjoyed clothes," he says. He quit five years later to open, along with his girlfriend at the time, a small flea market on Wooster Street inspired by the myriad of stuff he coveted from The Face and i-D magazines. The project evolved into his first proper store, Union, an experimental shop on Spring Street that carried "mostly English brands" and one very important streetwear juggernaut at the time by the name of Stüssy. This allowed Jebbia to work with Shawn Stüssy, who asked him to partner with him to open one of his eponymous boutiques on Prince Street in 1991.

When Stüssy left the business, Jebbia opened up Supreme in 1994 in a small storefront on Lafayette, a then-desolate street that was a perfect place for his clientele to skate first, shop second – an order that would very quickly be reversed. "I opened Supreme because there were no other decent skate shops around at the time," Jebbia says. "I thought, cool, I might as well be the one to do it."

The store was able to become the holy grail of high youth street culture by curating a mix of the city's iconography – fashion, music, celebrity and politics – within its walls and then instantly sledge-hammering the city's high-low playing field.

Limited-edition Damien Hirst skateboards are around the same price as decks featuring lyrics from Public Enemy; custom Spalding basketballs might be sold under the artist Nate Lowman's gritty canvases hanging on the wall. The brand's iconic T-shirts, like everything in the store, have become collector's items that are collages of controversial provocations and heady imagery. Designs have included an oversized New York Times logo, a portrait of Kate Moss, lyrics from the reggae musician Lee "Scratch" Perry, Mickey Mouse's hands praying with rosary beads, Budweiser labels, and alarmist political slogans such as "Illegal business controls America."
Join Our Discussions on Discord
The HYPEBEAST Discord Server is a community where conversations on cultural topics can be taken further.