Séquence émotion aux Emmy Awards après la victoire de l'acteur Jharrel Jerome de la série "Dans leur regard"
Standing ovation pour l'interprète de Korey Wise.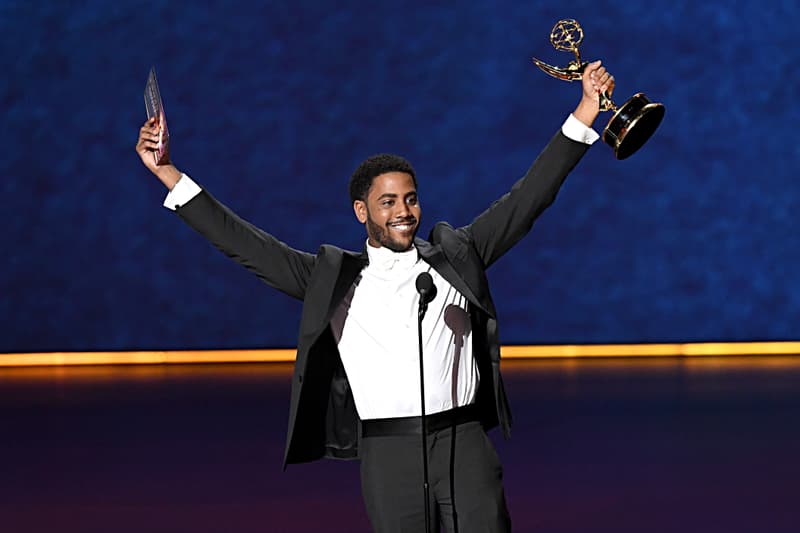 Série à sensation de l'année 2019, Dans leur regard a remporté un prix lors des traditionnels Emmy Awards ce dimanche. Et ce grâce à la prestation tout bonnement remarquable de Jharrel Jerome dans son interprétation de Korey Wise, l'un des Exonerated Five dont la série limitée Netflix raconte l'histoire. Korey Wise a notamment passé 13 ans en prison pour un viol qu'il n'a pas commis.
L'occasion pour le jeune acteur de livrer un discours touchant au moment de recevoir son prix tout en recevant une standing ovation d'une foule en délire en rejoignant la scène. "Plus important encore, ceci (le prix, NDLR) est pour les hommes que nous connaissons comme les Exonerated Five", clame Jharrel Jerome, visiblement très fier.
Son discours aura ému le public des Emmy et notamment Korey Wise, le vrai, en larmes durant l'intervention de Jerome. L'Américain de 21 ans remporte le titre de Meilleur acteur dans une série limitée ou téléfilm face à des acteurs plus expérimentés tels Hugh Grant, Benicio del Toro ou Mahershala Ali.
The #Emmys crowd reacts to Jharrel Jerome's win for best actor in a limited series or movie for #WhenTheySeeUs https://t.co/nAKOeMzLKN pic.twitter.com/REQskbg27m

— Variety (@Variety) September 23, 2019
Seeing exonerated Korey Wise, of the Central Park Five, cry over Jharrel Jerome's win for portraying him in When They See Us is the most touching thing I've seen in a long time#Emmys pic.twitter.com/oKzfgCQFQF

— Fan Girl Erica (@FanGurlErica) September 23, 2019
Dans le reste de l'actualité, sachez que Netflix sera diffusé sur Canal+ à partir d'octobre prochain.