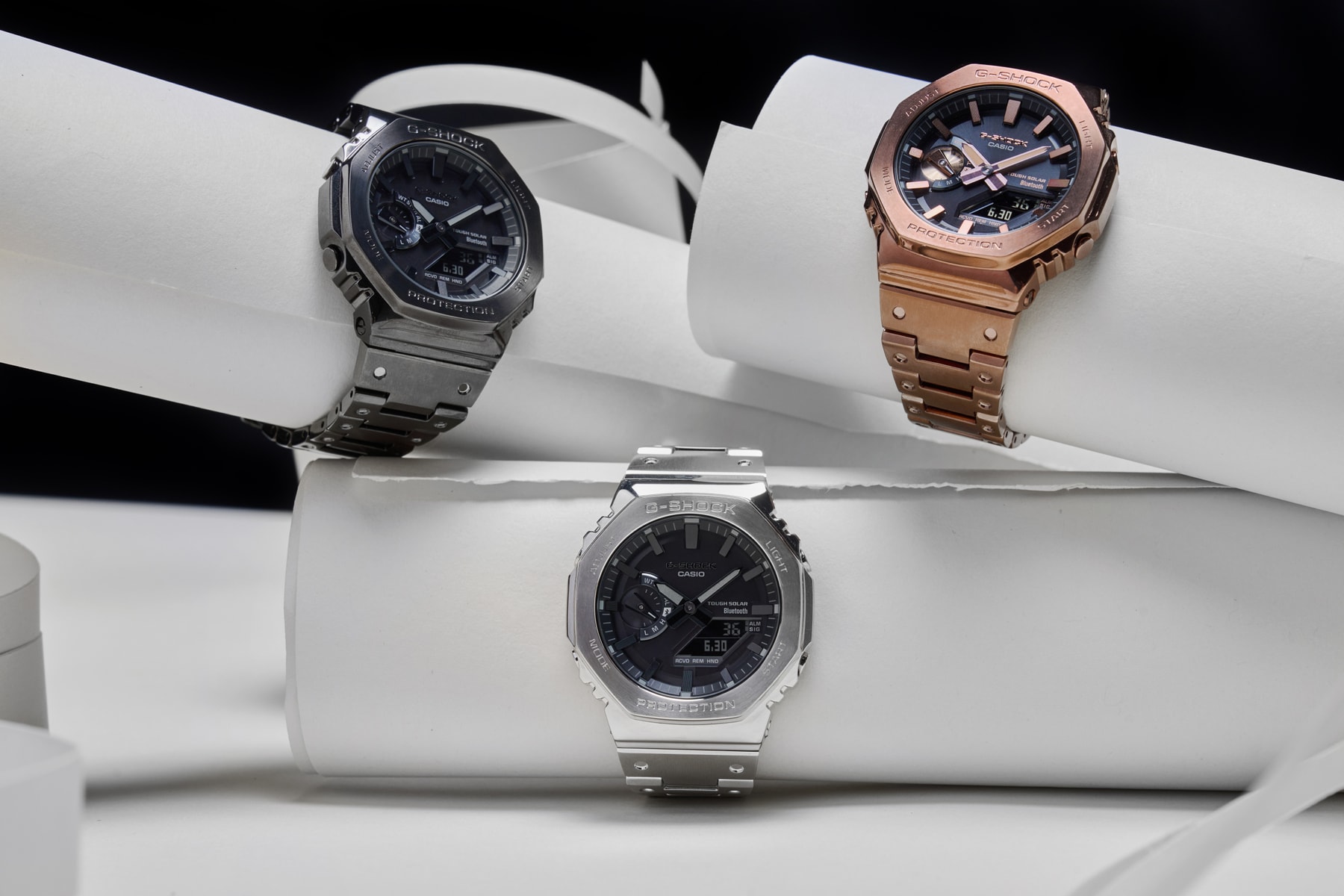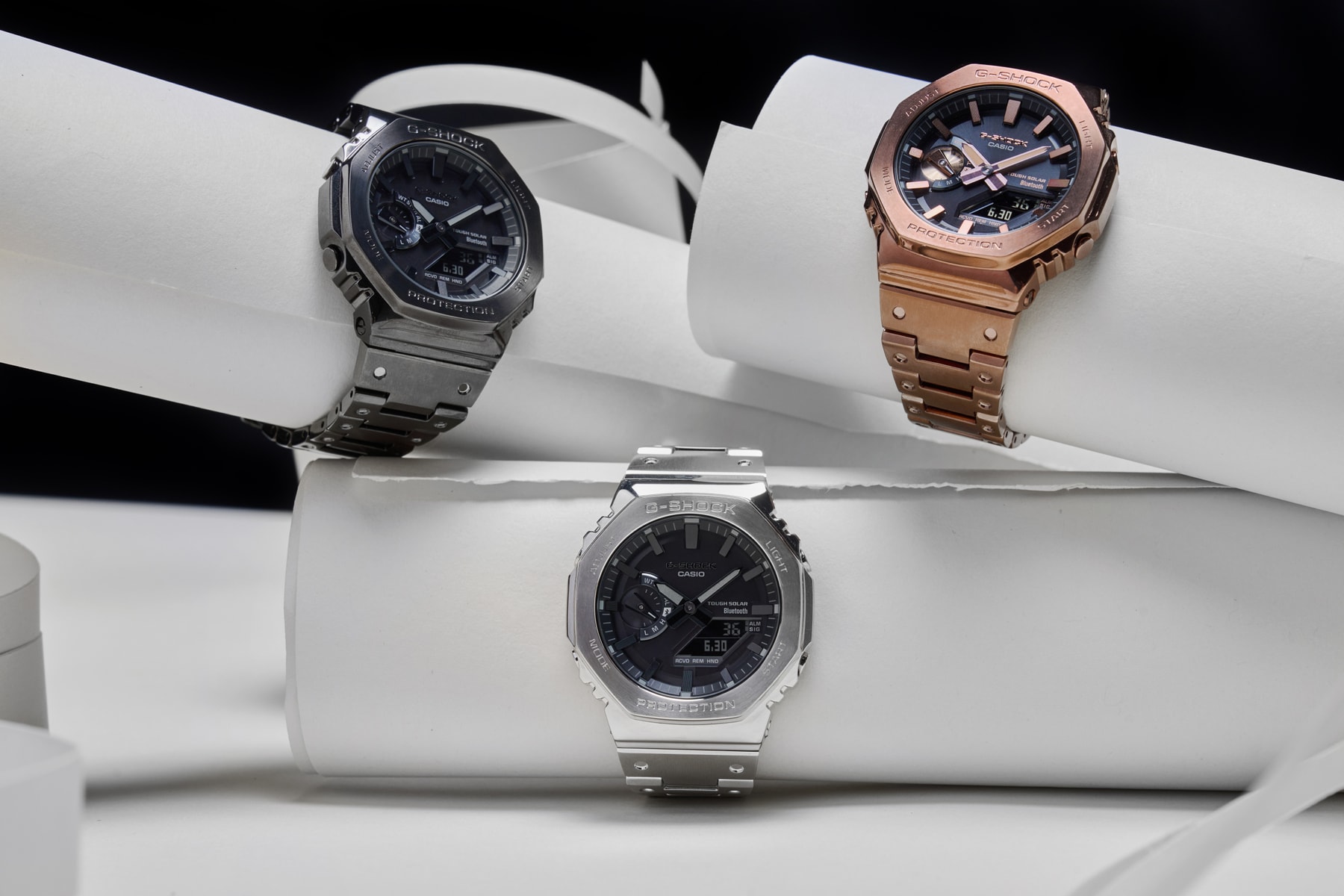 G-SHOCK's First-Ever Full Metal 2100 Range Impresses With High Caliber Style and Utility
The beloved 2100-line watches don a full-metal construction with analog functionality.
The 1983 release of G-SHOCK's iconic DW-5000C was an impressive milestone for the watch industry that made pioneering leaps by merging the world of utility and sport with fashion-forward functionality. The DW-5000C's revolutionary shock-resistant build made headway as a new "tough watch" genre amongst wristwatch enthusiasts, beloved for its versatility and ability to stand up to intense outdoor activity while remaining a contemporary, on-the-go accessory. The DW-5000C evoked a rugged, lived-in facade — its finishes welcomed the aggressive elements of city living, withstanding abrasive moments of unexpected wear and tear. The Full Metal 2100 series adopts sleek, radiant and streamlined accents that distinguish the range from 2100-line predecessors, inheriting the DW-5000C's octagonal form with angular lines accenting the bezel. The silver GMB2100D-1A, dark gray GMB2100BD-1A and copper GMB2100GD-5A feature an all-metal structure, designed with an eye-catching circular hairline finish on its bezel. By reproducing the dimpled accents of the DW-5000C in steel, the band boasts attractive, differentiated hairline and mirror finishes with textural and multidimensional flair. The Full Metal range introduces G-SHOCK's stylish robustness in exceptional form; the stainless steel components reinterpret the label's proprietary shock-resistant build with a sophisticated air and luxe appearance.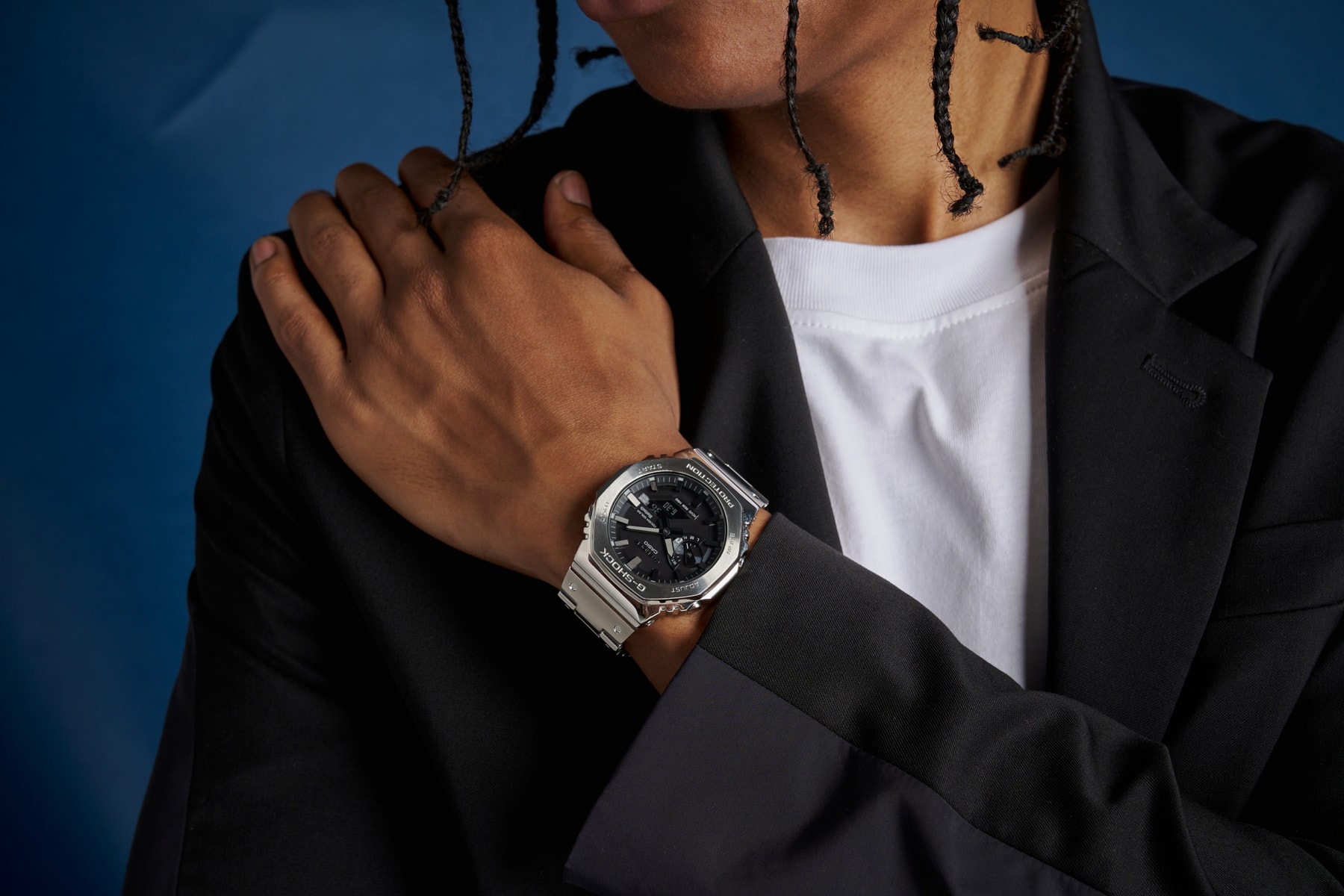 1 of 2
2 of 2
Through the use of color, material and finish, G-SHOCK reimagines previous models met with devout fanfare and hones incremental refinements with each new collection. Full Metal watches fully acclimate to digital-centric lifestyle sensibilities on par with luxury competitors. For starters, G-SHOCK engineers this line to accommodate its CASIO Watches App — the mobile pocket companion offers customizable Smartphone Link features with Bluetooth connectivity. Through the CASIO Watches App, users can access various Mobile Link functions and simplified interface commands through their smartphones.
G-SHOCK's standard toughness is replete with its shock-resistant structuring, and the built-in, resilient and film-like Tough Solar panel provides a large-capacity rechargeable battery, drawing light sources from dim environments. You can set up to five alarms, in addition to nifty specs like a countdown timer, Phone Finder, automatic time adjustment and world time in up to 38 cities (and up to 300 with the CASIO Watches App). Each model provides a hand shift feature and multilingual date and month displays, depending on your preference. In line with previous GA-2100 And GM-2100 units, the Full Metal 2100 series retains a slim profile, measuring a mere 12.8mm in thickness and weighing approximately 165g.
1 of 2
2 of 2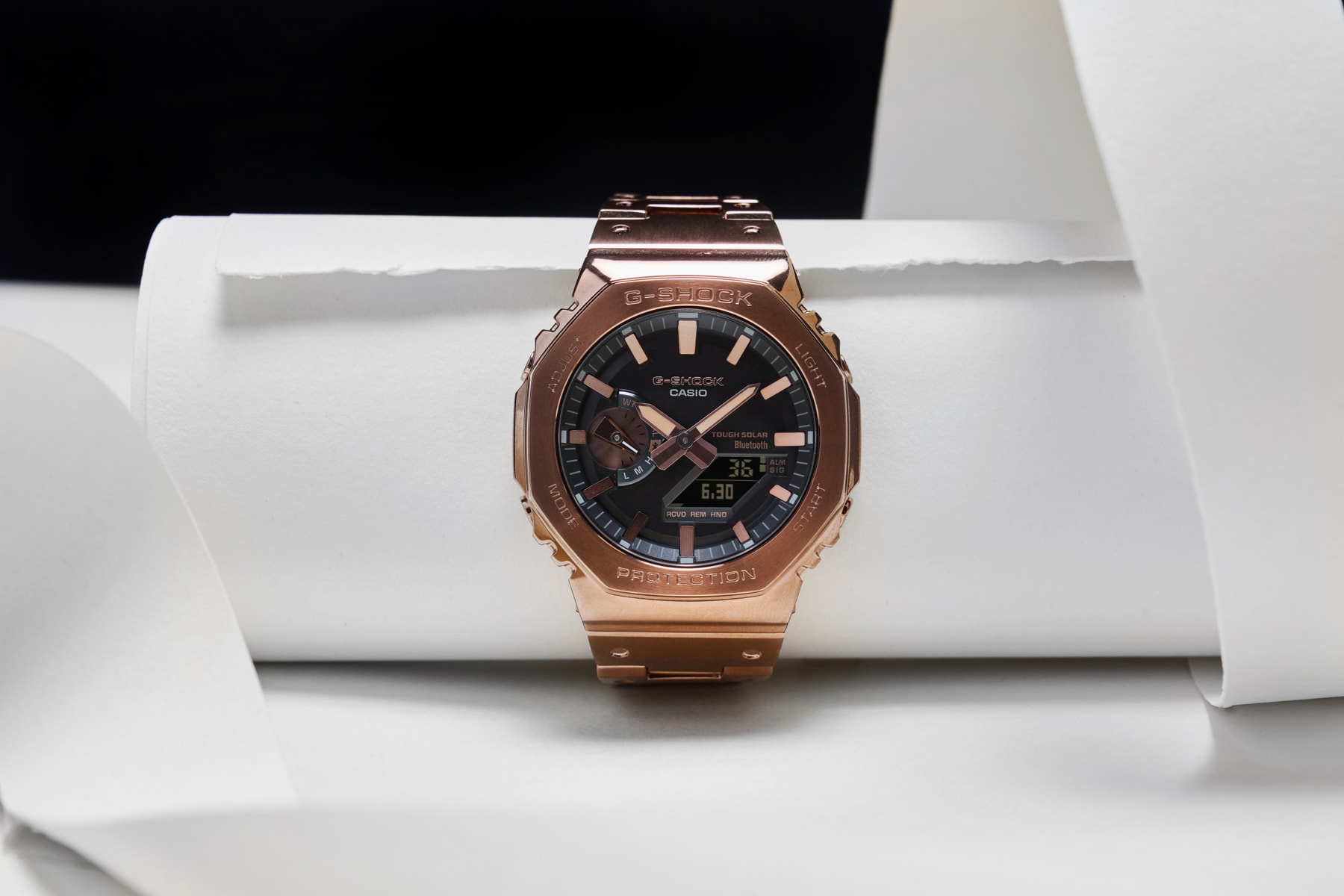 G-SHOCK achieves a streamlined facade despite its solid metal construction through high-density mounting in efforts to consolidate its tech-heavy circuit board structure. To ensure the Tough Solar panel is resistant to shock and exterior force, G-SHOCK equips each watch with a three-pronged mechanism employed at the lugs of the case. Meticulously-attuned interior buffering components within the intricately-shaped face and screw-back case mitigate and disperse shock. As with all G-SHOCK offerings, the range presents 200-meter water resistance and incorporates a Super Illuminator LED for high visibility in low-light environments. If you're itching for an appealing watch with impressive SMART functionality in a sleek and contemporary design language, head to G-SHOCK's website to learn more about the Full Metal 2100 range. The range showcases a culmination of G-SHOCK's leading technological advancements in recent years and materializes the label's rugged, toughness in a refined and minimalist presentation. Full Metal 2100 watches retail between $550 and $600 USD. Read more about the label's latest collections here.