Spotify's "Jam" Lets You Pass The Aux … Without Even Having To Get Up
The platform's newest feature allows you to compile a shared queue with up to 32 users.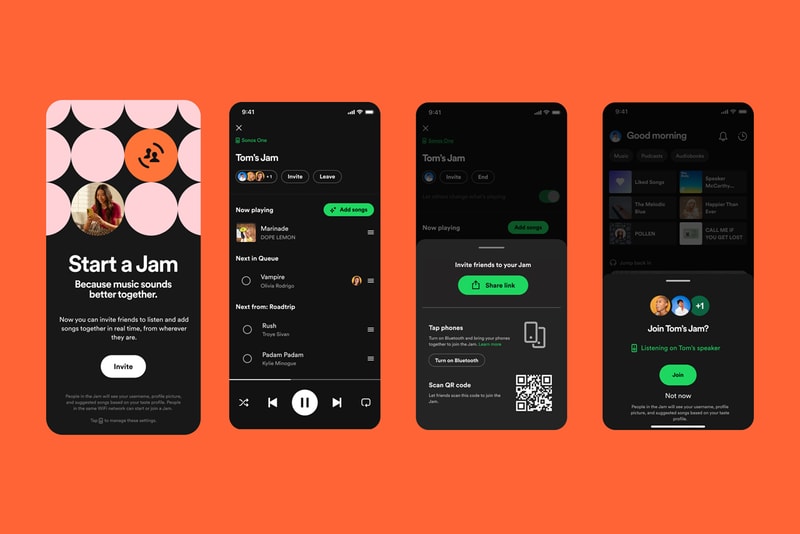 If Spotify's "daylist" is your new best friend, Spotify's "Jam" is your friend group's new mediator, saving you the heated arguments and animated disputes that may come with curating a playlist that properly combines everyone in your friend group's distinct tastes. Spotify's newest feature, aptly named Jam, offers up a shared aux. Building on the platform's already existing personalization and collaboration features, Jam gives listeners a seamless, personalized, real-time listening experience that they can share with up to 31 other people.
With Jam, users can engage in shared listening sessions with up to 32 total Spotify users. Here's how: one Premium Spotify user has to start the jam by clicking the "Start a Jam" button. The user can then invite other Spotify users – via link, QR code or Bluetooth tapping – to join the jam; while both free and premium users can join a jam, free users must be on the same Wi-Fi network as the host in order to join, whereas premium users can join from anywhere in the world. Everyone on the jam can add to the shared queue from their respective devices, and yes, everyone's additions are visible to everyone on the jam. With that, Spotify taps into the playlist's sonic composition to compile personalized recommendations tailored to the group as a whole.
With Spotify's "Blend" and "Collaborative Playlist" features continuing to flourish (seeing 45 million Blends and a cumulative total of over 200 million hours listening to Collaborative Playlists), the streaming giant saw an opportunity to take the amalgamation of personalization and collaboration to a more expansive level. "Jam brings the personalization that our listeners love to the groups that they love to listen with," Brian Roy, Spotify's Director of Design explained in a virtual brief. While Jam is only available on mobile devices at the moment, Spotify plans to continue the rollout to desktops soon. Users must have the most updated version of Spotify in order to Jam.
Elsewhere in the tech space, the EU reported that X/Twitter boasts the highest rate of disinformation among social media apps.