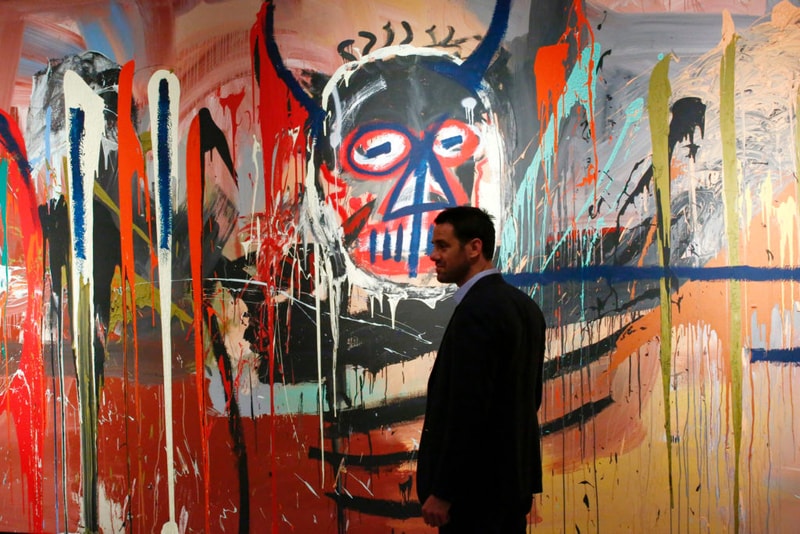 Jean-Michel Basquiat Work Sells for $10.8 Million USD, Sets In-App Purchase Record
Showcasing the success of Loïc Gouzer's new auction app called Fair Warning.
---
Last week, former Christie's co-chairman Loïc Gouzer debuted his new app called Fair Warning. The artwork auction app sees a single piece of art auctioned off each week starting on Sundays at 5 p.m. EDT. Yesterday, Gouzer announced that the app sold Jean-Michel Basquiat's Untitled (1982) for $10.8 million USD — a record for an in-app purchase of any item. Measuring four by six feet, the acrylic and oil stick Basquiat work was kept in Gouzer's garage in Montauk, which he transformed into a climate-controlled viewing room. Interested buyers were allowed to view it in person.
The first piece that Gouzer auctioned on the app was Steven Shearer's 2018 portrait, Synthist, which sold to a private collector in Europe for $437,000 USD. He has sold two works since then, including a body print by David Hammons that sold for approximately $1.3 million USD and a piece by Steven Parrino that fetched $977,500 USD. "It's really an experiment," said Gouzer. "The idea was to create a guerrilla type of auction system where you could start moving paintings by using the cloud rather than physical locations."
For now, only those who have been invited can participate. Unlike auction houses like Sotheby's and Christie's that consider themselves democratic outlets, Fair Warning has limited spots. "There's no runners, there's no trash-taking or shopping around pictures—it's about creating a community," Gouzer said. "At least for now, we have a certain amount of people that we're going to take, and the closer we get to that number the harder it'll be to get in. The whole idea is to keep it private so people can feel comfortable."
In other news, yet another Yayoi Kusama exhibition has been postponed as a result of the ongoing COVID-19 lockdowns.