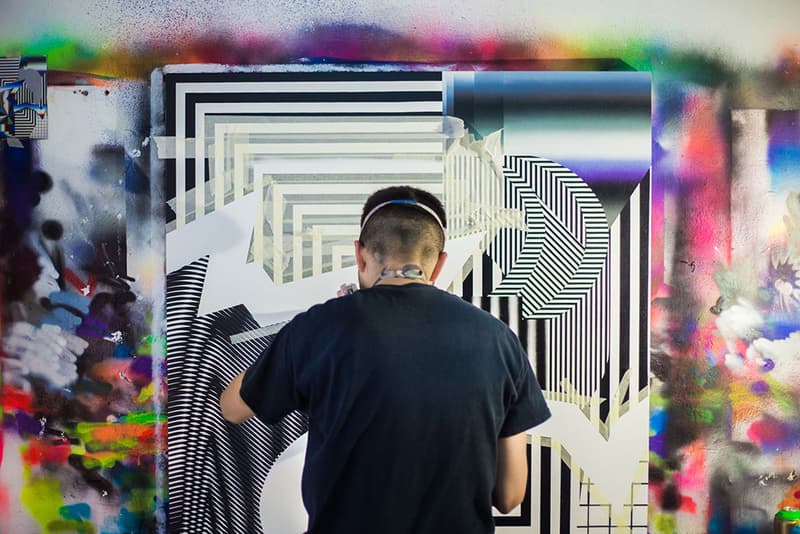 Felipe Pantone Lays Down 10 Facts for Spray-Painting in Virtual Reality
"Hands don't get dirty" and "no cops."
---
Quarantine doesn't necessarily mean that creativity is restricted. From coloring sheets to DIY art challenges there are all sorts of ways people artfully decompress while sheltering in place. For acclaimed visual artist Felipe Pantone,  he engages with virtual reality graffiti in the time of coronavirus.
The Spanish muralist recently posted videos on his Instagram account showing how he tops off burners on realistic-looking surfaces inside a VR graffiti simulator called Kingspray on Oculus Rift. From painting his "PANT1" tag on a sprawling brick wall to creating a colorful, geometric mural on a commercial truck, the artist spray paints in the comfort of his home using the application.
The artist also shared 10 facts about VR spray painting:
1. Paint doesn't smell.
2. There's no masking tape in VR.
3. The ladder seems to be more stable in real life.
4. Hands don't get dirty.
5. You can make every color metallic.
6. No need to wait for the paint to dry.
7. It never gets dark and it never rains.
8. There's no undo button (why tho). 9. I can paint your truck during a pandemic.
10. No cops, but crashes often, so same thing.
Get a closer look at Felipe Pantone's virtual reality murals below. Kingspray is available for $14.99 USD, try it out for yourself on Oculus Rift.
Elsewhere in art, San Francisco's de Young Museum is preparing for a major Frida Kahlo exhibition.