Megan Thee Stallion Files Lawsuit Against Record Label 1501 Certified Entertainment (UPDATE)
#FREETHESTALLION.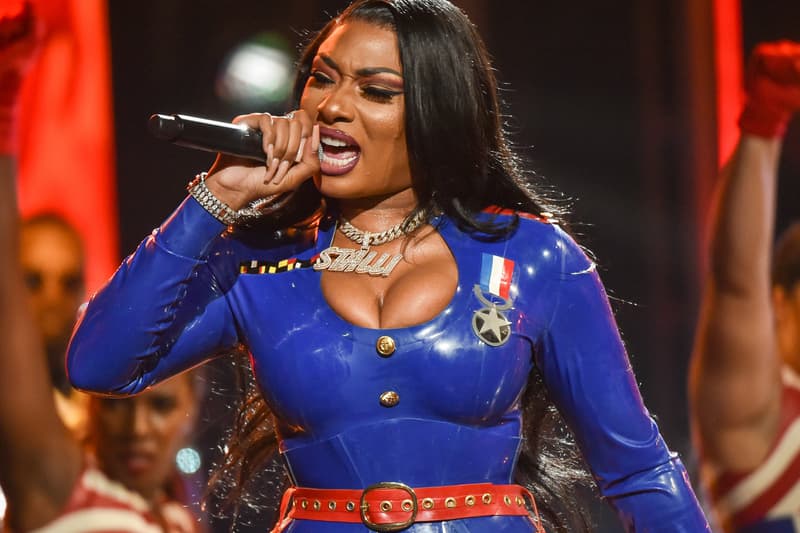 UPDATE (March 3, 2020): Megan Thee Stallion has filed a lawsuit against her label 1501 Certified Entertainment and its CEO, former Major League Baseball player Carl Crawford, for at least $1 million USD in damages.
According to reports, the suit details the allegedly suspicious specifics of her contract. Meg reveals that 1501 legally takes 60% of her recording income, while the remaining 40% that goes to her is divided between her own royalties and payments for engineers, mixers and featured artists on her songs. The rapper also notes that all the money she makes from touring and live appearances are paid directly to 1501, and while they are meant to provide her with a proper financial breakdown of her own profit, she claims that the records they've given her are incomplete and "purposefully and deceptively vague."
Furthermore, Meg alleges that Crawford has been taking advantage of his relationship with Rap-a-Lot Records founder J. Prince to browbeat other important figures in the industry. She states in the lawsuit that the 1501 CEO pressured an unnamed producer to submit some beats by claiming that it would anger Prince if he didn't. "Prince is notorious in the industry for strong-armed intimidation tactics, and the comment was taken as a physical threat of harm," the suit reads. To make matters worse, the Houston rapper thinks that Prince was somehow involved in a smear campaign against her, noting the sudden appearance of her mugshot from five years on the internet.
According to the rapper, she only received a $10,000 USD advance when she signed with the record label and the long-term outcomes are not "worth it," pushing her to renegotiate.
On the brighter side, a district judge in Harris County, Texas granted the rapper a temporary restraining order against the label, allowing her to release her new music as planned. "We are very happy the Court granted our TRO and thrilled that the world should be able to now hear Megan's new music on March 6," attorney Richard Busch said. "We will now proceed with the other claims set forth in the [lawsuit]."
---
ORIGINAL STORY (March 2, 2020): Megan Thee Stallion took to Instagram Live to air out her frustrations with label 1501 Entertainment, claiming that her desire for contract renegotiations has forbidden her from dropping any new material from her forthcoming project SUGA.
The "B.I.T.C.H." rapper explained that the complications of her 1501 Entertainment contract was brought up by her management over at Roc Nation. "I was like 20, and I didn't know everything that was in that contract. So when I got with Roc Nation, I got management — real management — and real lawyers. They were like, 'Do you know that this is in your contract?' And I was like, 'Oh, damn, that's crazy — no, I didn't know," she said in her livestream.
"I wasn't upset. I'm thinking in my head, 'everybody cool, we all cool, we family, it's cool, it's nice. Soon as I said, 'I want to renegotiate my contract,' everything went left. It all went bad. It all went left," she continued. "So now they tellin' a b*tch she can't drop no music. It's really just, like, a greedy game."
Meg adds that while she's the type of person to avoid confrontation, she's more than ready to stand up for herself, "I'm not a greedy person. I'm not a person that likes confrontation. I'm not a person that's a b*tch. I work with everybody, and I'm nice, and I'm real family-oriented… I see the sh*t that camp be saying about me, and I be like, 'Damn — since you got so much to say, why you just won't tell 'em why you mad? You mad because I don't want to roll over and bow down like a little b*tch and you don't want to renegotiate my contract."
Fans on Twitter rallied in solidarity of the Houston star, using the hashtags #FREEMEG and #FREETHESTALLION to show their support. Some users suggested that the rapper drop music on SoundCloud as a form of retaliation, while some fired shots at 1501 for "using" her as the face of their label without giving her proper compensation or any leverage.
Megan Thee Stallion explains why her original label won't let her drop any new music. pic.twitter.com/ai71iI6vnd

— Rap All-Stars ? (@RapAllStars) March 1, 2020
— HOT GIRL MEG (@theestallion) March 1, 2020
I missed the live but are you able to even drop music on Soundcloud?? Some labels are so disgusting and greedy- they don't value the artistry. They continue to take advantage of young artists. I hope you get out soon? #freemegan

— WORLD PEACE? (@SHABANGBANGGG) March 1, 2020
#FREETHEESTALLION 1501 literally has Megan Thee Stallion all over their god damn page like a stan and have the gall to not show their breadwinner any type of respect. Imagine carrying a label on your knees only to be disrespected. I hate to see it! pic.twitter.com/wko1MkX1Po

— Lizz (@LizzMurr56) March 1, 2020
Elsewhere in music, Pop Smoke's family has issued a statement on the rapper's passing.