Nav's New Lease on Life
The Toronto star talks post-retirement, 'Bad Habits,' playing NBA2K and more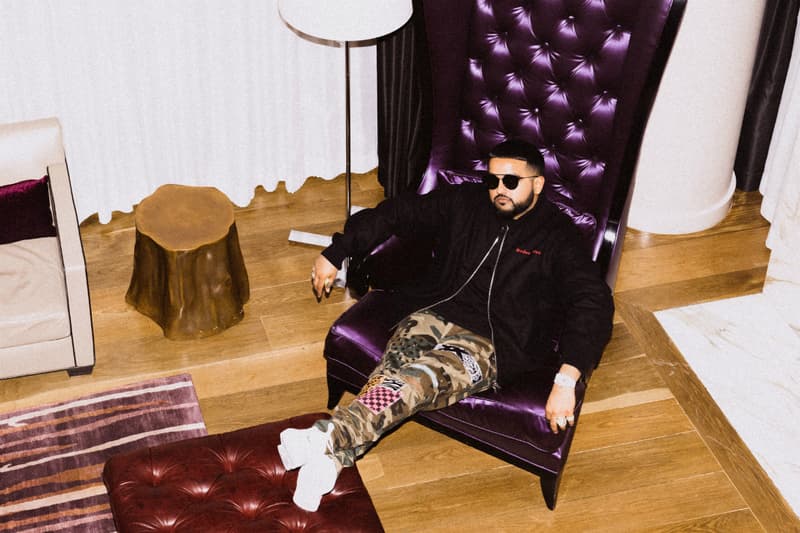 Nav loves retirement; these days self-care has become his best friend. "It felt good to just delete my Instagram and take a break. I'm not gonna lie," he says while getting his hands manicured and his face sprayed with rosewater. "Just as good as it felt to come back, you know what I mean? It was the same thing. It was a good break."
In the back of sleek Tribeca streetwear store Patron of the New on a sunny afternoon, Nav, born Navraj Singh Goraya, is getting pampered while his crew browses around the store. A few minutes in, Casanova walks through the doors and greets the crew before conversing about night plans. Nav mentions that he wants to go to dinner at TAO later and suggests going to his hotel suite at the Royalton Park Avenue beforehand. His easy-going nature would have previously never be shown to anyone outside of his private circle, but since his retirement, the 29-year-old Toronto native has been actively working on becoming an open person. That's a sharp contrast to the early stages of his career when Nav kept to himself because he didn't feel he was ready to handle the spotlight.
Nav's journey can be split into two parts — before and after his "retirement" this past January, which lasted around three months. He broke out in 2016 with viral songs such as "Myself" and "Up." Nothing was known about him and many assumed he was Black until he appeared in Travis Scott's "beibs in the trap" music video. Once discovered that he was of Punjabi descent, he received backlash for his use of the N-word in his early songs. He has since stopped using the N-word in his music and has gone on to sign with The Weeknd's XO label and Republic Records, which has led to the successful releases of  NAV, his Metro Bommin-collaborative album Perfect Timing and his debut studio album Reckless.
But with each release, the once strong fanbase started to turn on him, especially on social media. He became a punching bag. Nav attributes this to his lack of transparency and personal fingerprint on his music — "I only see hate on the internet, not in real life," he says, now in his hotel. "No one comes up to me and says, 'Oh your album sucked.' It's always on the internet, they hide behind the screen. In real life, I never get hate. I only get love or [get] asked for a picture." Though Nav says the internet is all fake, he recognizes that he went away from what made him initially successful and his relative newness to the music industry made him apprehensive to speak up.
Since his brief retirement following Lil Uzi Vert's announcement of hiatus, Nav took time for himself. During the break, he worked on Bad Habits, going back to the formula that got him noticed in the first place: working with his close friends and being more hands-on as a producer. Nav appreciates the criticism from his friends, The Weeknd and Amir "Cash" Esmailian — XO's mastermind behind the scene — gives him. With more industry experience and newfound confidence to become more open with the public, Nav's stock has risen. Bad Habits debuted at No. 1 on the Billboard 200 chart a week after its release late March, and the Canadian rapper has even finally gotten recognized by TMZ.  
HYPEBEAST: What made you want to retire?
Nav: I heard Uzi quit and then me and Cash were talking about it, and I was like, Yeah I'm just going to quit too. Like, fuck it, 'cause I knew he was gonna come back. So I just quit and I guess it was kinda crazy 'cause some people were like, "Fuck it, who cares?" [and] there were some people that were like, "No, come back."
But it's surprising 'cause I got more followers that week [I retired] than any other week of my life. It's kinda crazy. No matter if it's negative or positive. If it's something drastic, people just pay attention. It's crazy.
How close are you and Lil Uzi Vert? Was the decision to retire just a sporadic reaction?
Yeah and I'm pretty close [to Lil Uzi Vert] because that's pretty much the closest, artist friend I have. I went to one of his first shows. I was a fan. He heard about me through someone. He ended up being on tour with Abel in London. So that's when we really linked up 'cause I was just there hanging out. We'd just chilled every day. Cash named us Beavis and Butthead. We'd be on tour smoking in the elevators, doing stupid shit.
What does a retired rapper do?
Just chill, play a lot of Fortnite, go shopping, go eat, chill with my friends. Obviously, make a little bit of music. I enjoy making music. It's not even about being retired. If I retired right now, I'd still be making music. Whether it's making beats or writing, I have to do something. I enjoy being in the studio.
"I feel a lot of responsibility. I pretty much lit the torch. I'm carrying it now"
Who's the best and worst at playing NBA2K?
Does it have to be people you know? I don't know if I've played anybody you guys know.
That's fine.
I can't do this. It would be too political. I gotta see these people again. You're making me crazy. I hate to say it but probably my boy Marty is the worst. He's gonna hate me for this. Damn, bro you gotta get your shit together. Man, he'll get the 20 pieces. We ended at 20. When it's 20, it's over. But I gave the kid money. I gave him 20 the other day. He beat me like three times after that. But I was like, whatever. I still got the 20 on you.
Who do you play with?
People hate on me for this, but the Warriors. [Laughs]: You could beat them, though. I've been beaten.
There's a huge lane, especially for artists, to be involved in esports, like The Weeknd becoming the co-owner of a Toronto eSports company. Are you getting into that business also?
I've thought about it. I'm playing all day. There's days when I'm in LA literally playing all day. I play on PC too, keyboard and a mouse.
On PC? You're a serious gamer.
I'm a nerd.
1 of 2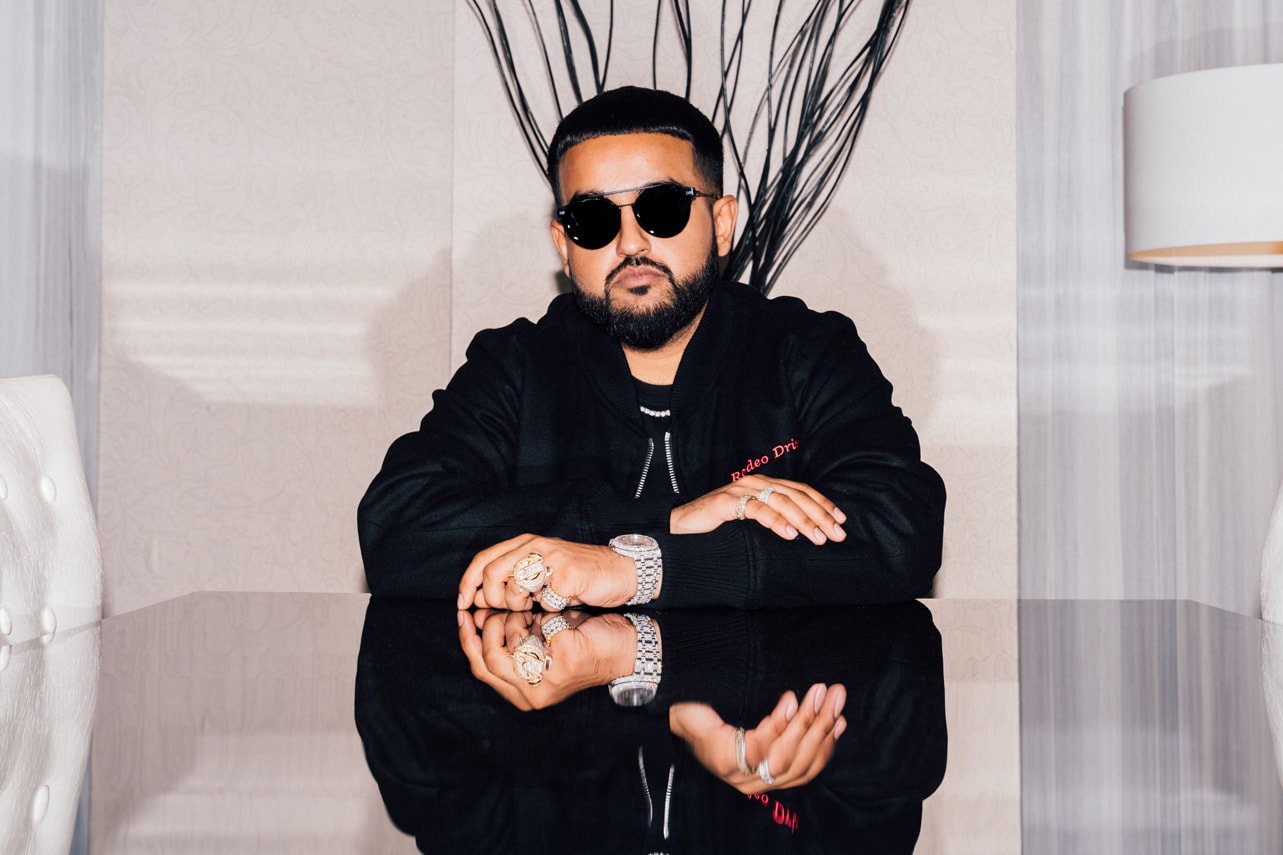 2 of 2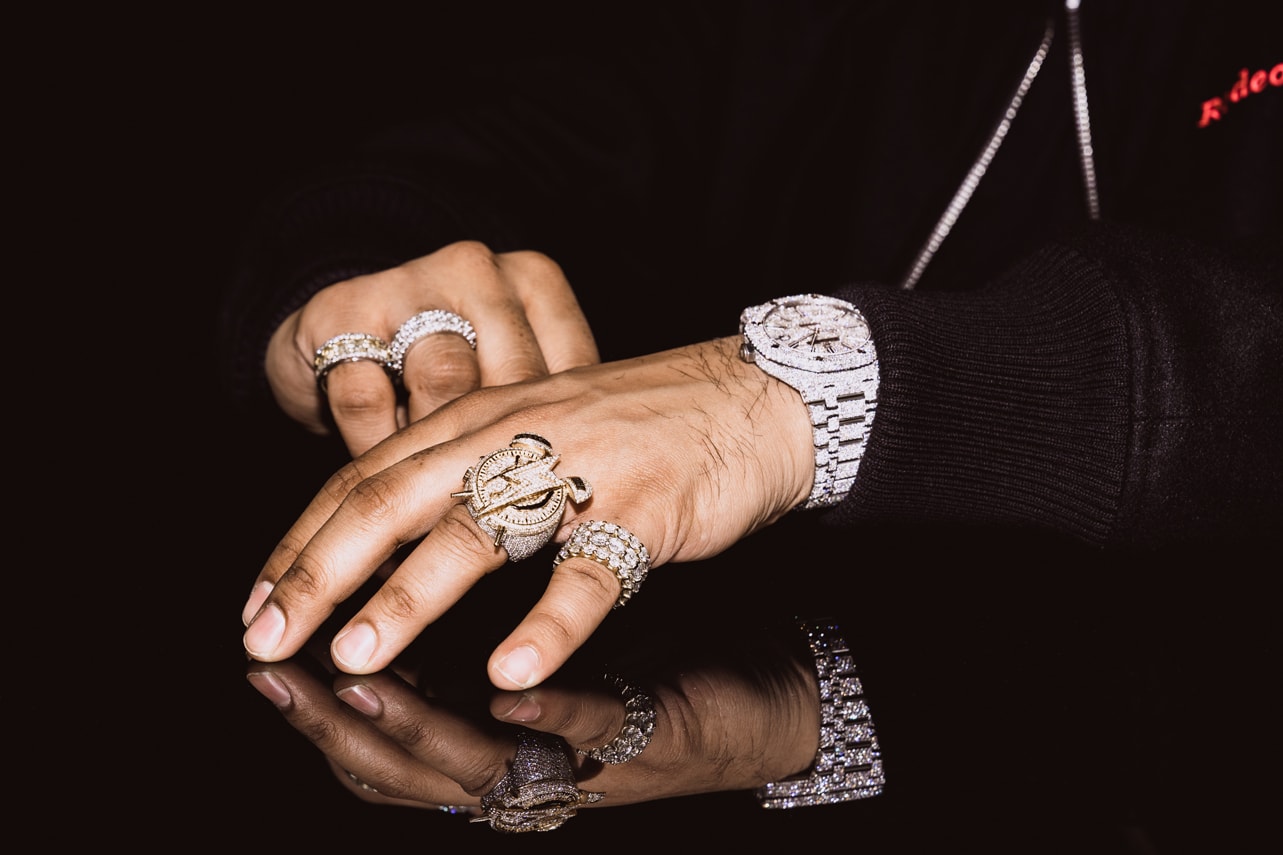 It probably felt good to take a break though, right?
The attention died down on me, it was cool. But in a weird way, the attention went up on me too, like when I go out in public. More people recognize me. People are like, "Oh you're retired," people that didn't know you are looking into you and listening to your music now. It's weird. I got fans off of that, new fans.
Do you take criticism personally?
There are days that it affects [me] and there are days that it doesn't. There's days when one negative comment could spiral your whole day into some negative bullshit. The majority of the time I just brush it off. I don't even read it. I don't even read comments. There's no point.
Being that you're of Indian descent and in hip-hop, you ever think about representation?
It's very important to me. I feel a lot of responsibility. I pretty much lit the torch. I'm carrying it now. I just feel a lot of responsibility. I gotta do this the right way, represent us the right way, be authentic.
Do you think you have to work harder or prove yourself since you're Brown and in hip-hop?
Yeah, it's just that they hear the lyrics and the reason why they don't believe what's goin' on is 'cause all they see is a picture or a video. There's no real back story. That's why I'm sitting down doing interviews now so I could talk more about that.  
Yeah, you were a mysterious figure in the beginning of your career.
I didn't feel ready, number one. And number two, along with not feeling ready, I felt like it kinda also kept a mystery about me too. It kinda worked hand-in-hand. I wasn't ready to actually do interviews and talk about this stuff.
One of the backlashes that happened early in your career was your use of using the N-word in your early music. How did you learn from that?
When I first started making music in my neighborhood, everybody used that word. Black people, White kids, Korean kids. Everybody in my neighborhood was like that. So I was making music pretty much just for me and my friends. I didn't think it was gonna go big or nothing, you know?
The last song that I ever used it on was "beibs in the trap" and that's because I made that song in that same era. It's not like I made that song when it came out. I made it before it was already kind of a demo on my computer, just an idea. That's why that was the last song that was on there.
My friends will say, "Who gives a fuck?" I'm like, no, I gotta respect the game, you know what I'm saying?
"Maybe he made 100 million. Maybe I'll make 80 but I'm cool. Whatever my legacy is, it is. And whatever his is, it's his"
In your opinion, what's special about XO? What keeps your loyalty?
It comes from pretty much like Cash and Abel saving my life. And then also, people that are in XO that I don't have actual business with, no contracts with, how cool they are. How they take care of me outside of contracts. I've made friends within the crew like that. they're not business partners or anything. It's kinda like a family, you know?
The Weeknd looks at you as his protege. He, along with Cash, adopted you and brought you into XO. What has Abel shared with you?
He's like, there might be some people who would hide secrets or hide good information. He does none of that. He'll tell you, once you're in with XO, you're in all the way. They just tell you everything. He'll tell you whatever you need to know, the right advice.
He's just been really transparent, really cool about everything. When it comes to him being the GOAT and I'm down here, I could compare that and get discouraged or I could just take my own path. Maybe he made 100 million. Maybe I'll make 80 but I'm cool. Whatever my legacy is, it is. And whatever his is, it's his.
You were really known in the beginning for your production. How important is producing to you now?
My first album was all me. I produced everything. I recorded myself. Next one was Perfect Timing, that was me and Metro Cool. The third one was me and I didn't touch anything production-wise. That's where I kinda had a little hiccup. I feel like I didn't do too well just cause of whatever is in my roots.
But now it's a mix of my friends that were around me when I had my first album and when I first popped off. And they're making beats. I'm making beats with them. We're doing all the songs together. I pretty much made a project with my friends.
So you went back to the basics.
Yeah and I need to be around the people that were around me when I was making my hits. My friends that would give me advice, like Reckless. They heard that album when it was done. But they never even got to hear any of the process, anything. [Bad Habits], they were involved from the first day.
What feedback did they tell you from Reckless?
They tell me they wanna see all that stuff. I feel the same way too. I handed it in like an assignment in school or something. I just gave it to 'em and that's it.
It great to have friends who can give you honest feedback.
Definitely and then like one of my friends was criticizing my music a lot, he's an engineer. And now he's engineering me. So even when we're in the booth and we're recording I can ask him do you think that was good or not. He'll be honest. I can trust their opinion. It's not filtered.
1 of 3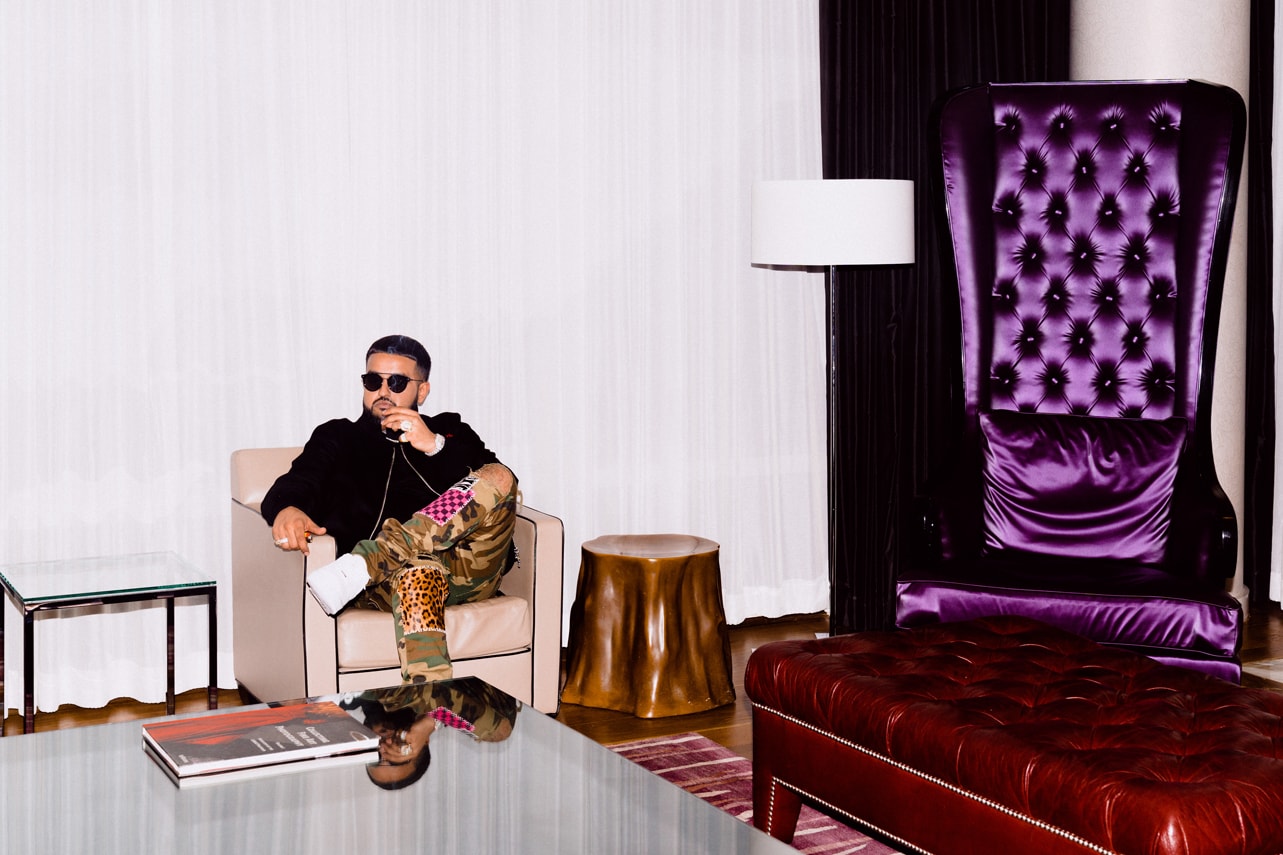 2 of 3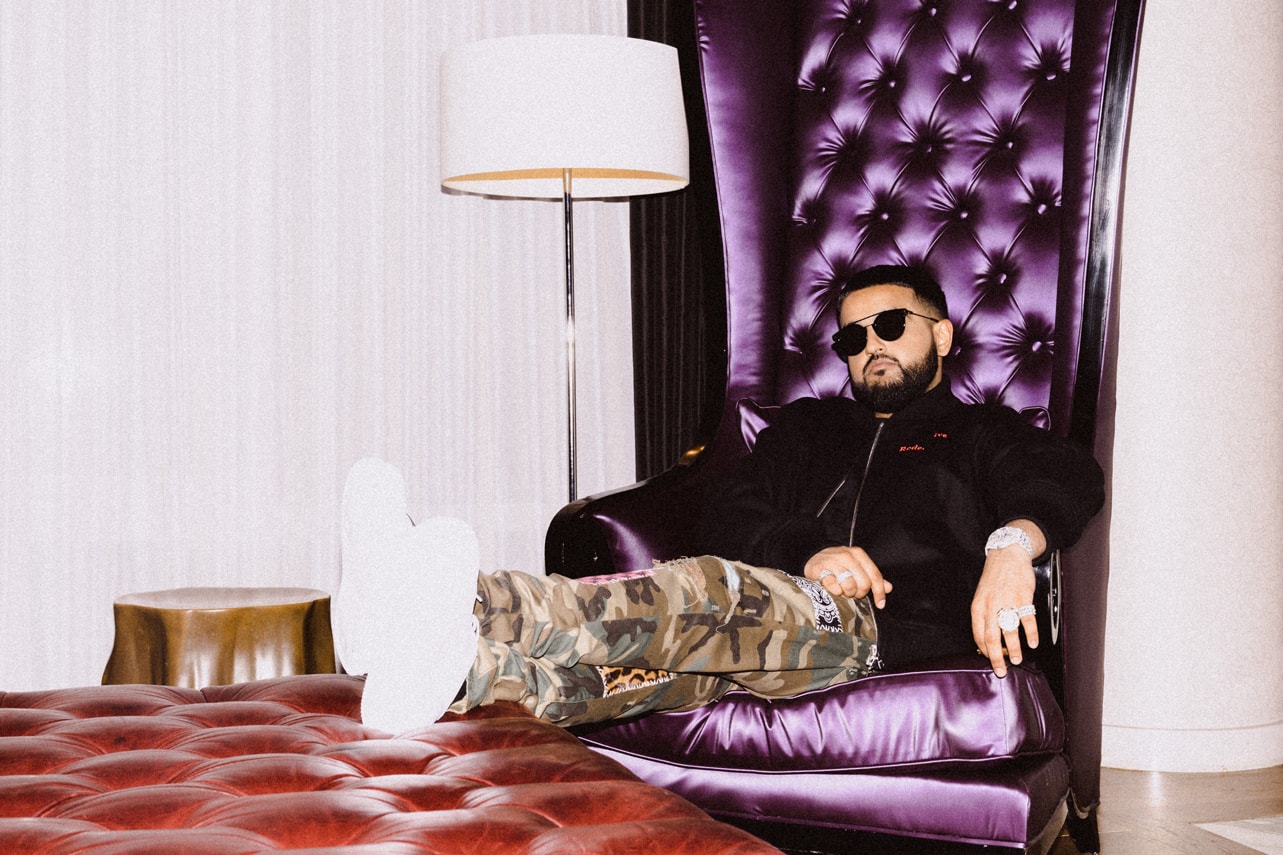 3 of 3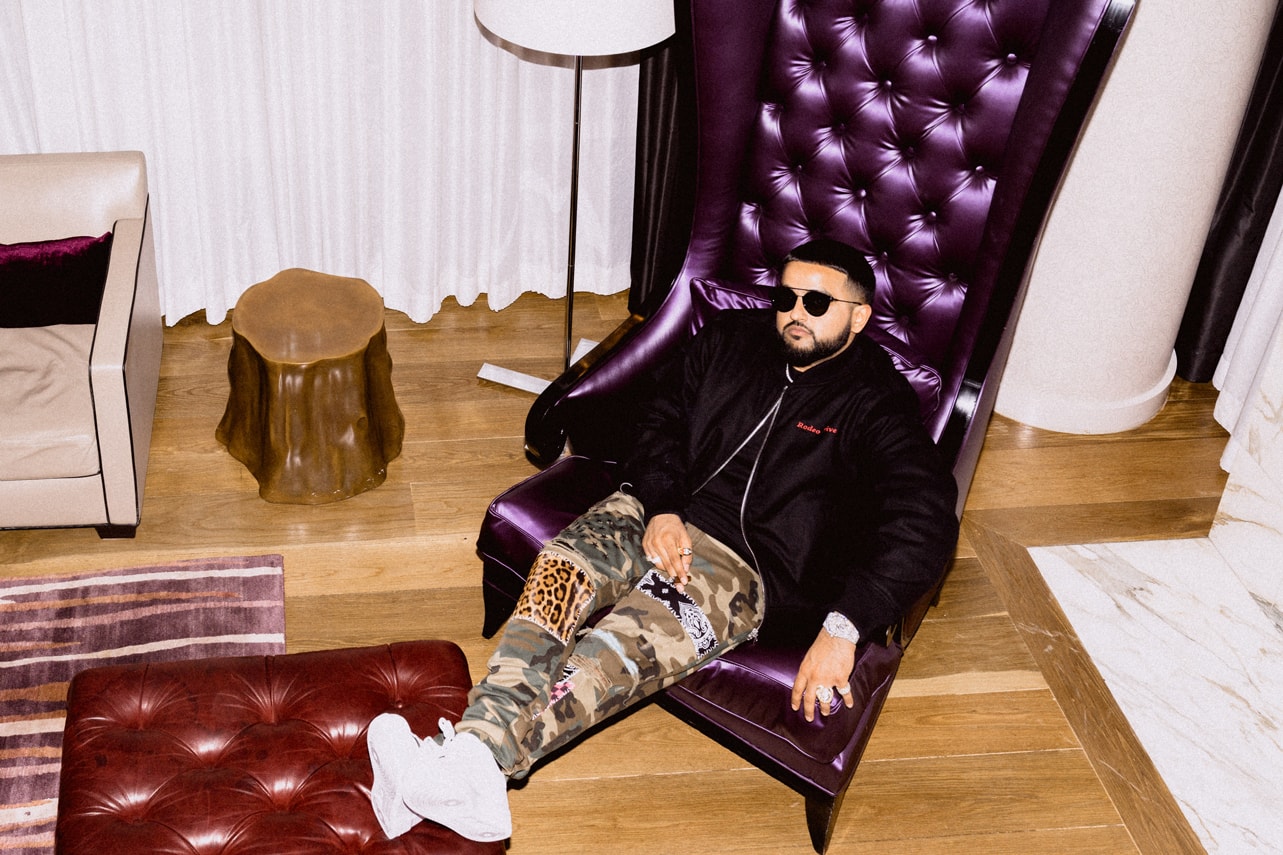 Are collaborations like that where you're mainly the rapper, is that something you have to be comfortable with since you also produce music?
The first time when me and Metro sat down, he had keyboards surrounding him like in a fort. I couldn't get in. I couldn't sit down. I didn't know what to say cause I didn't know him. I'm just coming to the industry. I don't know how to talk to people.
Once I just told Metro, "Yo, get out the way, lemme just try something here," he just moved out of the way. I was like, damn, that's how easy it is to work with these guys. Our chemistry built over time from Perfect Timing. Towards the end we became like brothers.
This next project is gonna be interesting. We're both gonna be more mature. We're both in different places in our life. We're still around each other all the time. Not even making music just like chilling and stuff. This next one will be cool. The first one was getting to know each other. This one is like, we know each other now.
The whole "Yosemite" vocal situation, how mad were you when you first heard your levels on your verse?
I was tight. I'm not gonna lie, I was tight. I was like, "Damn, what the hell happened here?" But I just know how close Trav was to handing [the album] in and how much they rushed it. All the shit that goes into it, it's like, anybody could've made that mistake.
They blamed Mike Dean, the engineer, you could blame the master, anybody. It happened and it's what happened. I'm not gonna sit here and hold on to it. And to be honest, it shed a lot of light for me in a weird way. Like I said, you quit and you get followers. Something bad happens to you on a song, you get followers.
You even shared a meme about the verse.
Yeah, things like that feel real in the moment. Every picture I'd post would be saying something about that; a different comment about that or a different joke about that. Now if you look there's not a single comment on my last post. You don't see anything cause they forgot about me. That's just the internet, you know?
What's the most recent reckless thing you did? Just like, I can't believe that just happened?
I don't know, I don't know if I'm supposed to say it. I got hit by a Lambo truck and some shit.
What? Where?
On the highways. This was in L.A.
Wait, did your body get physically hit or you in a car?
My car. There was a pylon in the middle of the lane. I fuckin' hit it. I was speeding fast, you know? I just couldn't do anything before it came. I just hit it. My whole bumper is fucked up. The AC broke. It don't work. Now my whole bumper is ripped off. Lamborghini is sending me a new bumper from wherever they send it from.
You're a couple projects in, internationally known, bigger than you've ever been. Now what gets you motivated?
Going back to the last album, I had a bunch of money. I got a lot of success or whatever. I got all the things that I wanted. So that's what I thought it was, you know? And then I ended up not focusing on the music. So that's why I felt like I didn't do such a good album last time.
And that's when I realized what really made me happy. It's just excelling at what I do in the universe of musicians, all around, artists everywhere.