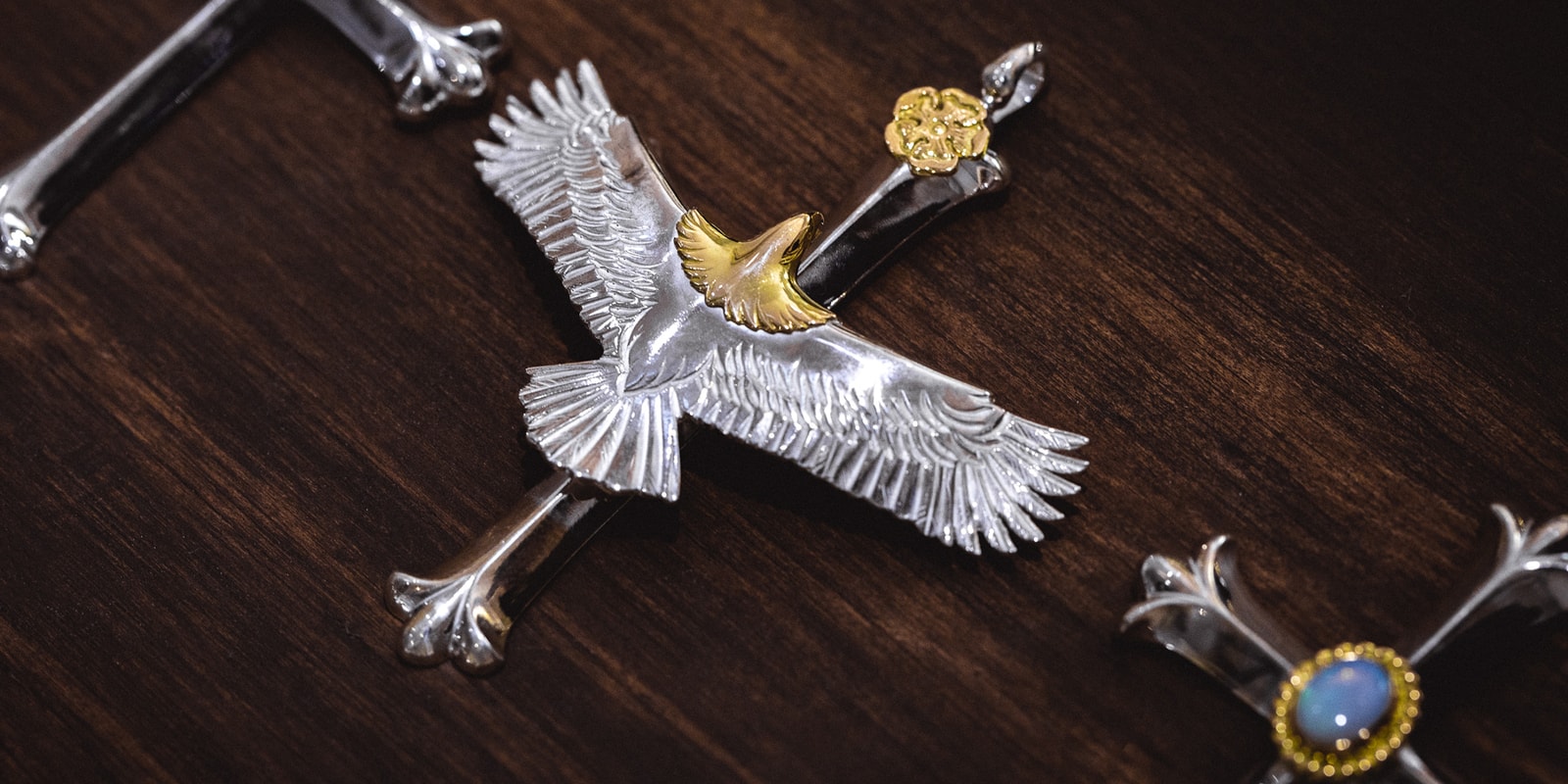 The 925: Crafting Elegance with Taro Washimi
One Feather at a Time

For many, silver accessories are just a way to further accentuate an outfit or style, but for some, silver jewelry means more than that. It becomes part of their lives — a lifestyle. From the impossible-to-buy pieces from Harajuku's Goro's, to the finely-polished offerings from London's BUNNEY, there's one common thread seen in their patrons — an unrelenting devotion to the brand and its products; asking where they got a particular ring or necklace will often bring up an hour-long history lesson on the brand's founder, and the subtle changes the accessories have gone through over the years.

Our first 925 story looks to tell the story behind silversmith Taro Washimi. Based in Tokyo, Japan, Washimi got his first taste for silver from his friend, and Goro's disciple, Takashi Murata and his Studio T&Y imprint. Washimi honed his already-high level of hand dexterity with special one-offs in leather goods before making his jump to silver — his silver ornamentation and flourishes are a direct adaptation from saddle leather tooling. When comparing a Taro Washimi feather or eagle claw from other Native American jewelry brands, distinct differences are immediately found. You'll find his eagles and crosses deceivingly heavy, not because of the material, but because your perception will be inadvertently altered by the number of delicate details. It's on the microscopic level where he stands out, elegant lines, deep etches, and curves of the metal all help in defining the Taro Washimi name.
Arriving in Hong Kong's Vinavast with a full batch of new accessories for collectors, Washimi explained the inspiration behind the collection. His tenacity for improving his skills is evident through his work ethic; even when answering our questions he was busy working on custom orders, taking minor breaks from behind his loupe to reflect on his process.
1 of 6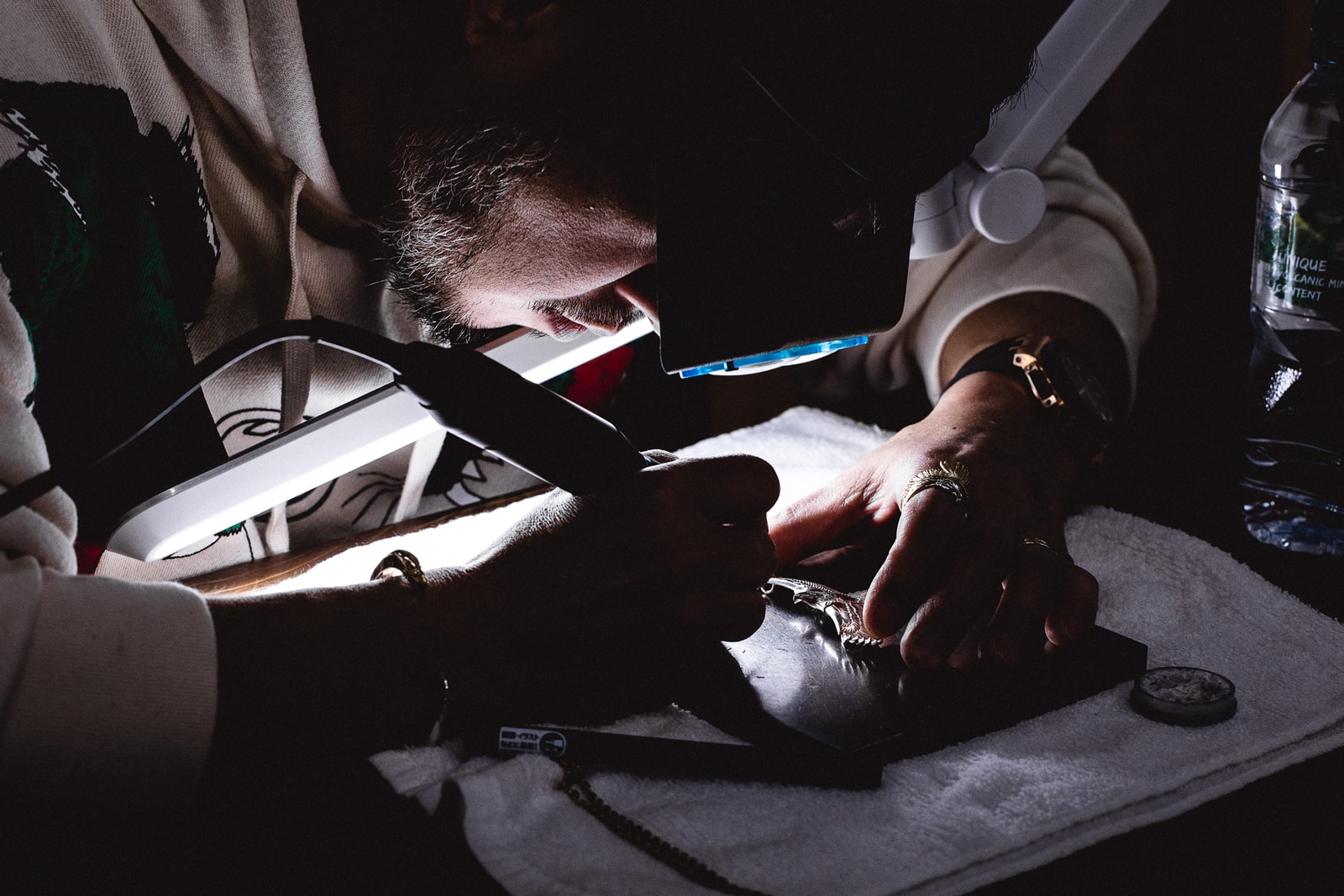 2 of 6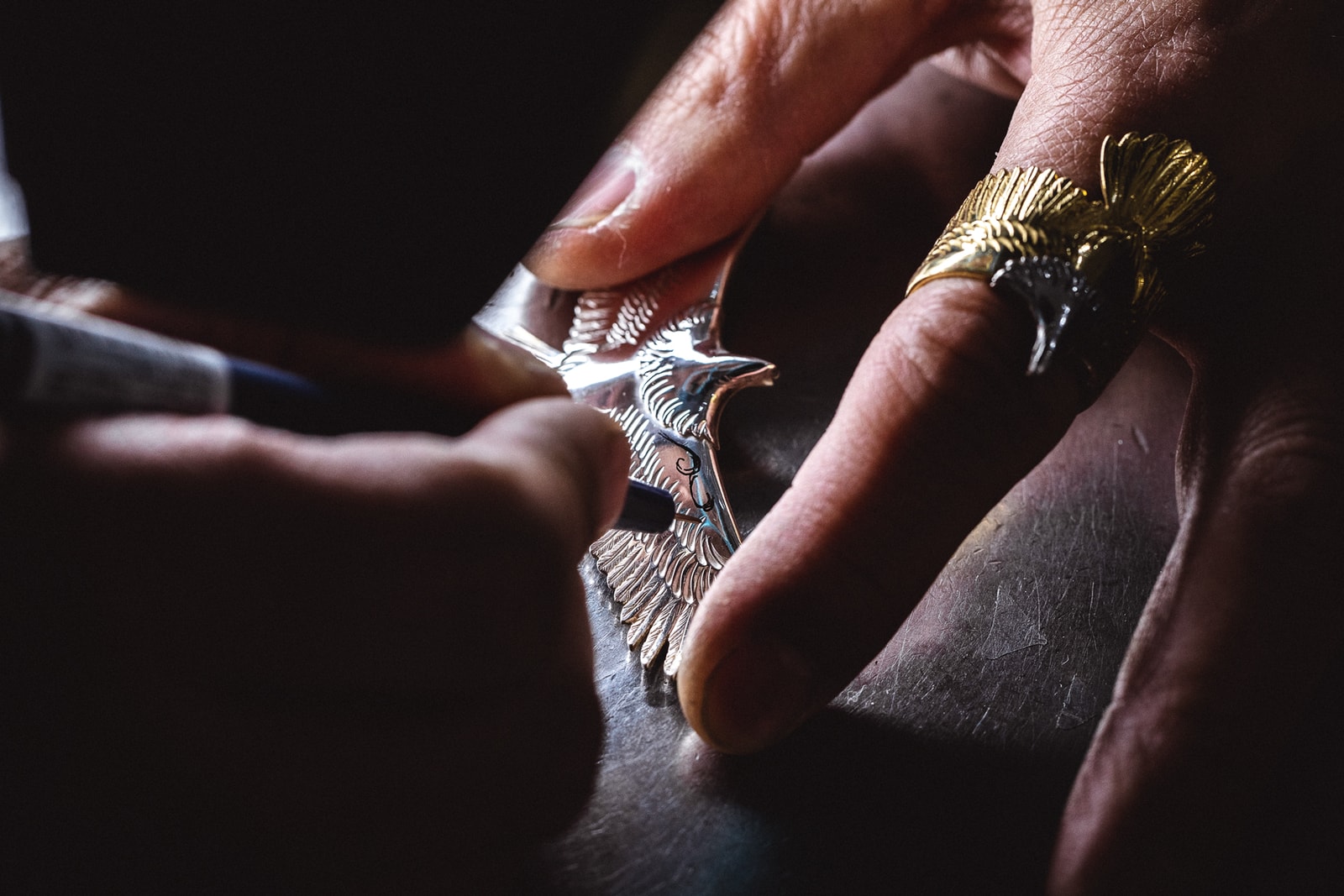 3 of 6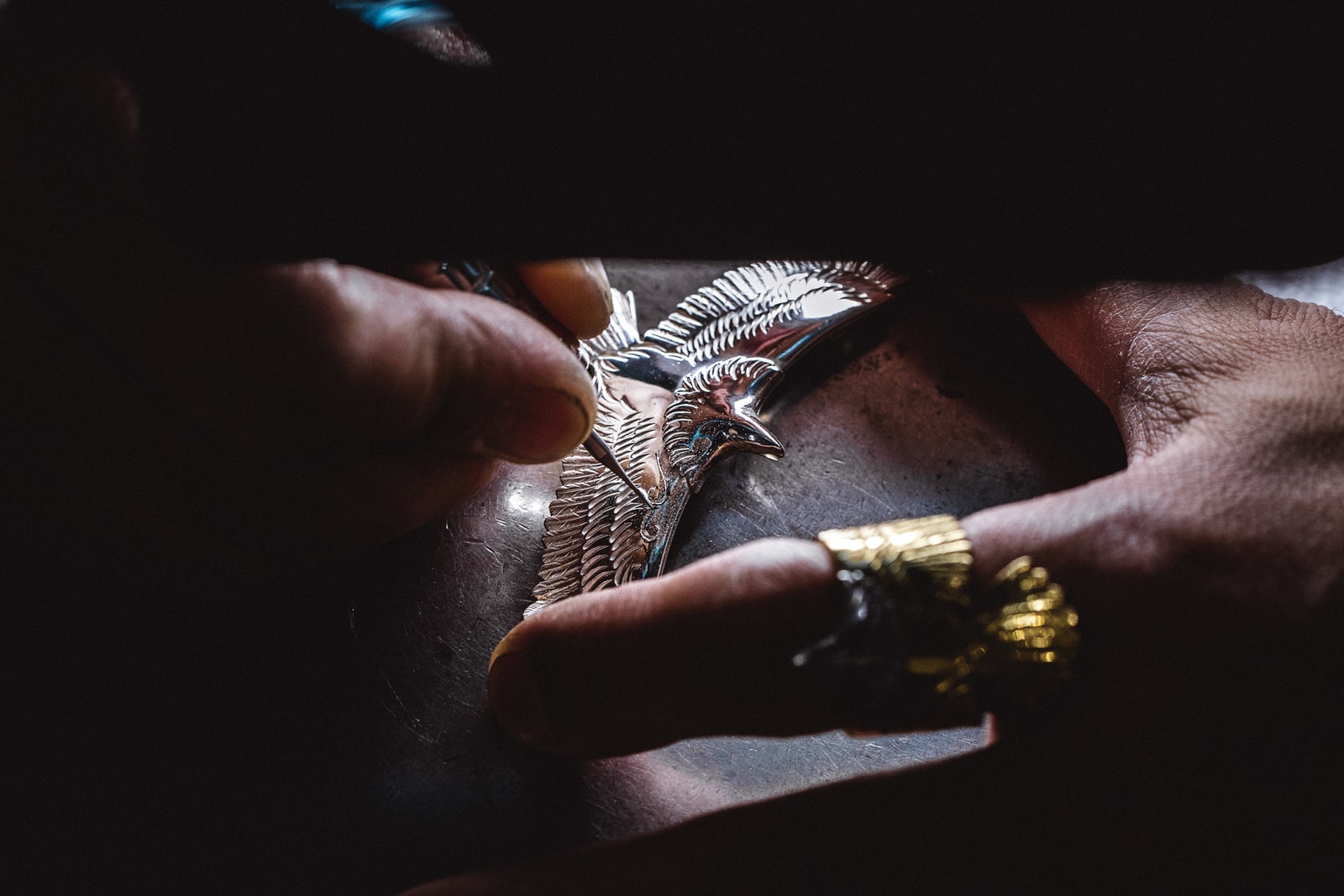 4 of 6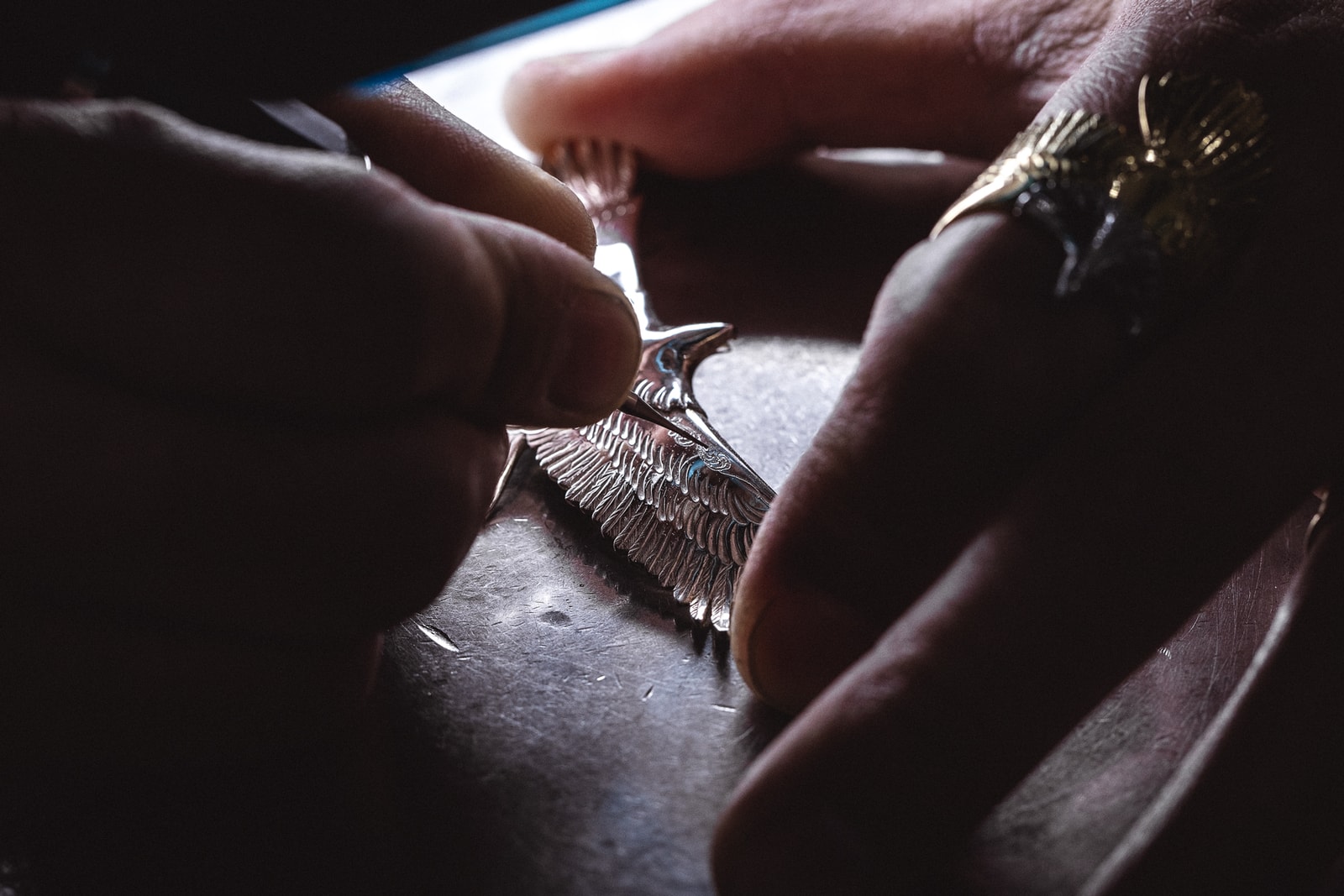 5 of 6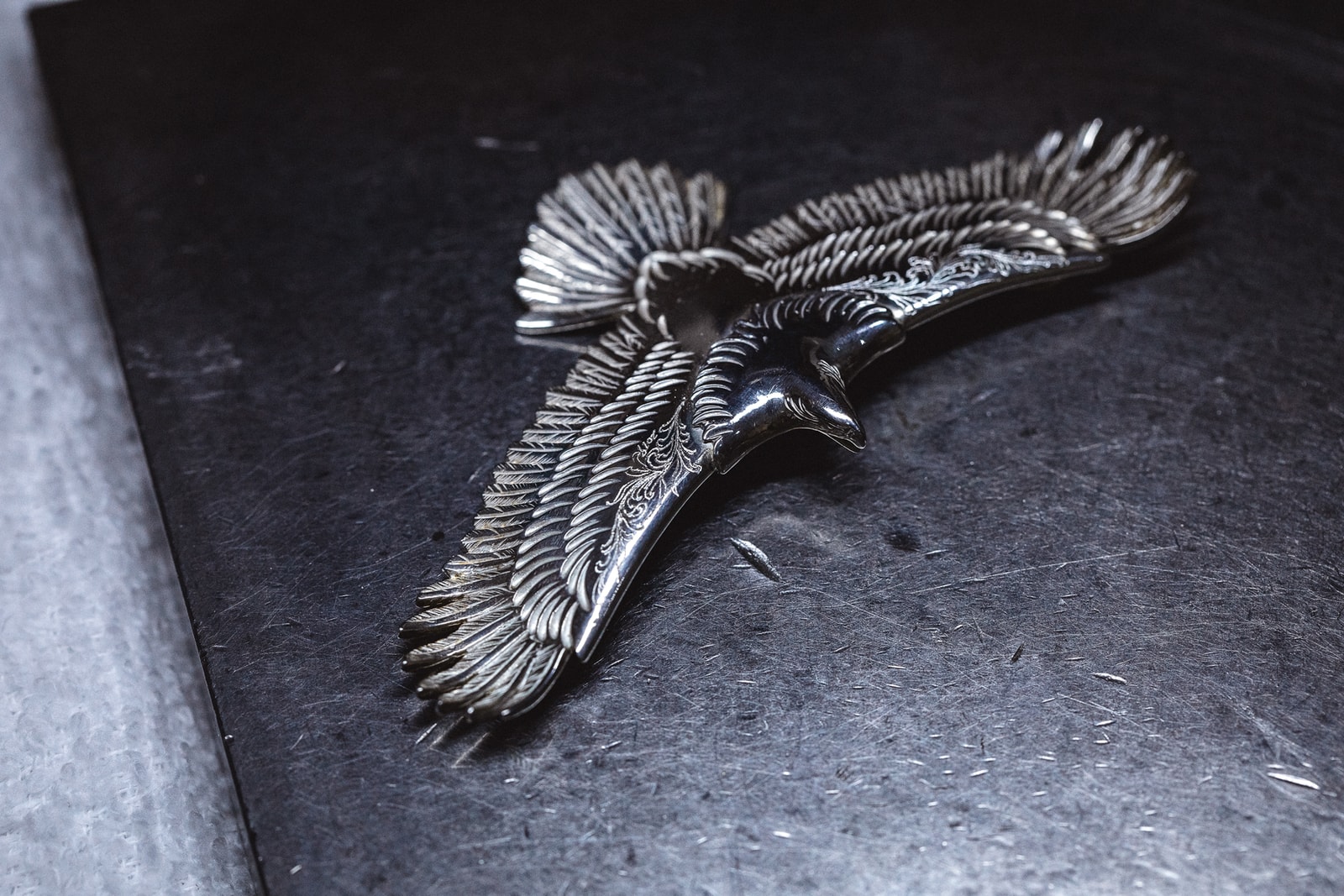 6 of 6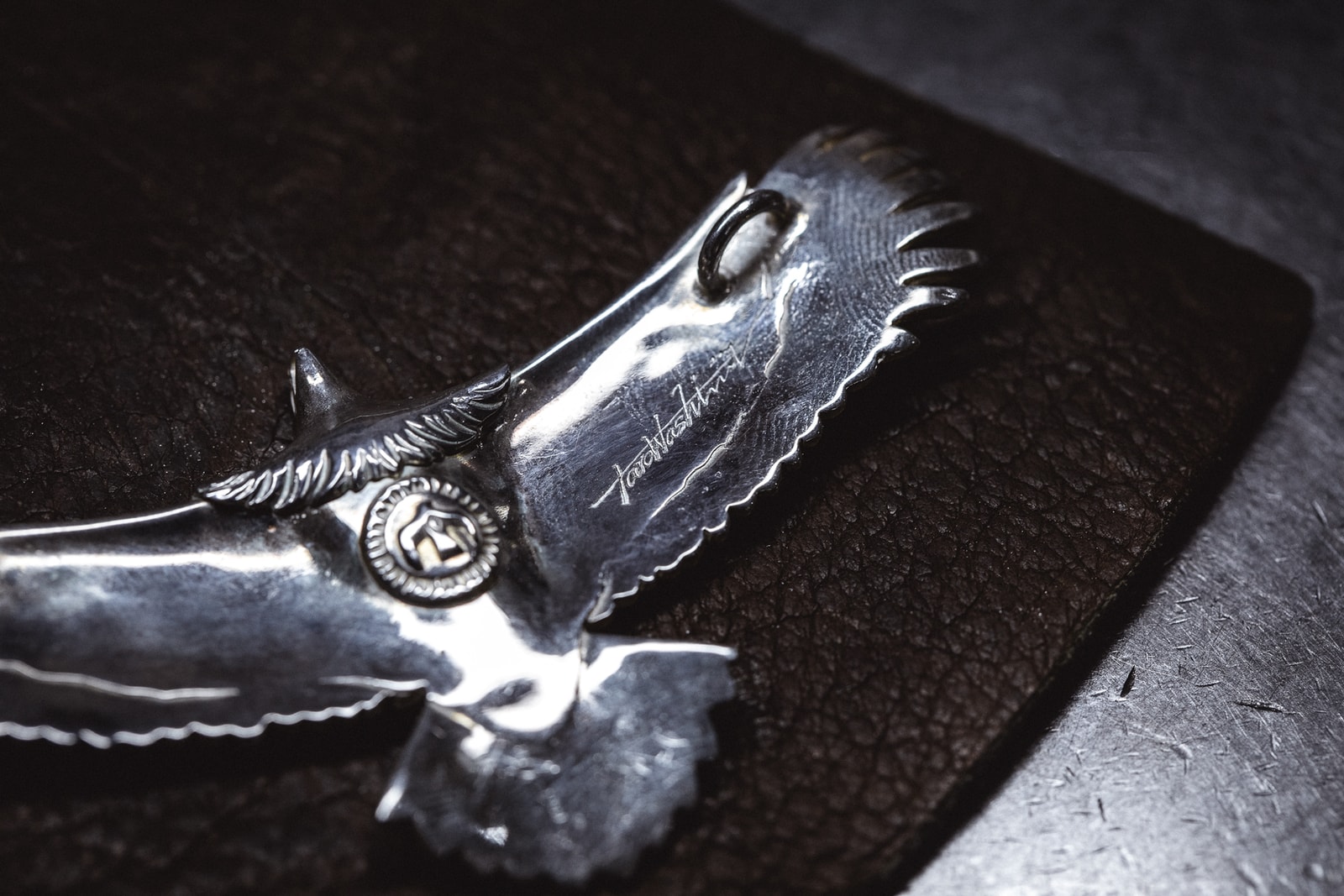 "I was the one you would call for odd jobs that required skilled hands."
How did it all start?
Well, I have always been the "handyman." Even before this, I was the one you would call for odd jobs that required skilled hands. I would often be the one to fix things at home and for my friends. I was working at a silver studio, but more on the retail side of things. You know, polishing and handling stock. I eventually thought I could do this style of jewelry on my own but done in a way that represented my style, and that's where I started from.
There are a few jewelry designers in Japan that are known for their silver feathers. What is the difference between the Taro Washimi brand and the other brands?
For my brand, I put detailing first. I love every little detail that goes into the finished product. I don't cut corners. I just can't. Unlike the other brands, I add a micro level of beautiful detailing to each of the pieces — a special finish.
My signature detail is the opal center stone. Some notable pieces are the cross, dreamcatcher, and the hand-engraved detailing. I also enjoy making tools. Most of the tools I use are made by hand.
A lot of my creations have my personal experiences tied to them. I used to go mountain climbing in the winter. I also do indoor climbing and free diving. Back in the day, I would dive as deep as ten meters. My designs all have those experiences tied to them. The blues, the greens, and whites of the center stones, they all have my experiences with nature in them. That's why the designs of my products are different. They are from me.
What are some more trademark characteristics of your brand?
It goes back to what I said earlier. The experiences become the design. When I first saw that beautiful clear-blue sky when climbing a mountain in -20°C / -4°F, I translated that visual to an opal stone. When I saw that beautiful deep-blue color at 10 meters in the ocean, that's the turquoise stone I've selected. I'm not sure if the customers know that.
Again, the experiences all become designs. I recently tried bungee jumping in Macao, and I think from that experience I've got a new design.
1 of 8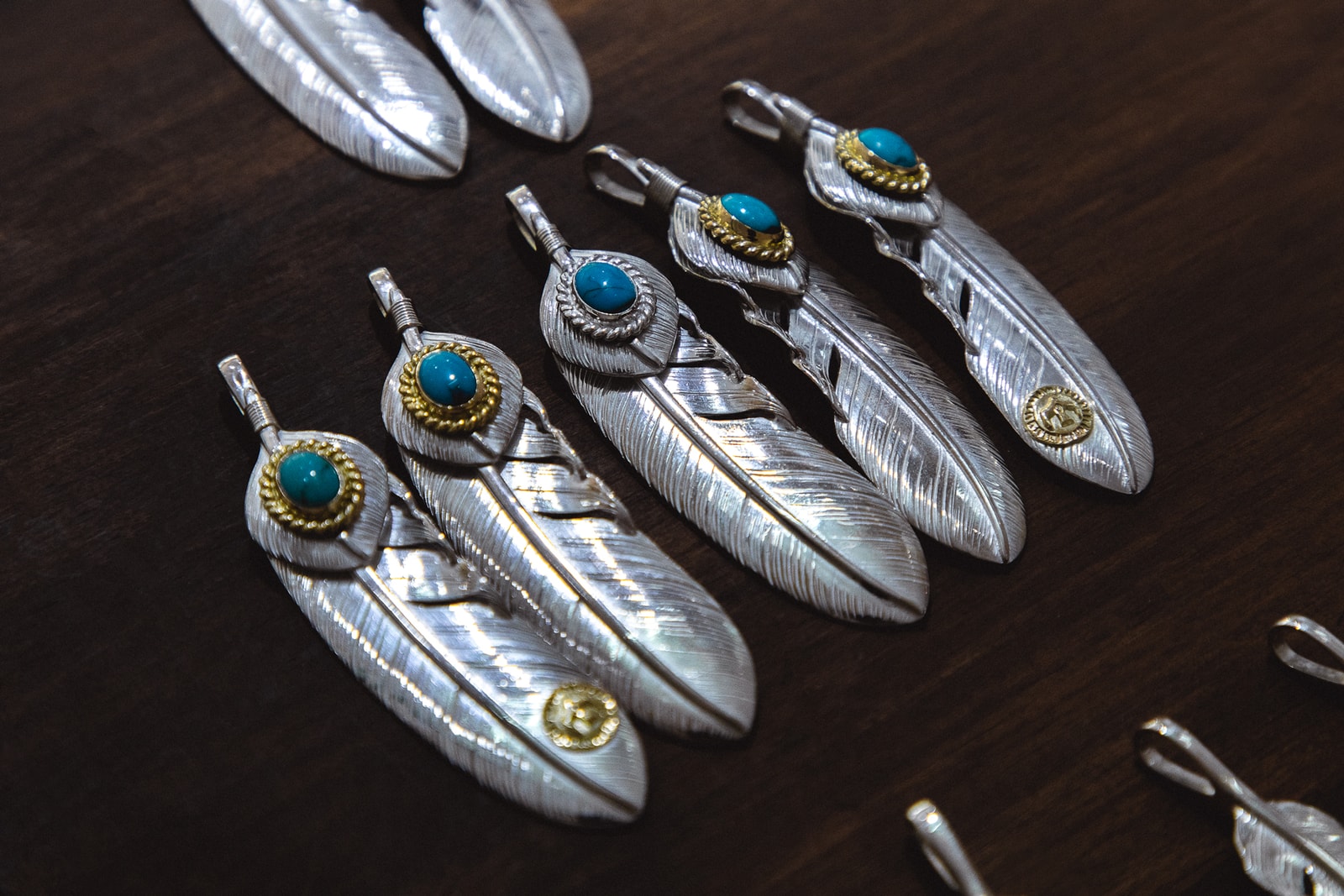 2 of 8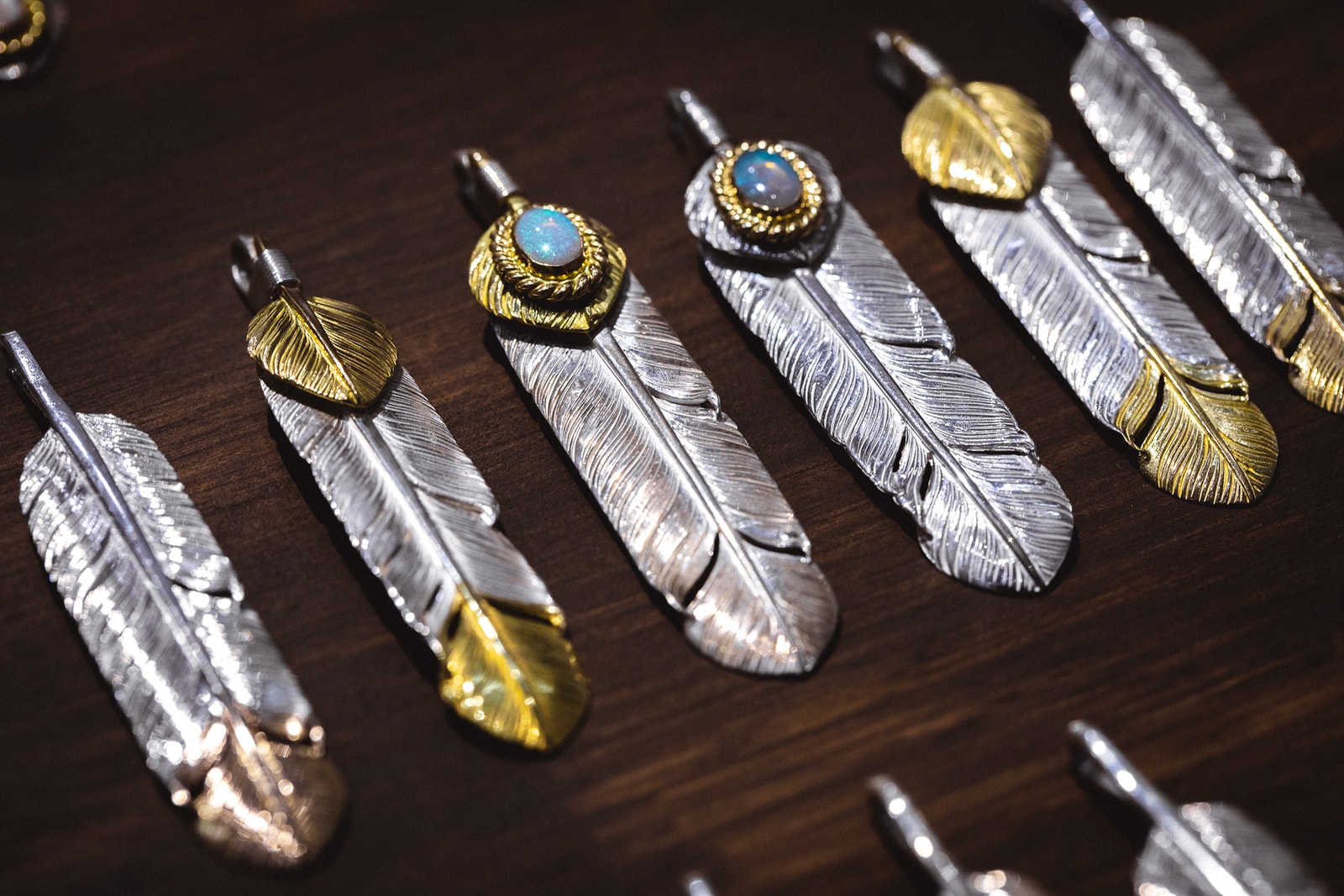 3 of 8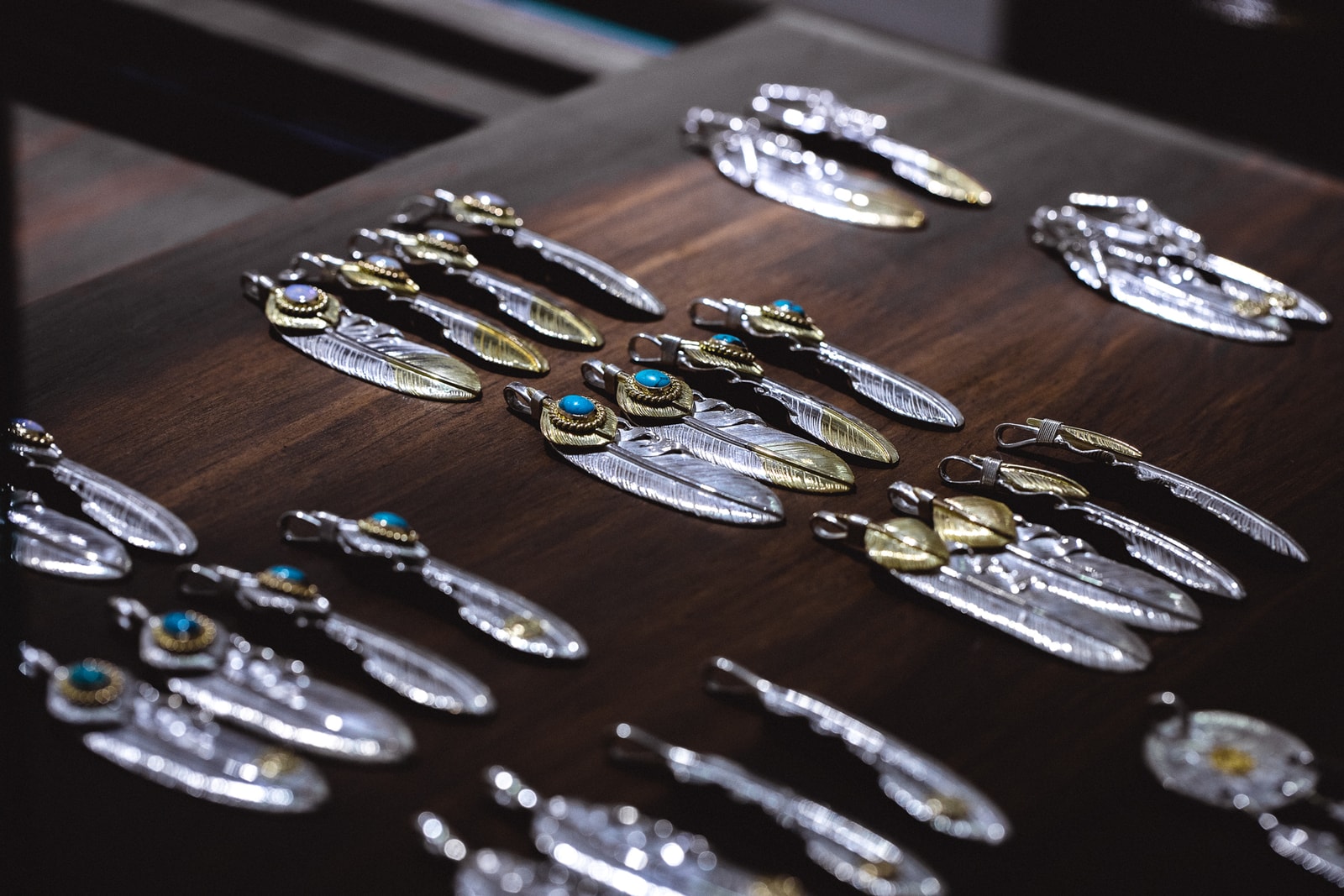 4 of 8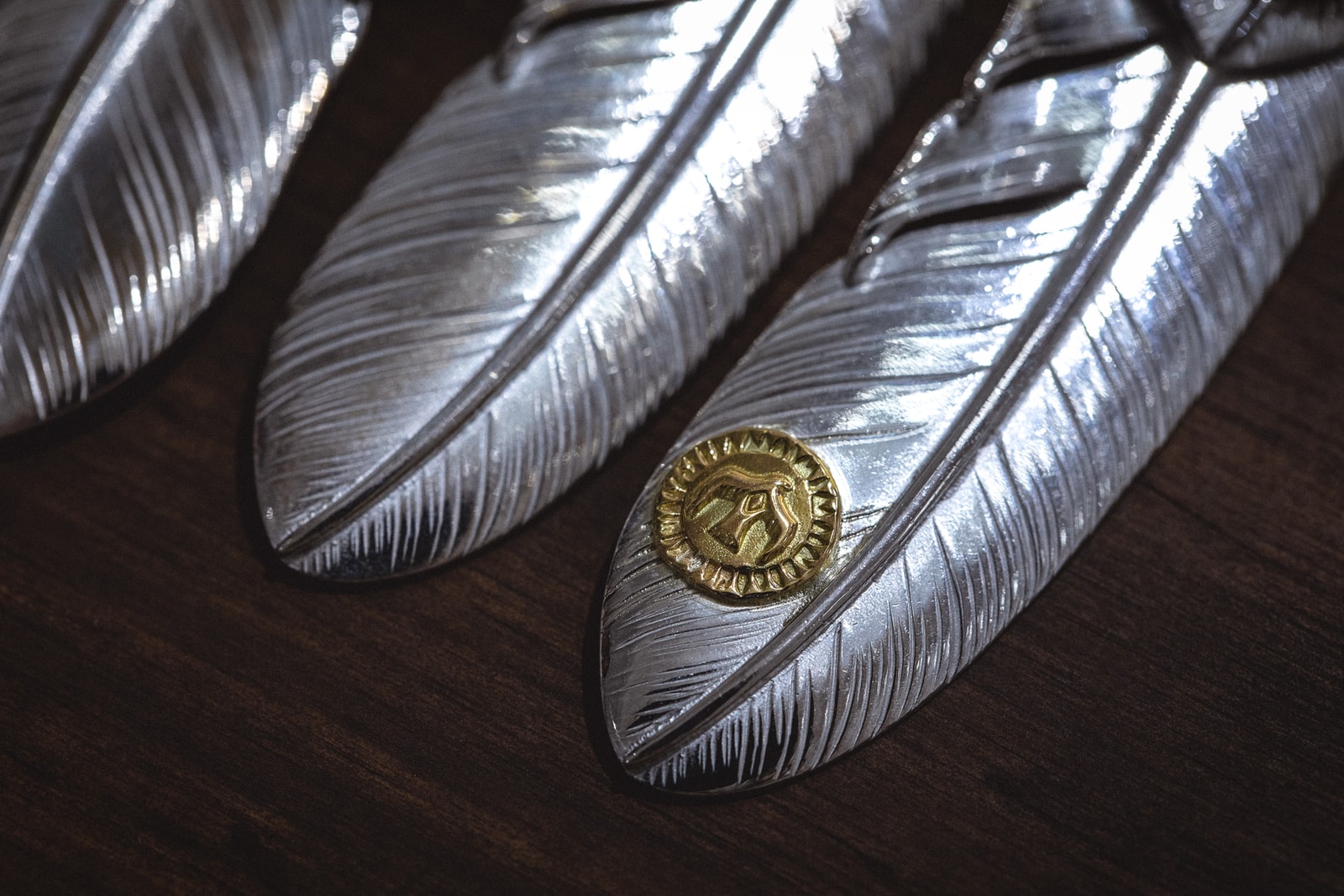 5 of 8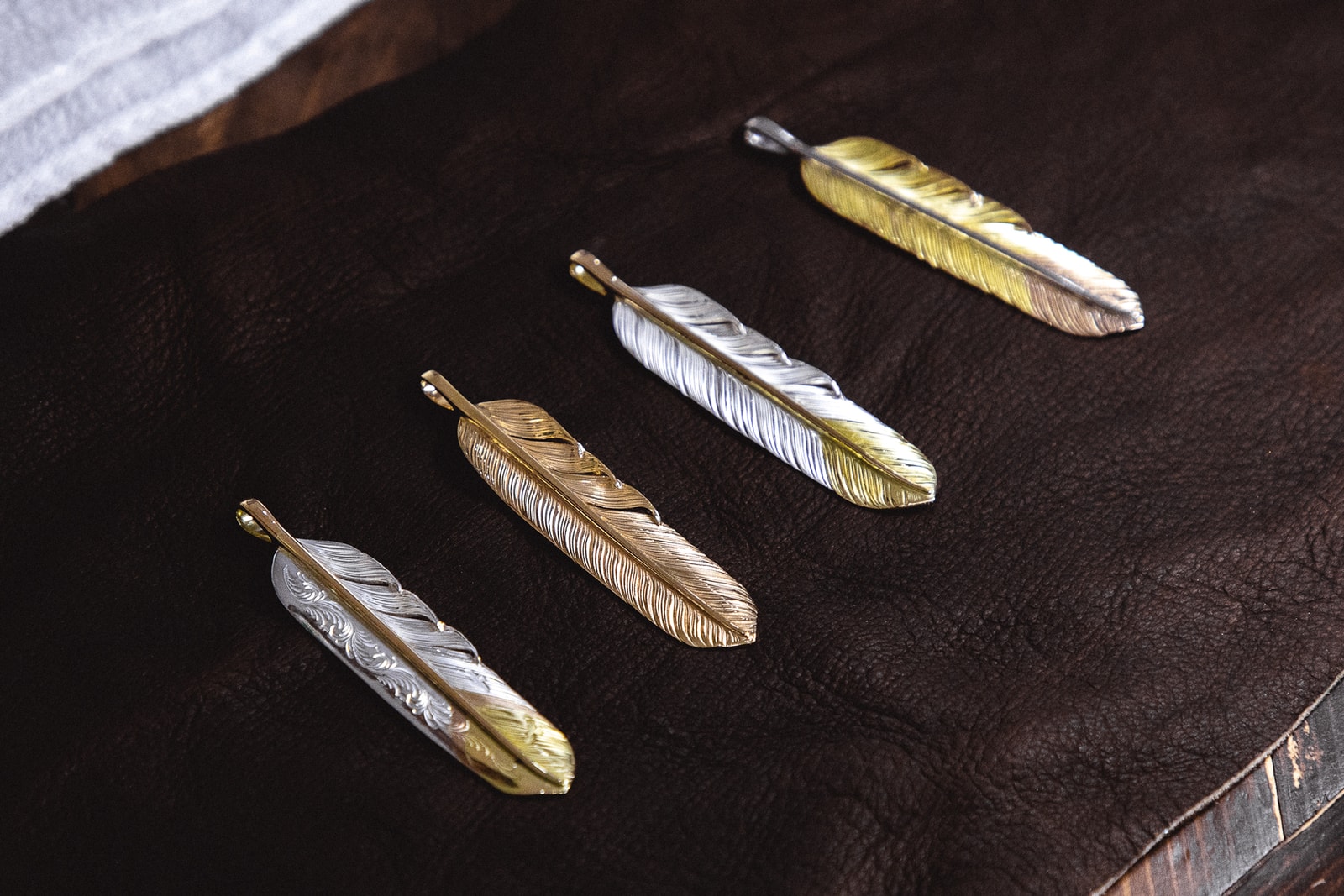 6 of 8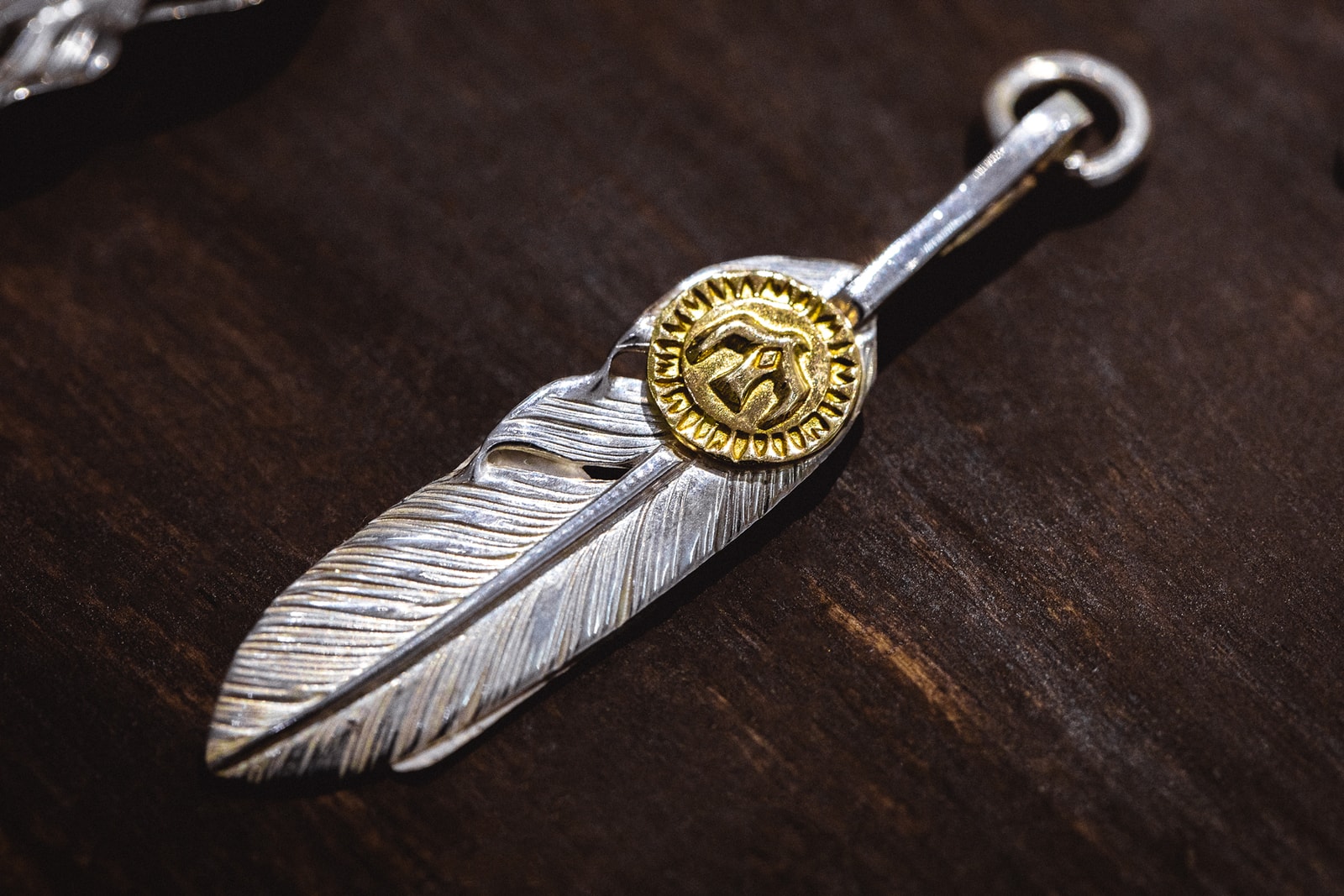 7 of 8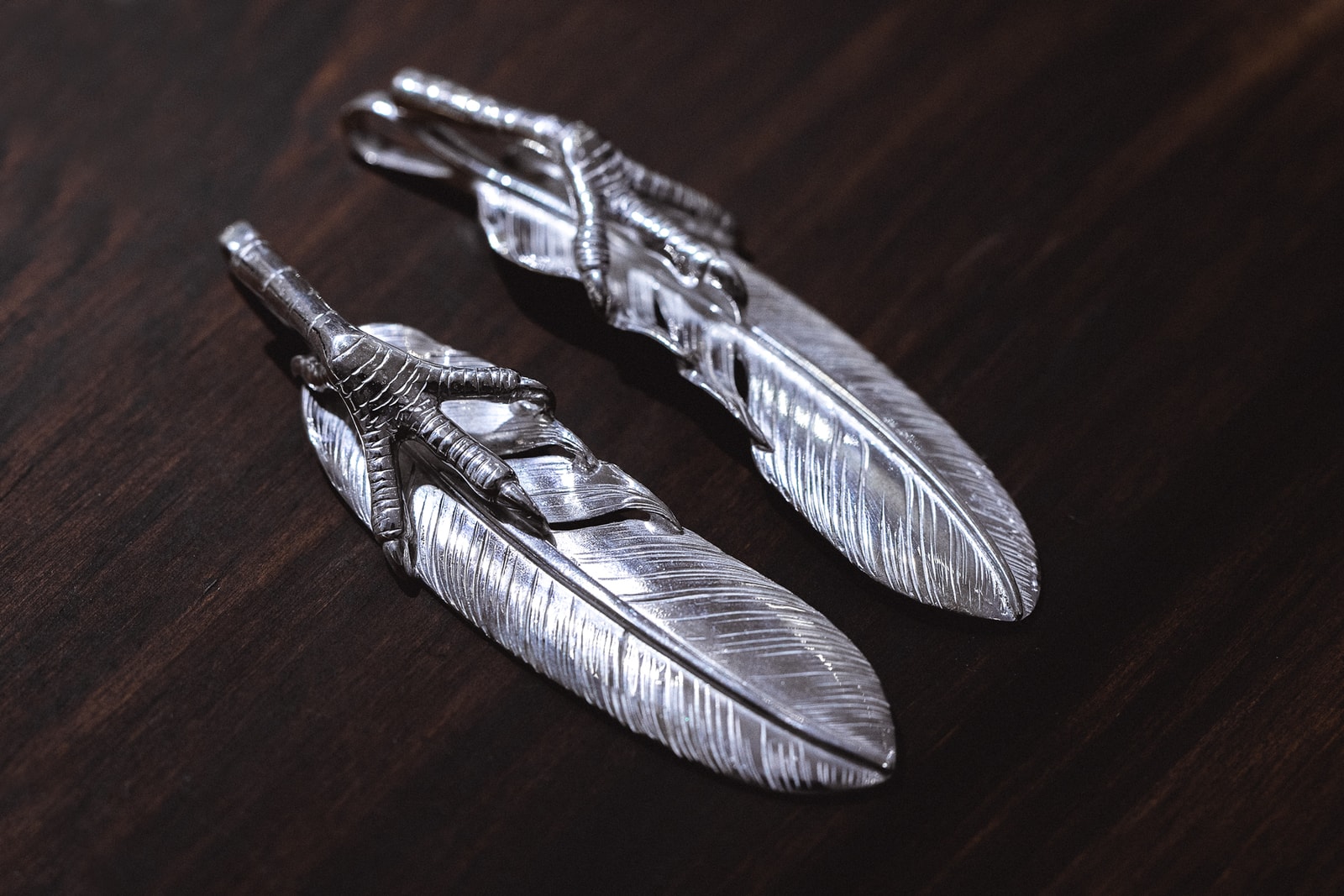 8 of 8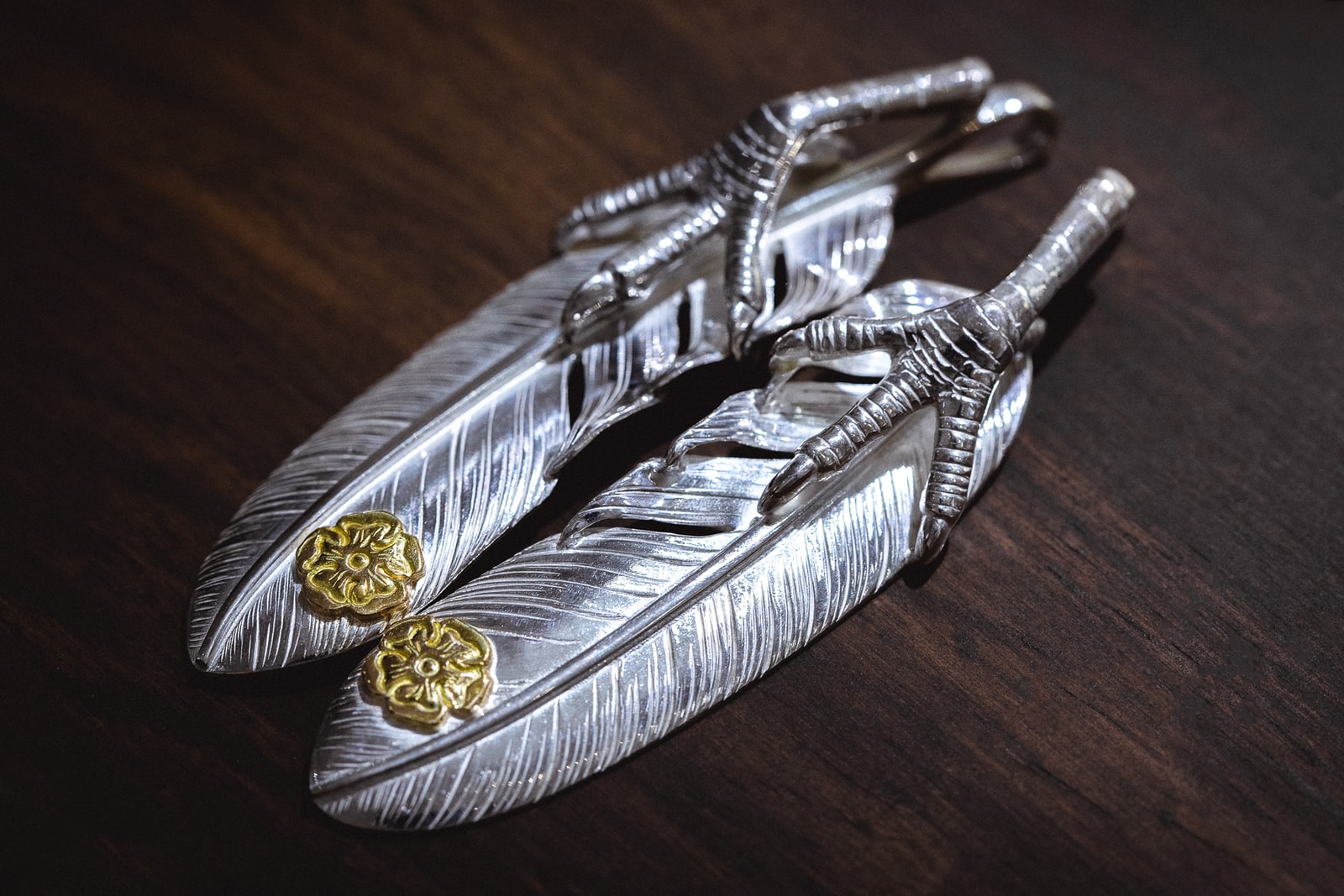 "I think it's my job to introduce a variety of Native American designs to the world, not only Japan"
How do you feel about Japan's adoption of Native Indian American style of jewelry?
I think that the Japanese that are interested in Native American culture unintentionally put a different twist on the American Native style. Speaking of just the jewelry and accessories. From Japan, at the beginning of it all in Japan was the Goro's style of Native jewelry.
Nowadays, there are people that mostly wear them as a fashion accessory, but they are also people who wear the jewelry according to the original Goro's style. I mean, there are a lot different ways to wear accessories.
What elements of the Native accessories appeal to you the most?
I follow the way the Natives make their jewelry. It's my personal opinion that Native American people usually design according to nature, and they have natural elements in all their accessories.
You can see it in some of the silver stamps, for example — thunder, clouds, the sun, eagles, rivers, oceans, etc… I do gravitate towards the Native style of jewelry and techniques, but also, I think it's my job to introduce a variety of Native American designs to the world, including Japan.
What do you think of Goro's
I think that many brands follow his design. You can't deny his legacy. I like to think my designs are new, fresh takes that can be worn for different feelings or emotions depending on the day.
You were heavily influenced by Chrome Hearts early on but it's not apparent in this new line of jewelry. Has your interest in Chrome Hearts slowly gone away with time?
Chrome Hearts' work still shocks and surprises me. I have, and still, do follow all the products they are putting out, and I understand why so many people are attracted to them. I have just sort of broadened my interest. I now look at brands like Louis Vuitton, and other fashion houses.
Louis Vuitton makes products that last for several years, and they are able to pivot so diversely in their product mix — developing products to fill all gaps. These are the things that I feel I need to be taking a look at. I am also not too much into the goth/bikers style. I respect it, but I just could never see myself riding on a big American-style motorcycle with rings on each finger. That's just not me. I make products that I like to wear.
1 of 8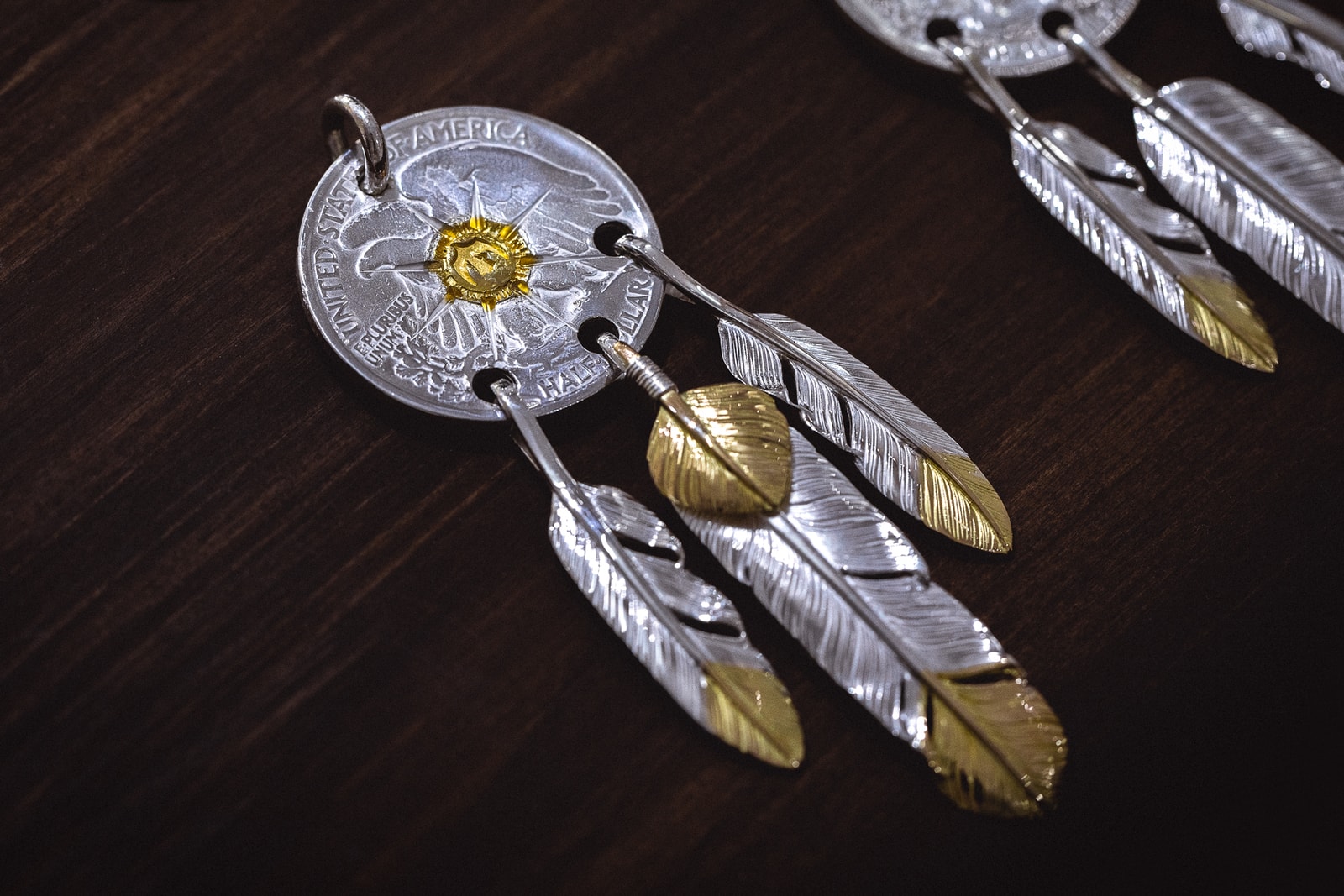 2 of 8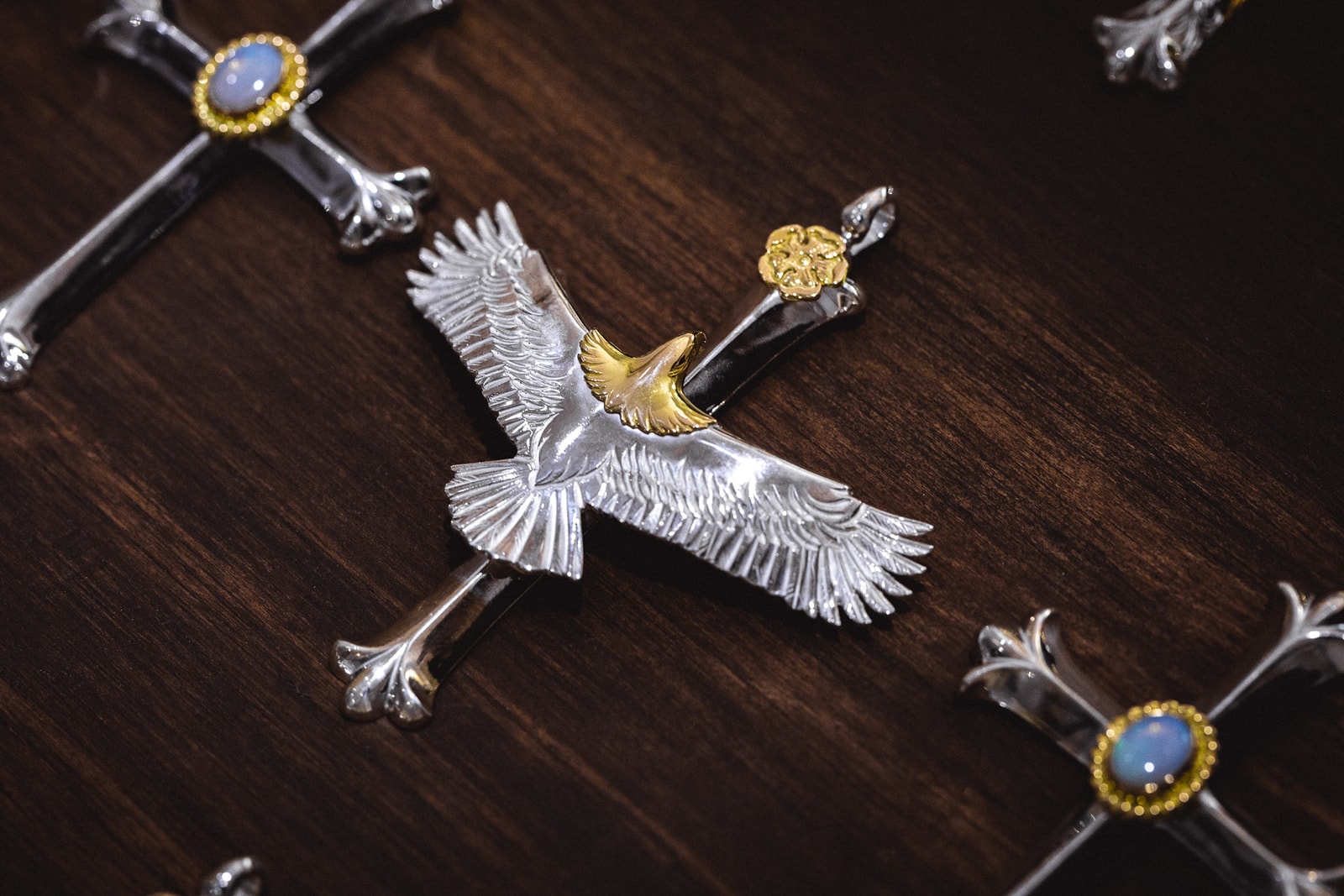 3 of 8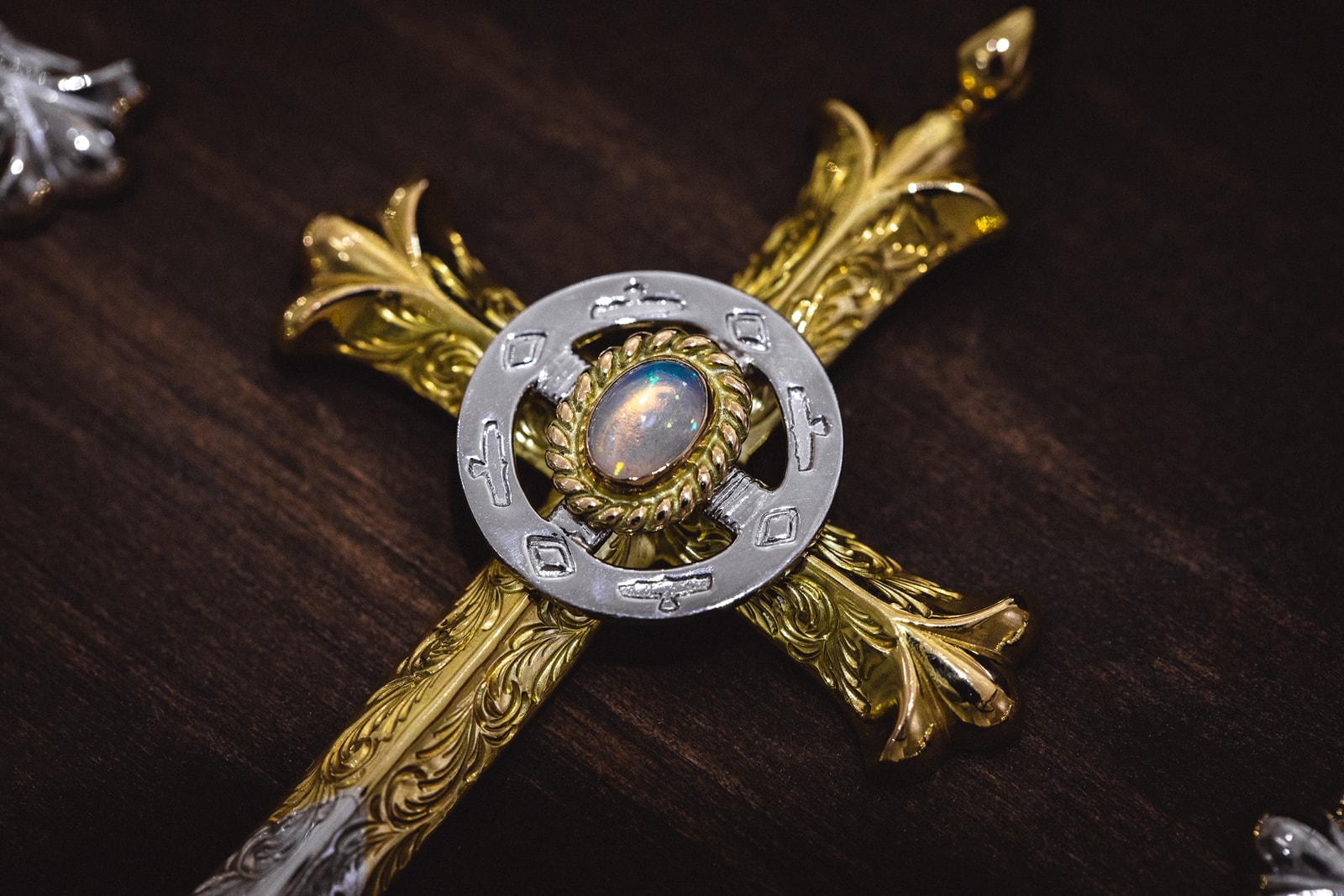 4 of 8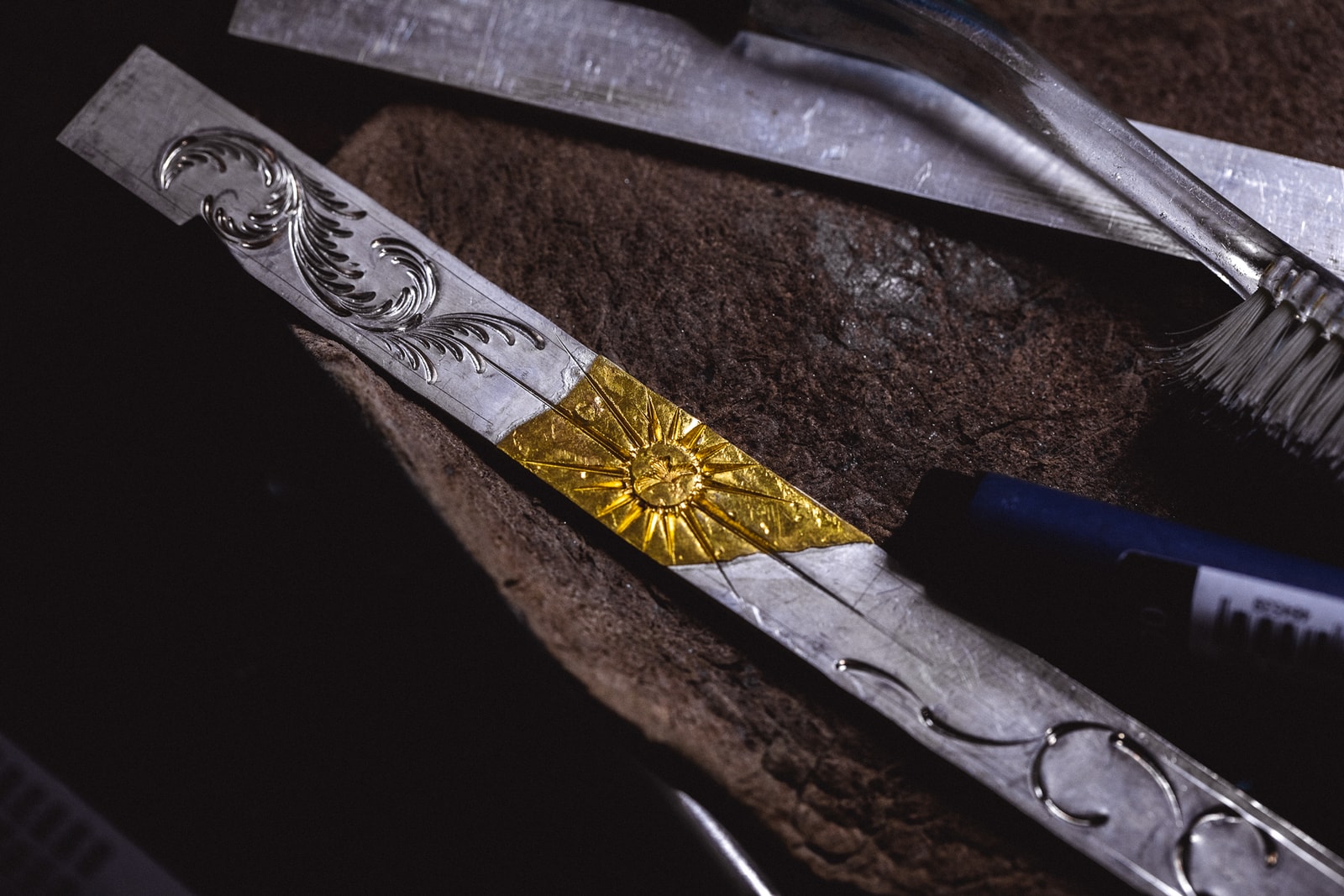 5 of 8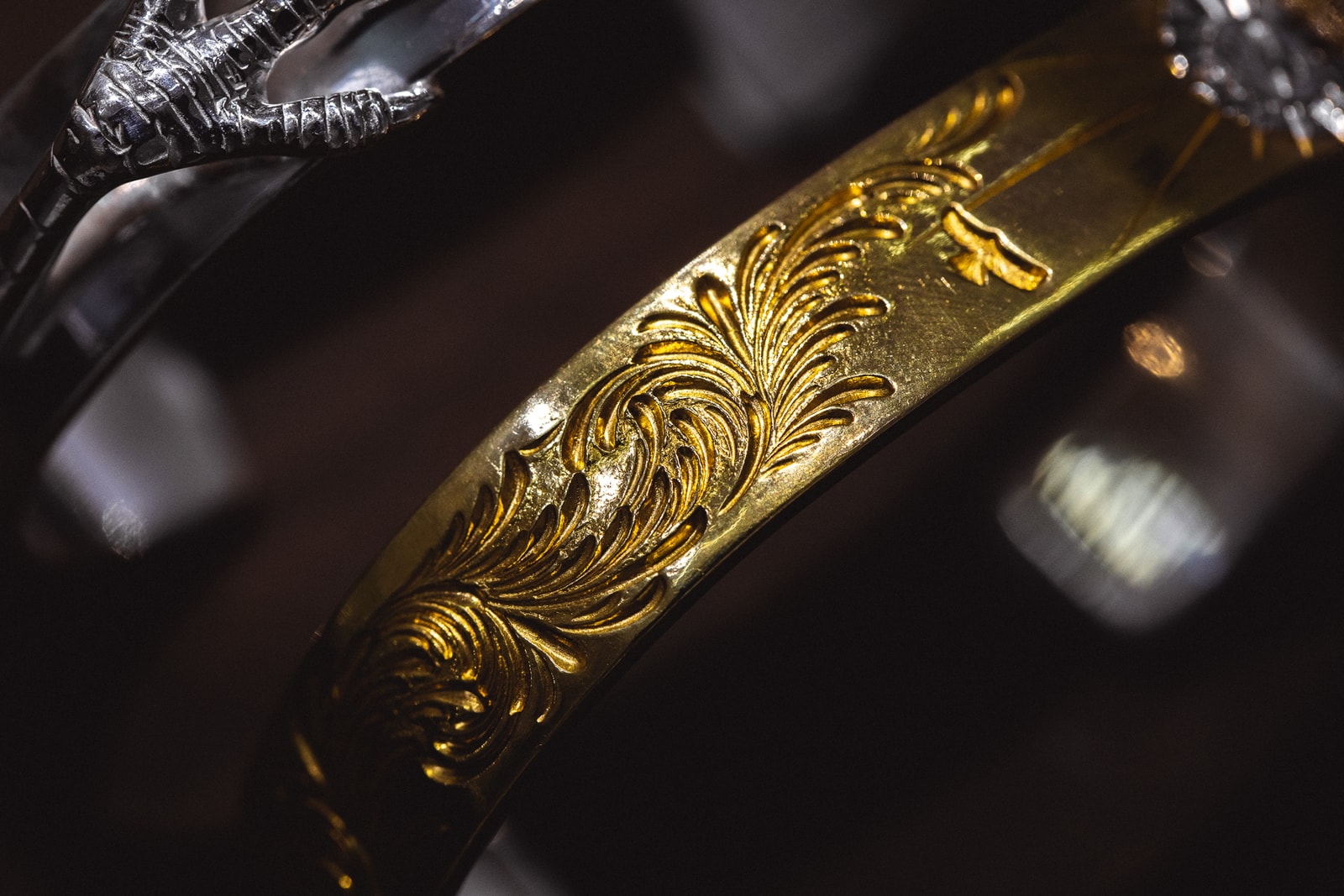 6 of 8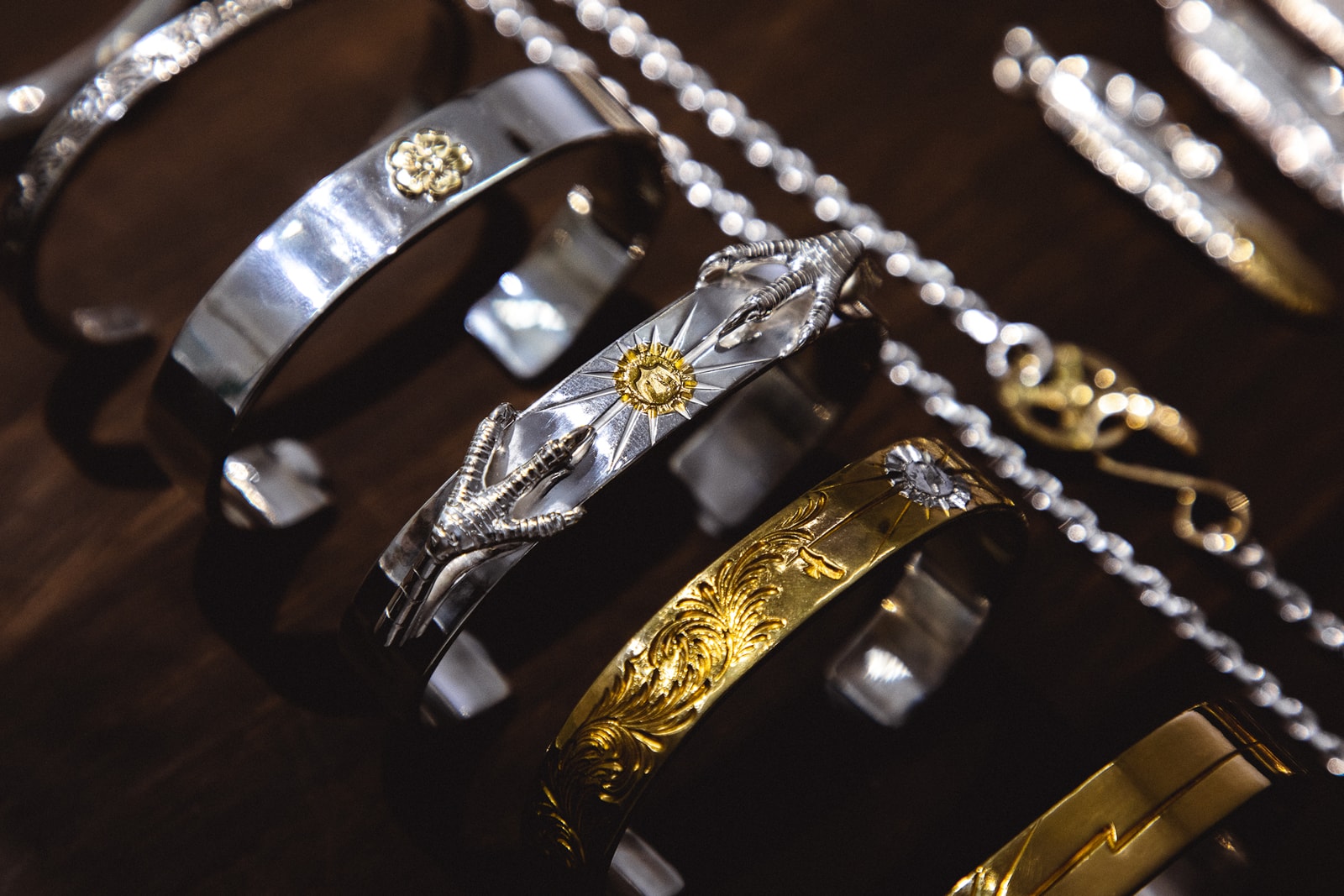 7 of 8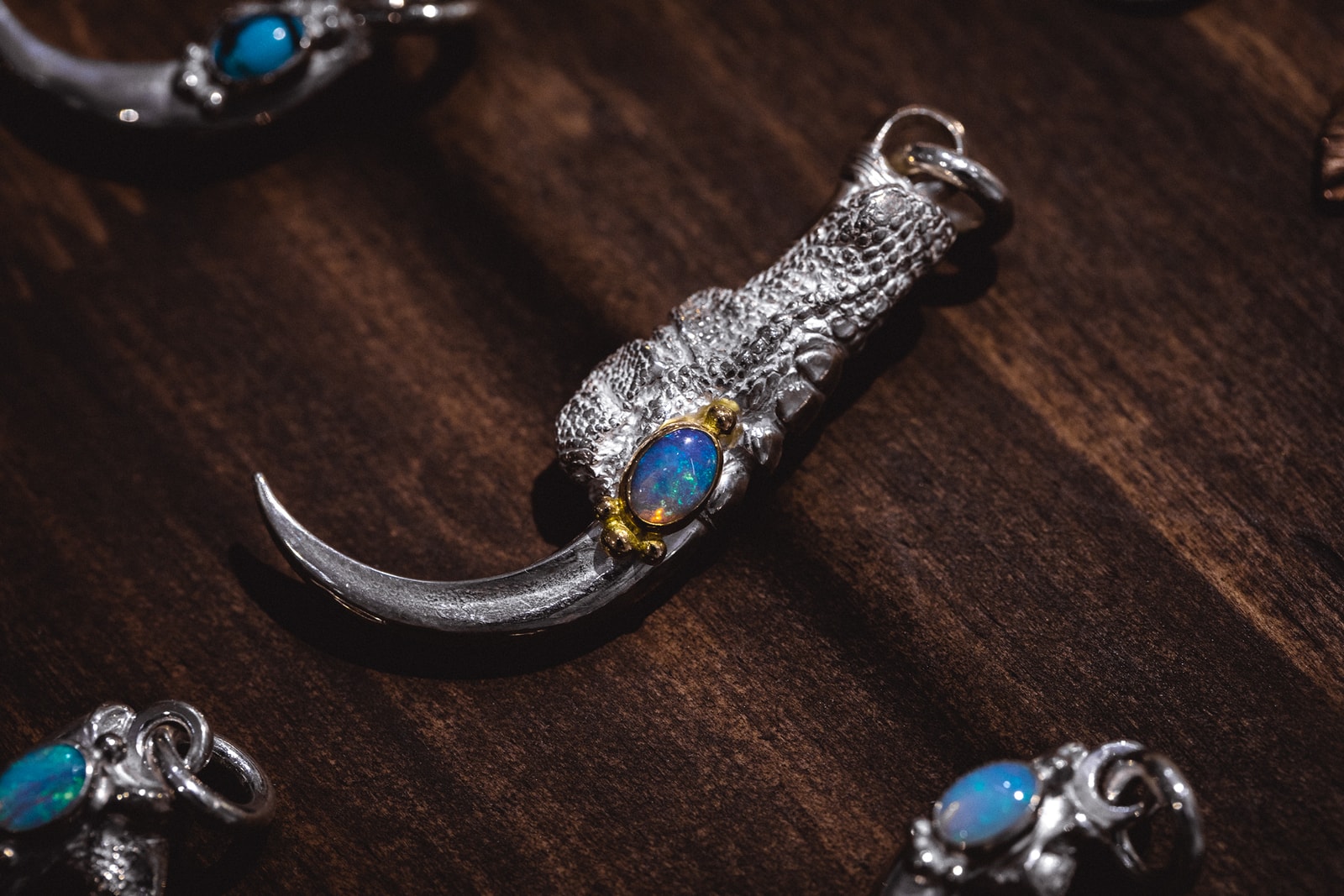 8 of 8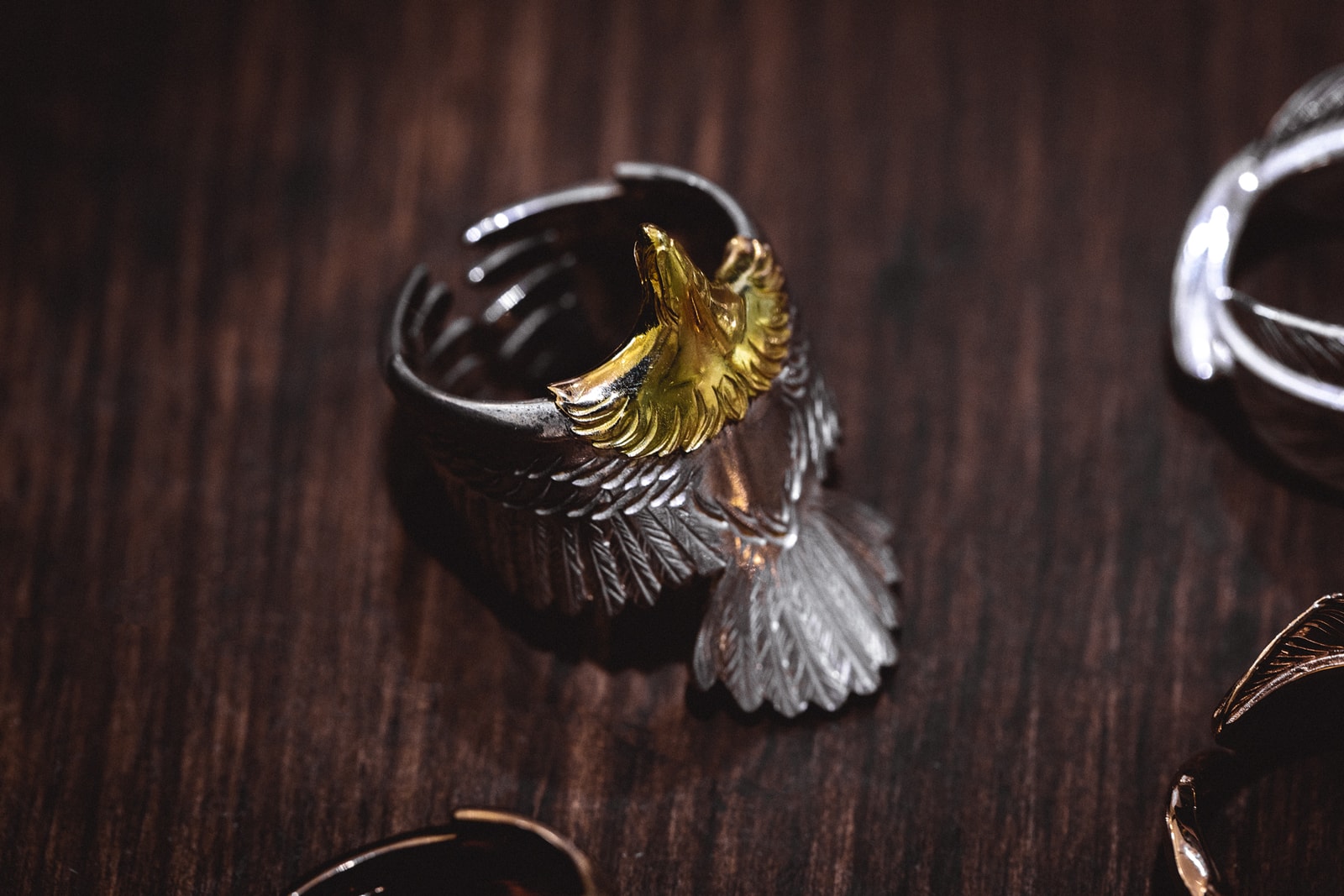 Do you treat making your more complicated pieces any different? For example, is it more stressful when working with diamonds or 18K gold pieces?
I am always making pieces in various materials, and gold is often the material I am working with. I treat it like a challenge. It's a pleasant feeling, so I do not consider it stressful.
For things like diamonds and other precious stones, I again, don't consider it stressful, but I do take a decent amount of time coming up with how I am going to set the stones. Just so it's different from everyone else.
What is the most intricate piece you make, and how does that compare with the piece you consider is the most enjoyable to make?
Every product takes a long to time to make. I don't think there are any intricate products, just ones that take more time.
For me, I enjoy making each and every piece, but I especially love when I am making something new. This changes things up for me and breaks away from monotony. This includes coming out to meet the customers, making new tools, designing custom pendants, etc…
There's one piece that stands out, and that's the dream catcher made from the American coin and feathers. How did that design come about?
The dream catcher is just such a big Native American symbol, I had to showcase its beauty the only way I know how. This is one of those times that I felt strongly about developing something so traditional, but in a way that my audience would understand, and appreciate it.
1 of 5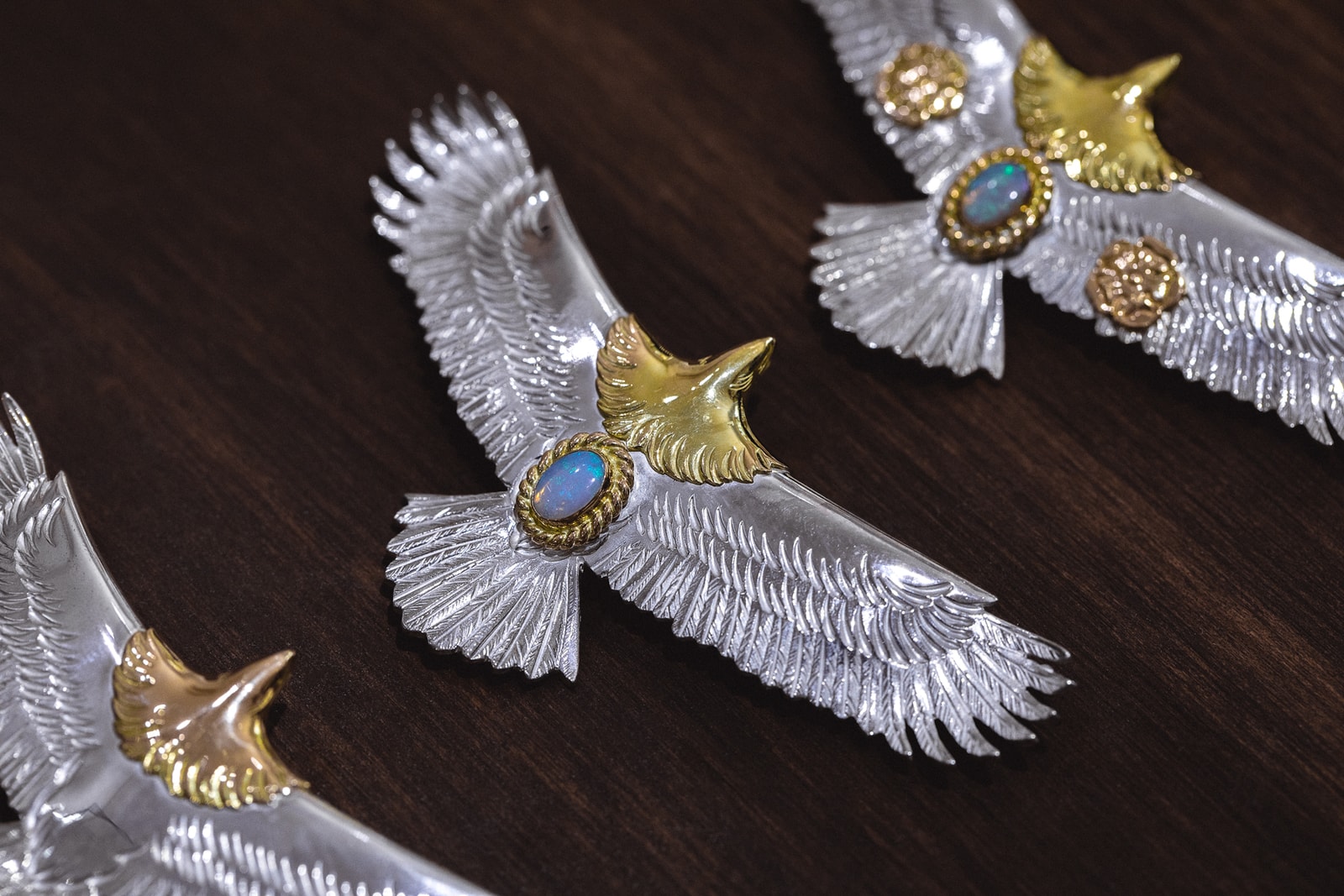 2 of 5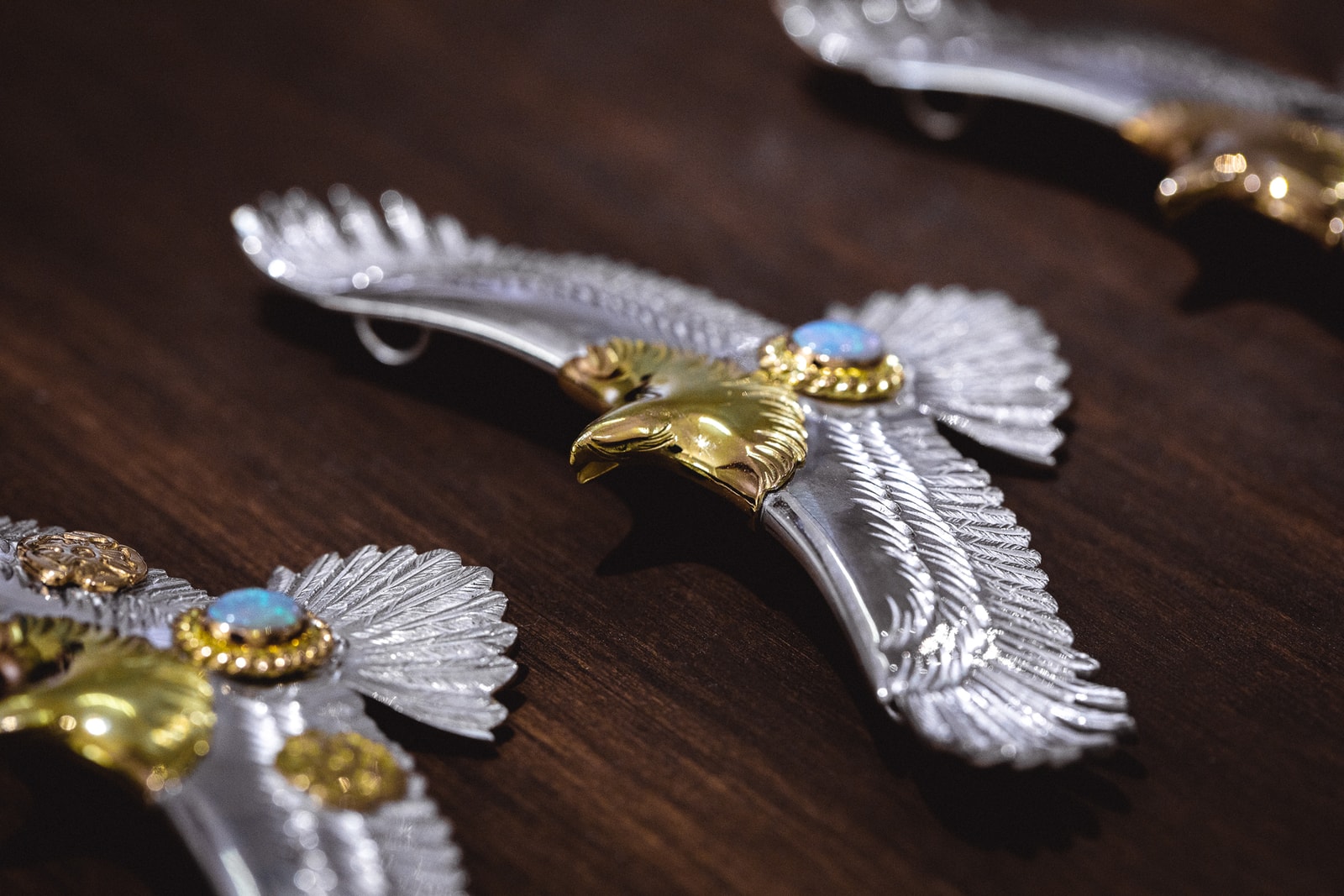 3 of 5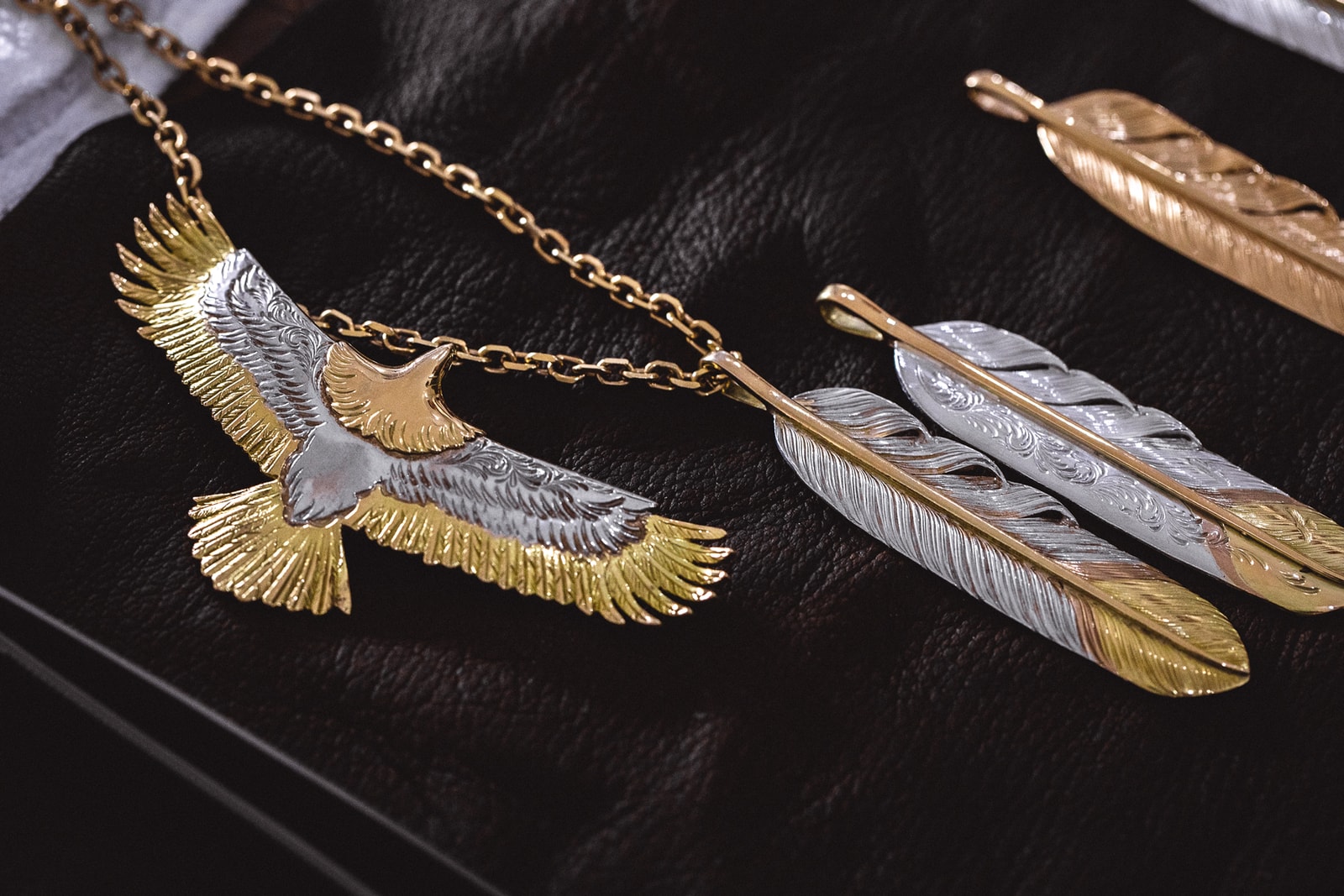 4 of 5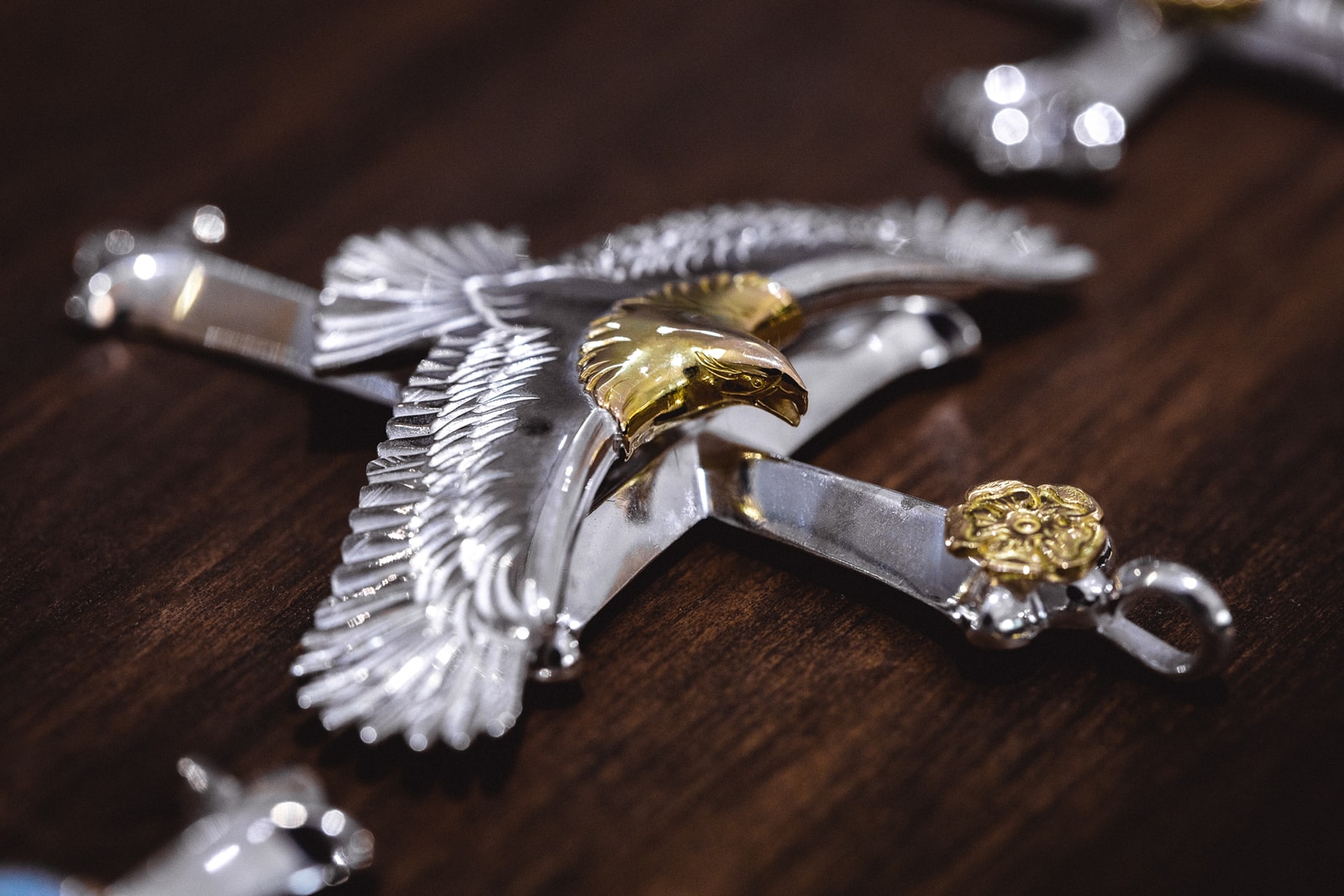 5 of 5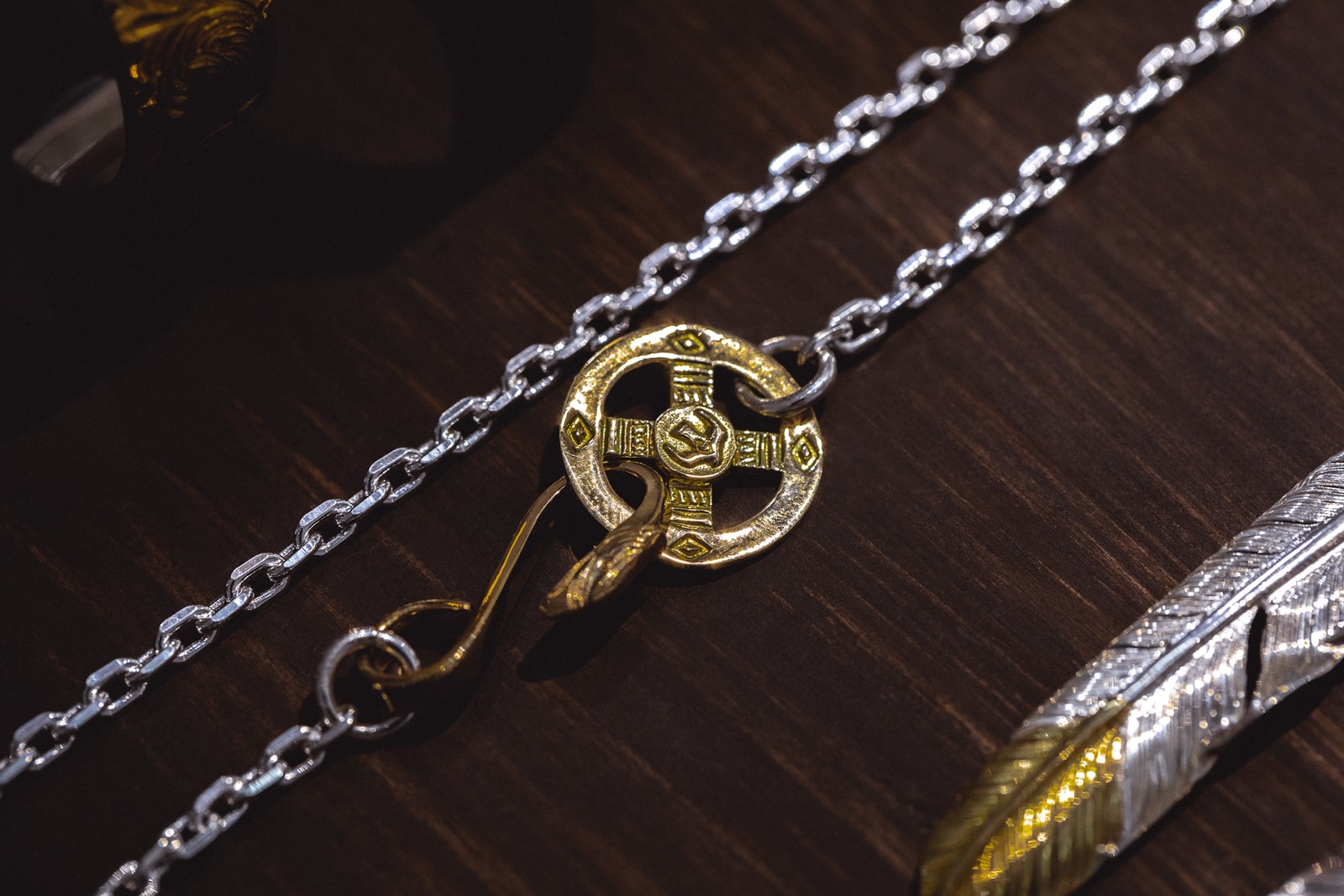 "I like to see people happy while enjoying my products."
Your jewelry is still placed in a rather niche category when compared to what's being sold at the big retailers. What was your most exciting experience with a customer, and at what point did you realize you didn't need to be in every store?
I think one of the most exciting experiences was when I was thinking of making a gold-tipped cross for several months. A repeat customer overheard me talking, or rather, dreaming aloud and then asked if I could make it for him. I made it for him and then others liked it. This is the cross that you now see in my mainline.For me, it's not about having my products in every store. I like to see people happy while enjoying my products. I like to see people smile. When someone is happy because of something that I've made, well, that makes me happy.
1 of 2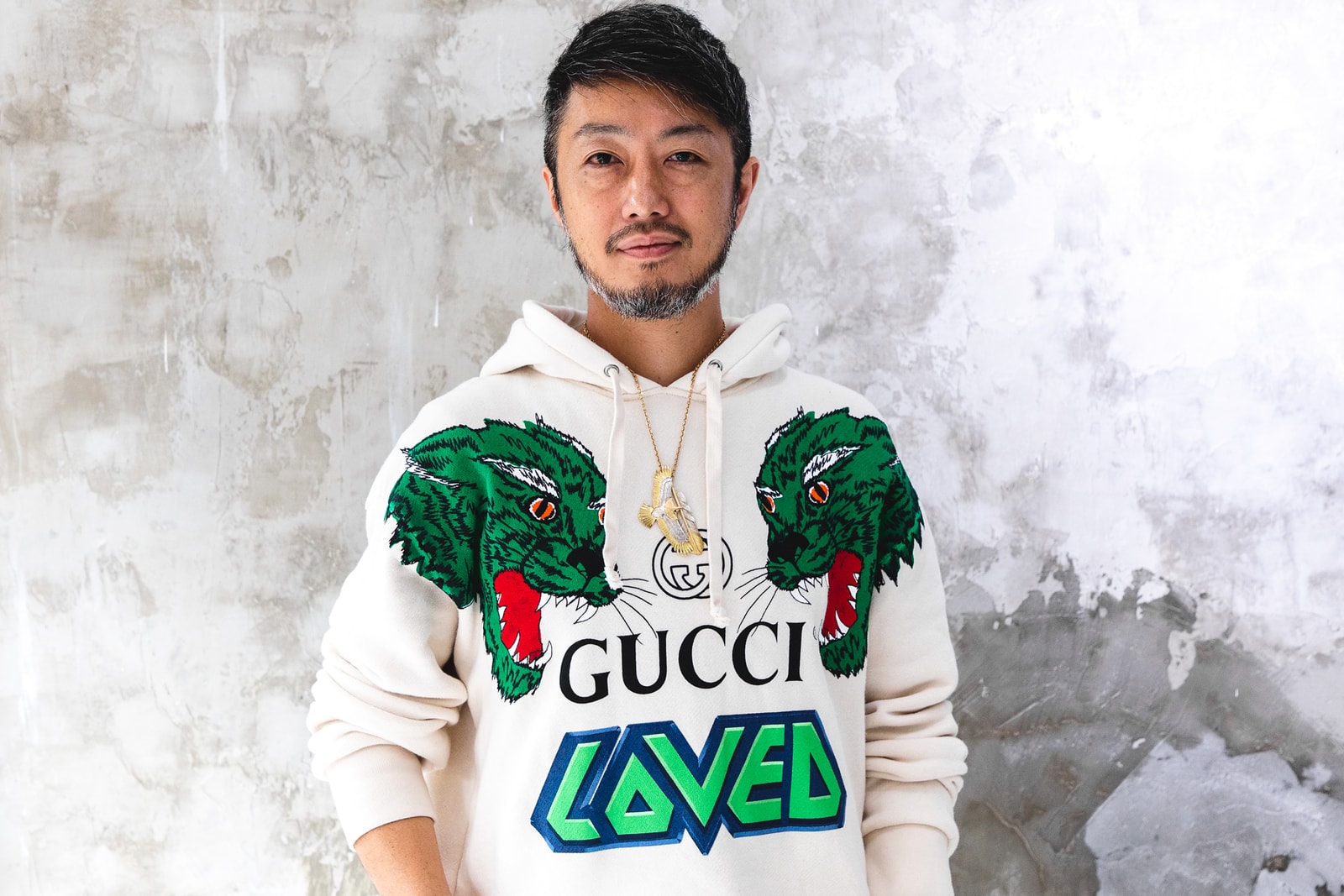 2 of 2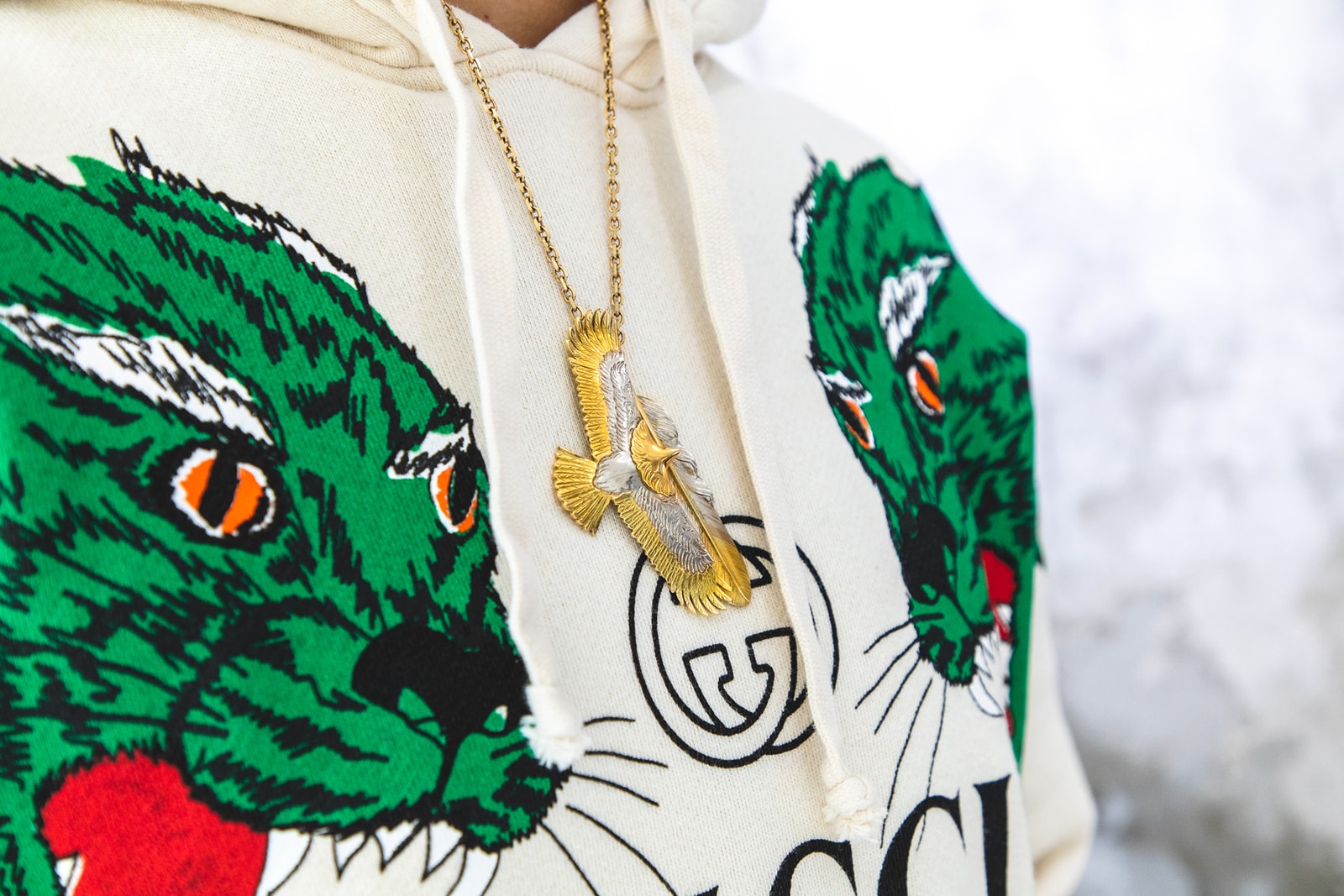 ---