Rexx Life Raj Debuts New 'California Poppy' EP with Kyle Betty
A collection of the pair's "best" unreleased tracks.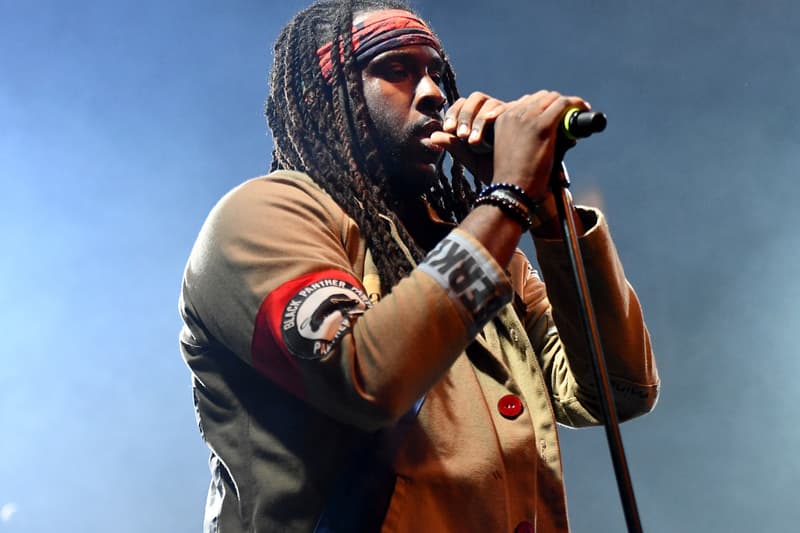 Capitalizing on his recent momentum, multi-talented California crooner Rexx Life Raj is serving up one last project before the year's end: the Kyle Betty-helmed California Poppy. Made up of seven new songs, the EP provides listeners with a perfect showcase of Raj and Betty's long-standing chemistry as an artist-producer duo.
"I've been working with Kyle Betty [producer] for the last three or four years. He's done a lot of my production, he's done a lot for me. Anything that I have that sounds "West Coast-sounding," that's me and him," Rexx Life Raj explains to us. "A lot of these songs [on California Poppy] are songs that we've been working on for the last two or three years that never made it to any project– we never dropped them. This project is like an amalgamation of our best tracks that we never put out. I called it California Poppy to kind of play off the "Father Figure" theme, but also because the sound of it is so West Coast and we wanted to keep it like that."
Besides the aforementioned pair, today's EP also features contributions from E-40 and Will Fraker. California Poppy was also born out of a desire to place its sonic architect and primary producer in it he spotlight. "I wanted Kyle [Betty] to have a moment, because I feel like we've been working together for so long and he's helped me make some of my biggest records," Raj shares. "I wanted him to have a moment to shine. I love his sound, his signature sound to me is a real Dom Kennedy, West Coast, LA type feel. I wanted him to have a moment where people can really hear his production."
You can stream Rexx Life Raj and Kyle Betty's new California Poppy EP and check out a song-by-song breakdown of the effort below, while the project is currently available for purchase through EMPIRE. Next up, expect Raj to drop a couple more loose cuts and a full-length studio album — complete with live instrumentation — in the near future.
"Long Way"
Rexx Life Raj: The funny thing about the "Long Way" is I recorded the hook a couple years ago, and it was just a hook ago. Clyde Carson was in my studio a couple years or a year and a half ago, and we played him the long way; he f*cked with it and we thought he was gonna put it on his album or something, but nothing ever came out of it. I remember I was slapping it and I hit up Kyle, 'yo, this shit actually goes f*cking crazy, I'm gonna finish it.' I finished that joint and it came out hella clean. We shot [the video] at the Warriors parade, which was crazy because people were literally fucking with me the long way.
"Jingaling / Not In My League"
Rexx Life Raj: "Jingaling" is probably the most recent song. I feel like I did "Jingaling" four or five months ago. Will Fraker, who was on "Won't Let Go," is a crazy vocalist but he's also a dope ass pianist. Him and Kyle linked up and he played those chords, and I think Kyle resampled those chords and put a beat around it and he just sent it to me. I was in the lab one day and that was what just came to my head.
I've been trying to get out of the mode of being so attached to "verse/chrous/hook" structure, and just kind of do what feels right — that's the music I love. There's a lot of people who just do what feels right and they're not following the rules and with that track I was kind of on that hype.
"The Light"
Rexx Life Raj: That was just one of those tracks where I was talking about the shit I was going through at the time and talking about my past experiences at Boise State and playing football out there. I shouted out my strength and conditioning coach on the song, which is gonna be crazy when he hears it.
For that one, it was a hook for a long time, and I sent it to OMB Peezy and Nef the Pharaoh, and we didn't get a response, so I was like, "f*ck it, I'ma finish this joint out too." I turned it into something really clean.
"Yayo"
Rexx Life Raj: My whole thing with music when I put it out, is I want it to have staying power. I want my shit to be around for a minute, so I'll be really invested in my records, because so many songs are here and gone hella fast. If you follow the trends of what's hot … in the next year or two, that's not what's hot anymore, so you're music's not going to be hot anymore. I'm just creating in a space where I f*ck with this beat because I like this beat and not only because others f*ck with it … I rap like this because I like to rap like this, not because other people rap like this or that.
This song was inspired by E-40 too. I got so much respect for him, because he's from where we're from and he turned his career into something really sustainable. He gave n***as a blueprint on how to maneuver as an independent artist and how to convert that into other businesses, like his wine company and record label. I respect him, he got a lot of game and I appreciate it.
"Sprinkle Me" featuring E-40
Rexx Life Raj: They sent it ["Sprinkle Me"] to me and that beat was just crazy. I don't even know where it came from, I was just freestyling the melody and the hook and the "Sprinkle Me" shit just came. It was originally just one song with me on two verses, and I didn't even think to get E-40 on there because to me that was a long shot. I've been in contact with E-40 for a couple years now, and I have a record on his last project with B-Legit, so we've kinda been in contact with him for a little while. I remember the first time I linked up with E-40, and one of the first times he called me, he was really talking to me like E-40 — like "ugh," and he had the sound effects and shit. I was like, "this is nuts, this n***a really talks like this." He's been hella cool, he's hella positive. He's one of those dudes you can call and you can get some game, or he'll just call you and hit you like, "I want you on this record," or, "I see what you're doing, keep it up."
The song had been done, and I think it was Ari [manager] who told me, "you should reach out to E-40 to see if he can get on it." I reached out to him and we didn't hear back from him for a long time. Come to find out, he saw the name of the song and he didn't even open it. Usually when people flip his music, there's so many writers and producers that are on the original that it's hard to get it cleared, because everybody wants some money or they're tripping or whatever, so he usually doesn't open it. He eventually opened it, and I guess it was cool enough to where I didn't take so much of the song to where it was problem, and he hella f*cked with it and he sent it back. He was on tour with OMB Peezy when he got it, and he sent it back within a couple weeks. It was solid.
"Won't Let Go" featuring Will Fraker
Rexx Life Raj: Will is a dope ass vocalist and pianist; we wrote that hook together. Kyle came in and did the rest of the production and based it around the chorus. That record is a couple years old as well, and we wrote it in the studio and I did my verse that night and we never really went back to finish the record. At one point, we didn't know what we were going to do with it, but we after we got it mixed and shit it sounded polished enough to put out. Will is going crazy on the keys.
That's probably my favorite record on the project, outside of "Sprinkle Me." It has such a unique feel. When I hear that record, I envision driving up the 101 with a bad bitch in an old-school Cadillac with the top down, and we're just cruising. It just puts me in that place.
"Tucked Off Shawty / Touchdown"
Rexx Life Raj: "Tucked Off Shawty," I wrote that right around the time "Bodak Yellow" or "No Flocking" came out, because I was using similar flows. I like that record a lot, it's a dope record.
"Touchdown" is probably the oldest [song], it might be like four years old. That sh*t is so old, it's hella old [laughs]. It's crazy, because it wasn't originally on this beat, then Kyle sent it to me a year ago and he flipped the beat. I was like, "damn, that sounds pretty crazy."