Rapper ShiGGa Shay Recounts Singapore's Explosion of Hip-Hop
For G-SHOCK's 35th anniversary campaign 'We the Gs.'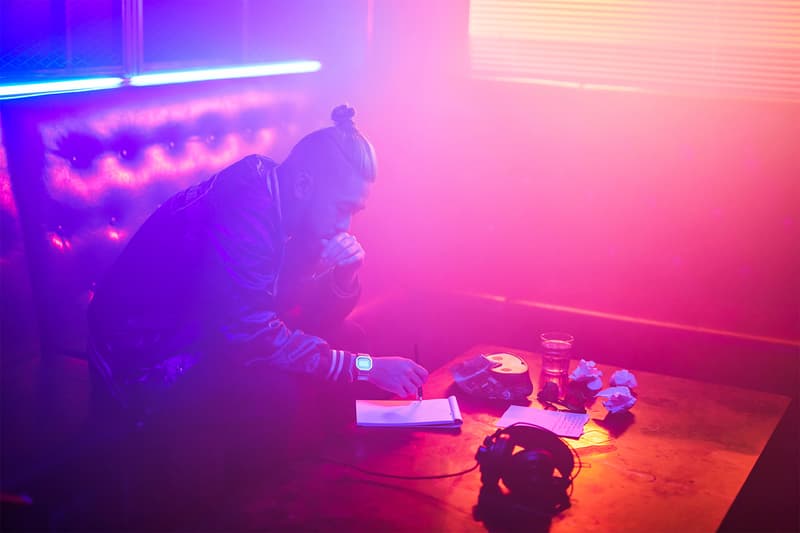 In this third installment of the We the Gs video series, G-SHOCK presents "Vol 3: Shock Your Stage" to celebrate its 35th anniversary. The campaign focuses on three Singaporean representatives whose expertise lies in arts, street fashion and music, all of which are supported by mysterious live activations, limited collaboration pieces and graffiti installations.
Last but definitely not least in the series is Singapore born-and-bred rapper ShiGGa Shay, who is one of the pioneers of the Lion City's burgeoning hip-hop scene and the first to incorporate its many spoken languages – from Singlish and Hokkien, to Tamil and Malay – into his music. Inspired by the likes of Tupac and Eminem, ShiGGa has been instrumental in introducing hip-hop to the Singaporean mainstream and beyond with chart-toppers like LimPeh and Lion City Kia, alongside performances at Singapore's National Day Parade and the White House State Dinner for Singapore.
In his collaboration with G-SHOCK, ShiGGa recounts the important role the Japanese watchmaker has had in the development of hip-hop culture. Read on to learn more about his street style must-haves and how he blends local Singaporean flavor with global cool. ShiGGa Shay is set to headline G-SHOCK's inaugural G-FEST, a jam-packed street culture celebration of sports, art, music and fashion set to take place at SCAPE on November 24 & 25. Alongside musical acts by DJ KiDG and Caracal, and arts and crafts workshops by ClogTwo and Kult, a historical gallery showcase of rare G-SHOCK watches and previews of upcoming collaborations with Sneaker Freaker and N.Hoolywood will be on display to entice diehard fans of the watch label. The first two limited edition G-SHOCK x Gorillaz collections will be unveiled and available at G-FEST.
Read on to learn more about ShiGGa Shay's musical influences and Singapore's hip-hop explosion.
This year, G-SHOCK is celebrating its 35th Anniversary and you are involved in their anniversary campaign. Could you share with us a little about your watch collaboration with G-SHOCK.
It's something that I'm very excited about and I'm looking forward to see how everything turns out because the concept of everything and all is fresh and I'm glad I get to wear Clog Two's art.
How has your perception of G-SHOCK changed since your involvement in the campaign?
I just love G-SHOCK even more because I've always been a fan. G-SHOCK has always been very instrumental in hip-hop and it's easy to look good in G-SHOCK. The beauty of G-SHOCK is that it stays relevant no matter what trends are out there because it never tries to be something else. It stays in its own lane and it shines on its own. It's the same thing with any culture. You follow a trend, you're only going to be the second best of where you got it from, but G-SHOCK is a good example of staying relevant because of staying true to yourself.
Walk us through a day in the life of ShiGGa Shay.
This is a very tricky question because it's a new adventure every day. Every day still kind of revolves around music because I would either be writing a new song, recording a new melody in my voice memo, or talking to both local and overseas producers to discuss a new track or new idea. A day in the life of ShiGGa would just be a very creative day.
"My love for hip-hop really sparked when I was 9."
What kind of music did you grow up to and when did you get involved in hip-hop?
I have a very weird start with music because I was never born into a musical family. I used to play Dizi (Chinese flute) in a Chinese orchestra when I was in primary school. In secondary school, I was playing the trombone in the military band. While in the army, I was in MBC, so I had to dabble in every single aspect of music or performance arts, from hosting to acting to dancing.
It's like a circus, but it was a good time and that really built my foundation as an artist. But for hip-hop, my love for hip-hop really sparked when I was 9. My mum would play this compilation CD with the biggest hits of 2001. It would usually have like 20 songs and one of the songs from that particular compilation CD happened to be Eminem's 'Cleanin' Out My Closet'. It was the only rap song in the whole thing and she just had it on loop during Chinese New Year while we were spring cleaning. I remember looping to that Eminem song and thinking: "What is this? He's not really singing, he's not really talking but that's so cool." I didn't know it was rap or hip-hop. I just really liked the fact that he could say so many things in one particular song under 3 minutes and there were so many messages. I dove deeper into hip-hop and just went on a "hip-hop excavation", discovering artistes like Dr. Dre, Snoop Dog, Tupac, and Biggie. I had to write down the lyrics and that was a good foundation for me in a sense that I had to figure out what they were saying in the songs. I would write down all the lyrics and repeat it. Slowly from there, I just changed the lyrics to my own and that's how my journey with hip-hop started.
What kind of role do you think Singapore's cultural identity plays in your music?
Hip-hop basically came from America, so they rap with an American accent. For grime hip-hop, it came from the UK so they rap with a UK accent. But for us Singaporeans, we are so used to listening to Singlish. If somebody speaks in an accent that is foreign to us, we're not going to be able to catch the words. That's why I decided to put in Hokkien because I wanted people here to understand what hip-hop is. I really made it more localised because before this, hip-hop wasn't a mainstream thing even though it was present. People just liked it but they could not inculcate or relate it with their daily lives. So, my main purpose was to figure out a way where hip-hop could transcend into people's everyday lives. That's the real essence of hip-hop. It's reflecting what society is currently, also the struggles of the artiste himself or herself has gone through. The artist's job is to use his or her experience and have the message relayed to inspire people so that they know that there's somebody out there like them. Your music get them through difficult times because while we all don't remember the exact lyrics to songs, but you always remember how the song made you feel. That's the beautiful thing of hip-hop.
Who or what inspires you? How do you find inspiration?
I look for inspiration literally everywhere because I'm always seeking for that spark for that one song, with lyric or message that can touch people or help people. You'll never know what is going to inspire you, so I try to keep an open mind to what I listen to. I listen to music from all different genres and from all different types of artists. Even when I go to a coffee shop, I get inspired from talking to the uncles and aunties because of the things they said and the language they used. I even get inspired from the sounds you hear at the coffee shop, on the streets, or the bus.
How have you seen the hip-hop scene in Singapore evolve from when you first started until now?
It has grown tremendously because when I first started out, hip-hop was very foreign in Singapore. When I said that I was a rapper, people didn't understand what it was. Having seen it grow so much is very inspiring. There weren't that many online platforms available during my time too. The only platform you had for people to listen to you was Myspace. I used to be on Myspace pasting long paragraphs of like "please check out my music" but back then, hip-hop wasn't something that mainstream media accepted. Radio wouldn't play it and TV was kind of iffy about it. But now, not just for hip-hop but for music in general, a lot of doors have opened. How hip-hop came into the picture and how hip-hop has grown
into the mainstream culture in Singapore is because there are all these social media platforms that accelerated the growth of hip-hop. It made hip-hop more acceptable to the
general public and more relatable. A lot of people get caught onto hip-hop not because of the music at first, especially in Singapore. It's because they like the lifestyle of hip-hop and they want to be part of that lifestyle because it looks cool. From shoes like Yeezys to like the high fashion stuff like Off-White, people go in from fashion and like: "Oh right, it started from hip-hop." Some people don't even know who Kanye West is, but they wear Yeezys. It's crazy, but I'd say it's a good thing for hip-hop because it just expands the market. I think it's a genre that can really help a lot of people if used the right way and it's a great thing to see hip-hop grow so much to what it is now.
How do you tackle criticisms and overcome setbacks in the Singapore hip-hop scene?
If it is constructive criticism, I would definitely take the time to listen to it and understand why he or she said certain things. But if they are trolling or saying things just to attack me, I don't ake it personally because everybody has their own opinion and I respect people's opinions. Of course, it did bother me in the beginning, but it eventually turned into motivation. Because it's like they say certain things and you're like: "Okay, I'm gonna prove you wrong."
What do you think makes a change maker in Singapore's music scene?
I think the most important thing is to first of all, find yourself, really know yourself, and then really be yourself with the music. Try not to be anybody else because nobody can be a better version of you. As long as you reflect that and you're sincere with that, the audience can see that and they will naturally gravitate towards you because people are looking for something real nowadays.
Who are some of the artists (in Singapore) right now that you'd recommend?
Jasmine Sokko, Charlie Lim. He just dropped a new single called 'Welcome Home' or something. It's an amazing song – very, very detailed.
As one of Singapore's most prominent rappers, what advice do you have for young generation chasing their dreams?
Always believe in yourself, trust your instincts and really fight for your dreams.
"Stand for something or die for nothing."
Where do you get your style from? Who are some of your fashion inspirations?
There's not really a particular person or anything I look up too, it's more like I just wear whatever that allows me to be myself. I would wear it because fashion and clothing really represents who you are as a person. It kind of defines your mood for the day too. Dressing for the occasion or dressing for the day, whether it's comfort or a certain colour that you're trying to match, or a certain feel you're trying to go for, I think I just wear whatever that allows me to be me.
Your must-have in your daily outfit?
My sling back. It's really handy because I can put all my stuff in like Doraemon.
How does G-SHOCK fit into your lifestyle?
It compliments my aesthetic very easily. I don't have to wear something crazy or too loud. It's something that I can put on and already feel confident and it keeps me on track. For me it's the design. I think it's easy to look good with this. You could match this with anything and that's what I like about G-SHOCK watches. Whether you're going to the gym or a wedding, it would still look normal.
G-SHOCK's slogan is #AbsoluteToughness. What does Absolute Toughness mean to you?
Standing for what you believe in. Stand for something or die for nothing.
Complete this sentence: "If I could turn back time, I would…"
If I could turn back time, I would tell my younger self to just completely believe in yourself and everything's gonna be okay. Always believe in your own instincts and fight for what you believe in.