Elon Musk Named One of "25 People Shaping The Next 50 Years" by 'Rolling Stone'
The cover story delves inside the mind of Musk.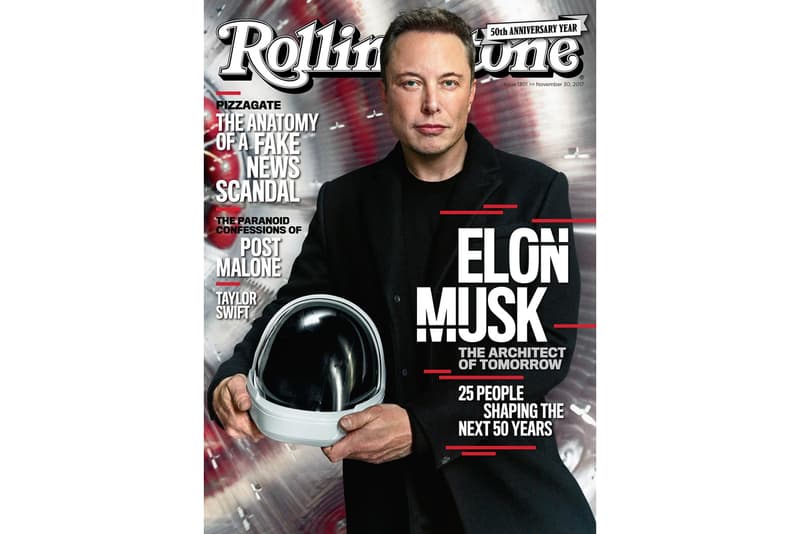 Elon Musk is one of Rolling Stone's "25 People Shaping The Next 50 Years," and the magazine sat down with the famed creative for a cover story. "The architect of tomorrow" shares a variety of experiences with Neil Strauss, ranging from the Tesla Truck to relationship advice over the course of a month or so of reporting.
The feature begins in Musk's offices, where the billionaire inventor discusses his recent heartbreak over his relationship with Amber Heard, which ended earlier this year, before asking Strauss, "Is there anybody you think I should date?" From there, the focus shifts to the forthcoming Tesla Truck and Musk's history in business, which began with the company he founded with his brother — Zip2 — before shifting to PayPal, Tesla, SpaceX and so on. Strauss explores Musk's motivation — "I try to do useful things," he explains. "That's a nice aspiration. And useful means it is of value to the rest of society. Are they useful things that work and make people's lives better, make the future seem better, and actually are better, too? I think we should try to make the future better." — and even the entrepreneur's favorite TV shows — "Have you ever seen Rick and Morty?" The conversation bounces from that animated show to South Park to The Simpsons to the book The Hitchhiker's Guide to the Galaxy. Ultimately, the piece not only serves as a solid explanation of Musk's achievements, but also dives into the mind of a man who has innovated so much in so many varied fields.
Read the entire piece at rollingstone.com.
Despite Tesla's record losses, Musk is pressing forward with other endeavors, including the Boring Company's network of tunnels.