Olivier Rousteing Talks About the Lack of Diversity in Fashion and Why Kanye West Is a F***ing God
"I love Yeezy. I wear Yeezy."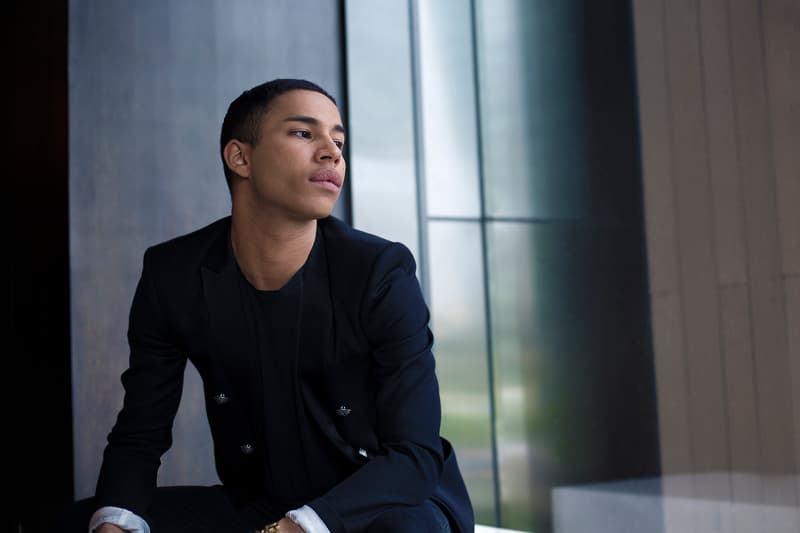 At the age of 30, Olivier Rousteing has achieved a lot within fashion in such a short period — something that he'd hate to hear us say, I'm sure. Since taking the reins as creative director of Balmain over five years ago, he's turned the Parisian fashion house on its head. His exuberant personality, obsession with pop culture, and eagerness to share daily experiences with his 3 million followers on Instagram has unequivocally revitalized the 70-year-old brand.  
The French designer is more than just an ambassador, he's become the face of Balmain. And while this trajectory may appear comparable to preceding fashion counterparts, it's not. Rousteing's transparency and willingness to let fans into his world has taken the media by storm. He rubs shoulders with larger than life celebrities such as Kanye West, Kim Kardashian, Kendall and Kylie Jenner, Rihanna, Beyoncé, Justin Bieber, the list goes on — all of whom are part of his #BalmainArmy.
This global attention, however, doesn't sit well with everyone in the fashion capital. Unfortunately, Rousteing doesn't get the recognition he deserves, even though he's worked extremely hard and has an impressive body of work in both haute couture and the retail space. Truth be told, the rigid, stereotypical mindset of Paris doesn't appear to accept the unique qualities that make Rousteing one of the most exciting designers of our generation. Regardless, no one can deny Balmain's resurgence under Rousteing's stewardship and the shrewd decisions that prove his understanding of what the market wants.
When HYPEBEAST caught up with Rousteing during a recent stop-over in Beijing, we were pleasantly surprised by his big picture approach towards fashion and his future hopes for the ever-changing fashion industry. Here's part of our conversation with the man behind the storied house.
---
As creative director of Balmain, what's the most important issue that you're trying to tackle?
I think when you do fashion, and when you have the chance to actually work in art, you should use it to express your vision. My vision and aesthetic is about being mixed and diverse. I love different colors and shapes, so I use fashion to promote the need to believe in different races, backgrounds and cultures.
I'm black, my parents are white, and this has always been a topic that's really important to me. I want this topic to be important in fashion because diversity is not a strong topic today.
A lot of people come up to me and say, "Oh my god, your casting is so diverse." I think to myself, "We are in 2016 and you still think this is diverse!" Clearly, there is something wrong here. I shouldn't wake up and see that I'm black or white. We should just wake up and not feel different. This has to change and this is what I'm trying to do because it makes me really sad.
Who do you respect in fashion today?
If I think about someone who I love and respect for their vision and brand, I'd have to say Kanye West.
I love Yeezy. I wear Yeezy. You know what I love about him? It's that he can create so much tension and power at the same time. It's insane! I went to his show in Madison Square Garden and I was just like, "Wow! This is fashion." In one live moment, there were 20,000 surrounding his clothes, while launching a new album, The Life of Pablo, dressing everybody in Yeezy. This is the dream of every designer. You might not do the same clothes as he does, but just imagine having all of these people and TVs around your show. You have like Anna Wintour, and at the same time you have Lil' Kim, you have 50 Cent and you have Kim K. You sit back and you're just like, "You are a f***ing god because you made this happen."
I love him. I love that he has no boundaries and says what he wants. He'll say to me "yes, you know what I mean." And I'm just like "yes, I know but I can not say that… You can, but I can't." I admire him because he has the chance to be free.