POLLS: If You're Reading This It's Too Late to Pimp a Butterfly: Drake or Kendrick Lamar?
For the TL;DR crowd, if you're here just for the comments or just want to participate in the poll,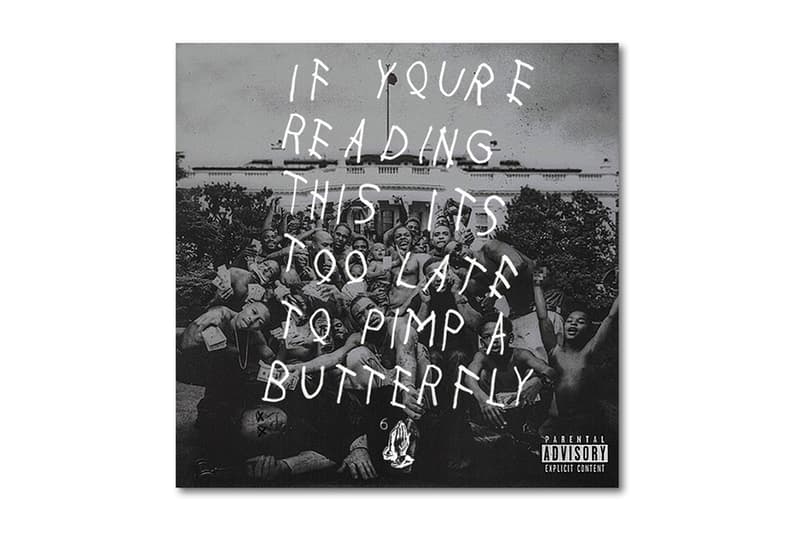 For the TL;DR crowd, if you're here just for the comments or just want to participate in the poll, check out the neat scroll feature to the right.
With the exception of a select few, there are no rappers out there right now who can even dream of touching Kendrick Lamar or Drake. It's hard to think of another time in hip-hop history where the two biggest artists were so utterly opposite of each other, and while both are wildly different in their style and story, each fills a necessary position in this game we call rap. One is a storyteller, a prophet of sorts, weaving intricate stories about his upbringing in Compton in with those about politics, spirituality and what it means to be a young, black male living in America. The other is a Canadian, half-Jewish former child TV star who rose to prominence because of his vulnerable, sensitive style of R&B-infused rap. He has a long list of club and radio hits to his name, and is the only Canadian rapper ever to successfully break through the 49th parallel to achieve widespread commercial success south of the border.
Their paths have crossed many times throughout their careers thus far—Drake gave Kendrick an appearance on his 2011 album Take Care and brought him along as an opener for his Club Paradise Tour the following year. The two also shared the mic on such songs as "Poetic Justice" from Kendrick's much-lauded debut good kid, m.A.A.d city and "F**kin' Problems" from A$AP Rocky's Long.Live.A$AP. They came up together, always the standout students in hip-hop's new class, and over the years have traded time atop rap's proverbial podium as each achieved great commercial and critical success. The story up until 2013 had been a joy to watch—two young, talented artists with the world at their fingertips—but things took a turn for the interesting that year when Kendrick delivered a scathing call-out to hip-hop's elite in the form of his now infamous "Control" verse. Ever since then the beef has been brewing, and while it doesn't have the violence or overt braggadocio of some of hip-hop's famous historical conflicts, it's the understated complexity of their relationship, and their individual polarities that make it so noteworthy.
On "Control," Kendrick included Drake's name in a list of rappers whom he said he had "love" for, but is "trying to murder." Not long after, Drake appeared on Power 106 and dismissed "Control" as an attention-seeking gimmick that "came and went… one of those sort of like fleeting Twitter frenzies." He also said he wouldn't collaborate with Kendrick again, which prompted K-Dot to dish out the disses in the BET Cypher just a few weeks later. Then came an armistice of sorts, with Drake even going so far as to called Kendrick "legendary" and "one of the hardest ni**as alive" during his set at OVO Fest in August 2014. The cooling didn't last long, as Kendrick took jabs at Drake yet again on "Pay For It," even using Drake's own lyrics from "The Language" against him: "Been dissecting your motormouth until I break down the engine," he taunted, before adding, "See my opponent then, cease your existence/ Endin' our friendship, baby, I'd rather die alone."
Now, the beef has become a relevant topic of conversation again with both rappers releasing albums by way of surprise drop within a few weeks of each other. Both are impressive works of art in their own right, and could be debated in favor of, or against, for hours on end. To Pimp a Butterfly is a dense offering, to say the least. While good kid, m.A.A.d city was focused on his own personal narrative, TPAB is Kendrick's musings on the world as he sees it; a difficult album to reflect difficult times. It's complex in every sense of the word, from the subject matter to the sonic styling, and demands the listener's mental and emotional investment the entire way through. While it's still early to know the commercial impact of the album, Spotify did confirm that TPAB was streamed more than 9.6 million times in the first 24 hours of its release, setting the new global record for the most album streams in a single day and dethroning, you guessed it, Drake for the top spot in the process.
If You're Reading This It's Too Late isn't anything groundbreaking, but it's quintessential Drizzy that we have come to know and love. Full of downtempo jams, moody samples and R&B-influenced sounds courtesy of frequent collaborators Boi-1da and Noah "40" Shebib, this is Drake at his bragging and boasting best, talking about his enemies, his $30 million USD mortgages, his girls and drinking Henny (or D'usse, if it's done). None of the songs are radio-friendly per se, but it's chock full of bangers that will dominate the club circuit for months to come, and this is definitely an album you can listen to over and over again without giving it too much thought. And while TPAB might have snatched the throne from IYRTITL for most Spotify plays in a day, Drake recently became the only artist in history to have every single song off an album charting on the Billboard charts at once: Along with the 17 songs from IYRTITL, Drake was also featured on four other charting tunes, bringing his grand total to 21 tracks climbing the Hot R&B/Hip-Hop chart at the same damn time.
The proof is in the pudding, and Kendrick Lamar and Drake both have more than enough to go around, even more so now that each are armed with a hot album to add some fuel to the fire they've been spitting at each other over the past few years. It seemed like the perfect time to pose the question about whom you think has the edge.
Poll
Who is currently leading this generation of hip-hop superstars?