Cruise Life: An Interview with Nick Diamond
Having gotten its start in the late '90s as a hardware company, Diamond Supply Co. has grown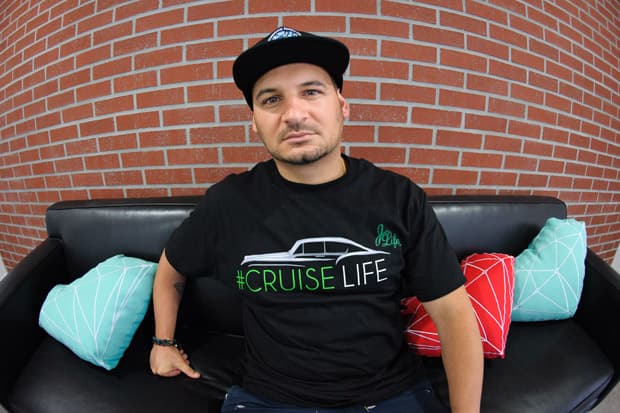 Having gotten its start in the late '90s as a hardware company, Diamond Supply Co. has grown exponentially over the past 14-plus years, becoming one of the biggest and most well-known brands in the skateboarding and streetwear industry today. We recently had the opportunity to sit down with the man behind the brand, Nick Diamond himself, in Diamond's newly opened facility. In the interview, the creator and designer touches on the origins of Diamond Supply Co., its upcoming 15th anniversary, the growth of the brand and its subsidiaries, the changes in the streetwear and skating industries over the past decade, and even some of his own personal goals and hobbies outside of the workplace.
We're here at Diamond's new facility, can you talk a little bit about that? How it came about, how long it took and what your goals are with the space?
This is actually our first warehouse that we did on our own. We used to always drop-ship and ship from our manufacturers. We only did a little bit of shipping out of our old office. We were growing so much and wanted to do everything in-house on our own, so we got this big warehouse to basically have our own shipping facility and office. We built 7,000 sq-ft of offices in a 23,000 sq-ft warehouse and used the rest for shipping, and we also have a big mini ramp bowl to skate in. It's nice to have everything in-house: all our production people, warehouse people, sales, marketing, all under one roof. Before we were all scattered throughout different offices, people's houses and around LA. So now we're like really up and running officially.
Have your goals changed since you started the brand?
My goals have changed a lot. Next year will be the 15th anniversary of Diamond Supply Co., and at first it was really just skate hardware and I only wanted to skate and have all of my friends skate for the same company – like a family. Obviously over the years, when you grow, things change. It's still dope that we all skate, a lot of the people that work for us are old friends of mine so we have kept it quite family-oriented after 15 years and that's awesome.
Diamond was known as a hardware company. Obviously its gotten much bigger than that, but why did you start in hardware?
I started in hardware because I always wanted to start a brand. I've always been into clothes and skateboarding; I used to skate for companies and give them ideas and whenever I came up with any, it would always somehow become the best seller. They'd always be like thanks, but I'd never get anything for it. I was like I can do this shit on my own, but didn't have the money to do anything. One day I was driving with my buddy and we were just talking about what we could change on a skateboard and then came up with an idea. Next thing you know we had this idea about making these bolts that would have two allen keys, one for the screw and then an allen key hole for the actual nut. I was like "fuck man, I'm gonna make these." He was going to do it with me, but then he got his girlfriend pregnant and moved out to like Tahoe or something. I just never really heard from him again. It took me a few years to develop this bolt, but that was it.
What do you attribute to the success of Diamond Supply Co.?
The success of the brand has to do with staying in touch with our customers – our Diamond life fans which are the fam that have been supporting us for a long time – and working well with vendors. For years we never really had someone that would believe in us to take it to the next level because we started out with zero money and it's hard to really grow if you don't have any capital. A lot of it came down to building relationships with the people that make our product and them giving us different terms of payment. That was a big problem with us in the past – not having funds to make products that we would pre-book for stores – so people would be mad at us for not delivering anything, but really it was because we didn't have any money to make it. To finally have vendors that would make the stuff for us upfront and let us pay them later, that has helped a lot.
Can you talk a bit about connecting with your supporters? I know you were active on the HYPEBEAST forums for years.
We owe a lot of success to the HYPEBEAST forums. It's somewhere I've been actively involved in all the time since 2006. I was on everyday in the past but it's been a bit harder to uphold that now. I am still on there a couple times a week, but I used to be on there for a couple of years every day straight. I would talk to kids, see what they liked, showing them our new stuff and that really helped us become popular. I always tell my friends that want to start a brand to go on the forums and show and ask for insight because those are going to be your main supporters. People have done it. Mega from Black Scale has been on the forums – you can't say that all of his success has been from the forums, but it has helped. It's a great place and I recommend everybody that has a brand to go on there and talk to the people that are involved with it.
You spoke about the streetwear scene and then there's the skate scene, but can you talk about how the brand has reached other demographics?
Ever since we started, it was a skate brand, but maybe just with the name and the logo – we were lucky with that. People identify with it because it's a diamond, so we have always had music artists and people outside of skateboarding buying our shirts and hats. People would tell me they love the logo but this is some skate shit and nobody knows it. It took a long time for people to know about it because we were only really selling to core stores like Zumiez – we've been in Zumiez for 10 years. We started with hard goods and shirts here and there, but it just took time for us to deliver the actual product and supply the demand. That gets the brand out there way more so that the more people that see it, the more popular it becomes. The Nike SB Tiffany that we did in 2005 really helped push the brand to the next level with people outside of skateboarding. They were like, "Wow this shoe is awesome, but what's Diamond?" That really identified us with the sneaker community and me being a sneakerhead with fans on MySpace back in the day. Fans were able to identify with me as a person because I was into the same sort of things as them besides skateboarding. Just getting a connection with them made them want to support us because we were supporting them.
Streetwear was booming in the mid-2000s, but within the the past few years we've seen a drop off. Some brands never recovered after the recession. Diamond is going 15 years strong. Can you tell us how you kept things afloat?
Well I think before the economy really crashed, as a brand we were having a lot of problems with not being able to ship and only being able to produce a limited amount of everything we made – none of it by choice. It was because we couldn't produce the product. When the economy crashed, nothing really changed because we were kind of just growing and figuring out how to produce the product during that time, so we actually somehow grew during the recession… and we grew a lot. Just two years ago we grew seven times in a year and since then, we've grown even more. I think we lucked out because before, people couldn't get it and as soon as they could, we grew really fast in a bad time… I think (laugh)… I'm not sure why but it seems like it is.
Can you talk about your current thoughts on the skate scene as a whole and how its changed in the past 10 years?
It has actually changed quite a lot because there's a lot of money involved now with actual pro skaters. When I was growing up and skating, pros were lucky to make 500 bucks a month, but now people have million dollar contracts. It has also changed a lot because all kinds of people are interested in skating now, all for different reasons. Before we skated because we were rebels, we didn't care and we just want to skate. All our friends that we skated with got along well because they were social outcasts. Now it seems like everyone can be a skater and everyone wants to be a skater because they think they can be the next Paul Rodriguez. They think they can have this big house, nice cars and live the life of a professional basketball player or something. I think it's awesome, it's just different now but rad either way. Skateboarding is going to change regardless because people are always innovating.
What are some of the things that you like to do outside of the scene? What are some of your hobbies?
Well I've really been getting into old-school cars. I have a '68 Chevelle Malibu and I'm building a '70 Chevelle SS. Right now I'm really into the whole car thing – I have some nice newer cars, but I don't get the satisfaction of driving them like I do when driving an old school car. There's just something about it. Also, I'm really into furniture, I go to thrift stores and buy a lot of furniture from the mid-century. I wouldn't say I'm a collector, but I find places to put it. So I'll be searching out furniture and I'll see a random thrift store and pull over to see if there's anything someone just gave up that didn't know what they had.
Any last words?
So another thing since Diamond has been growing, I have been able to do other things with friends. One of our riders, Torey Pudwill had this childhood dream of doing a griptape company and has been doing one since he was 12 years old, but was doing it out of his house. I just thought that was cool so we took it under our wing and now it's in our warehouse. It's called Grizzly griptape and it has been blowing up. It's exciting – given the age of Grizzly – and how it has done right out the gate. My brother has a skateboard truck company called Ace and we've done the exact same thing with it here. We brought it in-house, my brother was a team manager and designer for Independent Trucks for 15 years so he designed this killer truck and basically went on his own to do his own brand. We also do Fillmore Wheels which we had a few years ago, but we relaunched it again due to the fact that we are in the position now to see it through. A lot of good things are happening over here and it's exciting.
Photography: John Ong/HYPEBEAST