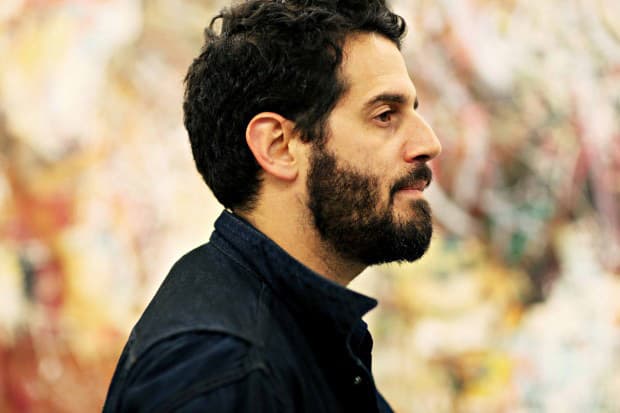 POST NEW: José Parlá Interview
New York-based artist José Parlá refers to his work as "Contemporary Palimpsests," drawing
---
New York-based artist José Parlá refers to his work as "Contemporary Palimpsests," drawing inspiration from past experiences and memories when creating new pieces of art. One of the very few artists who has achieved success in a variety of mediums, he continues to push the artistic envelope as evidenced by his latest show at OHWOW. While choice excerpts appear below from his conversation with POST NEW, the entire interview with José Parlá can be read here.
Tell us a bit about your childhood and how it shaped your interest in art?
I was born in Miami. My parents, who had left Cuba after the revolution, moved the family to Puerto Rico. We lived in a small suburb near the capital of San Juan. There, between the ages of five and ten I was into drawing. My mother had been interested in architecture and drawing back in Cuba and she taught me new ways to look art, and also provided direction with my drawings at school. I also practiced often with our neighbor who happened to be an architect and showed me a lot of his drawings, and blue prints. This is the earliest period of what developed my interest in art.
The move back to Miami was really what intensified the experience of art for me and that's how the seed of it grew into something permanent in my thoughts. I was ten years old and I saw paintings everywhere on the walls of the neighborhood. There was art on rooftops, trucks rolling by on the highway around the city, and also on the walls of my schoolyard. I was curious, interested, and impressed to learn what was happening. There was an underground culture I had not seen in Puerto Rico, so it was new, very fresh, and to me it was American. I became involved with painting from this early age and I never looked back.
How do your roots come through in your work? Did living in Puerto Rico and having Cuban parents in Miami affect your work in a positive way?
The main thing growing up culturally in our home and surroundings was the music and festivities. Very bright colors are part of the make up of Caribbean and Tropical culture; architecture, fashion, and art, so this has always influenced me very much.
What artists did you look up to when you were younger? How did they influence your style now?
When I was younger in the 1980s, I was into local artists who were painting in Miami, like: Jes, Sar, Mes 1, Reneer, Seam, Micro, and Mero. From New York, I was into artists like: Kase 2, Lee Quiñones, and Jean Michel-Basquiat. In college in the 1990s, I was looking at art works by Robert Rauschenberg, Francis Bacon, Howard Finster, Purvis Young, Cy Twombly, Anselm Kiefer, Gerhard Richter and many others. I respect all these artists very much and studied their lives and careers for support, but I was very careful to never be influenced by them too much. Originality has always been very important to me.
Explain in your own words your style of work. Many say it is strongly shaped by calligraphy, but I feel there is much more to it than the writing?
The calligraphic aspect of my work is only one element, which is linear and rhythmic at the same time. My calligraphy is a fluid and spontaneous system of lettering, speed writings which form micro-signs or fragmented anecdotes, stories, phrases, memories, psychological layers, a musical influence from a lyric; all to create a framework where the individual painting is itself a symbol evoking a reflection interpreted by the viewer and partly facilitated by my composition.
The visual references or memories can be endless or have multiple meanings. This form of drawing is something I use as a barometer to my mood and experience in life at the specific moment that I am painting. Again, there is much behind the calligraphy: stories, personal journals, fiction, imagination, stream of conscious writing, names, etc. The paintings themselves are symbols of all of this together along with my observations and experiences of a place or memory.
The challenge is to also capture the emotion of a place or memory, this is very important to me as well. I know that the layers in my work function to represent the layers of our days in life. There's a strong exploration of experiencing the city and just as important learning about yourself as you do it. The layers are an abstract system of organizing the psycho-geography and the simultaneous awareness experiencing the after effect of human behavior and its traces on the geographical environment of cities and other landscapes. They are for everyone and about anything I come in contact with.
The paintings are layers of collage, paint applied by palette knife, washed, and made transparent, are all gestures significant to the experiences I have in travel, encounters with people, strangers, friends, family, and locations specific to memories that are profound in my own life. The works are a kind of layered fingerprint of my research. They are political and psycho-geographical. Like walls outdoors, as if anyone had access to paint them or destroy them they can be read through feeling. Walls divide us, keep us warm, serve as billboards, and display our marks by exposing the way people live in certain areas. Walls and what they reflect, what I see, can often inspire my paintings. Other paintings that I make are more about landscapes, cityscapes, and my personal view of space.