Shubhankar Ray & Eckart Maise: The Return of Jean Prouvé Through G-Star and Vitra
The idea of collaboration comes as no surprise to the frequenters of HYPEBEAST. One of the most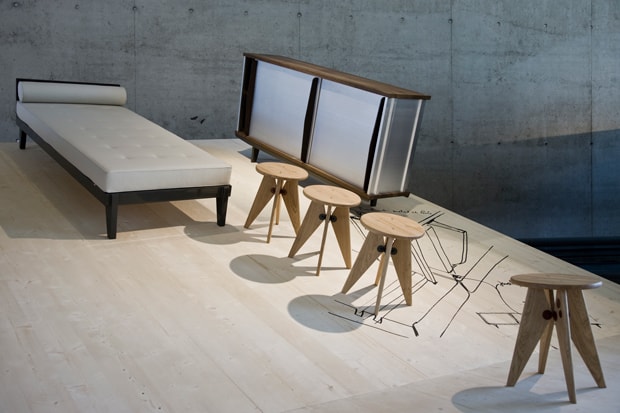 The idea of collaboration comes as no surprise to the frequenters of HYPEBEAST. One of the most visible and overly abused marketing tool, as of a few years ago, many had felt they had seen it all in the collaborative realm. But where there still lies interest, is when partners from unrelated industries join forces to work on something entirely different. Having somebody apply their approach to design onto an entirely different product or platform still creates a certain degree of true interest.
Two European heavyweights including G-Star and Vitra were unified by a shared philosophy towards quality products and the work of late French industrial designer, Jean Prouvé. The G-Star CROSSOVER project enlisted 17 of Prouvé's iconic designs that were brought back to life. While the structural framework remains largely unchanged, the contemporary updates through materials and colors effectively highlight the timeless aesthetic of Prouvé.
We spoke with Eckart Maise of Vitra and G-Star's Shubhankar Ray to gain a better understanding in the ethos of each respective brand as well as their thoughts on the collaboration.
More information can be seen here.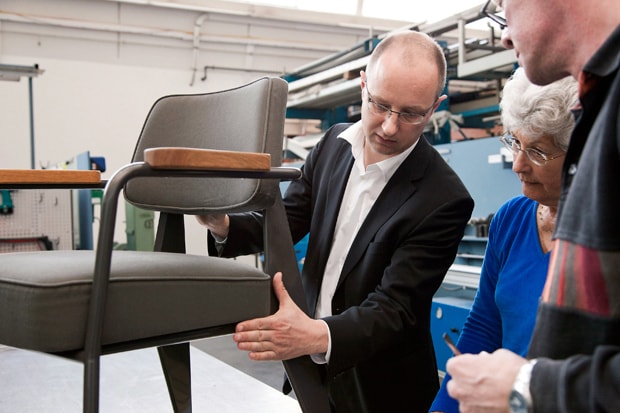 Eckart Maise of Vitra – Chief Design Officer
Could you introduce yourself, your role at Vitra and what it encompasses?
I'm the Chief Design Officer at Vitra and I oversee product development, marketing and communication. The objective of this cooperation is to secure our users – whether a company or a private person – the best possible design experience, which was envisioned by G-Star in collaboration with us.
What's the core philosophy of Vitra in regards to design?
Vitra is a furniture company dedicated to developing healthy, intelligent, inspiring and durable solutions for the office, the home and for public spaces. Vitra's products and concepts are developed in Switzerland by applying a diligent design process that brings together the company's engineering excellence with the creative genius of leading international designers. It is our goal to create products with a high functional and aesthetic life expectancy.
Beyond just furniture design, what does Vitra encompass?
Aside from furniture design, we have several elements such as the Vitra Campus architecture, the Vitra Design Museum, workshops, publications, collections and archives. These are all integral elements of Vitra. They give Vitra the opportunity to gain perspective and depth in all of its creative activities.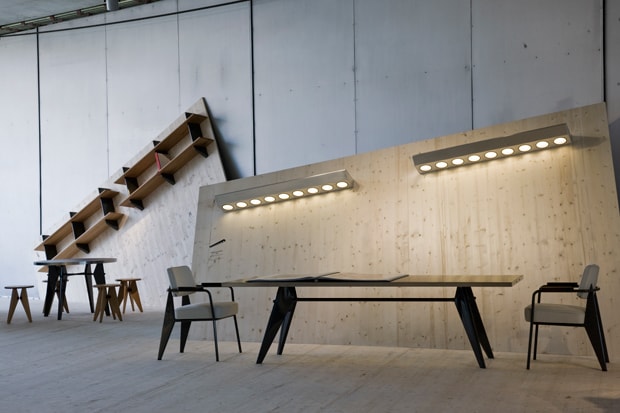 Despite your position as a furniture brand, how applicable are your philosophies to other mediums (and what is the likelihood of this through other concepts)?
As a furniture manufacturer, Vitra is defined by the design process. We are committed to the ongoing research into new ideas and innovative production methods, knowing that these are also in constant evolution. Of course this is a concept that can also be applied to other areas. To achieve successful outcome it takes diligent work along this definition, without ever giving way to style alone.
How similar are the reproductions to Prouvé's original work?
The Prouvé RAW collection presents 17 of Jean Prouvé's furniture pieces in a more fresh and contemporary look and feel. Out of great respect and mutual passion for Prouvé's design, the reinterpretations don't distract from but completely keep the essential aspects of his work – the construction, the material and the form. The focus lay in a harmonious as well as softer surface treatment, which was achieved by the choice of a subtle color scheme, specially made textiles, and the use of oiled solid wood.
How revolutionary was Prouvé's focus on material consideration?
Jean Prouvé conceived design as a dynamic process, which meant to respond to constantly changing needs. For example, he continued to adapt products to the needs of the user and the context; even when the pieces had already entered the cycle of industrial production.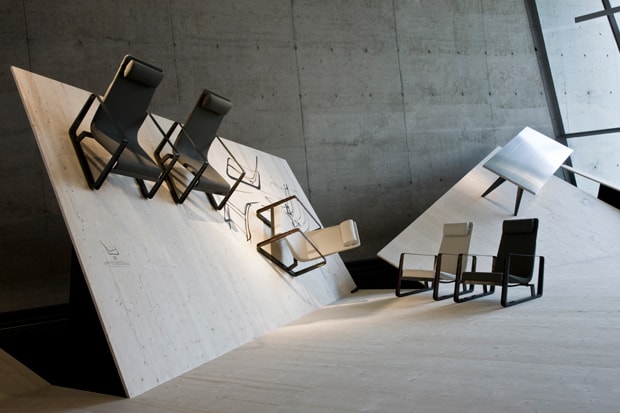 How much of his success was derived from his background outside of design?
With the background as a metalsmith, he had great expertise in the work with folded metals, which he experimented hands-on in his Atéliers in Nancy. He was a pioneer in bringing furniture design and prefabricated architecture closer together by using similar materials and construction principles. Though as problems changed with time, so did also evolve his solutions, until his last projects, when he resumed working in industrial design with new materials such as plastics.
Vitra has been a strong proponent towards creating long-lasting furniture that isn't meant to be thrown away, why is this such an important part of the brand?
We thrive for sustainability in terms of material, function and aesthetics. If all three are in balance, chances are good to create a successful, long-lasting furniture piece. Together they create a strong character, yet avoid superfluous and short-lived styling. Only when these factors are given, a piece does not wear off, but can last over time while preserving its freshness.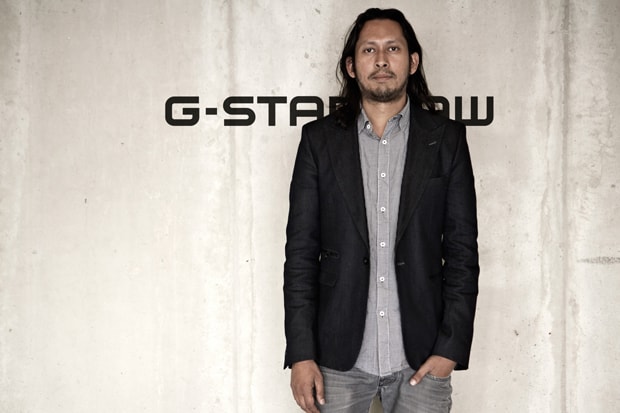 Shubhankar Ray of G-Star – Global Brand Director
Could you introduce yourself, your role at G-Star and what it encompasses?
My name is Shubhankar Ray and I have been G-Star's global brand director since 2006. My responsibilities include handling the brand's image worldwide, strategy and advertising campaigns with the the likes of Anton Corbijn, Liv Tyler, Gemma Arterton, Vincent Gallo and chess champion Magnus Carlsen. This all takes place in a media form that hopefully conveys new creative concepts in a counter intuitive way to promote G-Star on a global level. My own work includes art interventions in fashion shows working with the late Dennis Hopper, Benicio Del Toro and the United Nations, to design crossovers like Canondale, Vitra & Prouvé. I also had a hand in setting up our own 3301 record label and G-Star's own RAW newspaper with a circulation of over 6 million copies. I am the brand guardian making sure G-Star's visual language is emotionally correct around the world.
How would you describe your role?
My role is focused on keeping the brand interesting, surprising and cool by reinventing, recharging and rebooting the positioning, message and global image. I add a cultural value to brands in order to inspire the audience, ideally leaving a memory. My role encompasses creating a modern brand with strong identity and a difficult to forget brand image with our worldwide campaigns.
How does design and furniture fit into G-Star's philosophy?
Design fits into G-Star's DNA as a pure, undiluted and non-conformist approach based on RAW. RAW is the DNA of G-Star and refers to the relationship between the character of raw denim in its pure state and the character of the brand. We are inspired by unexpected combinations so we are influenced by design innovation and craftsmanship from vintage to modernist design. At G-Star we have long been influenced by modernist designers like Prouvé, Le Corbusier & Niemeyer.
So furniture is part of our just the product philosophy because it has a democratic purpose and usefulness just like denim, and it is functional because we need it for our offices, showrooms and shops. It is a natural part of of our brand identity and integrated design approach.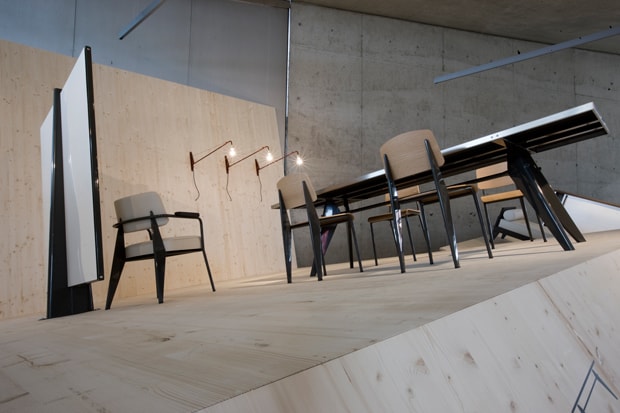 The collaboration with Vitra falls under the Crossover Project, can you discuss what exactly is G-Star Crossover?
For G-Star, the RAW crossover series allows us to mix our brand DNA & design approach with other iconic products and manufacturers whom we admire. Crossovers are unique design experiments where we have re-tuned a Landrover Defender, redesigned a Canondale bike, designed an old Amsterdam ferry boat, made a billiard table with Wilhemina, and now we've just re-imagined Jean Prouvé's classic modernist furniture. The Prouvé RAW Crossover project allowed us to collaborate on product design with Vitra whom we admire greatly due to their maniacal dedication to design innovation, technology, craftsmanship and quality.
What is its importance to the brand regarding these collaborations?
The importance of collaborations for G-Star is that the common design approach and experiment feeds our designer's creativity and allows them outside the comfort zone of clothing design into other worlds like furniture design, or boats or cars. Some of the design details then feed into our design process for shops, showrooms, fair booths or show set designs, etc. We'll showcase much of the Prouvé furniture in our showrooms and even fashion shows. We'll keep this concept going hopefully as an interview space and green room.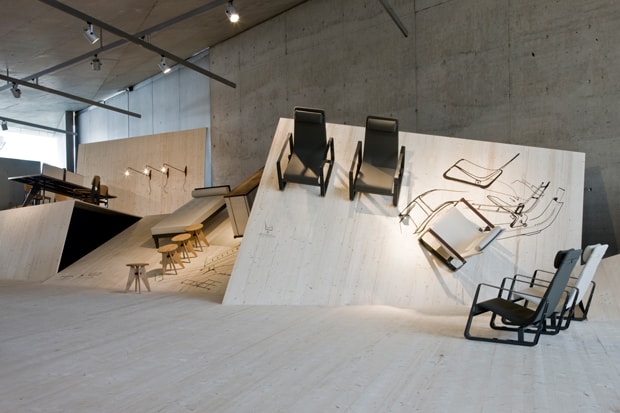 Working with furniture versus fashion must create some interesting parallels and differences, what are your thoughts on this?
The democratic purpose and usefulness of modernist furniture match that of denim. When good furniture gets old it ages with character, just like worn-in or damaged denim.
What were some of your goals for this project?
As with all well-designed modern classics whether fashion, furniture or objects, the design goals are often similar which are based around creating products which have a high functional and visual life expectancy… Furniture like denim is meant to last a long time.
What has been your personal interest in furniture?
I use it everyday and I like well designed modern classics that balance function and form in a subtle way.
What elements of G-Star is apparent through Prouvé's work?
No-nonsense designs created with a focus on functionality, choice of materials and colors. Much like Prouvé, we share an affinity for the use of high quality raw materials. For the furniture, we used materials such as natural oak, steel, canvas and our characteristic grey color along with some surprising colors like blue, red, brown and beige.