Des oeuvres rares et méconnues de Banksy et KAWS mises aux enchères à New York
Vers de nouveaux records de vente ?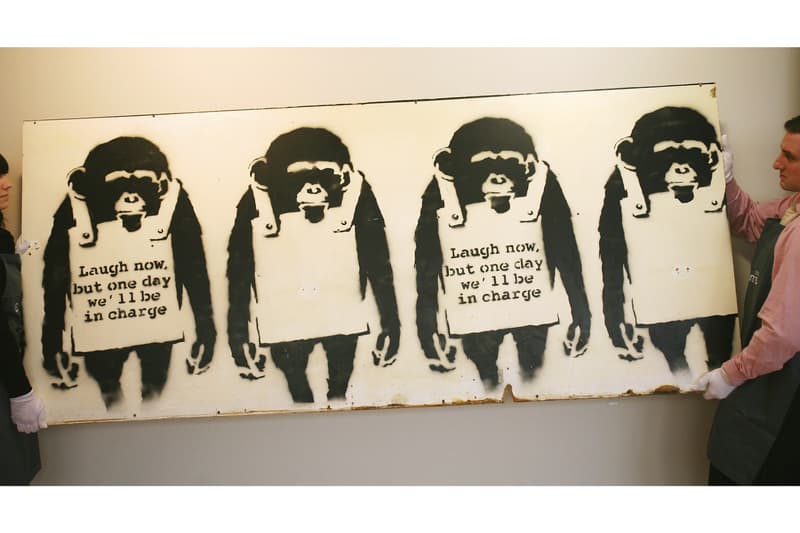 Des œuvres de Banksy et de KAWS vont prochainement faire l'objet d'une mise aux enchères à New York par la Maison de vente Phillips. Au total 20 œuvres parmi les plus rares et les plus méconnues des deux artistes seront proposées à la vente à l'occasion de l'évènement, intitulé "Ten Monkeys and a Dolphin : Banksy & KAWS".
Mises en vente par un Européen qui a souhaité rester anonyme, les œuvres sont estimées entre 25 000 et 4 millions de dollars avec notamment le tableau Laugh Now de Banksy daté de 2002 (en photo ci-dessus). "Le marché est très fort pour ces deux artistes", se réjouit déjà Miety Heiden, la directrice des ventes chez Phillips. "De plus en plus de gens intègrent ce marché chaque jour, mais on n'atteint pas encore les prix d'un Warhol ou Basquiat, donc c'est encore accessible à un grand nombre de collectionneurs d'art".
La vente aux enchères "Ten Monkeys and a Dolphin : Banksy & KAWS" se tiendra du 14 janvier jusqu'au 10 février prochain à New York chez Phillips. Pour rappel, l'année dernière Banksy atteignait un record avec la vente de son "Devolved Parliament" pour plus de 11 millions d'euros.