David LaChapelle Exposera Des Œuvres Inédites À Paris Dans Une Rétrospective À Grande Echelle
Du 3 novembre au 29 décembre.
1 of 2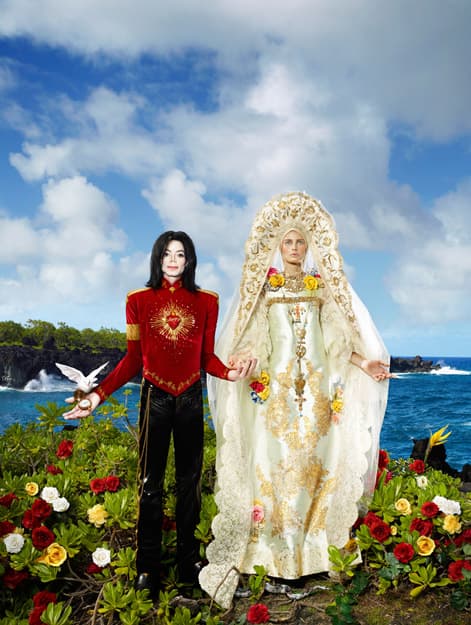 2 of 2
"Letter to the World", voici le titre de l'exposition que dédie la galerie Templon au photographe David LaChapelle et qui débutera le 3 novembre prochain à Paris. "Une exposition personnelle à grande échelle mettant en valeur le travail nouveau et emblématique de David Lachapelle sur deux niveaux du nouvel espace de la galerie", annonce ainsi via un post Instagram celui qui a photographié toutes les plus grandes stars d'Hollywood dans les années 2000. Tupac, Madonna, Britney Spears, Kanye West… Ils sont nombreux à être passés sous l'objectif du photographe américain. 
"Scénographiée comme un parcours à travers l'imagination de l'artiste, Letter to the World réunit œuvres anciennes, devenues iconiques, et nouvelle production inédite. Les deux étages de la galerie s'organisent comme un dialogue entre deux mondes : de la destruction à l'utopie, des excès à la rédemption", explique la galerie parisienne qui exposera des œuvres inédites de l'artiste. "Pour la première fois, David LaChapelle expose également quelques-unes de ses toutes premières photographies, datées de 83 à 89" détaille le centre d'art parisien qui, en plus de ses deux étages, dédiera son sous-sol à LaChapelle. Des œuvres telles que Seismic Shift, Death by Hamburger et Addicted to Diamonds cotoieront les portraits d'Andy Warhol, David Bowie ou Michael Jackson.
Récemment David LaChapelle reprenait son appareil photo pour réaliser la cover d'album du dernier disque de Travis Scott "ASTROWORLD". 
Galerie Templon
30 Rue Beaubourg
75003 Paris
Exposition "Letter To The World"
Du 3 novembre au 29 décembre 2018
Toutes les infos ici.