Music Projects You Missed This Week
Featuring Khruangbin, serpentwithfeet, Jordan Mackampa and more.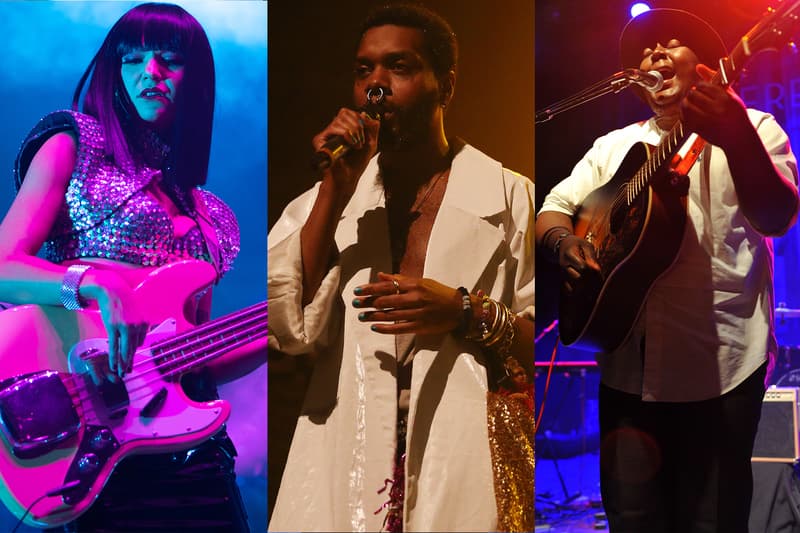 As we power through another working week, HYPEBEAST has rounded up a carefully curated list of Music Projects You Missed This Week.
This selection includes a full-length release from Mica Levi, an EP from Jordan Mackampa, new singles and visuals from Duke Deuce, Jon Batiste, Markee Steele and serpentwithfeet and collabs from Knxweldge and Khruangbin, YBN Nahmir and 21 Savage, Benny Sings and Tom Misch and Arca and Oliver Coates.
YBN Nahmir x 21 Savage – "Opp Stoppa (Remix)"
YBN Nahmir enlisted Atlanta's 21 Savage for his first release of his 2021 — a remix of his previous single "Opp Stoppa." The original track went viral on TikTok to become the No. 1 sound on the platform, and will hopefully appear on the 21-year-old's forthcoming full-length release Visionland.
Listen: Spotify | Apple Music
Arca x Oliver Coates — "Madre"
Arca teamed up with London-based cellist, producer and composer Oliver Coates for the maxi-single "Madre." The new cut accompanies Arca's score ("Madreviolo") for the second Euphoria special, "F*ck Anyone Who's Not A Sea Blob." "I wrote 'Madre' years ago, and I did 'Madreviolo' playing the cello myself, before working with Oliver. After recording 'Madreviolo', I destroyed the cello I bought specifically for this," the Venezuelan artist, DJ, singer and composer said in a statement. "It had to be like a one-time thing for the version where I pitched up my vocal to castrati registers. But the original version with my unprocessed vocals, which felt a necessary version to share alongside Madreviolo, needed an arrangement that I could envision but couldn't hear. When I shared the acapella version with Oliver there was an insane resonance and chemistry; where he took it felt like the place I dreamed of but couldn't reach without him."
Listen: Spotify | Apple Music
serpentwithfeet – "Fellowship"
serpentwithfeet announced his upcoming album DEACON with the debut of its lead single, "Fellowship." Co-written and co-produced with Sampha and Lil Silva, the new cut hears the Baltimore-raised musician give thanks to his friends, saying, "I dedicate 'Fellowship' to anyone who has had a good friend or been a good friend." DEACON, which drops March 26, is billed as "a study rather than a story delving into Black, gay love and the tenderness present in the best companionships, romantic or otherwise."
Listen: Spotify | Apple Music
Markee Steele - "Rookie & A Veteran"
9th Wonder's protege Markee Steele (fka Mark Steele) has shared a self-directed visual for "Rookie & A Veteran." Dedicated in loving memory to his friends Deshaun Melton and Ogden Buck, the track also serves as the opening cut of his latest EP Vet & A Rook. "Blessed to be in a unique position in my career because I've accomplished a lot independently, yet there's still a large portion of my potential fanbase I haven't managed tap into yet," he said of his EP. "Everyday I'm considered a new artist to a lot people that have just discovered me. I know exactly who I am as an artist and where I'm taking my ship but I'm still new and so much has yet to be written. A true Vet & A Rook, at the same time."
Listen: Spotify | Apple Music
Jordan Mackampa - Come Around
Congo-born and London-raised soul artist Jordan Mackampa shared his first EP of the year, Come Around. Clocking in at just under 15 minutes, the four-track EP arrives after his stellar 2020 debut effort Foreigner.
Listen: Spotify | Apple Music
Khruangbin – "Dearest Alfred (MyJoy) (Knxwledge Remix)"
Khruangbin enlisted Knxwledge for a remix of their Mordechai cut, "Dearest Alfred," and an accompanying visual made by the tutored internship program The Kennedys. Inspired by letters Laura Lee Ochoa's grandfather sent to his twin brother, the bassist shared the reignited importance of the postal service. "In a year where communication has a new spin of importance and focus has been put on the postal service, we wanted to make a video highlighting that sentiment for a song based on letters my grandfather sent to his brother," she said. "Working with The Kennedys, we were able to highlight these feelings from a variety of perspectives and through a variety of mediums–which felt important to the project." Knxwledge added, "I love doing remixes so I approached it like everything else. I try to smooth it out while making it as hard hitting as possible." Of Khruangbin, he says simply, "I'm just a fan like everyone else. They are so unique; the sound they have just resonates with the sounds I grew up loving and most influenced by. Beautiful progressions with perfect minimal, yet so powerful, lyrics. What more can you ask for?"
Listen: Spotify | Apple Music
Mica Levi – Blue Alibi
Artist and film composer surprise dropped their latest record Blue Alibi, arriving just a little over a month after their debut full-length effort Ruff Dog. They also shared an accompanying visual for the cut "Waves," directed by Finnbar Porteous. "This is about our friends Zako and Finn," Levi revealed in a statement. "Finn worked on a pretty troubled off-grid cannabis farm for 3 years in L.A. and then at age 23-24 used the money to buy his own sailing boat. Zako was working for another person helping them on the sailing boat from Cape Ferret to South America. He then met Finn on the docks of a bay in Venezuela where Finn was fixing his new boat. Then they sailed off into the sunset. Finn made me a video for this song."
Listen: Spotify | Apple Music
Duke Deuce – "Soldiers Steppin"
Quality Control's Duke Deuce dropped off his first single of 2021, "Soldiers Steppin." The track's visual, co-directed by Carol Williams and Deuce himself, is billed as a cross-collaboration of the Memphis Massacre rapper's affinity for crunk music and militaristic themes.
Listen: Spotify | Apple Music
Benny Sings x Tom Misch – "Nobody's Fault"
Following his collaborative cut "Rolled Up" with Mac DeMarco, Benny Sings has now enlisted Tom Misch for the bright new cut "Nobody's Fault." Set to appear on his forthcoming album Music (dropping April 9 via Stones Throw Records), the track touches on a person who is rationally reacting to a negative situation. "Therein lies an extra sadness for me: it's more sad to see a person falling, and saying 'I'm alright!', than someone lying on the ground and crying," he said in a statement. "The guitar solo at the end is by Tom Misch. I'm a big fan of his music, so was very excited he wanted to join me on the song."
Listen: Spotify | Apple Music
Jon Batiste – "I Need You"
GRAMMY and Emmy nominee Jon Batiste dropped off his latest single "I Need You," a cut from his forthcoming "Black pop" record WE ARE. Produced and written in collaboration with Autumn Rowe and Kizzo, the song combines the sound of early 20th century Black social music with modern pop and the storytelling aspect of hip-hop. "This song is a vibe cleanse. After 2020, this is like a warm hug," Batiste said in a statement. "Let's bring the vibes back!"
Listen: Spotify | Apple Music