UPDATE: 'Zombieland' Reveals the Poster & Title of Sequel With 10-Year Challenge
Taking part in the viral challenge.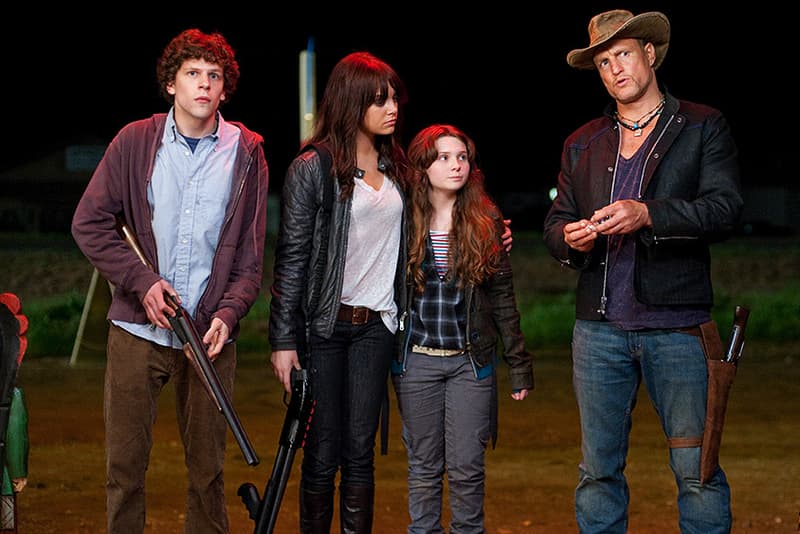 UPDATE January 29: After being officially confirmed by Sony Pictures, we now have the poster for the sequel to Zombieland, titled Zombieland: Double Tap. Revealed via a 10-Year Challenge posted on the official Zombieland Twitter, the new poster offers a first look at the returning cast back in their respective roles.
#10YearChallenge? Challenge Accepted. #Zombieland2 pic.twitter.com/cA1DL1bVZQ

— Zombieland (@Zombieland) January 29, 2019
Original Story: Nine years after the original Zombieland was released, Sony Pictures has reunited the original cast and director for a sequel. Deadline reports that Jesse Eisenberg, Woody Harrelson, Emma Stone and Abigail Breslin will reprise their roles for Zombieland 2 with Original Zombieland director Ruben Fleischer filming the sequel. The original writers of the first movie, Paul Wernick and Rhett Reese, will also join Fleischer.
"This is one of those projects that fans have wanted to see happen for a long time – and no one wanted to see it happen more than Emma, Woody, Jesse, and Abigail," said Sanford Panitch, president of Columbia Pictures. "These are some of the most in-demand actors and I think they are making this movie because they love these characters. We are thrilled Ruben was willing to come back to direct the sequel, as his work on Venom has been truly amazing."
The sequel is set to go into production in January and will be released in October 2019, on the 10th anniversary of the first film. Lauren Abrahams will oversee the project for the studio.