Drake Given Warning by the NBA for Foul Language
The heated exchange was with Cavs center Kendrick Perkins.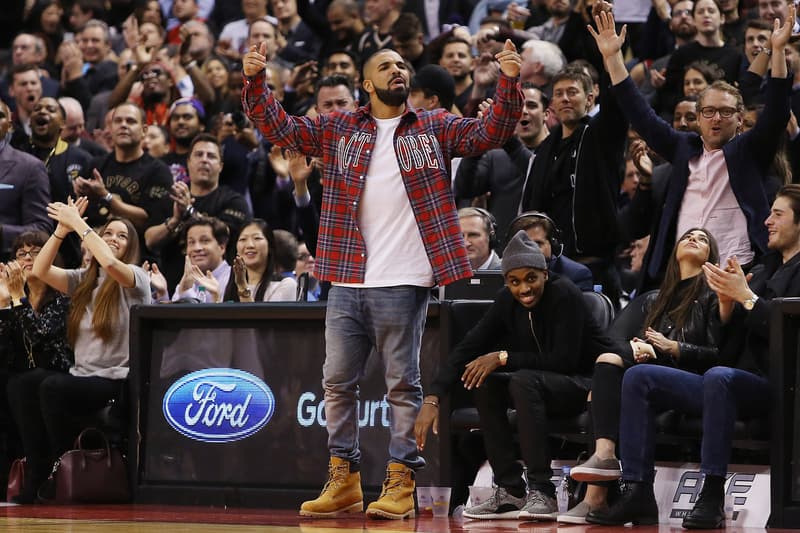 This past Tuesday, Drake had a pretty eventful night as a courtside attendee of Game 1 of the Cleveland Cavaliers and Toronto Rappers playoff series.
While he was joking with ex-teammate Serge Ibaka, Cavaliers center Kendrick Perkins said that Drake interrupted him. "I was talking to my old teammate Serge walking into halftime telling him 'We about to win this game,' and Drake butted in talking shit to me," he explained to ESPN. "So I said something back to him."
According to multiple media outlets, Drake and Perkins began arguing during halftime of the aforementioned game; the spat quickly escalated, and Drake — according to sports journalist Bruce Arthur — allegedly called Perkins a "f*cking pussy" after the event. Arthur said Drake appeared angry, and also recalled him telling Perkins that he was "here in real life." NBA player Jose Calderon also stepped in to help restrain the OVO superstar.
"At the end of the day, it isn't about Perk versus Drake; that doesn't even sound right," reads a quote from Perkins. "It's the Cleveland Cavaliers versus the Toronto Raptors. Besides, what could he possibly do to me? I mean, really. If he leaves me alone, I'll leave him alone, and that's all there is."
While other details concerning the specifics of the incident and its consequences are currently unavailable, the NBA has already issued a warning. As ESPN reports, Kiki Vandeweghe — the NBA's executive vice president of basketball operations — discussed "the use of bad language" with Raptors president Masai Ujiri. USA Today adds that the team also talked to Drake about the controversy, reprimanding him for his use of foul language.
In a text message to ESPN, Kendrick Perkins says: "What happened was I was talking to my old teammate Serge (Ibaka) walking into halftime telling him 'We about to win this game,' and Drake butted in talking shit to me. So I said something back to him." https://t.co/sJ3Ntx6zVy

— Adrian Wojnarowski (@wojespn) May 2, 2018