10 Slayer Facts to Know Before Copping the Supreme Collaboration
Thrash Metal 101: Introduction to Slayer.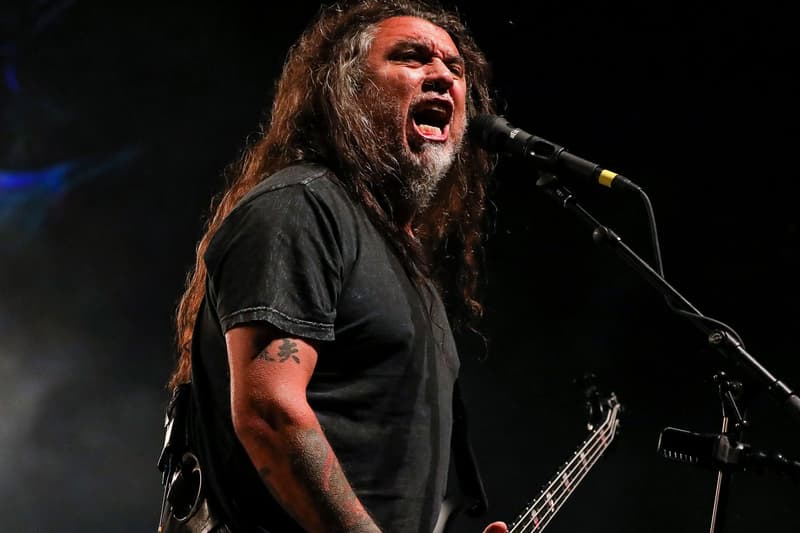 [gallery columns="3"]On Sunday, Supreme announced that it would partner up with legendary thrash metal band Slayer for its next release. The fashion brand took to Instagram to post a brief yet energy-filled video showcasing the band's mosh-pit-fueled shows which finds frontman Tom Araya donning a rare black box logo tee. It's not the first time the skateboarding clothing brand has worked with rock artists; Supreme has also collaborated with Neil Young and Morrissey in the past. If you're thinking of copping the new joints, it's probably good to know at least a little bit about the Southern California godfathers of thrash metal. For your convenience, we've accumulated ten notable Slayer facts below.
The Group Has Sold Over 20 Million Albums
Slayer sold 4,900,000 copies in the United States from 1991 to 2013, according to Nielsen SoundScan, and over 20 million worldwide. Slayer has earned six gold certifications and one multi-platinum plaque from the Recording Industry Association of America. The band was signed to Def Jam Recordings by Rick Rubin after the release of its first two albums, Show No Mercy (1983) and Hell Awaits (1985). Rick produced Reign in Blood (1986) and helped Slayer break into the Billboard 200 for the first time. So far, Slayer has five Gold-certified albums.
Slayer Has Released 12 Albums
In the band's 35-year span, Slayer has released 12 albums: Show No Mercy (1983), Hell Awaits (1985), Reign in Blood (1986), South of Heaven (1988), Seasons in the Abyss (1990), Divine Intervention (1994), Undisputed Attitude (1996), Diabolus in Musica (1998), God Hates Us All (2001), Christ Illusion (2006), World Painted Blood (2009) and Repentless (2015). They have also released three live albums, two EPs and two box sets. Reign in Blood, Seasons in the Abyss and South of Heaven are considered to be the band's best releases.
Slayer Is One of Thrash Metal's "Big Four"
Thrash metal is a subgenre of heavy metal music distinguished by its aggression and fast tempo. Along with Metallica, Megadeth and Anthrax, Slayer is credited as one of the "big four" thrash metal bands — these four American bands pioneered and popularized the genre. From 1990 to 1991, Megadeth, Slayer and Anthrax played for the 'Clash of the Titans' tour, which is considered the peak of the genre.
The Group Started as a Cover Band
The band was found in 1981 when Kerry King met fellow guitarist Jeff Hanneman in Huntington Park, California. The two connected over similar taste in music and Kerry soon introduced Jeff to vocalist and bassist Tom Araya, who had played with King before in a band called Quits. The three played cover versions of Iron Maiden and Judas Priest tracks at Southern Californian clubs and parties. Slayer was spotted by former music journalist Brian Slagel at a gig, who had them an original song titled "Aggressive Perfector" for his upcoming Metal Massacre III compilation. Slagel later signed the band to Metal Blade.
The Band Utilizes Satanic and Violent Imagery
In their early shows, the band utilized pentagrams, make-up, spikes and inverted crosses in their shows. Their lyrics and album art cover topics such as murder, serial killers, torture, genocide, human experimentation, Satanism, hate crimes, terrorism, religion, anti-religion, Nazism, warfare and even necrophilia. This generated a lot of controversy at the time and have resulted resulted in album bans, delays, lawsuits and criticism from the public and religious groups. The band was highly influential to death metal and black metal-founding/leading bands like Death, Obituary, Cannibal Corpse, Morbid Angel and Napalm Death.
Slayer Has Scored Numerous Soundtracks for Hollywood Films
Outside of the Supreme collaboration, Slayer has had a few other musical ones. As an aficionado of punk rock, Slayer guitarist Jeff Hanneman put together a short-lived hardcore band called Pap Smear in 1984 with Dave Lombardo and Suicidal Tendencies guitarist Rocky George. In 1993, the band collaborated with Ice-T on the song" Disorder" with appears on Stephen Hopkins-directed action thriller film Judgment Night. The band also made a song titled "No Remorse (I Wanna Die)" with German digital hardcore group Atari Teenage Riot for the 1997 superhero film Spawn. In 2002, Sum 41 released a music video for "What We're All About," a single taken from the soundtrack to the film Spider-Man, which features Kerry King performing the songs' guitar solo.
Kerry King Breeds Snakes
Slayer's lead guitarist Kerry King has a well-known love for snakes. He owns a Psychotic Exotics reptile house and herpetology nursery, where he breeds species including carpet pythons, reticulated pythons, Madagascar ground boas and more. When he is touring with the band, he hands off his duties to his partner Todd Dyer. For a time, he also devoted some of his spare time away from Slayer to breeding show dogs.
The Group's Debut Album Had No Recording Budget
Slayer's 1983 debut album Show No Mercy had no recording budget. The band had to self-finance the LP by combining the savings of Araya, who worked as a respiratory therapist at the time, and borrowing money from King's father. The album was very rushed into release; it hit shelves only three weeks after the songs were finalized. Because the release became quite popular in the underground, Slayer was able to embark on its first national club tour in 1984 to promote the album. Nevertheless, they had to travel in Tom Aray's Camaro towing a U-Haul trailer.
Kerry King Joined Megadeth for a While
After the band finished the 'Haunting The West Coast' US tour in 1984, Kerry King joined Dave Mustaine's new band Megadeth. The band considered getting a new guitar player, but King left Megadeth after five shows, saying that the new band took "too much of [his] time." The split caused a clash between King and Mustaine because Mustaine wanted King to stay permanently, and it transcended into a long-running feud between the two bands.
Only Two Members Stayed in the Band the Entire Time
Tom Araya and Kerry King were the only two members to stay in the band the whole time since its 1981 inception. Jeff Henneman passed away in 2013 at the age of 49 due to alcohol-related cirrhosis, which caused a liver failure. Founding member Dave Lombardo performed with Slayer on nine albums, but also played for other bands like Grip Inc., Fantômas, Philm, Testament, Suicidal Tendencies., Dead Cross and the Misfits. Additional members throughout the years include drummer Paul Bostaph, guitarist Gary Holt and drummer Jon Dette.