Avenging the DMV: Nuggets of Truth From Rising Hip-Hop Artist GoldLink
The D.C. rapper talks key influences, personal style and weird tattoos.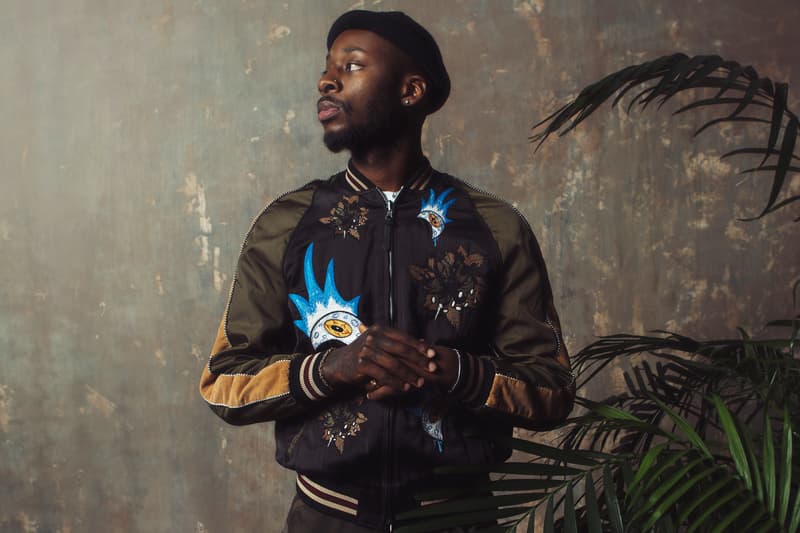 In the realm of hip-hop today, D'Anthony "GoldLink" Carlos is not your cookie-cutter artist. The fledgling RCA Records rapper is perhaps best known for spewing emotionally-charged lines over a euphoric pitter-patter of '60s-rooted dance rhythms. GoldLink's reverberant booms that predominantly tow hip-hop lyricism alongside R&B vocals had first appeared in a 2014 mixtape he released on SoundCloud called The God Complex which tugged the ears of legendary producer, Rick Rubin. With RR's mentorship, GoldLink launched his first album under Los Angeles-based label Soulection dubbed And After That, We Didn't Talk. 
In anticipation of his full ascension into hip-hop Valhalla, we sat down with the artist who was decked out in Coach's Spring 2017 collection to get his unfiltered view of ongoing musical influences, personal style, and the intersection of the aforesaid traits. As far as his fit goes, star pieces include the fashion label's incoming Souvenir Jacket, Hawaiian shirting, and the Flag Backpack constructed out of pebble leather.
Read on to learn more about GoldLink, including his loyalty to the DMV, and personal style that seamlessly complements his inventive takes on music.
At what point in your life did you realize you wanted to create music?
Not too long ago. Basically it was at a point where I was running around in the streets. I was running out of options and then I just decided to take it seriously. I dabbled here and there, but I took it seriously probably 2015. Forreal, forreal.
What does being a DMV artist mean to you?
It means everything. We don't have a rich history in rap music particularly. More so punk, but not rap. For me it means everything because you're representing a whole district of people.
In what ways have you represented your hometown through your music?
I grew up in the DMV district my whole entire life. I use direct, actually, indirect influences from it. I wouldn't use the same instruments from Go-Go music which is our traditional music. Instead, I'd take elements from it whether it's the BPM or the feeling of it or certain aspects. I'd "artify" it and kind of put it into my music.
What's the craziest experience you've ever encountered while on tour?
A lot at this point. The most recent one is seeing people getting my face tattooed on their bodies. Yeah, that's a real thing. Girls and some guys. A guy came up to my DJ in a nightclub and was like "yo I have GoldLink on my ankle."
You once said that a Ta-ku beat was a major inspiration in rapping over syncopated dance music. How has that influenced your sound since then?
It set the template for what I wanted or thought I wanted. Since then, I had this outline of what I was looking for in a beat.
If you work on what you do, and you do that to the best of your ability, everything else is going to fall into place.
You've been asked plenty of questions about collaborating with Rick Rubin. What's the single most important takeaway from working with such a legendary producer?
If you work on what you do and you do that to the best of your ability, everything else is going to fall into place.
In terms of flow and delivery, I feel you trigger somewhat of an Andre 3000/Kendrick Lamar hybrid. Nail on the head or no?
I've been told that a lot! So I guess so. It's really random.
My personal favorite mix you've ever created was "Creep" in 2013 as an homage to TLC. What's your favorite song you've ever made? 
"Spectrum." For me it was a timeline of what I was doing from a certain age to the time that record was done and wrapped really fast. I also really like the beat. I've never heard a beat like that in my life before.
Side note: I noticed that you used a female voiceover relaying Tagalog in several tracks from And After That, We Didn't Talk. What's the reasoning? 
Honestly, I was dealing with a girl at the time. The track conveys the last leg of our "whatever you want to call it" and it was just really bad. That was her just genuinely saying that she's through with me. I was like can you do me this favor and say it like this? You know what I'm saying like… it was just at a time where I was, you know.
Timelessness and textures within your music are key. How do you think people will react to your music in the next 10-20 years? 
I think that when you look back at it, you'll be like he was ahead of his time. If you've never heard of Andre 3000 or OutKast before or never listened to "Ms. Jackson," or "?" or the Gorillaz "Do Ya Thing" with Andre on it… it sounds like those songs come out tomorrow but they were made like 10 to 15 years ago.
You know what really hit me? I was on tour last year and we'll be on the bus and there was an AUX on the bus. We had a bunch of girls and a whole bunch of people on the bus. Everybody got to play music, great vibes. Someone played Stevie Wonder and it just sounded like it just came out. That's what timelessness is. Seeing these kids from my generation singing these songs just shows how long music can last. That's what I aim for. I don't aim for a time period. That's what I want people to look back on. Like them saying "He really did that back then? Goddamn."
How do you select your collaborations?
I always think of what is an element that I can't bring myself that someone else can bring. For example, Anderson .Paak. The texture of his voice is just so unique and the aura as well as the vibe of him as an entity coming in on a track. Isaiah Rashad, there's a vibe about him that I can never do. It's all about grabbing things from people that I know I couldn't do myself.
What's your take on the direction that rap/hip-hop is going?
It's promising. There's an overlying thing that's happening and then there's an underlying thing that's happening. The overlying thing, depending on how you look at it is like "Oh, it's dying. All these kids like Yachty and blah, blah. Whatever." For me, that's not true. There's an underlying tone. Like, think about Kendrick Lamar. He definitely exceeded hip-hop at this point. Now he's doing shows with Demi Lovato and The Chainsmokers. He's a real hip-hop guy who grew up in Compton and J. Cole sold out Madison Square Garden with no features, 16,000 people in a city that he's not from. Even Wale. Wale is iconic for what he's done. He's consistent.
There's an underlying thing… like hip-hop is in a great space. I think it always transitions. For this era it was like Soulja Boy was hot. He was so hot that even VIC and Huey got a hit, "Pop, lock and drop it." At that time, we thought we were doomed then. Drake came in and saved us. Cudi came, 'Ye came… You know?
What's your sneaker rotation?
I've been rocking these OFF-WHITE black suede canvas boots for some time now. I'm starting to turn into a boot guy. I literally have every shoe possible. Which is backwards because once you have all of the shoes you want, you just start wearing one shoe. It's weird.
How does your style intersect with your music?
It's the city. I'm from the DMV. It translates into the music and it translates into the style. I sound like how I look and I look like how I sound.
When you die what outfit do you want to buried in? 
Half of me wants to get buried in the suit that Diddy was wearing in the "Missing You" video for Biggie. The other half wants me to wear the outfit that Ray J was rocking in the "One Wish" video. Then I kind of want to wear what Kanye was wearing in the "Touch The Sky" video, but you know what? I'm going to go out naked. Open the casket, everything's out. Naked.