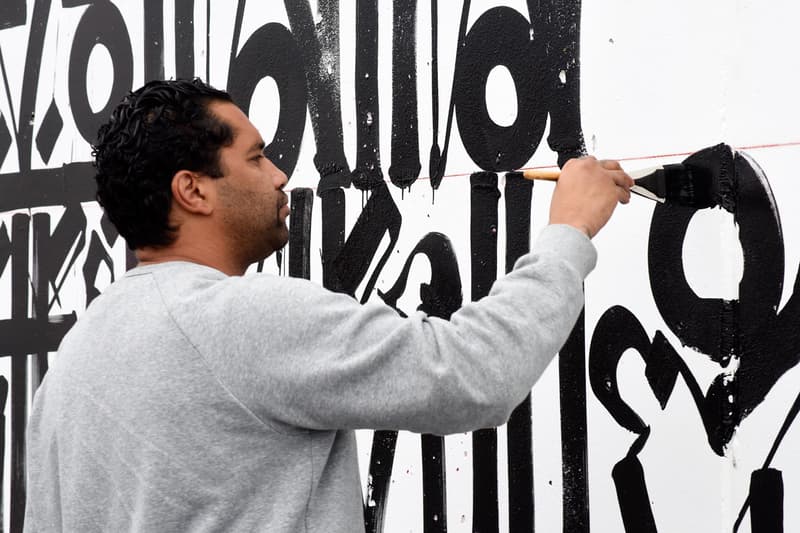 LA Artist RETNA Brings His Calligraphic Graffiti to Frieze Art Fair
Launching a new exhibit titled "Margraves."
---
LA-born artist RETNA (Marquis Duriel Lewis) continues to push the boundaries of graffiti with his signature, bold calligraphy motifs. Blackletter, Egyptian hieroglyphics, and the Arabic alphabet are just a few typographical references that make up the artist's unique script. He started his art career—albeit illegal—by painting over fashion advertisements at a young age. Since then, he has become a major influence in the industry spanning fashion collaborations with Nike, Louis Vuitton and Helmut Lang. Additionally, he created the album artwork for Justin Bieber's Purpose and is featured in LA's 2024 Olympic campaign. Whether it's a large-scale public mural or an indoor sculpture, no artistic medium is impossible for the artist.
Now, RETNA is the subject of a brand new exhibit at the Maddox Gallery in London coinciding with Frieze Art Fair. Titled "Margraves," the presentation features a slew of new paintings depicted below, alongside a stainless steel sculpture — a first for the artist. We sat down with RETNA to discuss the inspiration behind the showcase, artistic hurdles and future projects.
Read on to learn more and expect "Margraves" to officially run this October 4-28.
What inspired your new exhibit, "Margraves"?
Margraves was inspired by the derivative of my name Marquis. As like in graffiti, I wanted to transition my name of RETNA to Margraves
Is there a new element, medium or style in the artworks that you've never used before?
There is a sculpture that is made from stainless steel and this will be the first time that it is ever exhibited in the UK or U.S. for that matter.
Aside from the traditional canvas, you've painted supercars, made album cover artwork, and recently, delved into body painting. Of all the mediums, which one was the most challenging?
The most challenging piece was the 21-story building I painted in Mexico City. Actually, it was probably the building at the ROW on Seventh and Alameda. It was three towers.
You've done collaborations with Nike, Louis Vuitton and more fashion brands. What are your thoughts on artists collaborating with brands? 
Chanel, Helmut Lang, I look at it like this: I'm fortunate that these big conglomerations find the interest in working with an artist of my background. Many artists have done it as well; there are some that don't want to be part of the commercialization of their art. I look at it like each artist is different and has their own ideas of how they like to see their art interpreted.
Does the meaning change?
I don't think so.
Which artists do you think are crushing it right now?
Ah, let's see here. KAWS, JR, Jose Parla, REVOK, Cleon Peterson, Tom Sachs, PRIME, Yalda Sephour, AREZ, NUNCA, Sante D'Orazio, Raphael Mazzucco and Ryan Schnieder.
What advice would you give to aspiring artists?
Be the best person you can dig deep inside your soul and continue the legacy of the arts to the enhancement of the human condition.
What's one thing you cannot live without?
I'm grateful to everyone who has the continued belief in my endeavors and that has allowed me to grow, and one day the real story might come out.
Maddox Gallery
9 Maddox Street
London W1S 2QE, UK