In the Hot Seat: Dr. Woo on His Collaboration With Modernica
The famed tattoo artist takes us behind the scenes of his collaboration with Modernica.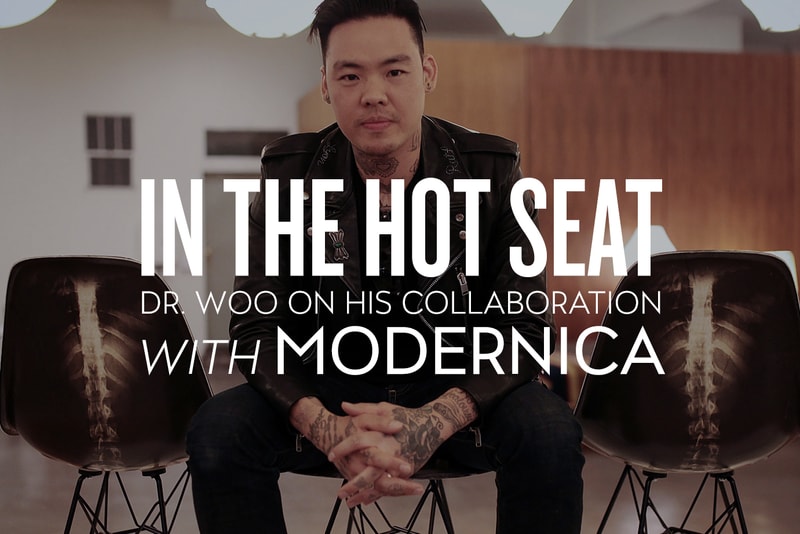 1 of 4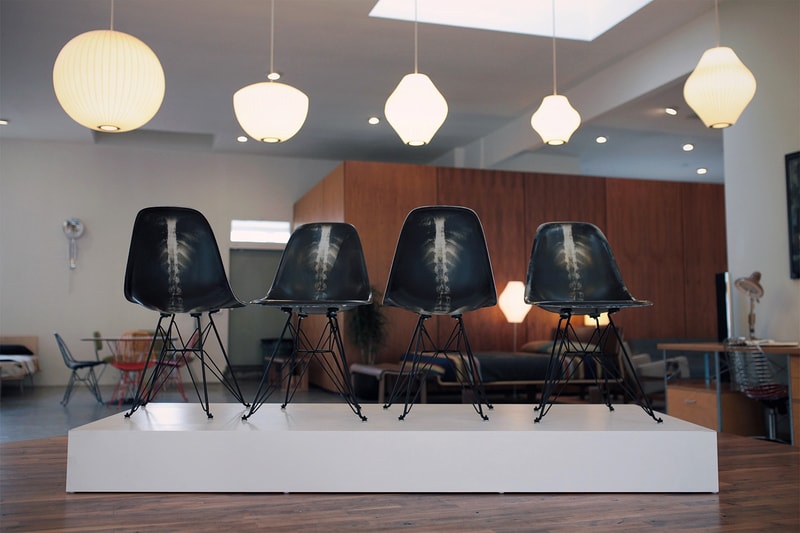 2 of 4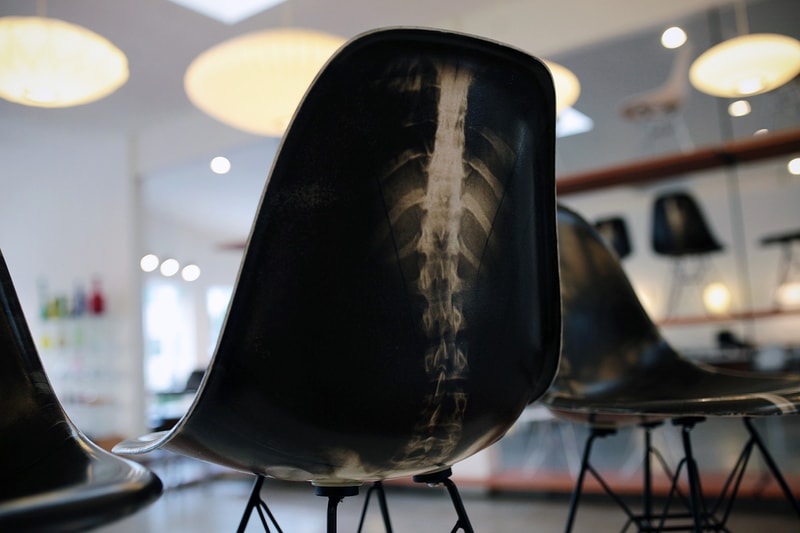 3 of 4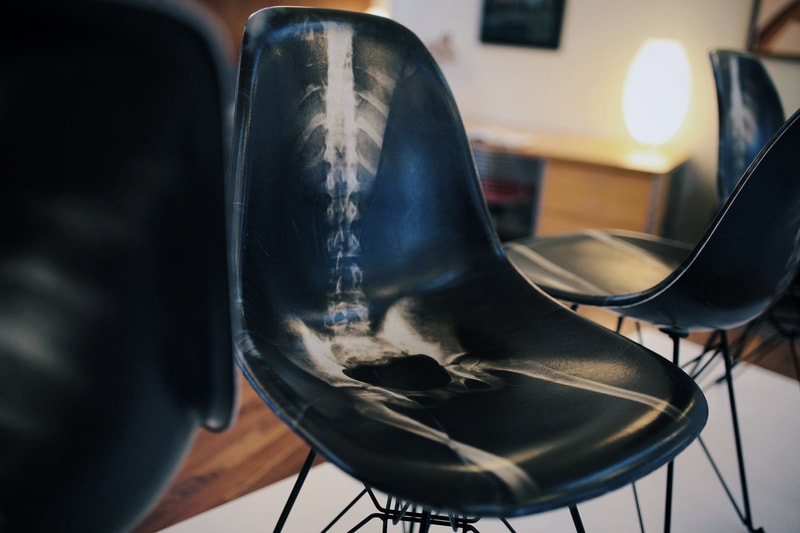 4 of 4
He might be one of the most sought-after tattoo artists in the world, but Dr. Woo's position as the inkmaster of the moment is unexpected to say the least. It's not because of lack of skill —just a glance at the mindblowing, super-realistic, single-needle tattoos in his portfolio and that much is clear — but because The Doc, real name Brian Woo, only broke into the tattooing world about seven years ago. He was a classically trained violinist, then a fashion buyer, and then a fashion designer before being offered an apprenticeship at Los Angeles' Shamrock Social Club under legendary tattoo icon Mark Mahoney. He quit his job and the rest is history: the 33-year-old has become famous for his steady hand and mastery of intricate, detailed tattoos, and currently boasts a lengthy waiting list, a gaggle of celebrity clients and a significant following of tattoo enthusiasts from around the world.
With his tattoo career going extremely strong, Dr. Woo recently decided to branch out beyond the confines of body art with a somewhat unlikely collaboration: he recently designed a limited edition, one-of-a-kind fiberglass chair for contemporary furniture purveyors Modernica. While other tattoo artists often prefer to venture into other, more generic offshoots, Woo saw the opportunity as something special, and fitting with his penchant for the unexpected: "There's so many things I feel like I can apply what I do to, be it furniture, clothing, art, music or any kind of lifestyle branding. Furniture was a cool concept because it was so unobvious from tattooing. A lot of tattooers who spread their wings a bit more go into art, clothing or graphic design – the obvious things — so I thought furniture was a pretty cool idea. Modernica is such a powerhouse when it comes to the modern furniture that's out here in L.A. And once we were on each other's radars it was kind of a natural fit."
Woo worked closely with the design and production teams at Modernica to create the chair, which gives the illusion of an X-ray reading that has been embedded into the fiberglass. Instead of choosing the obvious route of placing one of his designs on the chair, Woo thought long and hard about "how to express (himself) in a chair without doing (so)." He asked himself a simple question that spawned the idea for the unique final product: "I asked myself, 'what is it that I do daily?' I didn't get to where I am now by standing around; I sat and I worked every day. And every night when I would get up from the chair — it was like I gave a little bit of myself to the chair."
---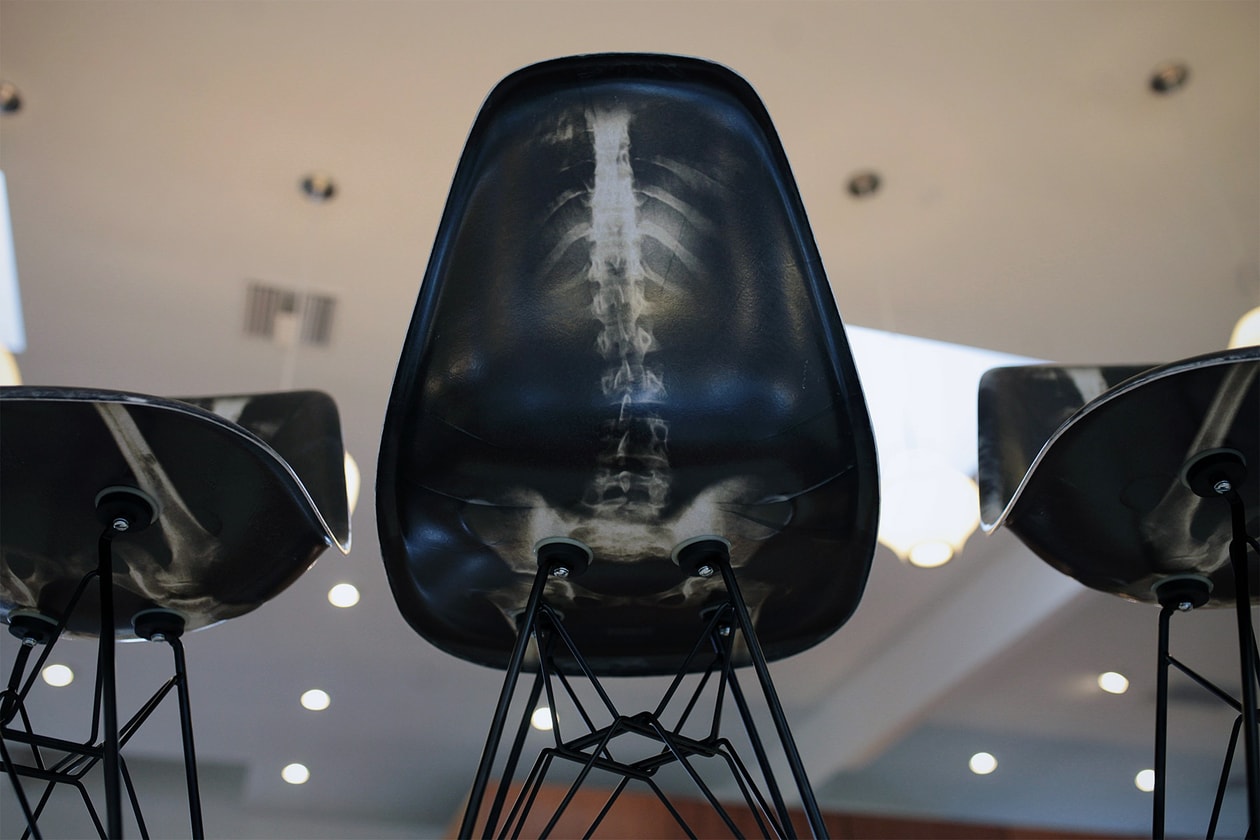 ---
From there the idea began to take shape, with real X-rays of Woo's body that were tweaked with the help of a designer. Then came the challenge of working through how exactly the X-ray was going to make it onto the chair. "They had never done anything like this before," shares Woo. "To find the proper material to actually put into the chair, and have the X-ray glow the way it does, and line it up — it's tricky you know; it had to be precise. I think that's the coolest part – each one is handmade to order and each one has its own variation like where the fiberglass and the print meet and melt."
Depsite Woo's admitted inexperience working with furniture outside of "being a fan of it and being a fan of how design spaces look," he never shied from learning the intricacies of the design process, all the while exercising the same disciple and attention to detail that have made him a tattoo superstar. "He combined artistry with our technology quite expertly," says Modernica co-founder Jay Novak. "He learned what the fiberglass process is; he watched our people making fiberglass hairs; he learned the characteristics of the fiberglass and then he chose what he wanted to do. He integrated his art into our fiberglass more perfectly than I've ever seen it done, and I've seen it done a lot. He chose the subject matter and even the sizing. And we have constraints with what we can do, and he learned them. He didn't fight them; he went with them. He learned what would work really well and what would be more difficult. He did the best job I've ever seen so far."
---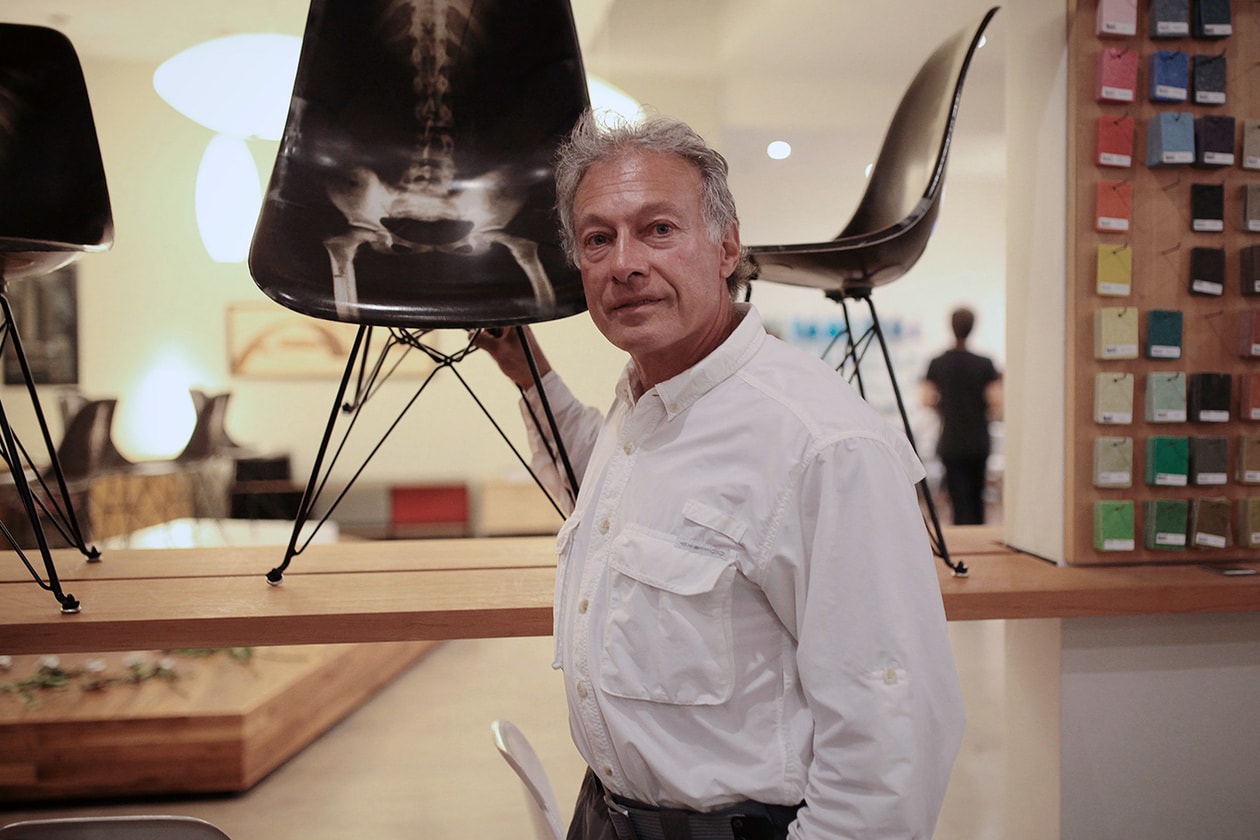 ---
Novak points out that Woo's daily work with the human body has made him understand form, functions and limitations on a much deeper level than many others, giving a unique advantage and perspective when it comes to creating a piece of furniture: "The human body is the most difficult thing in the world to work with. I think this chair was probably easy for him!" He also notes Woo's extraordinary ability to turn what others might see as a limitation into an opportunity: "The compound curves of the chair makes it difficult, and you can see the folds in the embedded print. But he used that difficulty of the compound curve to his advantage, to make it look even more like an X-ray. That's a person who's working with constraints and using them to their advantage, instead of letting them become disadvantages. That's pretty impressive."
While he has nothing but the best to say of Woo, there are currently no plans for another Dr. Woo x Modernica collaboration any time soon: "I feel like we are both people that want to do new things" says Novak. However the experience has opened a whole new world of possible collaborations for the furniture designers. Now that they've worked with painters, sculptors, photographers and now a tattoo artists, Novak says the sky is truly the limit: "I don't know if there's ever been a furniture company that's collaborated with a tattoo artist. It expands my horizons to look further for people to collaborate with. It opens the door to being more flexible."
Woo also praised Modernica for their open-mindedness and support through the process: "They were never afraid to try anything; nothing was ever not possible; any new idea was welcome; ant trial and error was not a big deal." He'll be keeping very busy with some upcoming collaborations and even a top-secret garment project that's in the works. "It's nice for [the chair to be] something tangible to represent my brand and my lifestyle," says Woo, "and it's a good launch to other things and new products coming out." While he can't share anything on what that looks like, he does reveal that they will be a permanent fixture in his growing personal brand repertoire, and will be available for purchase through his website. If his career trajectory thus far can offer us any clues about what he could be working on, something tells us we should expect the unexpected.