Harris Elliott: H by Harris x Lavenham and What "Urban Cowboy" Really Means
Amongst all the excitement during last weekend's 2013 Spring/Summer London Collections festival,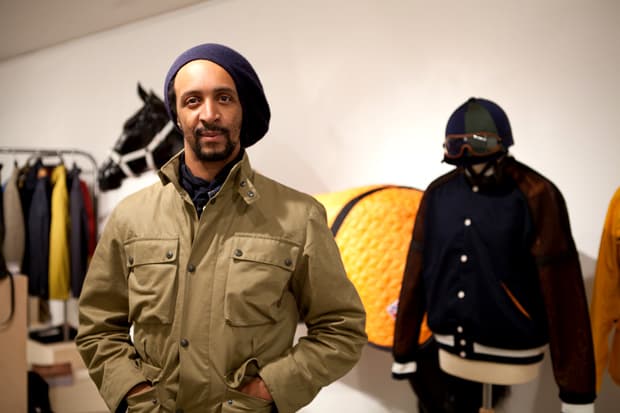 1 of 6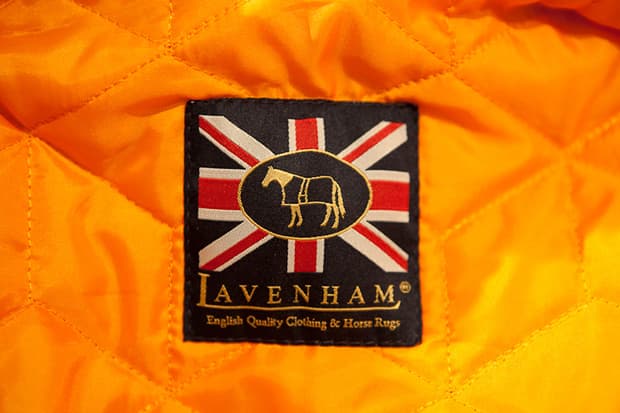 2 of 6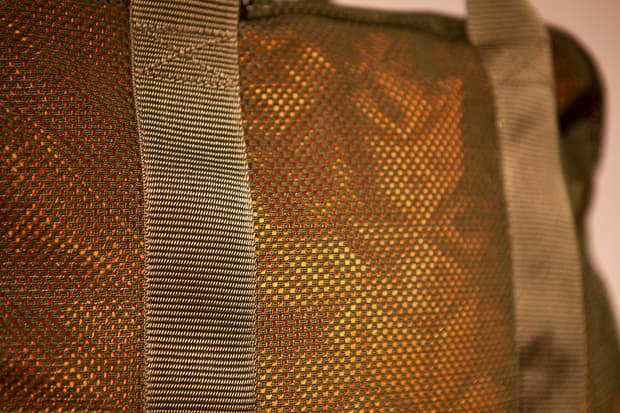 3 of 6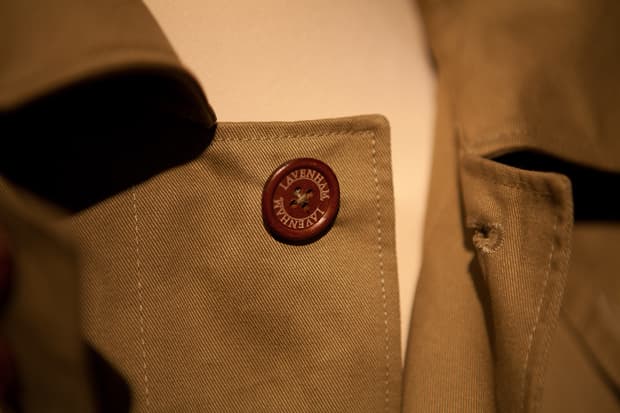 4 of 6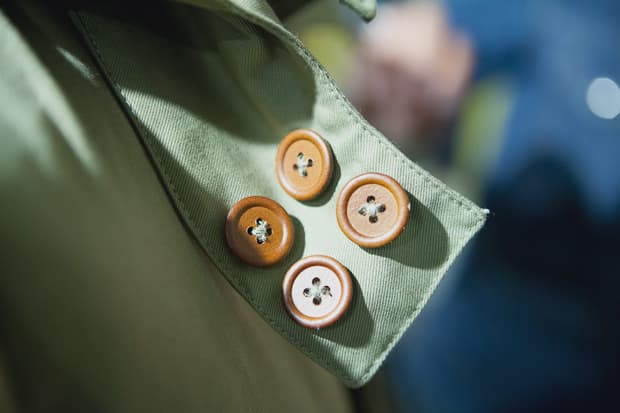 5 of 6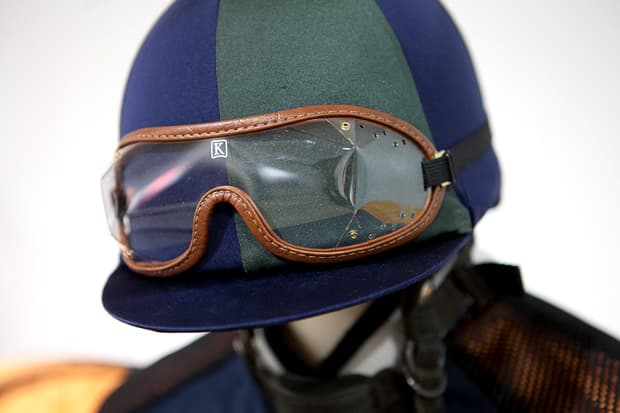 6 of 6
Amongst all the excitement during last weekend's 2013 Spring/Summer London Collections festival, HYPEBEAST met up with stylist and creative director of H by Harris, Harris Elliott, for a personal tour of the upcoming H by Harris x Lavenham collaborative collection. Themed 'Urban Cowboy,' the collection revisits Lavenham's equestrian roots and blends together the contemporary street stylings brought forth by Harris. Working with military mesh, lightweight brushed cottons and jockey silks, the collection sees iconic garments with an added twist — such as a reworked parka with detachable quilted lining, a varsity style bomber jacket, and a classic field jacket. Both having solid repertoires in quality quilting, the capsule collection will also include a newly crafted three-dimensional summer quilt design which combines the essences of both camps.
How did the Lavenham collaboration collection come about?
The saying 'birds of a feather flock together' comes to mind, as both brands were aware of each other, each with a strong aesthetic involving quilt, and with mutual respect for what the other creates. I was chatting to a friend, Steve Monaghan a year ago about some Lavenham pieces that I liked, then he made the introduction. The following week British GQ ran a one-page features on both brands on successive pages in the same issue, so it felt like as Nas said, 'It was written' and meant to be.
Did you purposely choose this year's London Collections: Men to unveil the collaboration, or was it just timing?
London Collections: Men (LCM) was a definite choice to launch the collab, it made more sense at a showcase event rather than just on a rail at a trade show. The timing of LCM also pushed both companies to the limit, as it is a few weeks earlier in the calendar than we would be ready for showing, it was also an amazing opportunity with all the world's press descending on London — it had to be done. I was able to use 'Ned' the Lavenham horse in the display, I probably wouldn't have been able to use him at a normal trade show.
What does 'Urban Cowboy' mean to you?
When you think of anything equestrian, most people have a preconception of exclusivity, alluding to a certain type of person. The H x L Urban Cowboy is distilling that myth, adept, skilful, aloof, and able to handle themselves in any situation upon horseback or on the streets. It's not about status but about lifestyle.
What is the story behind the inspiration? How did you adapt an equestrian theme to the collection?
Lavenham's history is all about "equestrianisms." When they launched the brand 40 years ago, their purpose was making horse blankets, a few years later they began creating outerwear. The production of horse blankets is still a large part of their business, it's just that many people only know them for the outerwear. My plan was to reinforce their original identity, giving the collection a context, while at the same time making it relevant to the current buffalo soldiers, urban cowboys and girls. We made a horse blanket as part of the collection, with our new quilt design, and I have styled the jackets with jockey helmets and goggles. Inspired by jockeys, I created the varsity-bomber with two-tone ribbed cuffs and collars. The linings in the jackets are in jockey silks, all sourced from a British manufacturer.
What was the reason behind introducing a military aspect along with the equestrian designs?
Military attire is built to last, Lavenham products are created with a lot of precision, so I needed a strong aesthetic for the folk that will be wearing the clothes. I also love military detailing, so I've introduced it where possible. I've used military mesh on the sleeves of the varsity jacket and the backs of the parkas, and the facings on some of the bags. The effect that is created on some of the pieces is like DPM, Disruptive Pattern Material or camouflage. When you look through the mesh, you can see a pattern but you're not fully able to decipher what it is. In some lights it's a bit holographic.
There are four jackets to the collection, was there a reason for this? Why not more accessories such as your iconic bags and luggage?
Lavenham are known for their outerwear, so as I was creating with them, that's what came first. When I launched H by Harris, there was a hooded bomber, the second season we created a hand-quilted field jacket, so outerwear has always been part of what I create. There are more bags coming, due to the rush in getting things ready for LCM the other bags weren't ready. Hopefully we can showcase the other bags to the readers of HYPEBEAST when they are finished.
How does your study of interior architecture play into your products and the designs?
Form and functionality are key, I love shapes and spaces, proportion and comfort is very important. For the most part, whatever I design can't only be pleasing to my eye – it has to work on more than one level, otherwise I have created art, when my brief was to design. Architecture has to withstand a lifetime of being an emotive or inspiring space or structure, fashion is often designed to last a season. I approach my designs knowing that they are to last longer than a season, but to still have that same impact that stylish items have.
Can you differentiate between the two brands' method for diamond quilting and the manufacturing process?
H by Harris leather cases and bags are all quilted by hand, Lavenham's quilted fabric is produced by their high technology in-house quilting machines. Lavenham's diamonds are generally square in shape, H diamonds are more elongated. For the collaboration we came up with a unique quilt which is a 3D cube made up of three diamonds, so it is a perfect combination of both brands' quilt styles. I'm really excited about working with an established brand that has full British manufacturing from start to finish. There are very few brands that can genuinely do and say that, as it may not be feasible for whatever reason. So it adds to the story two households coming together to represent 'Blighty' in 2012. This is made in England in a year when the UK has gotten a lot of attention!
Can we expect more collabs? What do you have lined up for the future?
H by Harris x Lavenham is currently discussing the potential to create an 'Urban Cowboy' film, so watch this space. At H by Harris we have recently created a bespoke leather whiskey cabinet for one of our clients. We are currently exploring more bespoke creative furniture along with larger scale concepts and projects.
Photography: Santiago Arbelaez/HYPEBEAST