Harper's BAZAAR: 24 Hours With Karl Lagerfeld
Best known for his time served as Chanel's creative director, German artist and fashion designer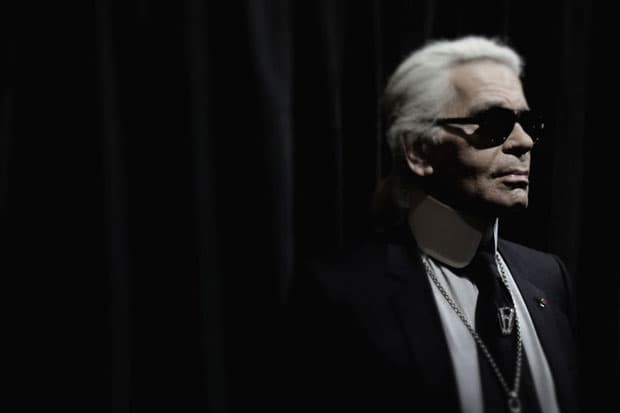 Best known for his time served as Chanel's creative director, German artist and fashion designer Karl Lagerfeld needs little introduction. Kristina O'Neill from Harper's BAZAAR recently had a chance to sit down with the eccentric designer and learn what goes into 24 hours of a typical day for one of fashion's most respected names. Hint: lots of reading, plenty of diet coke, and the wearing of jeans screenprinted with his own likeness. Below is an excerpt of the most captivating entries.
11:00 A.M. I have my hair done because I hate to have hair in my face when I sketch. My hair is not really white; it's kind of grayish, and I don't like the color. So I make it totally white with Klorane dry shampoo. That is the best thing to do because my hair is always clean.

12:00 P.M. I don't get dressed and take a bath until lunchtime because I am doing a dirty job, painting with colors. So I wear my long nightshirt; it becomes kind of like a painter's smock, then it goes to the laundry. I have everything—sheets and nightshirt and robes—changed every day. I like everything to be washable, myself included. I like antique lace, antique sheets, beautiful quilted covers, but everything is white. In white you can hide nothing. Most people don't use this kind of sheets and things because it's very difficult and very expensive for the upkeep. But it's such a pleasure to go to bed in the evening in a beautiful bed with beautiful sheets and beautiful pillows, everything flawless, in a freshly pressed, long white smock. It's perfect.

When I'm ready, I soak in the bathtub, if you really want to know. I used to have a product I loved, by Shu Uemura, but they don't make it anymore, so I found a French product that softens the water; it's a hundred years old. I put half a bottle in the bathtub. I exercise very little because my doctor said it's not necessary. I did a lot when I was very young, and all you do when you're young stays. So it's not the problem as with people who started later. I'm very flexible; I have no problems.

My latest uniform is actually two looks—a special jacket with tails made by Dior, but not what you wear for weddings. I have them made in tweed and things like this. Then I have another jacket I love from the new Dior men's collection that I bought five of, so people think I wear the same thing every day, but in fact it's never the same thing. And then I wear jeans; at the moment they are from my new collection. They are dark gray with my face, my profile, printed in black on them, but you really have to look at it to see it. My dressing room is so full that I can only wear what I see on top of all the racks. I still have all my clothes from 10 years ago from Dior, but I think I will give them back to Dior for the museum. I have pieces that are unique pieces that I will never wear again, because life is different now, you know. I used to fax a lot, but people don't have faxes anymore.

I never have lunch, but when I do, I ask them to bring it to me in the house. I actually have two houses. This house here, it's only for sleeping and sketching, and I have another house two-and-a-half meters away for lunch and dinner and to see people, and where the cook is and all that. I don't want that here. Even if the place is huge, I want to be alone. If I want something, I call them, and they're next door, they come. The studio is next door, the office is next door. If I have guests and butlers, I don't want them in my house. Everything is next door.
The entire article can be read here.