NIGO Talks Vintage Scavenging While Modeling His Own Wares
Despite being best known as the founder of A Bathing Ape, NIGO has always maintained an insatiable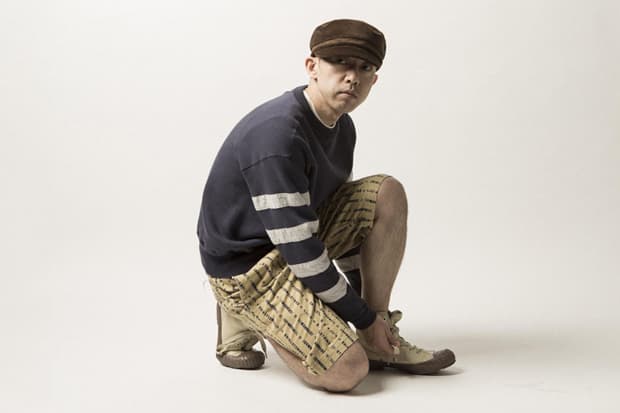 Despite being best known as the founder of A Bathing Ape, NIGO has always maintained an insatiable appetite for mid-20th century menswear and vintage garments. The designer's passion for all things classic has served him well in the past, enabling him to transcend current trends and approach clothing design with an outsider's perspective. Long a poster boy for traditional clothing — military garments and workwear to Levi's 501s – NIGO's latest work with HUMAN MADE is perhaps the embodiment of his vintage fixations. In i-D's interview with the legendary Japanese designer, NIGO models the latest HUMAN MADE collection and gives readers a glimpse into vintage scavenging, the differences between Japan and London, and the one thing he'd save in a fire.
How do you take your coffee?
Black. I put sugar in bad coffee, though.
Can you tell us your deepest vintage-scavenging secret?
I don't really have any. I have been doing it for more than 30 years… Perhaps that's the secret.
How does hunting for vintage in Japan differ from London?
I can't say I've ever really done it in London. Not in a serious way. I am mainly looking for US vintage so I find the best selection in the US or Japan.
What do you like most about Japan?
Pretty much everything is available here and the food is good! What do you like most about London?
There are so many things… I am not such a frequent visitor these days so I focus on typically British things like Savile Row.
Dawn till dusk, tell us how you like to spend a typical day when you're visiting London?
Sadly I'm not there often enough or long enough to have a typical day. But I tend to try to do the same things when I am in town. I usually have some bespoke suits or shoes in various stages of completion and I usually do a few fittings to keep that process moving forward – since my visits are infrequent and unpredictable I am probably a nightmare customer! I like to get vegetarian take-out from the Grain Store on Portobello Road (is it still there!?), I must have been getting lunch there since some of the first times I visited London. Those kind of things give you a chance to think about everything that's changed and all the things that haven't over the years. Since refurbishing the London BAPE store I have been going to BBR across the road from the shop for dinner. Leonid always looks after my guests and me very well.
Your archive is on fire and you could only save item what would you grab and why?
For a collector, I think there is only one answer to this question: if I can only have one item from the collection then it's better to let it all burn.
Source: i-D