A Conversation with Dylan Rieder
Dylan Rieder became immediately recognized in the skating world due to his smooth style, unique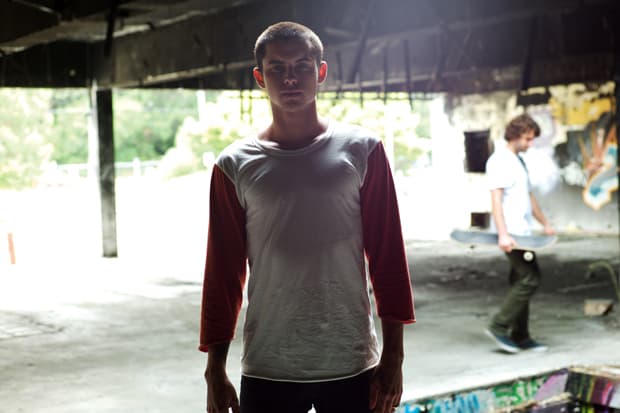 Dylan Rieder became immediately recognized in the skating world due to his smooth style, unique persona and ability to skate any type of spot, with his breakout part coming in Transworld's "A Time to Shine." With a sponsors list containing Alien Workshop, Gravis, Spitfire, Thunder, Analog, MOB, Jack's Garage, Swiss and Roughneck Hardware, it's evident that Rieder is as in-demand as any skater out there. Recently, HYPEBEAST had an opportunity to bounce some questions off the pro, with topics ranging from his involvement with Gravis to his evolution with the sport he's been a part of for so long.
To describe my personal style… it's pretty black and white, if you know what I mean…
My approach to designing shoes and clothing… well, first you have to start with tying your shoelaces. Double loops then cris crossing you know? I mean, it starts with an idea, then that goes into motion, then into a mold, then into a sample, and after that you'll have a tangible product. Then go from there.
To describe being fashionable… ha! Fuck, you're asking the wrong person. What does fashionable even mean. I'd love to see that description in the dictionary.
Since I first started with Gravis… I feel the brand has made its imprint on the skateboarding world, which I don't think it ever had before. These days, it's hard for a company outside of skateboarding to make their way into being accepted into the skateboarding world. And now, Gravis has grown into this skate shoe company that people enjoy and want to be a part of.
Things I took away from growing up in Westminster/HB… I took myself away and moved to Los Angeles. That was a start. I love Westminster, that's my home. I miss the pool halls and being five minutes away from the beach.
Good music… is a song that makes you relate to a feeling or familiarity. A band that distracts you while you're sitting in a tour van for 10 hours. A lyric that you can listen to over and over and not get sick of it. Anything but drum and bass!
My five favorite meals… are in no particular order: sushi, Mexican, pho, spaghetti & meatballs and Jans.
From traveling and seeing all these different places… I feel really fortunate to be able to see the places I've been and encountered. Every destination is a new experience, and most of the time I'm traveling with my good friends, so being in foreign places with them running a muck and skating is quite a lovely time. Sometimes it's tiring, after being on the road for two or more weeks you can get tour fever, but that's when delirium kicks in and things get interesting.
Skateboarding is something… that's still fun and that I enjoy. It's my life, you know. There's a bit more work ethic to it now, which can take away from the origin of why I started skateboarding in the first place a little bit, but then again I wouldn't have what I have now if it wasn't more of a job than a hobby… I can't complain.
Being such a traveler, home is home… thanks to my bed, all the local watering holes, some Aussie gypsying on the couch, being able to lock yourself in the comfort of your house for a day with no communication, grass on the lawn, listening to records, Red O margis. The usual…