Places+Faces to Celebrate 10-Year Anniversary With London-Based Pop-up Store
Presenting limited-edition collaborative T-shirts with the likes of Corteiz, A-COLD-WALL*, Daily Paper, and more.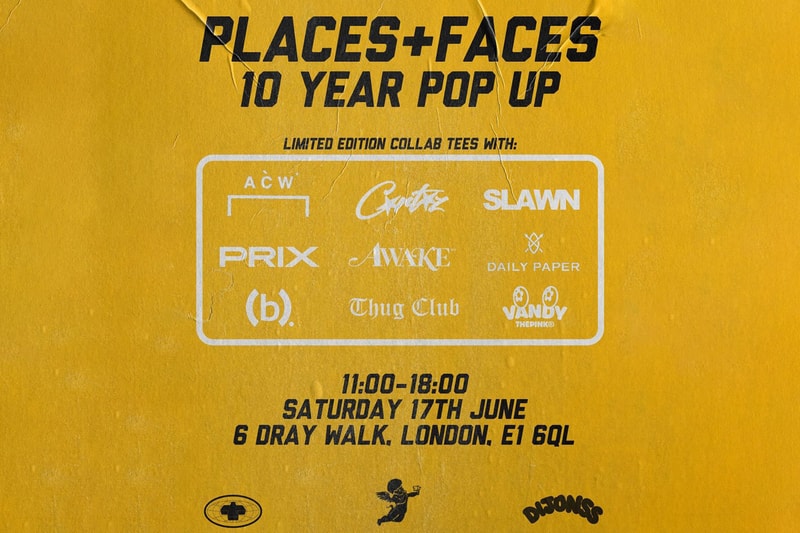 London-based streetwear brand Places+Faces is approaching its 10th anniversary as a fashion entity, and to celebrate the occasion, the imprint is hosting an exclusive pop-up in collaboration with a collection of the world's leading Black-owned brands and creatives.
On the surface, it may feel like UK streetwear has only moved into the forefront of global popularity since Corteiz connected with Nike for its Air Max 95 collaboration with a collection of installations across the cities of New York, Paris, and London. However, across British lands, streetwear has been a mainstay across the nation for over a decade. One brand that has continued to fly the flag for UK streetwear during this 10-year stint is Places+Faces, and the imprint is now celebrating the landmark as it continues to grow and influence British culture.
During the past 10 years, P+F has produced a slew of high-profile collaborations, events, and collections. Highlights from the brand have seen it connect with UK rapper Unknown T, while its hardcopy magazine releases have celebrated UK creatives and gained co-signs from the likes of Pop Smoke, Virgil Abloh, and many more.
Now, P+F's upcoming pop-up promises to reminisce on the last decade, while presenting a collection of collaborative T-shirts with a broad selection of Black-owned fashion brands that consistently share British popularity. Collab tees will be presented with Clint419's Corteiz, Daily Paper, Slawn, A-COLD-WALL*, Awake, PRIX Workshop, Bstroy, Thug Club, and Vandy The Pink.
The event will run for one day only, and each T-shirt will be limited in stock. You can check out the official poster for the Places+Faces pop-up above and be sure to head down to the event on June 17 at 6 Dray Walk, London, E1 6QL.
In other fashion news, check out the new collection from NOAH.