Tyler, the Creator s'en prend sur Twitter à ceux qui ont hué Drake lors d'un festival qu'il avait organisé
L'artiste est remonté.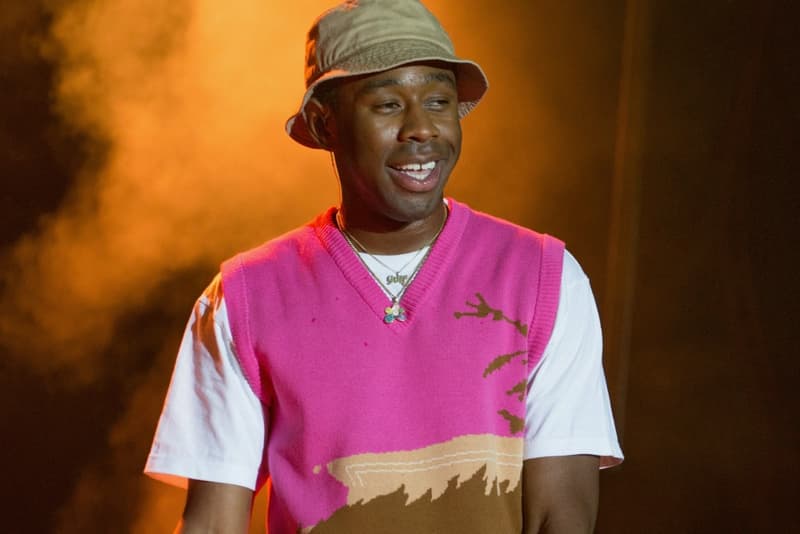 Si beaucoup de regards étaient portés sur l'ASTROWORLD Festival de Travis Scott organisé à Houston ce weekend, Tyler, the Creator avait lui choisi Los Angeles comme scène pour son Camp Flog Gnaw Carnival. En invité surprise l'artiste américain avait choisi Drake et la foule n'a visiblement pas apprécié à sa juste valeur la venue du canadien. Après quelques minutes sur scène Drake s'est fait huer par le public qui réclamait Frank Ocean. Une attitude qui a poussé l'interprète de "Hotline Bling" à écourter son set.
LOOK HOW HAPPY TYLER WAS LISTENING TO DRAKE, why people have to go ruin that??pic.twitter.com/4vBLKitESV

— Complex Music (@ComplexMusic) November 11, 2019
Tyler, the Creator a peu apprécié les huées du public et l'a fait savoir sur Twitter dans une série de tweets : "Je pensais que ramener l'un des artistes les plus gros de la planète à un festival de musique était dément ! Mais apparement non (…) Certains ont créé un récit dans leur tête et ont agi comme des cons" a t-il écrit. "Tout le monde passait du bon temps, ces huées n'ont eu lieu que devant là où étaient les plus indélicats (…) Vous représentez mon crew aussi et vous nous avait fait passer pour des ordures".
Drake n'a lui pas réagi publiquement.
I THOUGHT BRINGING ONE OF THE BIGGEST ARTIST ON THE FUCKING PLANET TO A MUSIC FESTIVAL WAS FIRE! BUT FLIPSIDE, A LIL TONE DEAF KNOWING THE SPECIFIC CROWD IT DREW. SOME CREATED A NARRATIVE IN THEIR HEAD AND ACTED OUT LIKE ASSHOLES WHEN IT DIDNT COME TRUE AND I DONT FUCK WITH THAT

— Tyler, The Creator (@tylerthecreator) November 11, 2019
THIS NIGGA DID FEEL NO WAYS! SONG IS BEAUTIFUL. ALSO, MOSTLY EVERYONE WAS HAVING A GREAT TIME, THOSE SHITS IN THE FRONT AREA WERE THE ONES BEING MAD RUDE, WHICH, I CAN SEE WHY, BUT, NAH, FUCK THAT, YALL REPRESENTED ME AND FLOG TO MY GUEST AND MADE US LOOK SOOO ENTITLED AND TRASH

— Tyler, The Creator (@tylerthecreator) November 11, 2019
THAT SHIT WAS LIKE MOB MENTALITY AND CANCEL CULTURE IN REAL LIFE AND I THINK THAT SHIT IS FUCKING TRASH

— Tyler, The Creator (@tylerthecreator) November 11, 2019
NIGGA DID FEEL NO WAYS! THAT SONG IS BEAUTIFUL! MOST GUYS DONT DO ALBUM CUTS! THANK YOU AUBREY!

— Tyler, The Creator (@tylerthecreator) November 11, 2019
LIKE, I LOVE THAT SONG AND THOUGHT THAT WOULD NEVER HAPPEN…….HE REALLY DID THAT FOR ME AND I APPRECIATE IT BECAUSE HE DID NOT HAVE TO COME AT ALL, SEE OUR WORLDS COME TOGETHER WAS SO GREAT IN THEORY

— Tyler, The Creator (@tylerthecreator) November 11, 2019
BUT HEY MAN SHIT HAPPENS, ALL JOKES ASIDE SHIT LOWKEY FUNNY HAHAHA, ASIDE FROM THAT, HOPE EVERYONE HAD A GOOD TIME. AGAIN, NO ARREST NO BULLSHIT MAN A LOT OF PEOPLE ENJOYED IT, THANKS AGAIN!

— Tyler, The Creator (@tylerthecreator) November 11, 2019
AGAIN, THANK YOU DRAKE! ( IM FUCKING PISSED HOTLINE BLING WAS NEXT THATS MY FUCKING SHIT IM GONNA PLAY THAT IN THE SHOWER RIGHT NOW) <3

— Tyler, The Creator (@tylerthecreator) November 11, 2019
OK LAST TWEET, I WAS IN THE FRONT, AND I HEAR "TYLLLERRRR!" AND I LOOK TO MY LEFT, AND THIS GIRL, RED FACE, PUFFY, WATERFALL OF TEARS LOOKED INTO MY SOUL AND SAID, TREMBLING WITH ANGER "…WHAT ..THE ..FUCK!………IS THIS SHIT!" NIGGA I TURNED AWAY SO QUICK SHE WAS PISSED BRO

— Tyler, The Creator (@tylerthecreator) November 11, 2019
THAT SHIT WAS NOT COOL DAWG

— Tyler, The Creator (@tylerthecreator) November 11, 2019