Pharrell, Drake, Frank Ocean, Takeoff, The Weeknd... Voici Tous Les Artistes Crédités Sur "ASTROWORLD"
Un casting de feu pour La Flame.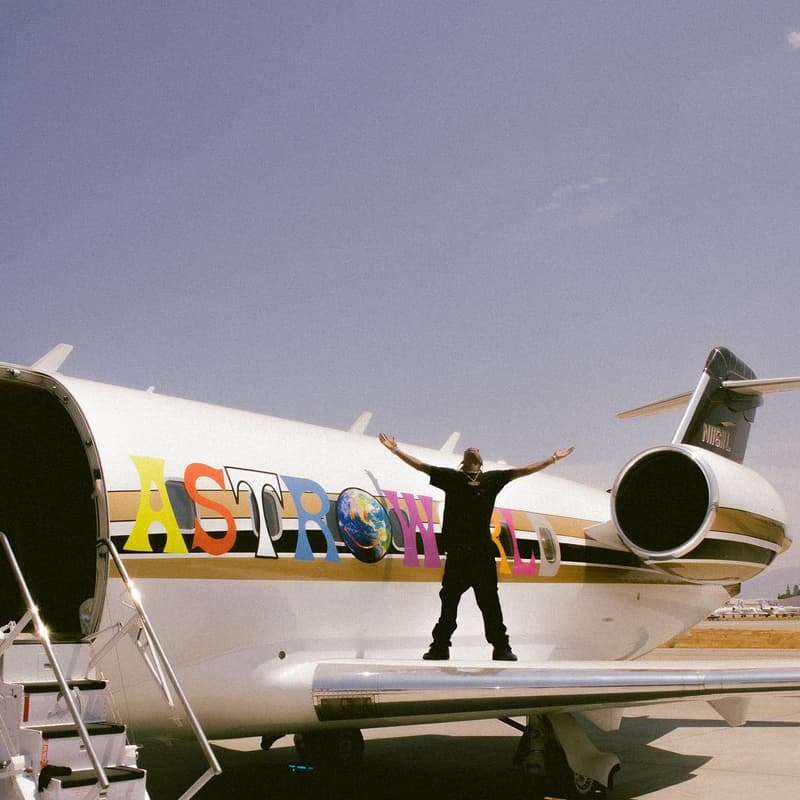 Après 2 ans d'attente, ASTROWORLD est enfin là et avec Drake, Frank Ocean, Takeoff, The Weeknd ou Pharrell, on peut dire que Travis Scott s'est bien entouré pour ce nouvel opus.
Si vous avez écouté l'album qui est disponible depuis ce matin, vous avez surement dû remarquer la richesse musicale qu'il renferme et les nombreuses atmosphères qui s'en dégage comme La Flame avait pu l'annoncer en décryptant le sens d'ASTROWORLD.
En s'entourant de la crème des artistes et compositeurs américain, Travis Scott ne pouvait se tromper et c'est avec des grands noms comme Sonny Digital, Hit-Boy, Boi-1da ou Murda Beatz qu'il a réalisé son rêve comme il le dit si bien. Consultez la liste des artistes crédités ci-dessous dévoilées par Complex et si vous l'aviez manqué, regardez les nouveaux clichés d'ASTROWORLD de David LaChapelle.
"Stargazing"
Composers
Sonny Digital
Mike Dean
B Wheezy
CyHi the Prynce
Travis Scott
30 Roc
Jamie Lepe
B Korn
Lyricists 
Travis Scott
Jamie Lepe
B Wheezy
Mike Dean
CyHi the Prynce
B Korn
30 Roc
Sonny Digital
Producers 
B Wheezy
30 Roc
B Korn
Sonny Digital
"Carousel"
Composers
Frank Ocean
Hit-Boy
Travis Scott
Lyricists
Hit-Boy
Travis Scott
Frank Ocean
Producers
Hit-Boy
"Sicko Mode" 
Composers
Hit-Boy
Mike Dean
Drake
Oz
CyHi the Prynce
Travis Scott
Mirsad Dervic
Tay Keith
Lyricists
Mike Dean
Hit-Boy
Travis Scott
Drake
Tay Keith
Oz
Mirsad Dervic
CyHi the Prynce
Producers 
Tay Keith
Oz
Cubeatz
Hit-Boy
"R.I.P. Screw"
Composers 
Mike Dean
Travis Scott
Swae Lee
Lyricists
Swae Lee
Travis Scott
Mike Dean
Producers
FKi 1st
Travis Scott
"Stop Trying to Be God"
Composers 
James Blake
Travis Scott
Cubeatz
Lyricists 
Cubeatz
James Blake
Travis Scott
Producers
J Beatzz
Travis Scott
Mike Dean
"No Bystanders"
Composers
Mike Dean
WondaGurl​​​​​​​
Travis Scott
Juice WRLD
Sheck Wes
Lyricists 
Travis SCott
Sheck Wes
Juice WRLD
Mike Dean
WondaGurl
Producers 
Gezin
808 Mafia
WondaGurl
Mike Dean
"Skeletons"
Composers 
Pharrell Williams
The Weeknd
Kevin Parker
Travis Scott
Mike Dean
Reine Fiske
Lyricists 
Reine Fiske
Kevin Parker
Mike Dean
The Weeknd
Pharrell Williams
Travis Scott
Producers
Tame Impala
"Wake Up"
Composers 
The Weeknd
Mike Dean
Frank Dukes
Travis Scott
Sevn Thomas
Wallis Lane
Lyricists 
Frank Dukes
Travis Scott
Wallis Lane
Sevn Thomas
The Weeknd
Mike Dean
Producers
Sevn Thomas
Wallis Lane
Frank Dukes
"5% Tint"
Composers 
Travis Scott
Mike Dean
FKi 1st
CyHi the Prynce
Lyricists 
FKi 1st
Mike Dean
CyHi the Prynce​​​​​​​
Travis Scott
Producers 
FKi 1st
"NC-17"
Composers
Boi-1da
Mike Dean
Travis Scott
21 Savage
Johnny Stefene
Lyricists 
Boi-1da
Mike Dean
Travis Scott
21 Savage
Johnny Stefene
Producers
Cubeatz
Boi-1da
"Astrothunder"
Composers 
Travis Scott
Thundercat
Frank Dukes
John Mayer
Lyricists
John Mayer
Thundercat
Frank Dukes
Travis Scott
Producers 
Frank Dukes
John Mayer
Travis Scott
Thundercat
"Yosemite" 
Composers 
June James
Gunna
NAV
Travis Scott
Lyricists 
Gunna
Travis Scott
June James
NAV
Producers
Turbo
June James
"Can't Say"
Composers 
Sonny Digital
Mike Dean
Frank Dukes
Jacques Webster
WondaGurl
Don Toliver
London Cyr
Lyricists 
WondaGurl
London Cyr
Travis Scott
Sonny Digital
Mike Dean
Frank Dukes
Don Toliver
Producers 
WondaGurl
Frank Dukes
"Who? What!"
Composers 
Quavo
Travis Scott
Takeoff​​​​​​​
Cardo
30 Roc
Lyricists 
Cardo
Travis Scott
Quavo
30 Roc
Takeoff
Producers 
30 Roc
Cardo 
"Butterfly Effect"
Composers 
Murda Beatz
Donald Paton
Travis Scott
Lyricists 
Donald Paton
Jacques Webster
Murda Beatz
Producers 
Murda Beatz
"Houstonfornication"
Composers 
Sevn Thomas
Travis Scott
Wallis Lane
Lyricists 
Travis Scott
Sevn Thomas
Wallis Lane
Producers 
Sevn Thomas
Wallis Lane
"Coffee Bean"
Composers 
Mike Dean
CyHi the Prynce
Nineteen85
Travis Scott
Tim Suby
Lyricists 
Mike Dean
Nineteen85
Tim Suby
Travis Scott
CyHi the Prynce
Producers
Nineteen85