Jon Snow Et Ygritte De Game Of Thrones Se Sont Mariés Dans La Vraie Vie
Just Married.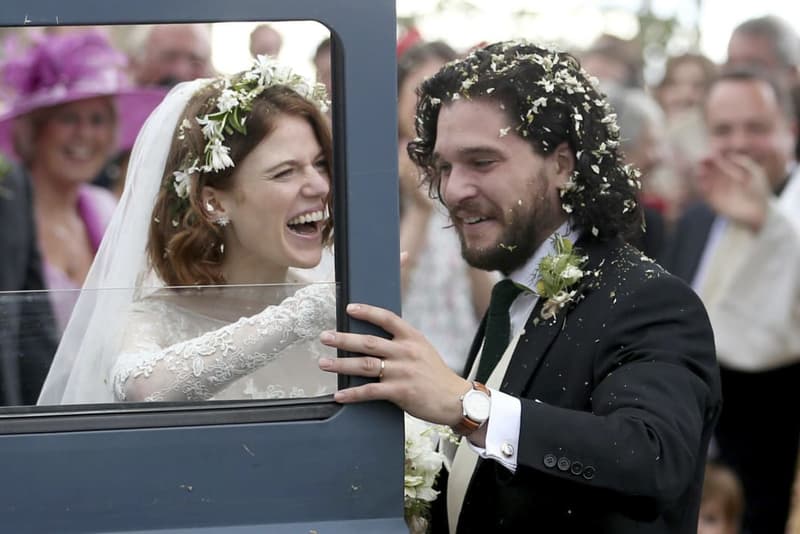 Le couple formé à l'écran par Jon Snow et Ygritte restera l'une des passions marquantes de Game of Thrones. Kit Harrington et Rose Leslie, les deux acteurs jouant ces personnages sont également tombés amoureux dans la vie et se sont mariés il y a quelques heures.
À l'écran, la passion déchirante entre le garde de nuit Jon Snow et la sauvageonne Ygritte a marqué les fans jusqu'à la saison 4 où, attention spoilers, Ygritte fut tragiquement tué. Le couple cessa donc à l'écran, mais Kit Harrington et Rose Leslie, qui incarnent les deux personnages, sont bel et bien en couple depuis plusieurs années. Ce samedi 23 Juin, les deux acteurs ont scéllé leur union dans le château de Lickleyhead en Ecosse, qui appartient à la famille de l'actrice. Emilia Clarke (Daenerys Targaryen), Peter Dinklage (Tyrion Laennister), Sophie Turner (Sansa Stark) ou encore Liam Cunningham (Davos) étaient présents au mariage.
Félicitations aux deux acteurs pour ce mariage, une bonne nouvelle qui nous fait patienter jusqu'à l'ultime saison de Game of Thrones. Dans notre actualité, Sophie Turner aurait spoilé Game of Thrones avec son nouveau tatouage.