The 101: Christian Hosoi
"He is one of the most legendary skate figures, and easily one of the most inspirational people to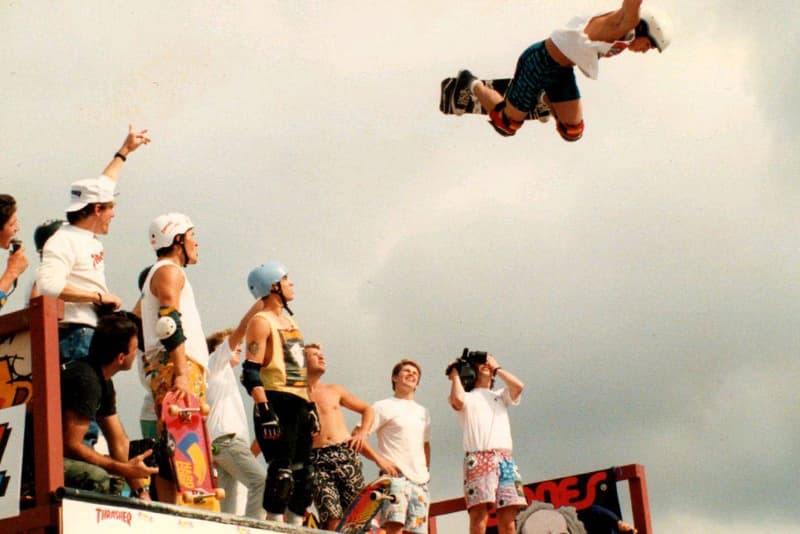 "He is one of the most legendary skate figures, and easily one of the most inspirational people to have ever skated."
Those words weren't spoken of Tony Hawk, they were spoken by Tony Hawk, in reference to Christian 'Holmes' Hosoi — a supremely talented and charismatic vert skater who dominated parks and pipes in the 1980's and early 90's. The annuls of skateboarding are filled with talented athletes who have driven the evolution of the sport's conventions, but it was Hosoi who drove skateboarding higher, faster, smoother, and in directions people never thought possible at the time. It goes without saying that he needs no introduction to anyone with even a passing interest in the sport. But life for the skate pioneer Hosoi (who was born in 1967) wasn't always podiums and parties. Some of those parties led to drug addiction, and then his eventual dealing. Hosoi's reckless lifestyle spiraled out of control until January of 2000, when he was arrested at Honolulu International Airport having brought with him in a fanny pack, nearly a pound and a half of crystal meth from Los Angeles. Like the events leading to his turning pro, his arrest and the ensuing years from his incarceration also quickly set his life on a much different trajectory.
Ever the innovator throughout his impressive career, Hosoi's initial foray into the sport of skateboarding started at a very young age with a single innovation of his own. He'd received a skateboard from his father, who was a Hawaiian native living in Los Angeles working as a surfboard maker. The board Hosoi was gifted with, had a traditional surf-inspired upturned nose and a downturned tail making it perfect for sidewalk surfing but little else. Hosoi flipped the board over, pointing the nose down and giving it a kicktail. Skateboarding would never be the same again.
The world of skateboarding was still very much in its horizontal infancy, with plenty of flatland freestyle and ramp tricks, but zero verticality. As he honed his incredible innate skills at the Marina Skatepark that his father managed, Hosoi quickly caught the attention of pro skaters and sponsors alike, and rose to a top amateur ranking by age 12. He even rode for the famed Bones Brigade crew during the group's infant years. His fearless attitude and progressive, yet graceful skyward style was the polarizing element the sport was waiting for. Sims Skateboards offered him his first deal, and he turned pro at the tender age of 14, effectively turning the sport on its head. His career quickly blossomed, launching his name, and widespread recognition of the sport of skateboarding into the stratosphere. Hosoi brought home massive paydays from contest winnings and sponsorship deals, commanding a salary unheard of at the time for a pro skateboarder. Over the course of winning countless contests from Los Angeles to Tokyo, Hosoi is credited for the invention of an equally dizzying number of signature moves. He's best known for his Backside Crossbone Air, the Rocket Air, and the Christ Air — the latter of which, was ironically named long before those life-altering events led him to his devout Christian faith.
Hosoi's influence transcended the sport of skating, as he extended its clothing and culture. Trick progression led to advanced shoe and board developments to adapt to his rapidly evolving needs. Like many pro skaters, he also used his influence to start his own brands. Hosoi was actually only the third professional to have owned his own skate company while still competing as a pro skateboarder, following Brad Bowman and Tony Alva. Unfortunately, Hosoi's entrepreneurial spirit resulted in largely failed ventures. This video for Tuff Sk8s — his private label of skateboards might be indicative of why they never took off. His operations have long since been scaled back — as his name is now solely attached to Hosoi Skates. More recently, his involvement with brands has been more of a collaborative nature, like his Vans Hosoi Era Pro shoe, and the Black Label Emergency Hosoi board (which was actually produced while he was in prison). Unlike those failed ventures though, Hosoi's contributions to the sport of skateboarding would be cultural, and would eventually boast greater longevity than even his incredible amplitude. His charisma and unique style sold the culture and lifestyle of skateboarding to the mainstream spotlight. Some of that could be attributed to the rivalry he and Tony Hawk shared during the budding stages of Hawk's pro career. The media frenzy that fueled the rivalry, as well as Hosoi's influence in making skateboarding a cultural exposition is explored in fascinating depth in the recent Bones Brigade: An Autobiography, which debuted at the 2012 Sundance Film Festival. The film traces the earliest roots of Hosoi's involvement with the Bones Brigade, as well as that rivalry.
The frenzy for skateboarding that launched Hosoi's career and ego into the stratosphere was one that also ultimately led to his demise. Vert skating was slowly on the decline, falling victim to the sponsorship and attention vacuum created by the rise of street skating led by names like Mark Gonzales. And as he fell into legal and financial woes in the late 1990's, fear of arrest kept Hosoi from public appearances, severely impacting his tenure as a pro skater and leading to the spiral of events that ended with his incarceration. "I went to prison and got free," Hosoi recollects. Indeed, he finally emerged from prison four years later in 2004 having earned his high school diploma, and found a higher calling, but the world of skateboarding had already moved on.
It's difficult to say where the sport's progression, or the broad cultural and commercial influence of skateboarding would be today, had it not been for Hosoi. Extreme sport evolves like an avalanche — most evident when you look at the mind-bogglingly high bar set by Danny Way and his infamous megaramp. But all it takes is a jostle to set things in motion, and Hosoi could very well have been just that. Transworld Skateboarding called him the fourth most influential name in the history of skateboarding, behind Mullen, Hawk, and Gonzales. All huge names in their respective rights, each having given skateboarding something different, and left the sport for the better. But without Hosoi, would we have had Hawk? It's almost a chicken-and-the-egg scenario, with regards to whose inspiration later begat some of the greatest names in skateboarding. But one thing is certain — Hawk is undoubtedly correct that Hosoi's 'legend' status is rightly deserved.
Photography: Session