1 of 3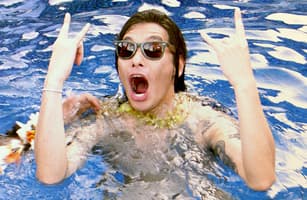 2 of 3

3 of 3
Keiichi Nitta: Snap Shot
One of the more interesting photographers in the industry, Keiichi Nitta, gives us a rundown of his latest escapades and book release.
---
Taking part in various exhibitions last year along with the recent release of his first book entitled Bowery Boys, Keiichi Nitta has quickly risen to become a house hold name in the world of photography. A one-time assistant to Terry Richardson, the Tokyo-native has seen a wealth of success within commercial ventures alongside the likes of Vogue, NYLON Japan, Hysteric Glamour, Vice and American Apparel with personal projects via gallery showings. We caught up with Keiichi last month, for a quick Q&A. Check it out!
Q&A with Keiichi Nitta
Whats up Keiichi? Tell me something about yourself ?
I'm Keiichi, nice to meet you. I am from Tokyo, lived in NYC for 10 years, and now am back in Tokyo doing my own work.
We've quickly become fans of your work. How did your love for photography begin? Was it always your first passion?
Actually I went to Fashion Design School in Tokyo and then realized that I liked my photography classes and everything that had to do with photo, much better than fashion design. Once I started shooting I couldn't stop.
Do you still follow fashion? Any particular favorite style/brands?
I love and appreciate fashion, but as for my personal style, I don't get really crazy. My favorite brands are Marc Jacobs, Undercover, and I love vintage Metal, Rock, and Punk tees.
Did your first job out of school involved fashion? How did you get your start alongside Terry Richardson?
When I first got out of school I was working as a stylist. I moved to NYC and really wanted to work for Terry. I called him once a week for 2 years and then finally I got to work as his assistant.
How was it like working with TR?
Quite an experience. A great experience. Terry's a great guy, he gave me a great opportunity and we had a lot of fun times and fun photo shoots together.
Any interesting advice from Terry?
Have fun in life, Safety First, and Thursday is Garbage Day.
What type of photography catches your eye, as a fan?
It really depends on the photo, photographer, etc. I like so many different types of photography ranging from fashion to nature.
Favorite photographers?
Terry, of course, his father Bob, Helmut Newton. Terry's work is very free and natural, with a sense of humor. Bob's B/W photographs are so sophisticated and beautiful. Helmut Newton is Helmut Newton.
Aside from photography, what do you like to do in your spare time?
Lately, taking care of my son, who was born a few months ago. Its another job taking care of a baby.
Congrats! Although you might not be traveling as often, whats your favorite place to visit? What attracts you to those destinations?
NYC, Paris, and Vietnam. New York City and Paris are at the center of fashion, and I have lots of friends in Vietnam.
Speaking of travels, how did it feel to open up your first solo show in Italy?
My show in Italy last year was a great experience, it was my first solo show. There was a great turn-out of people, a fun party, and the gallery looked great.
Great food there. Was that your first time in Italy?
I have been to Italy before, I love the food and wine. Honestly everything I have eaten there was delicious. No complaints.
With you back home now, in Tokyo, what sort of projects do you have in store for 2009?
I have a new book coming out soon called "BOWERY BOYS", which is being published by O.H.W.O.W. I might have another exhibition this year. And another 100K collaboration coming up.
Bowery Boys is available here.
Any words of wisdom for aspiring photographers?
Believe in Yourself!
Text: L.A. Ruano
Photography: Keiichi Nitta