Relance inattendue de la querelle entre Kanye West et Taylor Swift
Kim Kardashian a réagi à un nouveau leak vidéo et traite la chanteuse de "menteuse".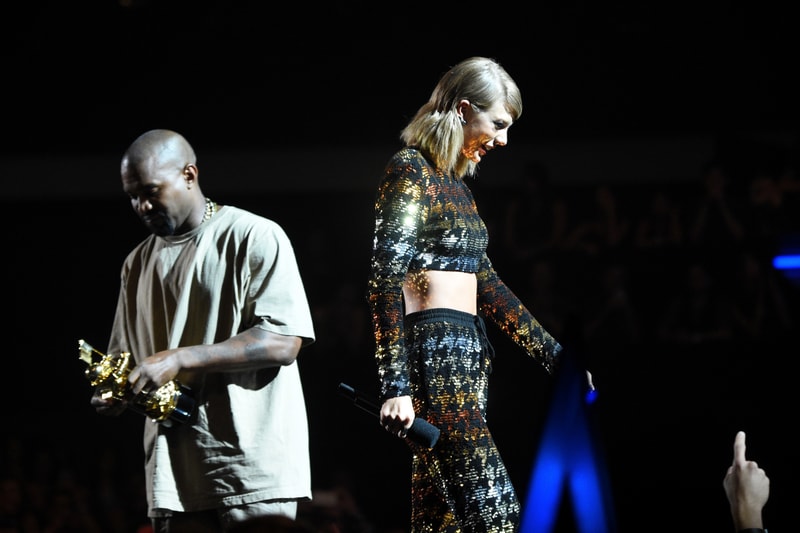 Ce weekend, une vieille polémique de près de quatre ans a ressurgi sur les réseaux sociaux. Il s'agit de celle qui oppose Kanye West à Taylor Swift avec en toile de fond le morceau Famous sur l'album The Life of Pablo paru en 2016. À l'époque, le titre avait suscité l'indignation chez les fans à cause de ces paroles : I feel like me and Taylor might still have sex / Why? I made that bitch famous.
Et si Kanye avait juré avoir obtenu l'aval de Taylor Swift pour utiliser cette punchline, la divulgation d'un enregistrement non censuré de la conversation entre le rappeur de Chicago et la chanteuse semble remettre en cause sa parole. En effet, Ye n'aurait pas évoqué le "that bitch" faisant mention à Swift lors de son appel quand bien même cette dernière avait donné son accord pour la première partie du vers.
Basically, the whole phone call leaked, revealing Taylor Swift never consented to being called "that bitch."

She never lied or was a "snake."

She was recorded illegally and manipulated by Kanye West and everyone owes her an apology.pic.twitter.com/nTZXrJo7yS

— Ryan Schocket (@RyanSchocket) March 21, 2020
Un leak qui donne raison à Taylor Swift
Taylor Swift assure de nouveau dans une publication Instagram que Kanye West ne lui avait effectivement jamais communiqué l'intégralité des paroles la concernant. De quoi provoquer l'ire des Swifties, les fans les acharnés de la chanteuse américaine, et ces derniers d'interpeller Kanye sur les réseaux. Rappelons que Taylor Swift avait toujours nié avoir donné son accord pour l'utilisation de ces paroles, ce qui lui avait valu insultes et menaces de mort depuis.
De quoi, aussi, pousser Kim Kardashian à sortir du silence pour défendre son mari. Selon elle, celle qui ment, c'est Taylor Swift. Pour Kim K, l'Américaine essaierait plutôt de redorer son image après une polémique qui avait fait beaucoup de bruit à l'époque alors que des "preuves" de la bonne foie de Kanye avait déjà été présentées. Il faut rappeler, aussi, que depuis 2009 et les MTV Video Music Awards, Swift et West sont au cœur d'une guéguerre largement médiatisée.
Kim Kardashian intervient
"Taylor Swift a choisi de relancer un vieil échange, qui, à ce stade, est vraiment très égoïste étant donné les souffrances auxquelles sont confrontées des millions de vraies victimes en ce moment. Je n'ai pas ressenti le besoin de commenter il y a quelques jours, et je suis en fait vraiment gênée et mortifiée de le faire en ce moment, mais parce qu'elle continue de parler de ce sujet, je sens que je n'ai pas d'autre choix que de répondre parce qu'elle ment", estime Kim Kardashian.
"Pour être clair, le seul problème que j'ai à propos de la situation est que Taylor a menti par le biais de son publiciste qui a déclaré que 'Kanye n'a jamais appelé pour demander la permission'. Seulement, personne n'a jamais nié que le mot 'salope' ait été utilisé sans sa permission". Le cœur du problème résiderait donc dans l'utilisation du mot "bitch" sans le consentement de Taylor Swift. Toujours est-il que ce leak semble donner raison dans cette histoire à Taylor Swift puisque jamais Kanye n'évoque le "I made that bitch famous" quand bien même il a une discussion cordiale avec Taylor Swift et lui mentionne quelques paroles du morceau au téléphone.
I didn't feel the need to comment a few days ago, and I'm actually really embarrassed and mortified to be doing it right now, but because she continues to speak on it, I feel I'm left without a choice but to respond because she is actually lying.

— Kim Kardashian West (@KimKardashian) March 24, 2020
To be clear, the only issue I ever had around the situation was that Taylor lied through her publicist who stated that "Kanye never called to ask for permission…" They clearly spoke so I let you all see that. Nobody ever denied the word "bitch" was used without her permission.

— Kim Kardashian West (@KimKardashian) March 24, 2020
Pas de quoi calmer les ardeurs des fans de Taylor Swift donc, qui multiplient les hashtags à l'encontre du couple West sur les réseaux. Pour l'instant, Kanye, lui, n'a pas encore réagi. La guerre continue ?
Dans le reste de l'actualité et pour plus de frasques verbales signées Kanye West, retrouvez ses 65 meilleures interviews depuis 2002.