Le monde du basket réagit à la mort de Kobe Bryant
Tony Parker, Dwyane Wade se sont exprimés sur Twitter.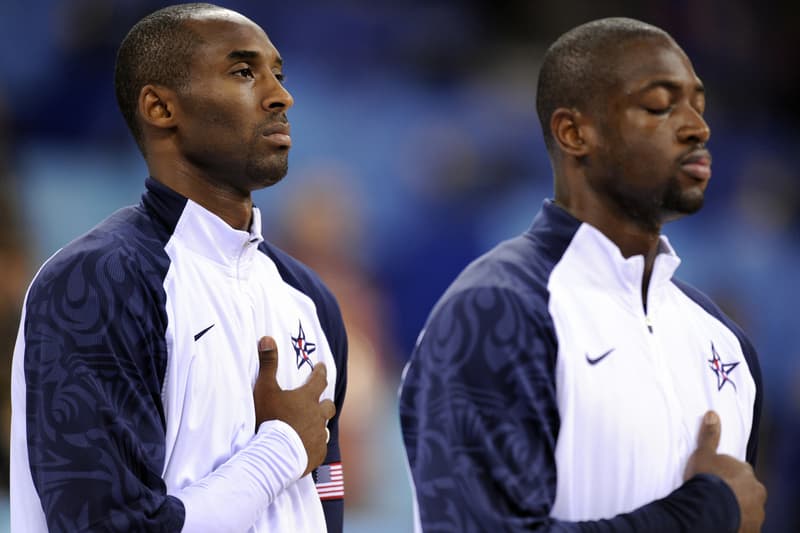 Selon le média américain TMZ Kobe Bryant est décédé suite à un crash d'hélicoptère survenu ce dimanche 26 janvier. 5 personnes au total auraient trouvé la mort dans cet accident. Des représentants du sport ont confirmé que la fille de Bryant, Gigi, faisait également partie des victimes.
Les stars du basket se sont rendues en masse sur les réseaux sociaux pour rendre hommage à Kobe Bryant. Shaquille O'Neal s'est dit dévasté par la perte d'un frère. Donovan Mitchell, joueur des Jazz de l'Utah a apostrophé la NBA sur Twitter pour lui demander de mettre "à la retraite" le numéro 24 pour toujours.
Michael Jordan s'est également exprimé dans un communiqué. "Je suis sous le choc de la tragique nouvelle du décès de Kobe et Gianna. Les mots ne peuvent pas décrire la douleur que je ressens. J'adorais Kobe, il était comme un petit frère pour moi. Nous parlions souvent et ces conversations me manqueront beaucoup. C'était un compétiteur féroce, l'un des grands du jeu et une force créatrice. Kobe était également un père incroyable qui aimait profondément sa famille et était fier de  l'amour de sa fille pour le basketball. Yvette se joint à moi pour adresser mes plus sincères condoléances à Vanessa, à l'organisation Lakers et aux fans de basket-ball du monde entier".
Lamar Odom a également posté un message très émouvant sur Instagram : "Sur le terrain, il m'a appris à esquiver les défenses et à prendre mon temps. À faire de gagner, mon objectif ultime. Hors du terrain, il m'a appris à signer mes propres chèques lol. Bien sûr, quiconque connaît mon histoire sait que j'ai subi beaucoup de pertes, mais la seule perte à laquelle je peux comparer celle-ci c'est quand j'ai perdu mon fils. Même si notre relation n'était pas père/fils, c'était plus comme s'il était professeur et moi comme son frère. Je suis content d'avoir pu être le ying de ton yang en ce qui concerne les vestiaires. Le plaisir était pour moi. Je n'ai même pas pu reprendre mon souffle aujourd'hui quand j'ai entendu cette nouvelle. Je savais juste que s'il avait eu un accident d'hélicoptère, il aurait été le seul à survivre. D'une manière ou d'une autre, il aurait sauté et atterri sur ses pieds".
La NBA a elle aussi publié un communiqué officiel et se dit dévastée par la mort d'une légende.
Statement from Michael Jordan pic.twitter.com/AqLsRWMxl9

— Vincent Goodwill (@VinceGoodwill) January 26, 2020
There's no words to express the pain Im going through with this tragedy of loosing my neice Gigi & my brother @kobebryant I love u and u will be missed. My condolences goes out to the Bryant family and the families of the other passengers on board. IM SICK RIGHT NOW pic.twitter.com/pigHywq3c1

— SHAQ (@SHAQ) January 26, 2020
Enjoy every single day people, we are always too worried about things that are actually not that important. Life is precious and you never now when it's gonna end.

— Rudy Gobert (@rudygobert27) January 26, 2020
Nooooooooooo God please No!

— DWade (@DwyaneWade) January 26, 2020
I'm heartbroken by this news, you were a true legend, and friend. Rest In Peace @kobebryant, my thoughts and prayers to his wife and kids. #legend #mamba #goat pic.twitter.com/1VKYdbrVEk

— Tony Parker (@tonyparker) January 26, 2020
No no no please tell me this is not true. Not Kobe…. prayers to his wife, daughters and loved ones

— Nicolas Batum (@nicolas88batum) January 26, 2020
I'm stunned. Words can't even come close to describing it. Just an incredibly sad and tragic day.

— Scottie Pippen (@ScottiePippen) January 26, 2020
This is not real right now

— Paul Pierce (@paulpierce34) January 26, 2020
Devastated to hear the news on my friend @kobebryant passing. Prayers go out to his wife Vanessa and his children and the @Lakers family. pic.twitter.com/Oki9GkYEu5

— Dennis Rodman (@dennisrodman) January 26, 2020
This can't be true …….

— Andre Drummond (@AndreDrummond) January 26, 2020
Man I don't even know where to start?? I started playing ball because of KOBE after watching the 2010 finals. I had never watched ball before that and that finals was the turning point of my life. I WANTED TO BE LIKE KOBE. I'm so FREAKING SAD right now!!!!

RIP LEGEND

— Joel Embiid (@JoelEmbiid) January 26, 2020
Quit playing

— Paul George (@Yg_Trece) January 26, 2020
PLEASE @NBA RETIRED 24! LEAGUE WIDE!!

— Donovan Mitchell (@spidadmitchell) January 26, 2020
Au delà du basket c'est le monde entier qui est sous le choc.
Kobe was a legend on the court and just getting started in what would have been just as meaningful a second act. To lose Gianna is even more heartbreaking to us as parents. Michelle and I send love and prayers to Vanessa and the entire Bryant family on an unthinkable day.

— Barack Obama (@BarackObama) January 26, 2020
Rest In Peace Kobe! My heart broken ❤️

— Gucci Mane (@gucci1017) January 26, 2020
Jesus this is heartbreaking.

— Trevor Noah (@Trevornoah) January 26, 2020
Like everyone, I'm stunned and saddened by the news about Kobe Bryant. My heart is broken for his wife and family.

— Ellen DeGeneres (@TheEllenShow) January 26, 2020
RIP Kobe. This is heartbreaking
unbelievable

— Khalid (@thegreatkhalid) January 26, 2020
WTFF REALLY HOPE THIS IS A MISUNDERSTANDING

— nope (@LilNasX) January 26, 2020
I cannot believe this is real. My god. Oh my god.

— christine teigen (@chrissyteigen) January 26, 2020
We lost a King. 824

— Lil Wayne WEEZY F (@LilTunechi) January 26, 2020
RIP KOBE , SO SAD , SUCH A SAD DAY N SAD NEWS , WE LOVE U

— LORD FLACKO JODYE II (@asvpxrocky) January 26, 2020
Fuckin terrible ?

— iamcardib (@iamcardib) January 26, 2020
We have no words to express how shocked we are to hear of the tragic passing of one of the greatest sportsmen of all time and Rossonero fan, Kobe Bryant. All our thoughts are with the families of those affected by this tragic accident. You will forever be missed, Kobe ?❤️? pic.twitter.com/FOd365chEL

— AC Milan (@acmilan) January 26, 2020
Neymar dedicating his goal to Kobe Bryant. #24 ?? pic.twitter.com/wOvRjeM2U6

— Football Tweet (@Football__Tweet) January 26, 2020
La célébration de Neymar pour Kobe Bryant 2⃣4⃣ ?❤️ #LOSCPSG pic.twitter.com/ZpjHSOoEbE

— Tʜᴏʀғᴀʟʟ ® (@ThorfalI) January 26, 2020
Kobe, We love you brother

We're praying for your family and appreciate the life you've lived and all the inspiration you gave pic.twitter.com/pxbgLOOmpY

— ye (@kanyewest) January 26, 2020