Tyler, The Creator Semble S'Eloigner De Converse Avec Sa Nouvelle Paire GOLF le FLEUR*
Premières images de la nouvelle paire.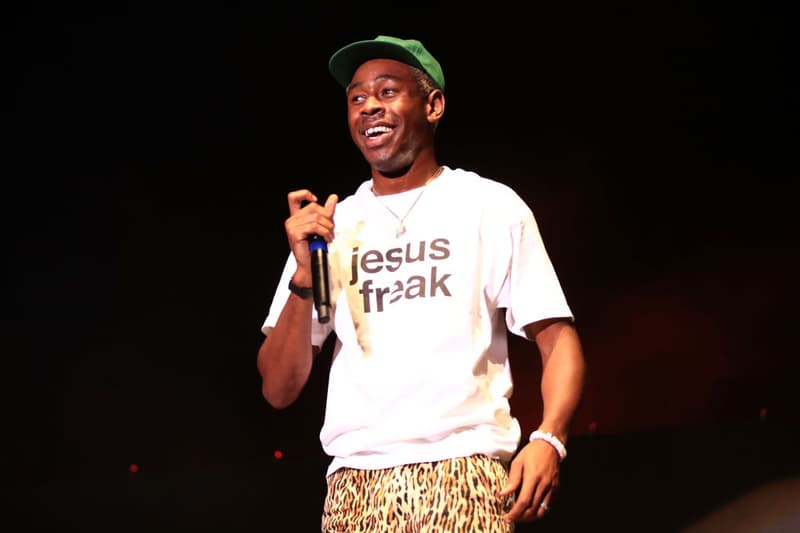 En ce début d'année 2019 il semblerait que Tyler The Creator s'éloigne de Converse. En effet, l'artiste a teasé une nouvelle paire de chaussures GOLF le FLEUR* qui ne semble pas avoir été imaginée en collaboration avec la marque américaine.
Alors que trois nouvelles Converse GOLF le FLEUR* se dévoilaient en fin d'année 2018, il semblerait que le label de Tyler, The Creator s'éloigne de la marque américaine pour dévoiler une paire maison. En effet, si Tyler, The Creator nous a habitué depuis plusieurs mois à ses sneakers en collaboration avec Converse, il se pourrait que GOLF se lance désormais seul dans le marché de la chaussure. L'artiste a partagé sur son Instagram plusieurs clichés où se dévoile une chaussure construite d'un upper en cuir vert foncé affublé du logo GOLF le FLEUR* sur la languette et d'une semelle noire. Une paire qui ne laisse pas apparaître de co-branding, ce qui pourrait donc être synonyme d'une paire maison sans collaborateur comme le label nous y avait habitué.
N'hésitez pas à nous dire ce que vous pensez du nouveau modèle teasé par Tyler, The Creator et si vous aimeriez voir plus de chaussures GOLF le FLEUR* en 2019. Dans notre actualité, ne manquez pas les drops sneakers Nike de la semaine.