Fear Of God Dévoile Sa Ligne "ESSENTIALS" Disponible Chez PacSun
Disponible dès maintenant.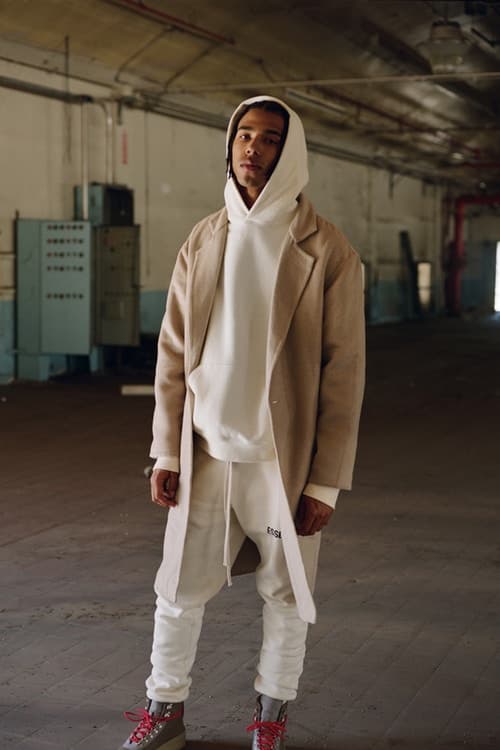 Après avoir dévoilé un pack Fear of God "All-Star 2018", Jerry Lorenzo dévoile sa ligne "ESSENTIALS" disponible chez le revendeur PacSun, après une première release chez SSENSE.
Fear of God dévoile ainsi une série de pièces essentielles affublées de la touche unique de Jerry Lorenzo, qui trouveront facilement leur place dans votre garde-robe. On y retrouve des hoodies, des sweatshirts, des t-shirts, des pantalons et shorts, ainsi que différents accessoires. Les prix se veulent plus abordables que la ligne principale de la marque. Les couleurs utilisées pour la ligne "ESSENTIALS" sont dans des tons neutres, majoritairement du noir, du blanc et du crème. Quelques pièces en jeans sont également disponibles dans cette collection. Jerry Lorenzo s'est exprimé sur sa nouvelle collection:
"Je voulais créer une collection honnête qui répondrait aux besoins essentiels de votre garde-robe à un prix accessible… pour créer des formes et silhouettes qui se complètent, comme des legos ou Tetris. C'était important que cette collection soit honnête et ne s'éloigne pas de notre ligne principale. C'est essentiellement ce dont vous avez besoin."
Retrouvez le lookbook de la ligne "ESSENTIALS" de Fear of God et shoppez les pièces de la collection dès maintenant sur le site de PacSun. N'hésitez pas à nous dire ce que vous en pensez, et ne manquez pas la collection OBEY x Misfits.