Kanye West Explique Pourquoi Il Porte La Casquette "Make America Great Again" De Donald Trump, Et Se Fait Dézinguer En Retour
Plutôt que d'éteindre la polémique, Ye n'a fait que l'accentuer.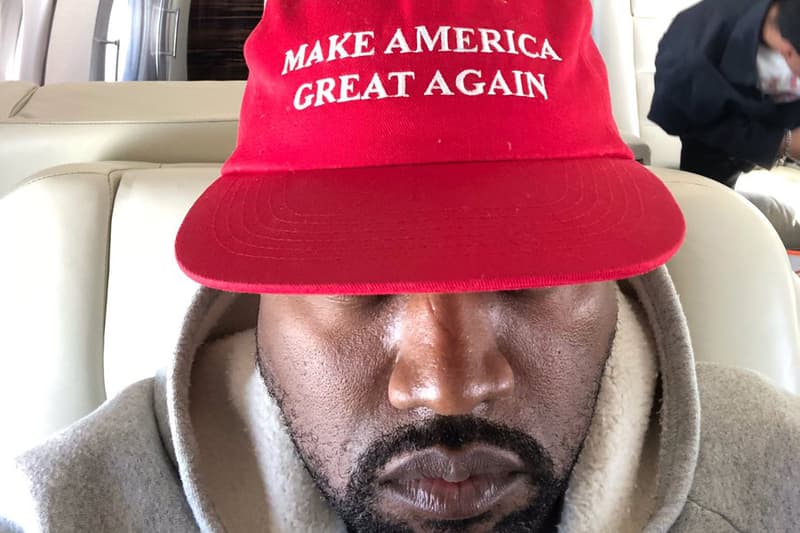 Il avait créé la polémique lorsqu'il l'avait arborée la première fois, Kanye West a encore reporté la casquette "Make America Great Again" de la campagne de Donald Trump la semaine passée, réactivant les critiques à son encontre. De quoi le pousser à réagir, et à expliquer pourquoi il l'affichait.
"Cela représente le bien et l'Amérique qui redevient entière. Nous ne sous-traiterons plus à d'autres pays. Nous construisons des usines ici en Amérique et créons des emplois. Nous allons donner du travail à tous ceux qui sortent de prison alors que nous abolissons le 13e amendement. Message envoyé avec amour", a déclaré Kanye West sur Twitter. Sortie qui, plutôt que d'atténuer les critiques, n'a fait que les renforcer. Notamment pour cette phrase parlant d'annuler le 13e amendement, autrement dit celui qui a aboli l'esclavage.
this represents good and America becoming whole again.  We will no longer outsource to other countries. We build factories here in America and create jobs.  We will provide jobs for all who are free from prisons as we abolish the 13th amendment. Message sent with love pic.twitter.com/a15WqI8zgu

— ye (@kanyewest) September 30, 2018
Malgré une rectification dans la foulée, pour dire qu'il pensait "amender" plutôt qu'"abolir", Kanye n'a pas endigué le flot de réactions, auquel se sont ajoutées des personnalités comme Chris Evans et Lana Del Rey. "Il n'y a rien de pire que de débattre avec quelqu'un qui ne connaît pas l'histoire, ne lis pas de livres, et prend sa myopie pour une vertu. Ce niveau de conjecture n'est pas juste frustrant, il est rétrograde, sans précédent et absolument terrifiant", a déclaré l'acteur, quand la chanteuse, s'adressant directement à Ye, a assuré que "ton soutien pour lui est une perte pour la culture. Je peux seulement en conclure que vous avez une personnalité similaire : une illusion de grandeur et de gros soucis de narcissisme. Cela ne poserait pas de problème si la personne concernée ne dirigeait pas le pays. Si tu penses que c'est normal de soutenir une homme qui considère que c'est OK d'attraper une femme par la cha***, juste parce qu'il est célèbre, alors tu as besoin d'être soigné tout comme lui". 
Jetez un œil à ces tweets ci-dessous, et dans le reste de l'actualité de l'artiste, notez qu'il a changé son nom de scène.
There's nothing more maddening than debating someone who doesn't know history, doesn't read books, and frames their myopia as virtue. The level of unapologetic conjecture I've encountered lately isn't just frustrating, it's retrogressive, unprecedented and absolutely terrifying. https://t.co/4jCFwB4T5U

— Chris Evans (@ChrisEvans) September 30, 2018
Lana Del Rey, who performed at Kanye and Kim's wedding, left this comment on Kanye's Instagram post of his MAGA hat. pic.twitter.com/GAJx0ZRrHD

— Yashar Ali ? (@yashar) September 30, 2018