Pop-art may be most associated with the golden era of the mid-20th century, the time of Andy Warhol and Roy Lichtenstein, but the style and ethos of the movement continue to live on with self-described "Neo-Pop Surrealist" Philip Colbert. The London-based artist has carved out a name for his pop culture-inspired pieces, partly due to his lobster alter-ego, over the course of his career.
"For as long as I can remember, art was always the subject I was drawn to," Colbert explains of his beginnings as an artist. Despite his long-term interest in art, he chose to study philosophy at university, and after graduating, he began his own clothing brand. Although neither of these practices were purely art related, the influence was clear. At university, he frequently read about the overlap between philosophy and art, and with his fashion work, he often took inspiration from art and artists.
Since those early days, Colbert has continued to sit between different creative fields, where his art has often overlapped with the fashion world. The artist has collaborated with COMME des GARÇONS and Rolex, as well as selling his work at Dover Street Market and legendary Paris store colette. His multi-medium approach to art is ever-evolving, becoming an important part of his "Hunt Paintings" exhibition at London's Saatchi Gallery, where large paintings, sculptures and even a virtual reality experience are on display. As "Hunt Paintings" — his largest exhibition to date — comes to a close, we paid a visit to Colbert's East London studio.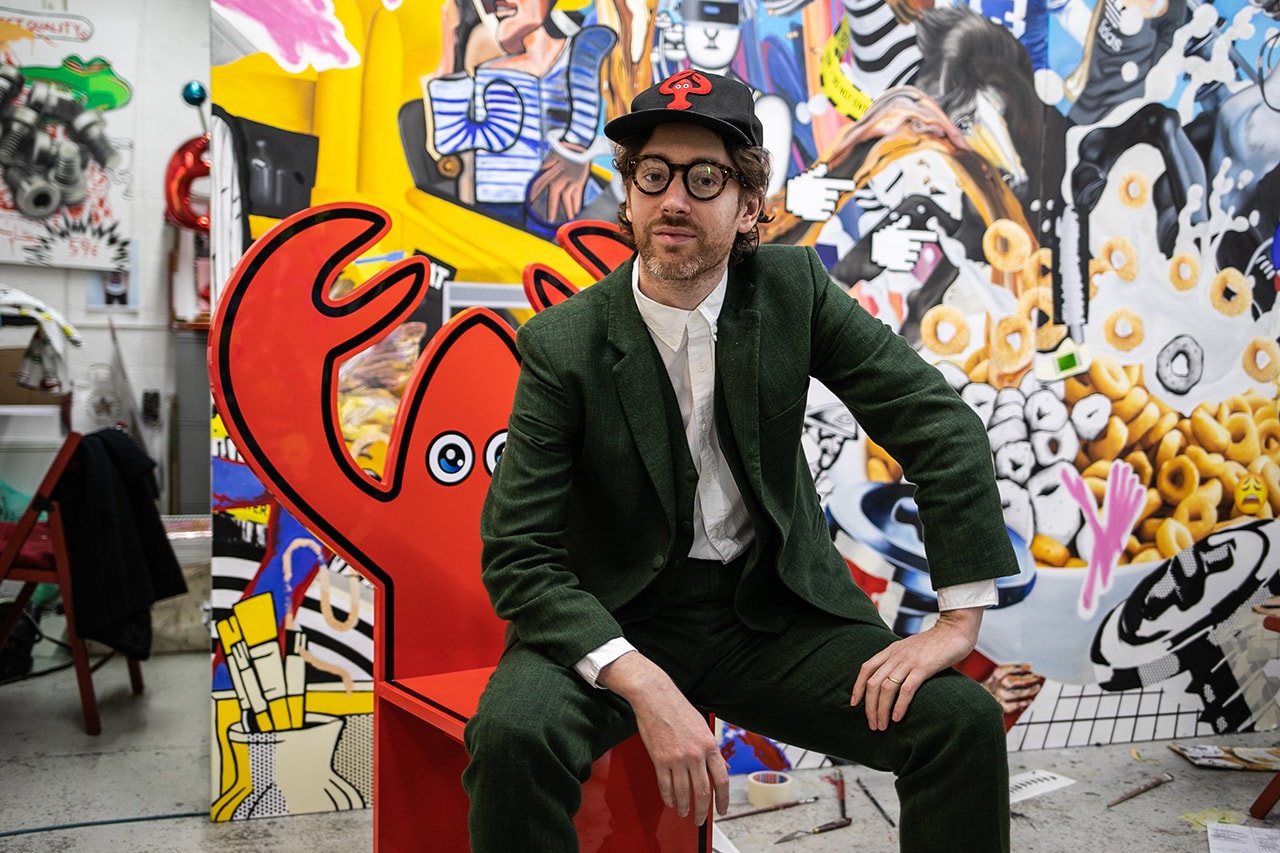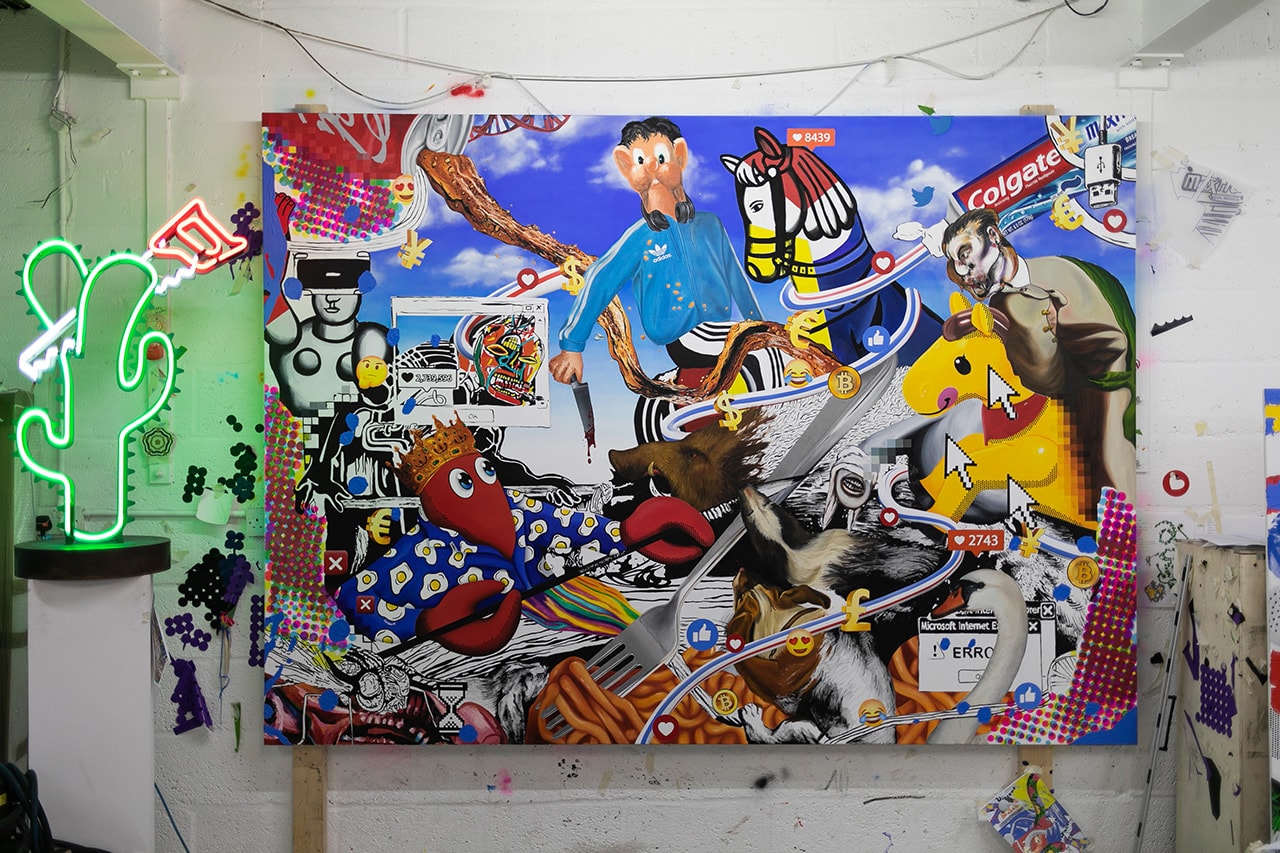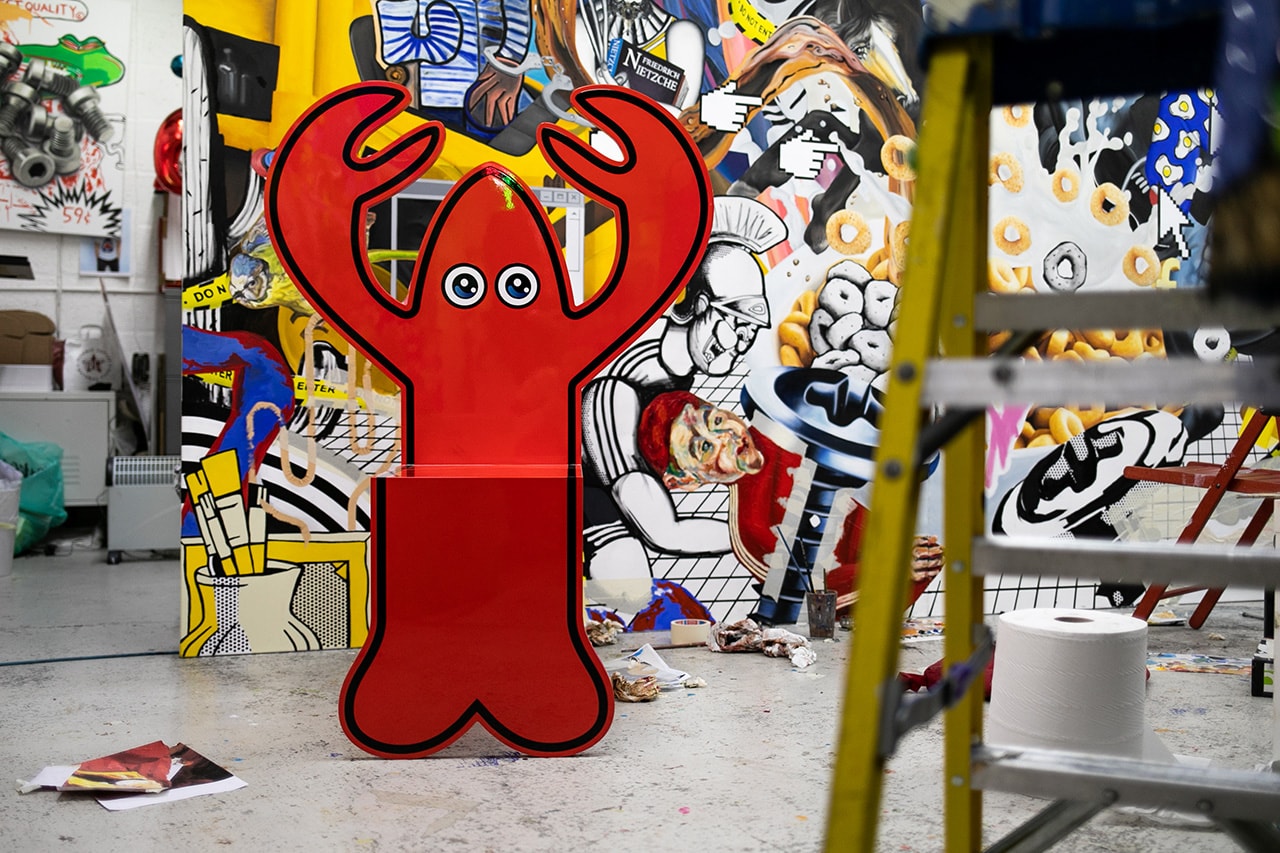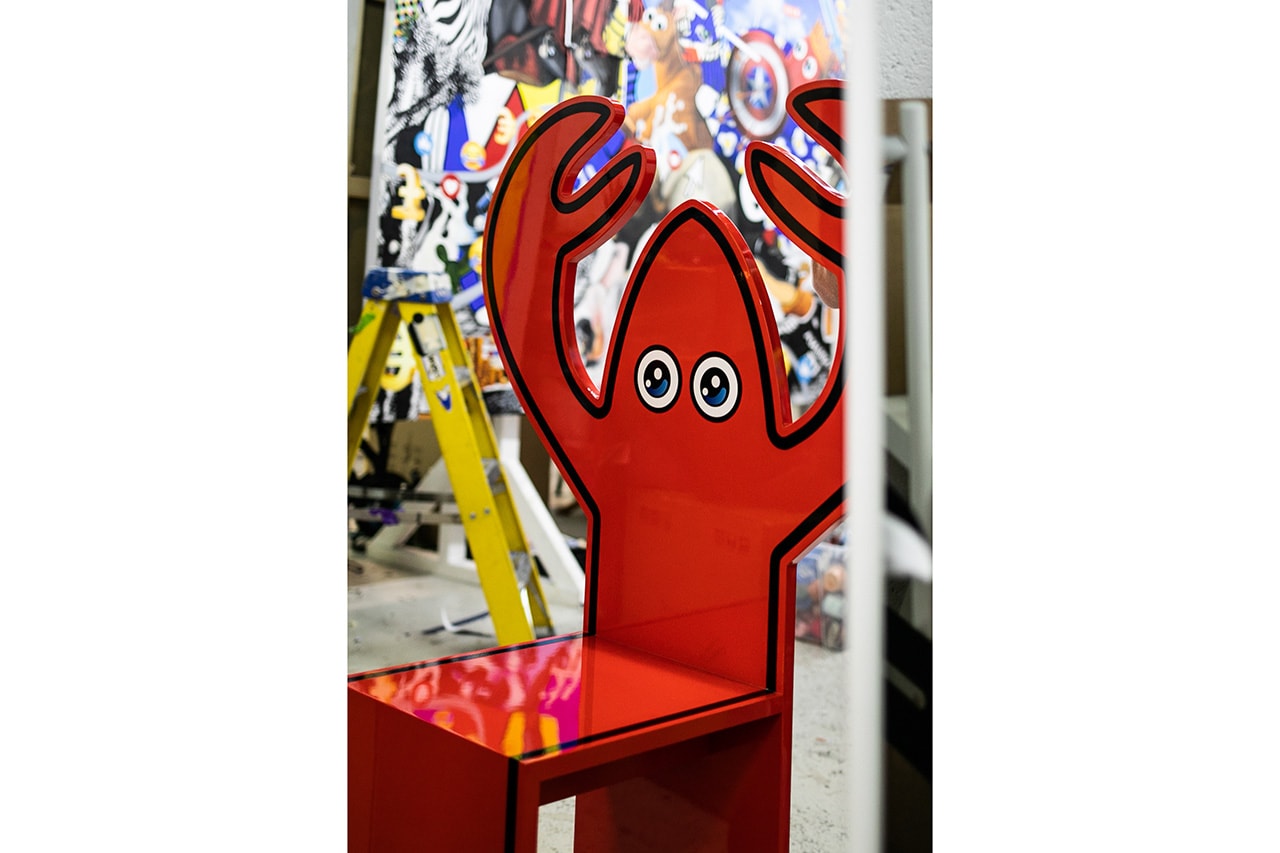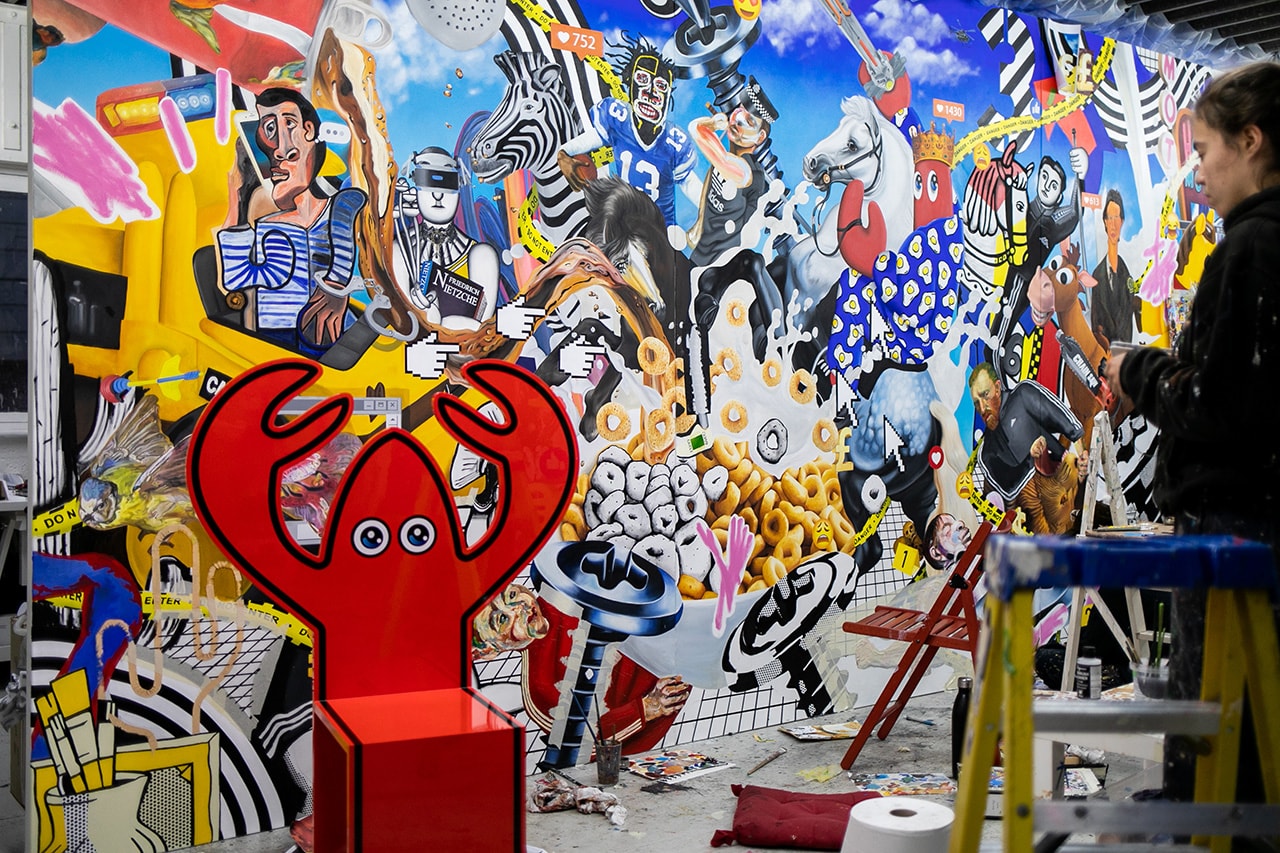 "I believe in the democratization of art."How did you get started as an artist?
For as long as I can remember, art was always the subject I was drawn to. I studied philosophy at university and read a lot on the philosophy of art. After graduating, I set up an art-inspired clothing brand and started building my world commercially before being able to focus on painting full time.
What are you hoping to communicate with your art?
My work is a celebration of artistic freedom to create your own reality and to inspire everyone that they can do anything. I believe in the democratization of art.
Why are references to pop culture so important to your work?
For me, pop culture is the most powerful language that touches everyday life so intimately. The brands we wear, the food we consume, the visuals we celebrate; defined elements of pop culture can be used as a hyper technicolor language packed with emotive depth to tell powerful stories and have meaningful connections with people.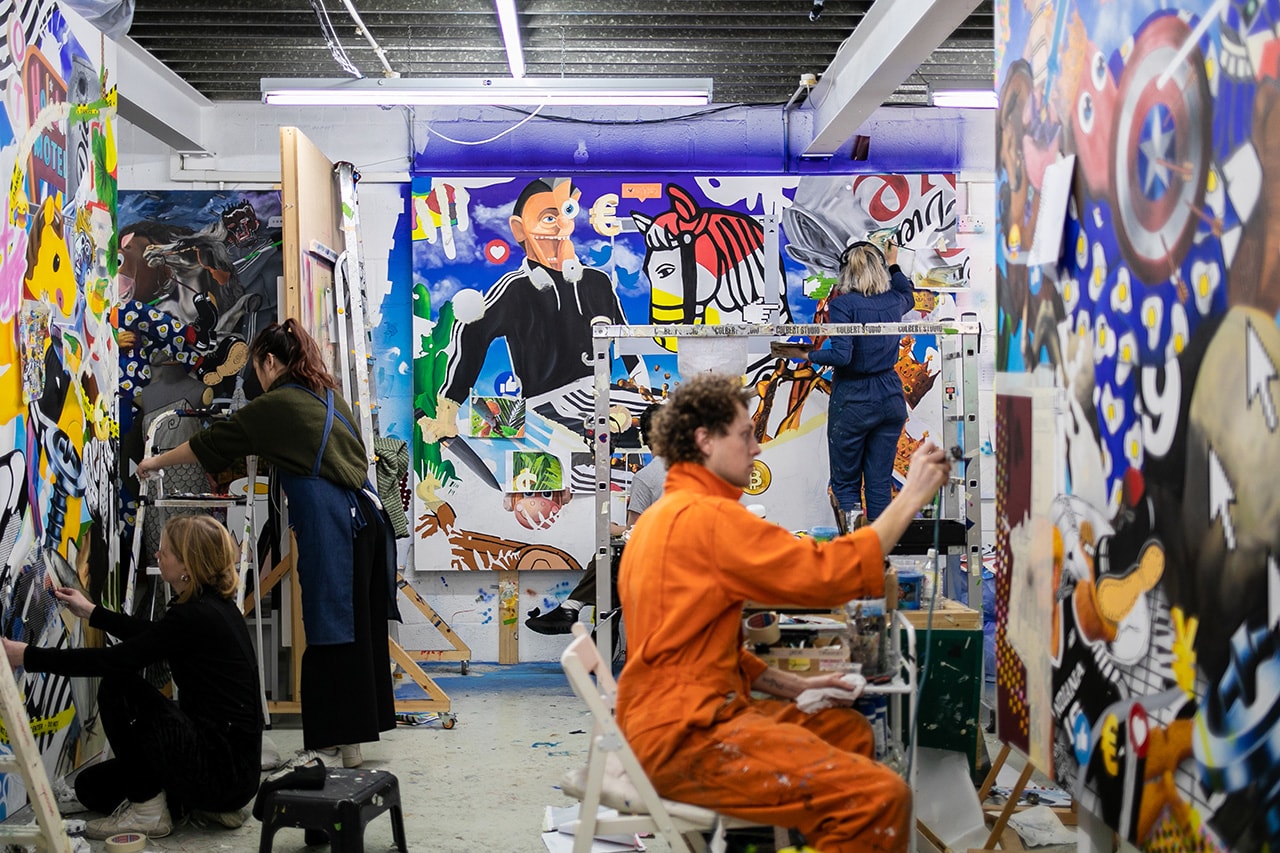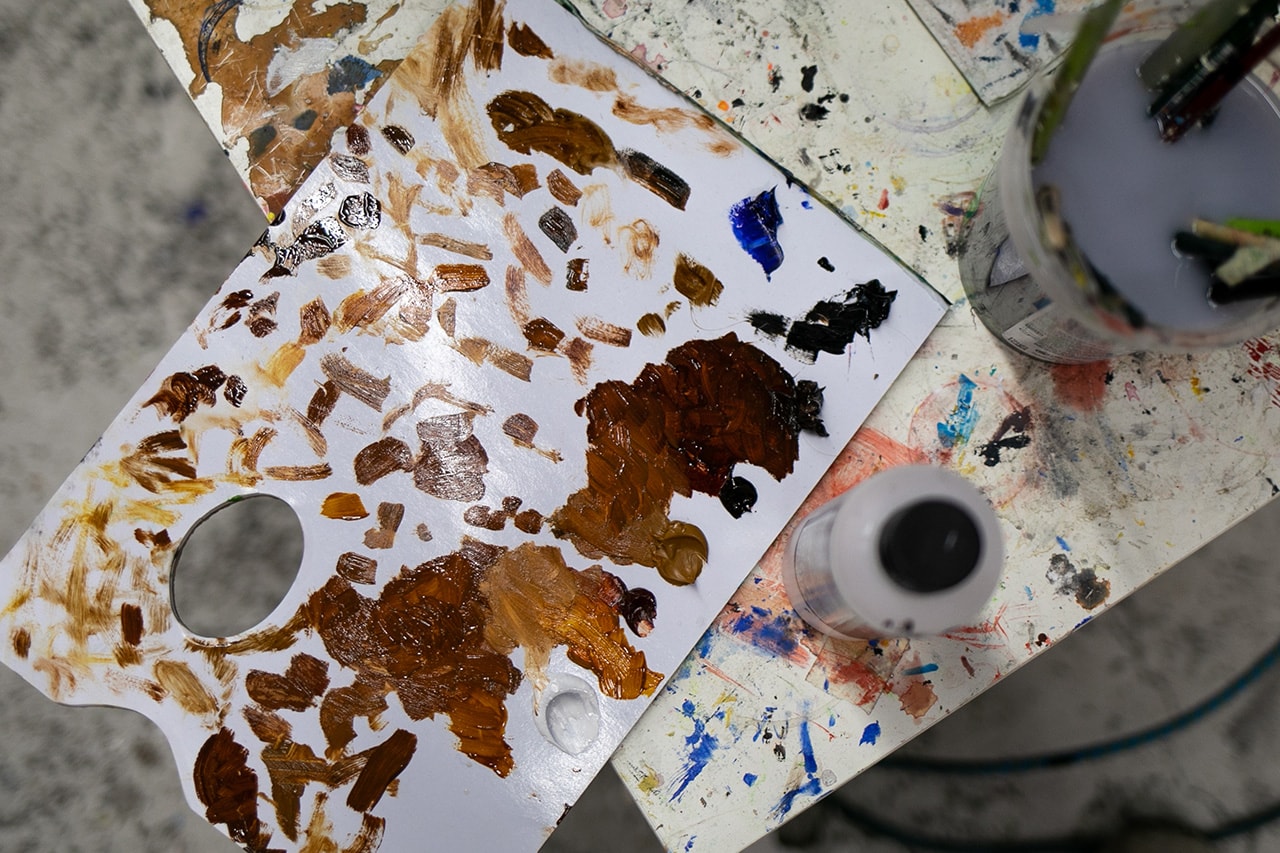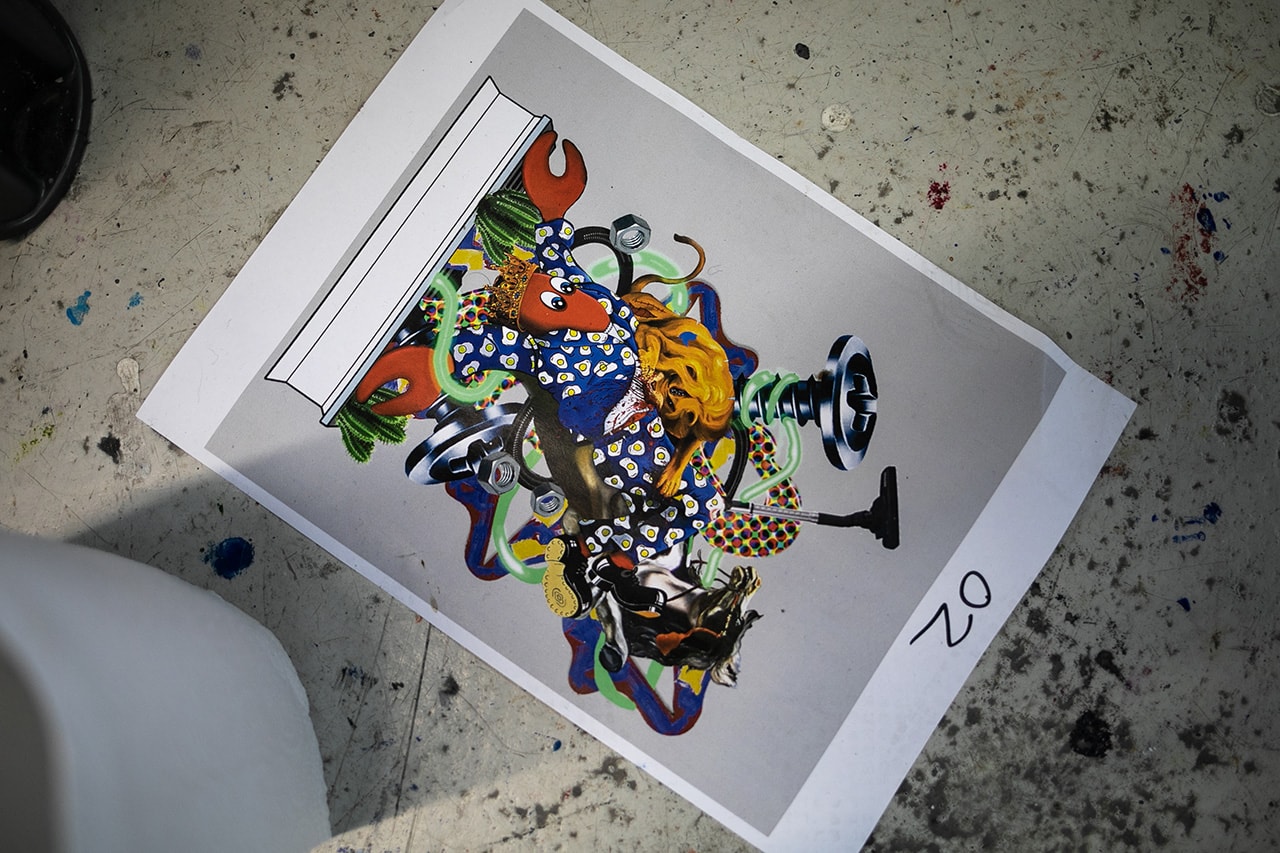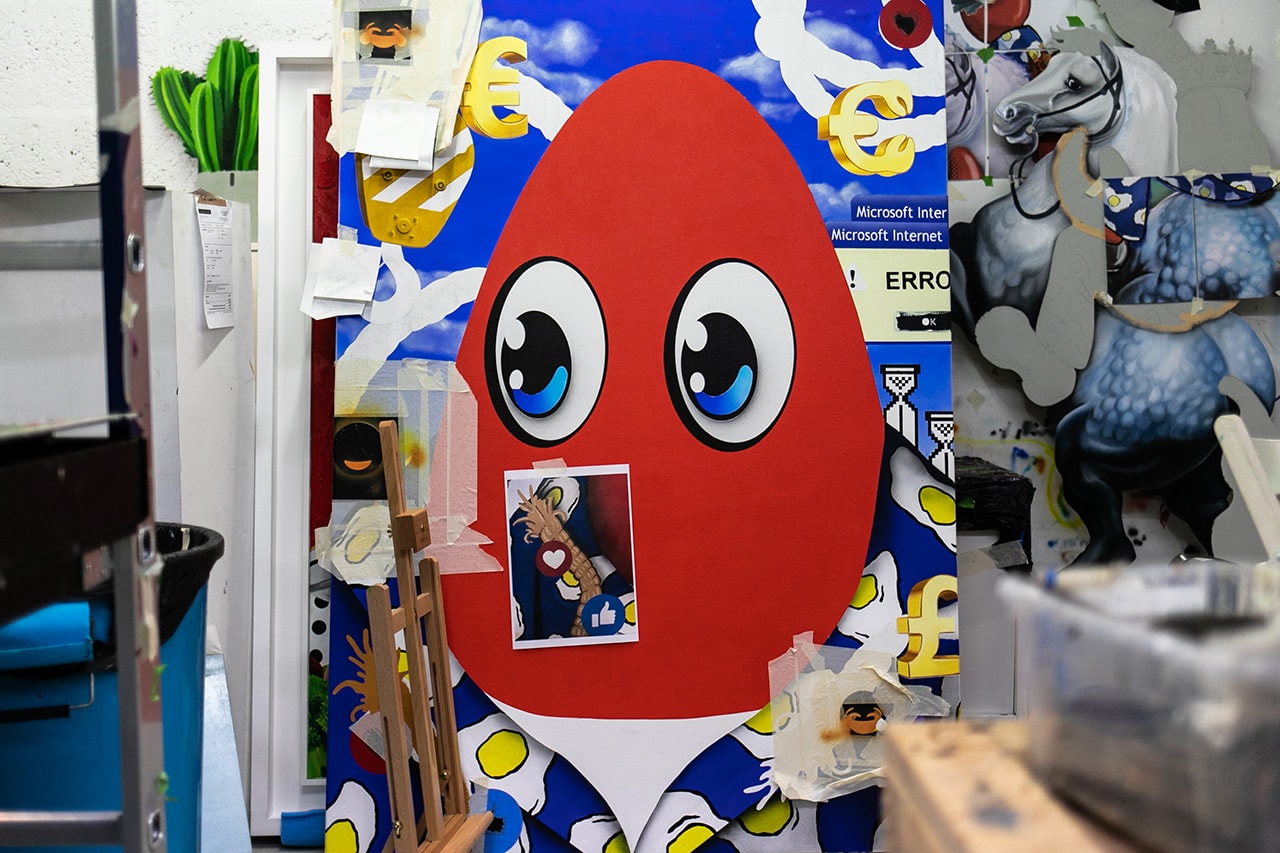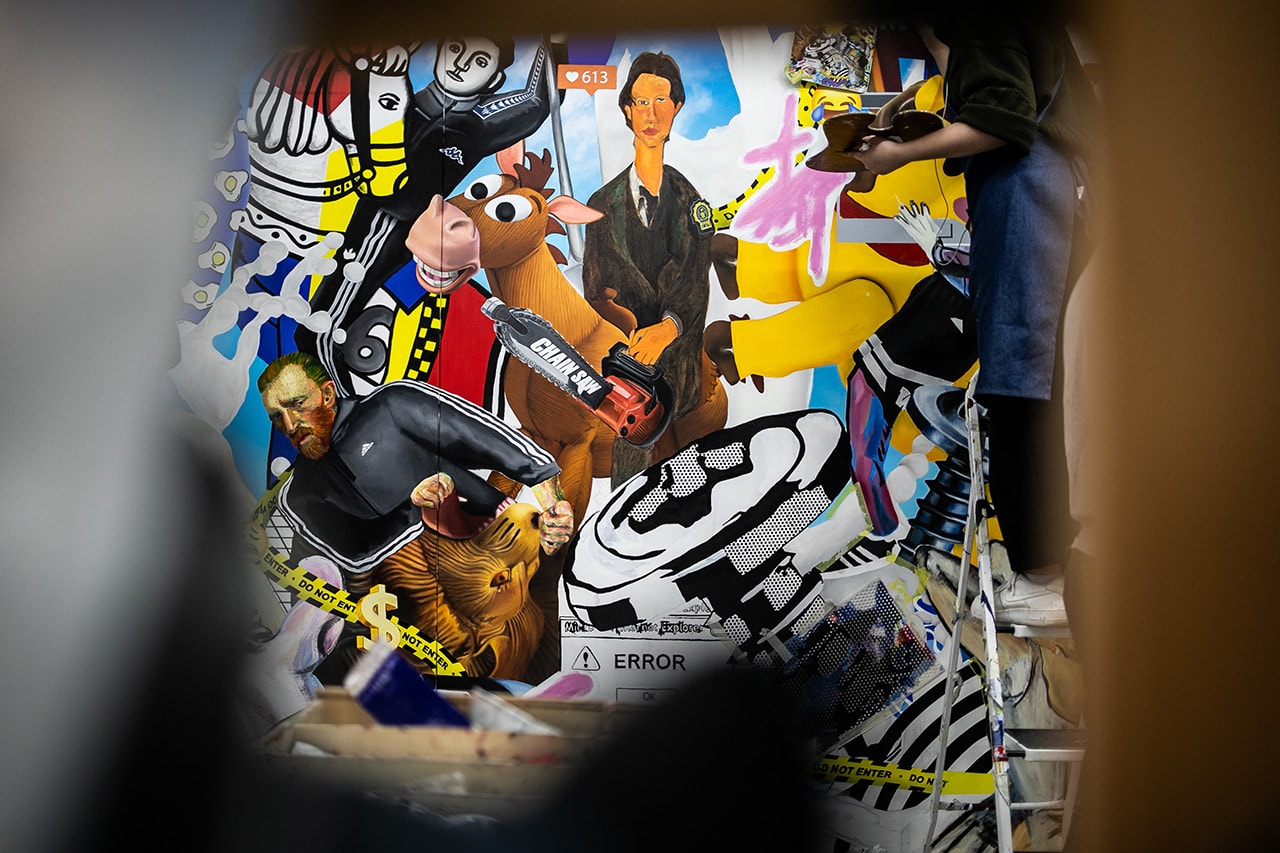 "Today there is a darker undertone to pop culture and consumerism in general."You also reference other artists, why is that?
The artists I reference are ones that I consider to be branded within art history as having saturated pop culture–Van Gogh, Picasso etc.–hence part of a common visual language. I like to play on the perceived understanding of these strong associations and recontextualize the dialogue.
How do you bring these references together?
I build a narrative where my alter ego Lobster is in a dialogue with these art historical characters and brand images and painterly abstractions. The compositions are pushed to feel as saturated as possible to reflect the intensity of our appetite for information and to push the limits of painting. I think of the works as a sort of orchestra of appropriation, where all the elements come together to create a new whole.
You often use your art to discuss political and social issues. Why is this important to you? Do you think this is something the art world should do more of?
Today there is a darker undertone to pop culture and consumerism in general. My paintings, on one hand, are life-affirming and super positive celebrations of hyper-pop language, yet are juxtaposed with the violence of grand historical Hunt compositions, layered with darker references to reflect the wider implications of consumer culture. This play between the light and dark is the key theme of the current paintings. I feel art should engage in a dialogue with culture and push the envelope, otherwise, the danger is art becomes purely decorative and self-serving.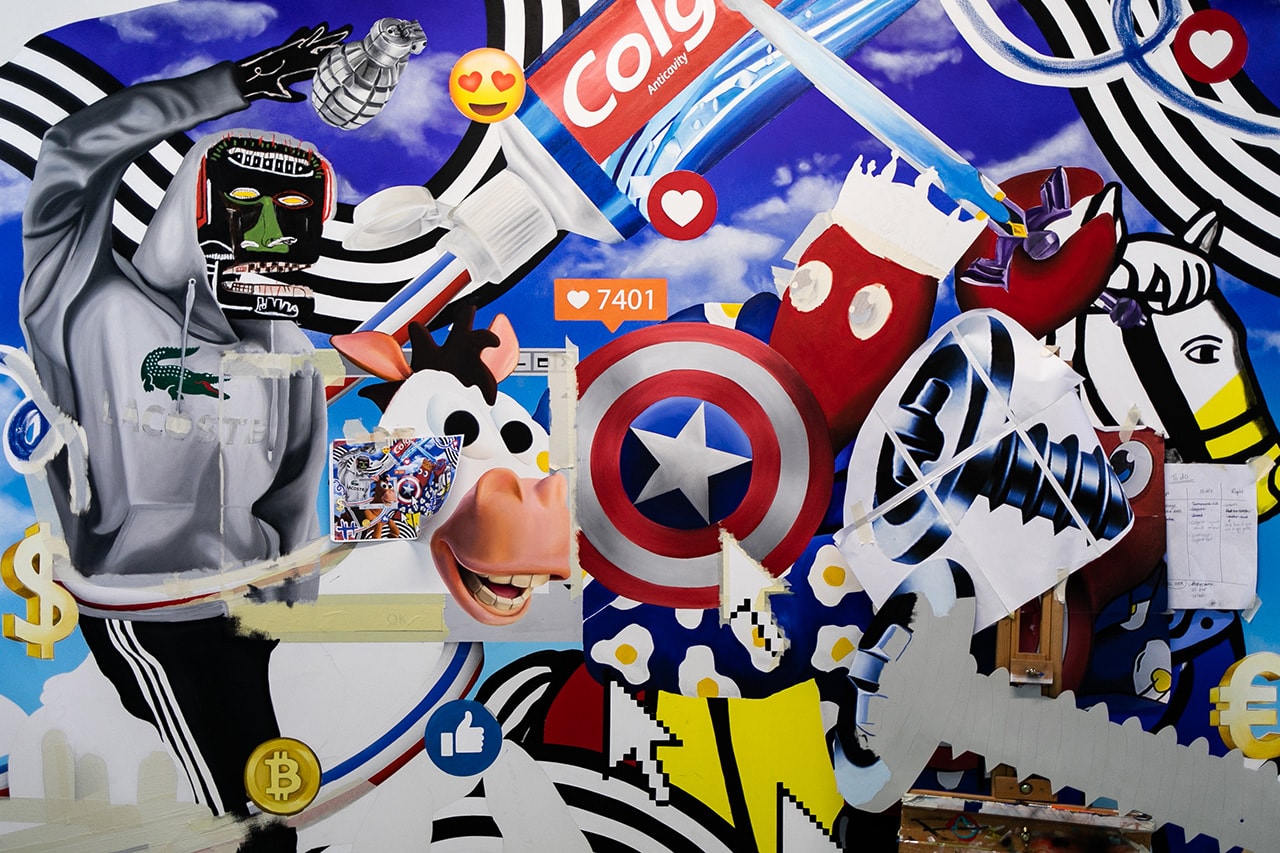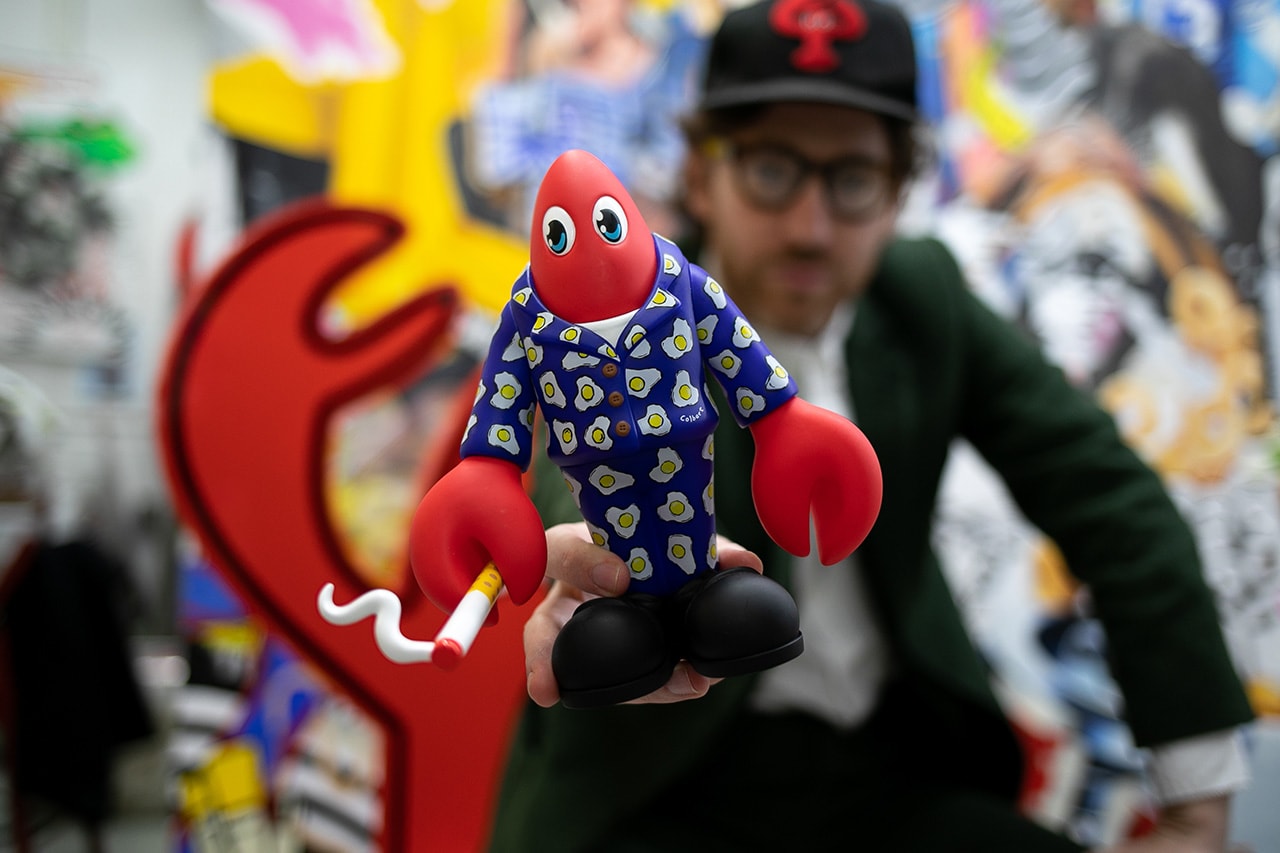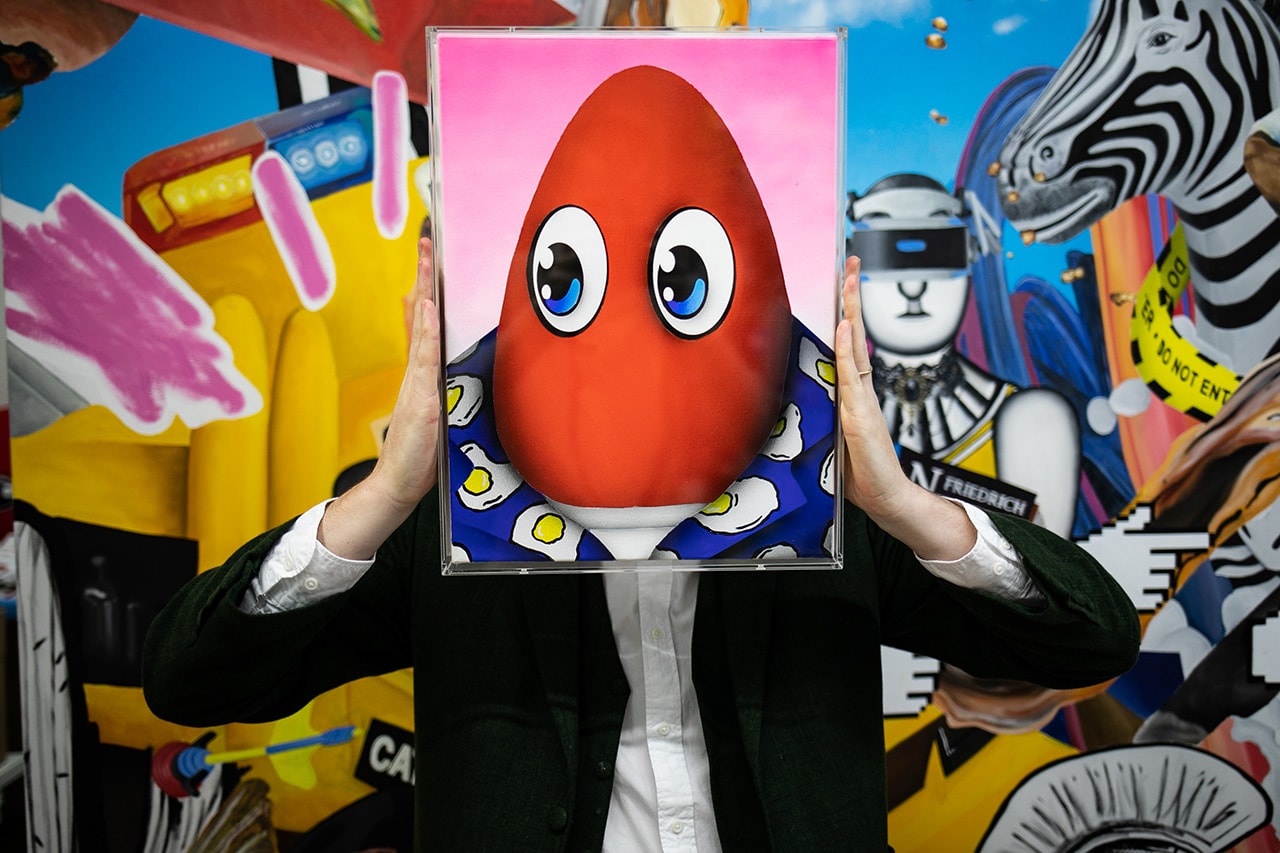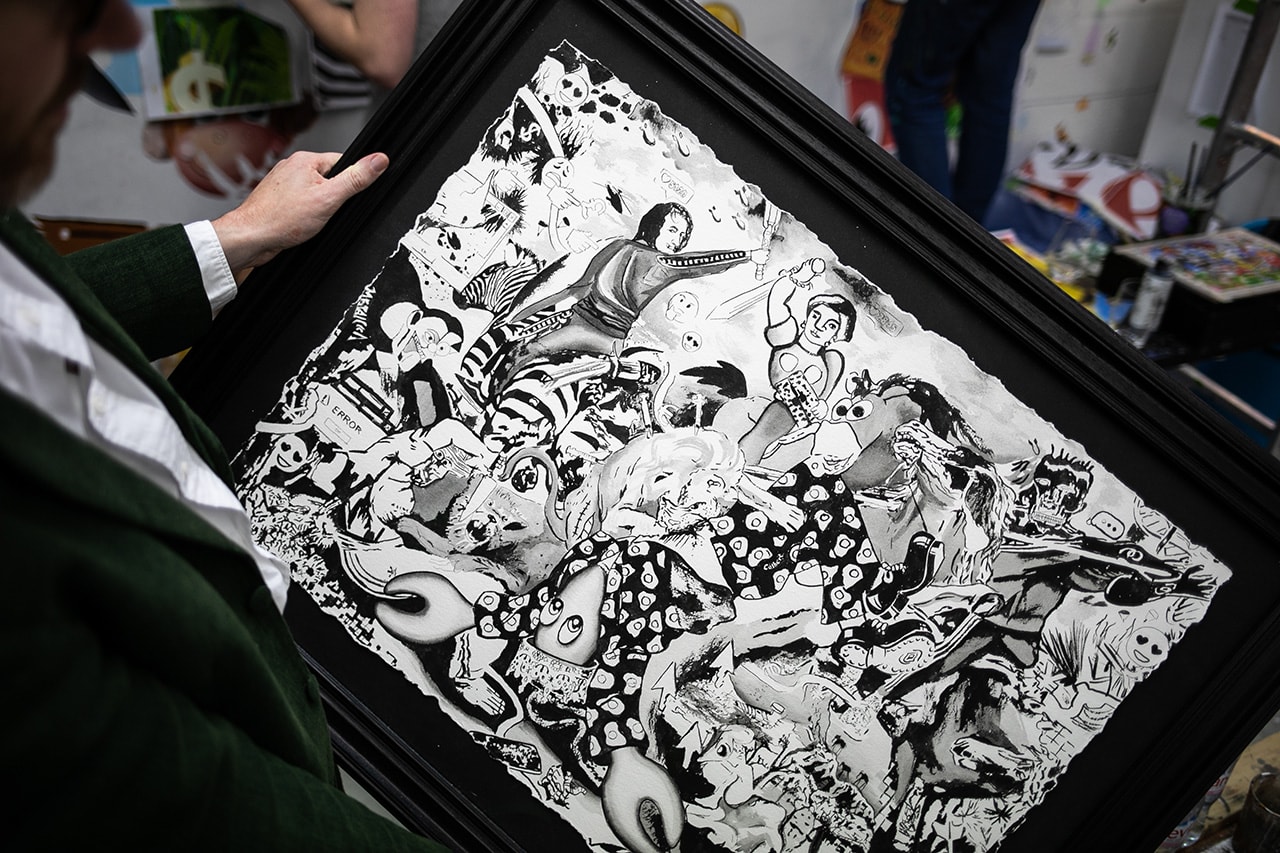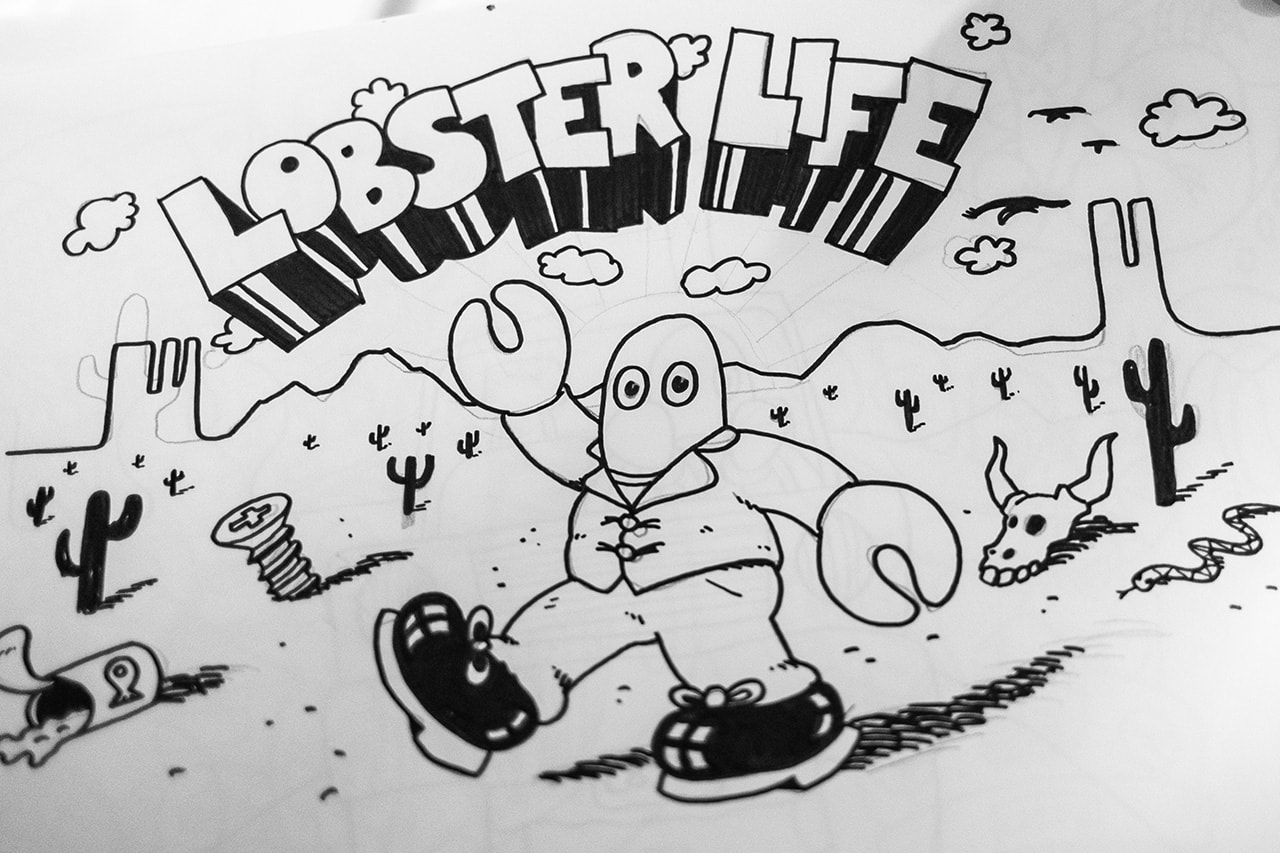 "I love the sense of connecting with people in refreshing ways by taking art out of the traditional gallery system."Your work has transcended fashion, art and design. How do those disciplines work together?
For me, art is all about philosophy, and that can apply to anything. I like the idea of working across different mediums to create a more wholistic, immersive idea of art. Also when you create works in different dimensions it creates a sort of world where life integrates with art, and life gives art meaning.
Can you talk us through the process of creating one of your works?
After my recent shows in Asia, my team has been growing fast to cope with larger-scale projects. In addition to painting, my assistants and I have created a VR development team for my Lobster Land project, which I am really excited about. I am lucky to have great people around. I first worked with Unit London when I was part of a group show with them titled "Looking for U," I was really impressed with their incredible energy and democratic spirit, so I was really happy when they partnered with Saatchi on this show.
You've collaborated with brands and retailers, what is that process like?
It can be an amazing way of making artistic ideas more accessible and democratic. I love the sense of connecting with people in refreshing ways by taking art out of the traditional gallery system. The challenge is to be able to collaborate and retain your artistic vision and energy so it's important to guide the process in the correct direction. It's also an amazing way of financially supporting broader artistic practice and it can be very powerful. With my recent collaboration in China, we visually took over Skyscrapers, billboards across the country and the Shanghai underground.