Jaguar's F-Type R 75 Marks the End of an Era
As the marque enters the electric age, Hypebeast reflects on 75 years of Great British sports cars with this V8 icon.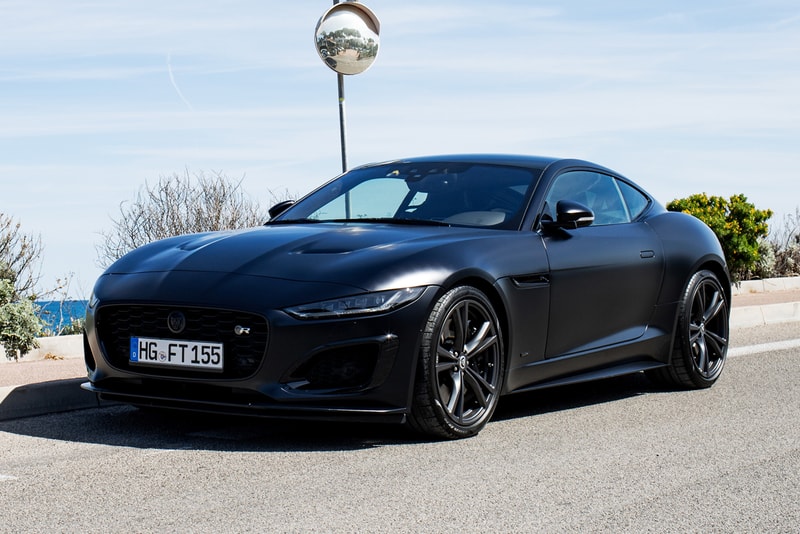 When we think of Jaguar sports cars, generally, the legendary E-Type is what springs to mind. Under that swooping body and long nose hid either a V6 or V12 engine, while coupé or convertible formats allowed for a customizable driving experience. But before the E-Type came the XK120, Jaguar's answer to a world that – post-war – prescribed to a "bigger is better" ethos. As such, it was the world's fastest production car in 1948, thanks to its 120 MPH top speed – hence the name.
The XK120 was conceptualized during a difficult period for the UK, but that didn't stop Jaguar from showcasing its expertise and creativity. The result wasn't just record-breaking performance figures, but a car that was elegant and technologically advanced. In turn, it became one of the most desired cars of its period, notably steering further into the future than its competitors by being faster, more practical, and cheaper than the rest.
75 years on and this story similarly applies to the Jaguar F-Type R. When it launched in 2013, Jaguar coined it the "spiritual successor to the E-Type." Like its grandfather, it comes in coupé and convertible forms, sports a long nose, a short back, and packs a whole lot of bang for your buck. At just shy of £80,000 (equivalent to $100,000 USD in 2013), the F-Type R gave customers a dilemma – do you save money and get this over an equivalent Mercedes-Benz, Porsche, or Aston Martin, or do you opt for reliability and more exotic styling?
Those who buy the F-Type R eschew the norm in favor of pure driving joy. At Hypebeast, we've been fortunate enough to drive F-Type cars of all manners, from the early V6 models to the Project 7, as well as today's updated P450 and R models. Take our word for it when we say it's one of the most addictive machines money can buy.
What you see above is the model's final form: the Jaguar F-Type R 75. Marking 75 years of Jaguar sports cars, this isn't just the F-Type's swansong, but the marque's way of saying goodbye to its iconic V8 engine and sports cars as we know it.
For this latest installment of Open Road, Hypebeast headed to the South of France – specifically Nice and Monaco – to get behind the wheel of the F-Type R for, perhaps, the very last time. Here's why it will always be one of the best cars Jaguar has ever made.
Exterior
The F-Type has always been a sight for sore eyes, and it only became more desirable when it underwent a facelift in 2021. Most of the work was found at the front, with new super-slim LED pixel "J" headlights and revised air intakes giving it a sharper grin. Likewise, an increasingly sculpted hood and a slightly more muscular rear lean into the F-Type's grand tourer-meets-V8 hotrod split personality.
The rear haunches are strong, giving the car presence on the road and drama at the rear. It's the perfect balance of hard and soft; the F-Type is enticing and inviting, and unanimously agreed to be one of the most beautiful cars of the last 10 years.
Model-specific rims are a welcomed addition, offsetting the car with even more stance thanks to their diamond-turned black-finished 20" stature. Likewise, four exhaust exits at the rear poke out like dynamite sticks. Windows are tinted, special badges outlining the car are added for the IYKYK car spotter, and that's it for the outside.
How did Jaguar perfect perfection for this model? By highlighting all of its best bits in a fuss-free matte black paint job.
Interior
Sitting inside the F-Type is a nice place to be, but that doesn't mean it comes without flaws. It's not as technologically advanced as its competitors, nor ostentatiously opulent. Sure, bonus-spec "Ebony Windsor" leather comes as standard on the R 75, but a 10" infotainment system is hardly keeping up with the Joneses.
However, this is by no means unattractive to the driver. Such little distraction means you can sit back in the heated and cooled leather seats, fully adjusted to your liking, and mash your foot into the metal pedals. Your hands are wrapped around a plush, thick steering wheel, and your fingers are flicking between metal paddle shifters with ease.
The reason the F-Type is rather subtle inside is because it is not a big flashy supercar, despite the power, but a sporty GT car. You're meant to be swathed in subtle luxury with all the performance you'll ever need – revert to TopGear jokes and the fact that Bond villains drove Jags, if you need a reminder of why this understated nature is necessary.
Engine and Handling
Where the interior fails for some, what lies beneath the skin is where the Jaguar F-Type R 75 comes into its own. Underneath that unmistakably large hood is a supercharged five-liter V8, producing 575 HP and 700 Nm of torque, which is good for 0-60 MPH getaways in 3.5 seconds and a top speed of 186 MPH. Spritley stuff, then.
Crackles, pops and bangs are synonymous with this engine, and are addictively playful within the rev range, encouraging you to shift through the gears – as we did around the Monaco Gran Prix circuit on this particular test drive.
Aside from hooliganism, the F-Type R 75 also features a fine-tuned suspension set-up and brake-operated torque vectoring for agility, balance, and to carry speed through the corners, which with all-wheel-drive is yet only another encouraging factor to floor it through the bends. Carbon-ceramic breaks are found at all four wheels for optimized stopping power, which you'll need as you break the 100 MPH mark (which comes up very quickly on the digital dash when driving an R).
Matthew Beaven, Jaguar Land Rover's Chief Designer for Exteriors, sums it up perfectly: "For 75 years Jaguar has been renowned for producing extraordinary sports cars that deliver performance, agility and maximum driver reward. The F-Type special editions hold true to these principles."
For £103,075, or roughly $128,000 USD, there are few cars that compare with the Jaguar F-Type R 75. It ticks the box on looks, performance, heritage, practicality, and above all else, class and sophistication. Jaguar's sports car lineage is 75 years strong, and this final model is the perfect embodiment of what makes a Jaguar a timeless piece of brutish, British excellence.