'Love is in the Bin' Milik Banksy Baru Laku Lagi di Sotheby's Seharga $25,4 Juta USD
Delapan belas kali lipat dari harga jualnya di tahun 2018.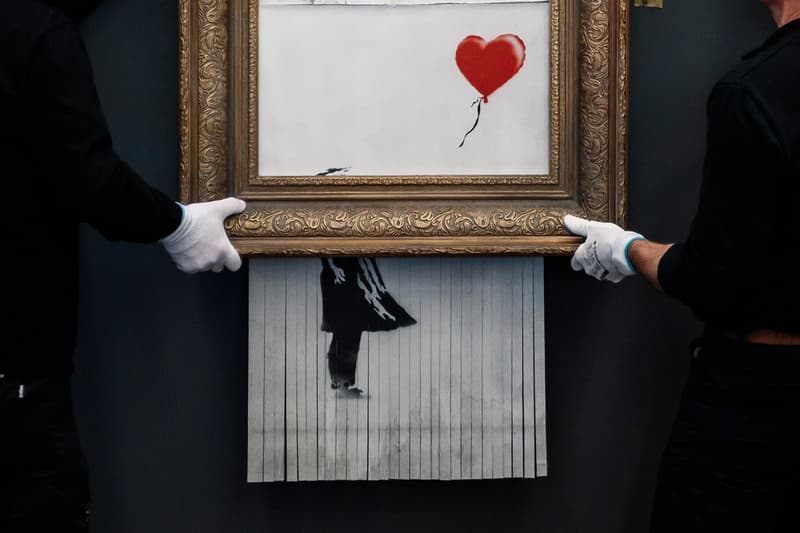 Karya Banksy, "Love is in the Bin"; karya nyentrik di mana ia dengan sengaja merusaknya dengan alat pencacah kertas, baru aja laris lagi di Sotheby's seharga $25,4 juta USD (sekitar 357 miliar IDR). Harga jual fantastis itu 18 kali lipat dari harga jual awalnya $1,4 juta USD (sekitar 19 miliar IDR), sebuah kejadian yang nggak bakal dilupain dalam sejarah seni kontemporer, pastinya. Yang membeli adalah kolektor seni dari Asia dengan identitas anonim. Angka ini 3 kali melebihi perkiraan presale dari Sotheby's sendiri.
Dikenal sebelumnya dengan nama Girl With Balloon, karya ini pernah dipuji oleh kolektor seni asal Eropa sebagai "karya pertama dalam sejarah dibuat langsung selama proses lelang."
Dengan cara khas Banksy, seniman ini bilang kalau sebenernya ini cuman caranya mengolok-olok keelitan dunia seni. Lewat video yang sempat diunggah, dia bilang kalau harusnya ini jadi "lelucon", dia berencana mencacah karyanya, tapi karena mesinnya ngadat, jadi nyangkut, sehingga baru setengah yang terpotong-potong. "Keinginan buat ngerusak karya ini sebenernya dorongan kreatif juga," tulis Banksy di Instagramnya setelah acara tersebut.
Salah satu yang memuji lagi karya Banksy tersebut adalah editor seninya BBC News, Will Gompertz. Dia bilang karya itu "salah satu karya seni paling signifikan di awal abad ke-21".