Donald Trump Veut "Make France Great Again" Et S'En Prend À Emmanuel Macron Dans Une Série De Tweets
Juste après leur rencontre le 11 novembre dernier.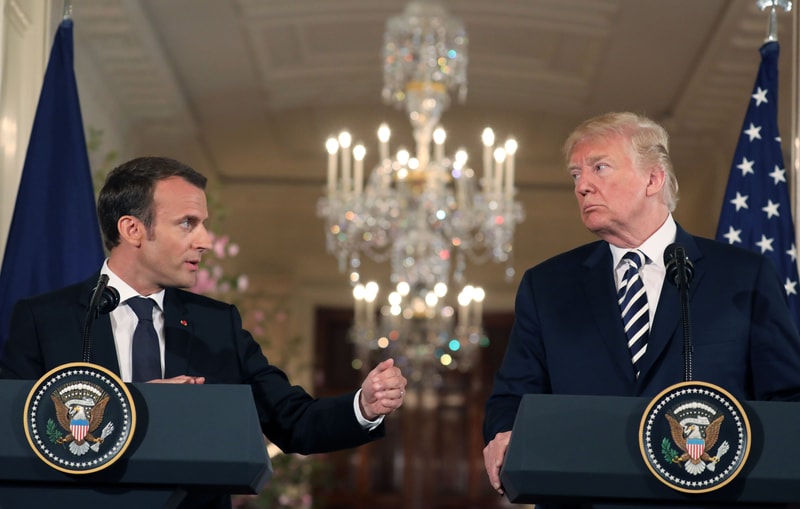 1 of 2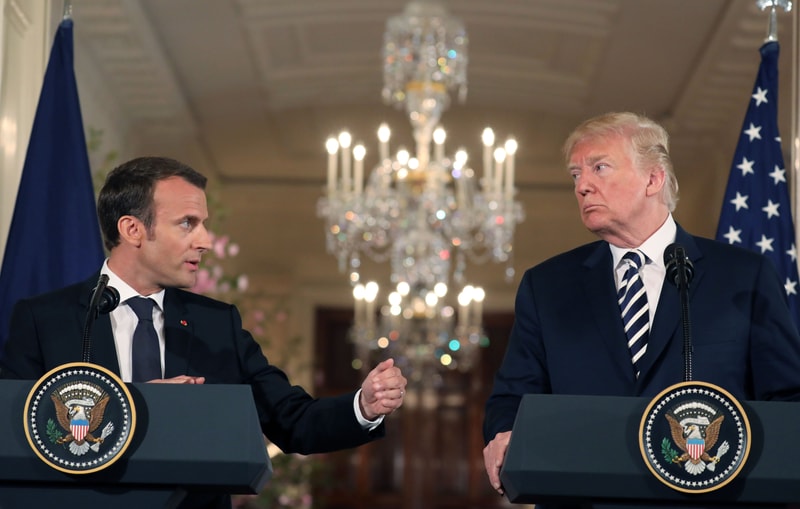 2 of 2
Après son passage en France pour les commémorations du 11 novembre, Donald Trump s'en est pris à la politique d'Emmanuel Macron dans une série de tweets. Le Présidents des Etats-Unis a taclé son homologue français sur plusieurs points : le chômage, la côte de popularité faible de Macron, les frais de douanes imposés à l'importation du vin américain en France. Il a également tenu à s'exprimer sur son absence au cimetière américain du Bois Belleau qui avait fait grand bruit. Le chef d'état avait annulé sa visite à cause des mauvaises conditions. Un couac dans l'organistion initiale qui avait suscité de vives réactions en France et outre Atlantique.
Emmanuel Macron suggests building its own army to protect Europe against the U.S., China and Russia. But it was Germany in World Wars One & Two – How did that work out for France? They were starting to learn German in Paris before the U.S. came along. Pay for NATO or not!

— Donald J. Trump (@realDonaldTrump) 13 novembre 2018
"Emmanuel Macron suggère de créer sa propre armée pour protéger l'Europe contre les États-Unis, la Chine et la Russie. Mais c'était l'Allemagne dans les deux guerres mondiales – Comment cela s'est-il passé pour la France ? Ils commençaient à apprendre l'allemand à Paris avant l'arrivée des États-Unis. Payer pour l'OTAN ou non !"
On Trade, France makes excellent wine, but so does the U.S. The problem is that France makes it very hard for the U.S. to sell its wines into France, and charges big Tariffs, whereas the U.S. makes it easy for French wines, and charges very small Tariffs. Not fair, must change!

— Donald J. Trump (@realDonaldTrump) 13 novembre 2018
"Côté commerce, la France fait un excellent vin, mais les États-Unis aussi. Le problème, c'est que la France rend la vente du vin provenant des US très difficile, et impose de gros frais de douane, alors que les États-Unis facilitent la vente des vins français à des petits tarifs. Pas juste, il faut changer !"
On Trade, France makes excellent wine, but so does the U.S. The problem is that France makes it very hard for the U.S. to sell its wines into France, and charges big Tariffs, whereas the U.S. makes it easy for French wines, and charges very small Tariffs. Not fair, must change!

— Donald J. Trump (@realDonaldTrump) 13 novembre 2018
……MAKE FRANCE GREAT AGAIN!

— Donald J. Trump (@realDonaldTrump) 13 novembre 2018
"Le problème c'est qu'Emmanuel souffre d'une très faible cote de popularité en France (26%) et d'un taux de chômage de près de 10%. Il essayait juste d'entrer dans un autre sujet. Au fait, il n'y a pas de pays plus nationaliste que la France, de peuple très fier, et à juste titre !"
"Make France Great Again"
By the way, when the helicopter couldn't fly to the first cemetery in France because of almost zero visibility, I suggested driving. Secret Service said NO, too far from airport & big Paris shutdown. Speech next day at American Cemetary in pouring rain! Little reported-Fake News!

— Donald J. Trump (@realDonaldTrump) 13 novembre 2018
"Soit dit en passant, lorsque l'hélicoptère n'a pas pu se rendre au premier cimetière en France en raison de la visibilité quasi nulle, j'ai suggéré de conduire. Les services secrets ont dit NON, trop loin de l'aéroport et du grand arrêt de Paris. Discours le lendemain au cimetière américain sous une pluie battante ! Peu rapporté – Fake News !"